Commentary
Bring back the tug of war
Originally Published:
September 18, 2009
By
Jim Caple
| Page 2
In case you missed it, an International Olympic Committee executive board recommended adding golf to the Olympics in 2016. This is very good news for all fans because it means that now every four years we will get to see the equivalent of the Buick Open, only with golfers wearing national flags on their sweater vests.
[+] Enlarge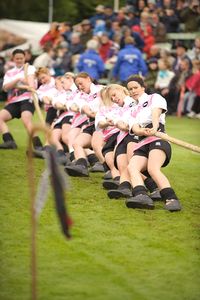 Martin McNeil/Getty ImagesTug of War isn't just for 5th grade gym class anymore.
I mean, when else would we get the opportunity to see Tiger Woods, Phil Mickelson, Lee Westwood, Ernie Els, Padraig Harrington and Vijay Singh compete for an individual championship? Unless, of course, it was at the aforementioned Buick Open. Or the Honda Classic. Or the Bridgestone Invitational. Or the AT&T National. Or all the other tournaments that are televised week after week after week, year after year after year.
Meanwhile, athletes in real sports -- and by that I mean the ones where the participants don't walk around in slacks while someone else carries their equipment -- must deal with the IOC's ignoring them again.
"It's depressing," Dave Kruse said of his sport's being passed over for golf. "It's sad as you watch the Olympics and you see badminton. Badminton? Excuse me? Why don't you just add croquet? They take baseball and softball out because their games take too long and then they add golf? What, will they be playing par 3?
"Everyone knows golf -- why not add something no one knows, like the X Games do?"
Exactly. The IOC has this all wrong. The best part of the Olympics is not watching multimillionaire athletes compete in sports we already follow 12 months a year, every year, it's the opportunity to watch and care passionately about athletes in sports we have ignored the previous four years and will then ignore for the next four as well. It's watching sports we never get to see otherwise.
Which is why the IOC should not add golf. It should add tug of war.
Yes, I'm serious about this.
Tug of war was an Olympic sport from 1900 to 1920 -- the U.S. swept all three medals in 1904 -- before being dropped for no apparent reason, and certainly no good reason. I mean, really. What would you rather see? Retief Goosen waiting for absolute silence as he leans over his putter? Or eight of our country's finest going against the eight toughest dudes from Iran (or whatever country we decide to hate in 2016), with each side straining every muscle and battling through unimaginable pain as their bodies scream "Stop! Stop! Oh, God, please stop!!!" but refusing to give an inch to those miserable foreign SOBs in order to prove whose country is the baddest-ass in the world?
It's no contest. Especially if there was, like, a stinking, 3-foot-deep pit of manure separating the two that the losing team would get dragged into.
If you're old enough to remember the old "Superteams" competition (a spinoff of "Superstars"), you know the kind of drama I'm talking about. The 1975 epic tug of war between the Steelers and Vikings produced one of the most gripping competitions I've ever watched, a 16-minute pain-a-palooza that left the Vikings drained, collapsed and moaning in the sand, unable to stand or so much as open their hands to remove their gloves. And they won! As Superstars creator and figure skating champion Dick Button exclaimed at the time, "Nothing, nothing -- not even my own Olympic victories -- has ever moved me like that."
We could have that sort of drama in the Olympics. Or we could have Stuart Appleby walking down the eighth fairway, wondering how he'll ever be able to get his golf ball out of four-inch-high rough.
Unlike golf, tug of war requires real athleticism, which is kind of the point of an Olympic sport.
"You have to use every muscle in your body," said Kruse, who coaches a tug of war team out of Cedar Rapids, Iowa. "When you're pulling rope, your toes are pushing into ground, your feet are pushing. Then you move up and your ankles are working, your thighs, your hips. Then you go to your stomach muscles, your back, your shoulder muscles.
"If you can do all that, then 80 percent of it is mental."
What's holding tug of war back? A couple of things, says Shelby Richardson, the president of the United States Tug of War Association. (Yes, there is such a thing.) There are no marquee stars (actually, no stars whatsoever) and a lack of money overall. It also lacks marketing. Richardson says it was only a couple years ago that tug of war finally rearranged its tournament format and put a championship pull at the end of a competition. (Before that, it was a simple round-robin.)
In other words, tug of war needs to spice things up. Rather than simply having one team pull another team, have the two teams separated by a ditch filled with mud, manure or whipped cream, anything that will add a powerful visual element for TV.
Kruse rejects this suggestion but that's because he's a tug of war purist. "It takes away from the traditional aspect," he said. "The pit-in-the-middle thing was always for the NFL in Hawaii or dragging the cheerleaders in -- it just takes away from the sport."
Actually, I think it adds, but we can iron out those details later.
What tug of war has going for it is simplicity. You wouldn't need to build a huge stadium, or even a little stadium. You wouldn't need elaborate technology and teams of volunteers and officials. You just need a rope and an area big enough for eight people on each side. "A rope will cost you $100 or $120," Kruse said.
Tug of war also is a very athletic, very demanding sport. Former Minnesota running back Dave Osborn called that "Superteams" tug "the toughest, most physical thing I've ever done, bar none." You want tough? Two high school football players had their hands partially severed in a tug of war in Colorado two years ago. A pull that involved 1,600 people in Taipei in 1997 resulted in two people having their arms literally torn off. Two kids died in a pull in Germany in 1995.
Pulling against eight massively strong competitors working with precise teamwork is slightly more physically challenging than pulling a 5-iron out of a bag.
In fairness to golf, however, Tiger Woods was the first person Kruse named when asked what athletes from other sports he would recruit for a tug of war team. "Tiger is physically in shape and has the mental focus," he said. "I'd say Kobe Bryant. In baseball, I would like Derek Jeter. He's slim, in shape, ready to rock, on his toes and ready to react. In football, you'd look for some kind of a quarterback, someone who is willing to stand in there and feel the pressure."
You'll notice that the biggest guy he named is Kobe, who is 6-6 and about 205. That's because, contrary to what you might think, size isn't that important. "A lot of people think it's just brute strength that wins, but that's not what's it about," Kruse said. (Also, there are team weight limits.)
What is important is overall fitness and willingness to work together as a team, which probably eliminates Kobe. "With tug of war," Richardson said, "it doesn't matter how you pull or the style you use, it's that you do it together."
In other words, we have an ancient sport that requires great strength, stamina, balance, technique and teamwork. To me, that sounds like a sport deserving of the Olympics, and certainly a sport I want to see over another golf tournament.
Especially if the two sides are separated by a giant pit of olive oil.
Jim Caple is a senior writer for ESPN.com.