Commentary
It's time to adopt a team, everyone
Originally Published:
October 7, 2009
By
Jim Caple
| Page 2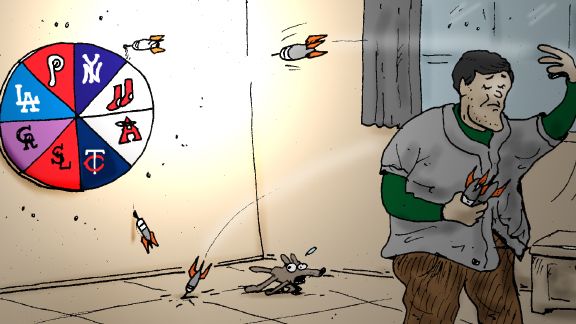 Kurt Snibbe
If your favorite baseball team is still playing, congratulations and best wishes for the postseason. (Yes, even Yankees fans.) But if you're a fan of the 22 other big-league teams, who should you be rooting for this autumn? Just consult this Off Base rootability chart.
NEW YORK YANKEES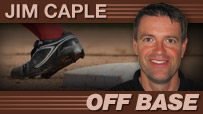 The World Series doesn't start until Oct. 28 and won't be decided until at least Nov. 1. So before it ends, there will be some 9-year-old Yankees fans who weren't alive when their favorite team last won a World Series. Is ending their suffering before middle school not reason enough for you to root for the Yanks? Well then, consider that a Yankees championship would put an end the most tired storyline in all of sports -- that Alex Rodriguez (with his three MVPs and 583 career home runs) is a loser, and not a winner and a true Yankee like Derek Jeter. (Funny how A-Rod has a higher postseason OPS than Jeter.) Plus, who doesn't like C.C. Sabathia and Mariano Rivera?
On the other hand, who am I kidding? They're the Yankees.
Rootability (on a scale of 1-10): 2.0, just to see A-Rod finally shut the critics up with a Mr. October/November-worthy performance.
BOSTON RED SOX
Sure, everyone loves Big Papi. Sure, almost every game at Fenway Park winds up as an autumn classic. And sure, we all used to root for the Red Sox, agonizing over their heartbreaking postseason losses and praying they would finally win. But then they did. And then they won again. And now they've swallowed up all media coverage not devoted to Jon and Kate, and have bragged about Red Sox Nation so much you'd think they deserve a seat on the UN Security Council, while their fans have swaggered into everyone else's ballparks chanting "Let's Go Red Sox" as if they own the place.
In other words, they're just as insufferable as the Yankees.
Rootability: 2.5, just to see if a crushing World Series defeat and a Curse of the Smoltz would make the Sox sympathetic and endearing again.
PHILADELPHIA PHILLIES
The Phils were a great story last year. Philadelphia teams hadn't won anything since Jamie Moyer's voice changed and then the Phillies came along, rallied back against the Mets, blew away everyone -- including the Curse of Billy Penn and the worst that Mother Nature could throw at them -- for just their second world championship, a title that left Philly fans cheering and Chase Utley cursing. It was wonderful.
But all of that was last year. Sorry, but this year they're just another big-market team with a bloated payroll.
Rootability: 5.0, just to hear what Utley would shout this year.
ST. LOUIS CARDINALS
Albert Pujols is the best hitter on the planet and he deserves the national stage again. Chris Carpenter and Adam Wainwright are the best 1-2 pitching punch in the postseason. The Cardinals are a classic team in a great baseball city. And how can you not root for a Midwest team that proves you can build a dynasty in a small market. (Are you paying attention, Kansas City?)
However, there is Tony La Russa's paranoia, and their too-recent 2006 championship.
Rootability: 6.5. It would be higher, but even small-market teams need to spread the wealth.
LOS ANGELES ANGELS
[+] Enlarge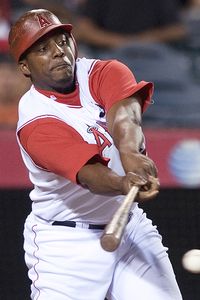 AP Photo/Chris CarlsonWe'll see if Vladimir Guerrero can finally bust out this postseason.
I could say Torii Hunter is the friendliest player on the planet. Or that Vladimir Guerrero deserves to get that postseason gorilla off his back (two extra-base hits in four postseasons, and just one RBI in the past three) and add a ring to his otherwise brilliant career. Or that the Rally Monkey is the most entertaining attraction in Anaheim outside of Space Mountain.
But really, is there any better reason to root for the Angels this postseason than the whole Nick Adenhart story?
Rootability: 7.0. It would be higher, but I still haven't forgiven the Angels for beating my Giants in 2002.
LOS ANGELES DODGERS
Every other team in its division has played in the World Series in the past dozen years, but it's been -- is this possible? -- 21 long years since the Dodgers won a World Series. Not only have the Twins and Reds won a World Series more recently, the Pirates have come closer to the World Series since than than the Dodgers. Even Giants fans would acknowledge (albeit reluctantly) that it's good for the game to have the Dodgers nationally relevant again.
Plus, the more southern Californian teams in the World Series, the lower the chance of baseball's championship being played in snow/freezing rain/monsoons.
Rootability: 7.5. It would be higher, but there is always the increased risk of an earthquake.
COLORADO ROCKIES
Back on June 3, the Rockies were in last place, 12 games under .500 and 15½ games behind the Dodgers. They began an 11-game winning streak the next night, and went 72-38 (.655) the rest of the way to nearly match their miraculous 2007 comeback. That 2007 World Series ended with a sweep by the Red Sox, but Rockies fans -- and Todd Helton, dependable and majestic as the Rocky Mountains -- deserve more this fall, especially with a $72 million payroll.
Meanwhile, with the World Series going beyond Rock-tober, suggestions for a pun on November are now being accepted. (Col-vember?)
Rootability: 8.5
MINNESOTA TWINS
How can anyone not root for the Twins? They are this year's proof that budget-minded teams can compete. They have the lowest payroll in the postseason ($67.5 million) -- lower than Cincinnati's, so low that even if you added Boston's considerable payroll, it still would be lower than the Yankees' payroll. Despite the loss of Justin Morneau, they rallied from a seven-game deficit in September and a three-game deficit in October. They have catcher Joe Mauer, who not only is the best player in baseball (sorry, Albert), he should be the poster boy for the entire game. And after 28 years of baseball, they're closing out their history at the unfairly maligned Metrodome, where we would be absolutely guaranteed no November snow, no rain, and no players' wearing ski masks.
Face it, rooting against the Twins this fall is like rooting against the Rebel Alliance or Habitat for Humanity.
Rootability: This one goes all the way to 11.
Finally, I want the World Series to go seven games this year, because I want to see as many games in the Metrodome as possible before the Twins leave. More importantly, we need a dramatic World Series after the past five years of sweeps and near-sweeps, if only so that there are slightly fewer Brett Favre stories this fall.
---
BOXSCORE LINE OF THE WEEK
The Indians and White Sox played a doubleheader last week with a combined time of four hours, 19 minutes -- or, roughly what it would take the Red Sox and Yankees to play seven innings if they meet in the ALCS. ALso, Twins reliever Bobby Keppel earned his first career victory in Minnesota's epic 12-inning, 6-5 playoff victory over Detroit for the AL Central title.
[+] Enlarge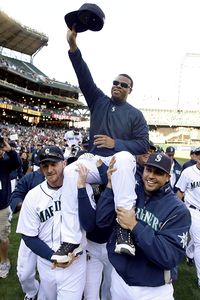 AP Photo/John FroschauerA special moment for Junior, and for Mariners fans.
But the line of the week may be for a name we may never see again, after having seen it in boxscores for the past 37 years (counting his father):
Griffey, DH 4 AB, 0 R, 1 H, 0 RBI
Did Ken Griffey Jr. play his final game on Sunday? He says he's not sure -- "I'm not going to go back and forth on [my decision]. I'm going to go home and talk it over with the family and figure out what's best for all of us" -- but Ichiro thinks we will see No. 24 on the back of a Mariners uniform next season. "He's always been a hero of mine," Ichiro said through his interpreter. "To get to play with that hero of mine in the same uniform and in the city of Seattle, that time I got to spend together even now seems like a dream. I believe that the time I got to spend with him is going to continue. And he's a person that even if you want to forget him, you can't forget him. I imagine that this offseason, even when I sleep, he will pop up in my dreams."
Just in case Sunday was his finale, however, the Mariners players lifted Junior onto their shoulders and carried him off the field. Such an exercise would have been easier several years and many pounds ago, but what the hell. Junior carried Seattle baseball on his shoulders for so many years, it was about time someone returned the favor.
"To tell you the truth," Griffey said to SeattlePI.com columnist Art Thiel, "I felt like Rudy."
TELL YOUR STATISTICS TO SHUT UP
• This quote in Alan Schwarz' recent New York Times story on dementia in NFL players is all you need to know about the difference between the baseball and football unions: "Gene Upshaw, the longtime head of the [NFL] players union who died last year, discouraged any connection [between dementia and football] in a 2007 interview. 'I think we're just a reflection of society,' he said, before adding: 'I don't want to take that next leap to say, you know, football caused dementia. I just don't believe that.'" Can you imagine Donald Fehr or Marvin Miller ever saying, "Aww, I don't think this disturbing number of sick players deserve any compensation because I just don't think it was caused by playing injuries"?
• I'm not offended by the Angels' spraying booze on Nick Adenhart's jersey after clinching the AL West. I'm offended they celebrated so much after winning their division for the fifth time in six years. Hold off on the big celebrations until after you figure out a way to beat the Red Sox in the division Series.
• Yes, the Yankees deserve a reward for finishing with the league's best record, and getting to choose what day they wanted to start the division series is reasonable. However, giving them until the day of the Twins-Tigers playoff game wasn't fair to Angels fans, who didn't know whether the Angels and Red Sox would be playing Game 1 on Wednesday at 3:07 p.m. or Thursday at 6:37 p.m. With the price teams charge for postseason tickets, the least MLB can do is give fans a heads-up which day they may need to get out of work early/arrange babysitters. In the future, the decision should be made by the final Sunday of the regular season, not when a potential playoff game is completed. For that matter, what took the Yankees so long to decide? Was there any scenario in which they would not have wanted to play the Twins/Tigers the day after either had to play a game and then travel to New York?
Jim Caple is a senior writer for ESPN.com.