Commentary
The greatest athletic competition ever
Originally Published:
October 23, 2009
By
Jim Caple
| Page 2
Editor's note: In the second installment of an occasional Page 2 series titled "Behind the Highlights," which examines the details of compelling, obscure, breathtaking and stupefying video clips as told by the figures in and around the action, we look at the story of a manufactured, made-for-TV event that became the most grueling competition two Super Bowl teams ever faced -- and more memorable than the actual Super Bowl they played.
The Pittsburgh Steelers and the Minnesota Vikings met in Super Bowl IX in New Orleans in January 1975, a game that included 16 future Hall of Famers (counting coaches Bud Grant and Chuck Noll), Pittsburgh's Steel Curtain defense, Minnesota's Purple People Eaters and legendary quarterbacks Fran Tarkenton and Terry Bradshaw. That game, which the Steelers won 16-6, was not the most dramatic or memorable showdown between the two teams, however. That distinction goes to an epic, 16-minute tug-of-war on the sands of Waikiki held two weeks later as part of ABC's "Superteams" competition. After it was all over and the two teams lay moaning and exhausted in the sand, Dick Button -- yes, that Dick Button, the figure skating guy -- told a Sports Illustrated writer, "Nothing -- nothing, not even my own Olympic victories -- has ever moved me like that."
BEHIND THE HIGHLIGHTS
Do you have a suggested video clip for Page 2's "Behind the Highlights" series? Click here to make your nomination.
The principals recall the greatest competition in history.
JEFF SIEMON, former Vikings linebacker: "It was the worst physical strain I've ever been under. It was the most intense, brutal abuse I've ever gone through -- and maybe by far."
DAVE OSBORN, former Vikings running back: "The tug-of-war was the toughest, most physical thing I've ever done, bar none. As far as being tired, I have never been more fatigued. I was always in great shape as a player. Practice was always a breeze. But when you have got to do something for a length of time and don't dare let up, it drains you. It was 16 minutes, but it seemed like 16 hours."
BEV OSBORN, Dave's wife: "You just wanted them to win the Super Bowl, but this was wondering if everyone was going to still be alive when it was over."
The "Superteams" show evolved from the "Superstars" competition, a made-for-TV series; ABC first aired "Superstars" in 1973, and "Superteams" followed in 1975. "Superteams" pitted the Super Bowl and World Series participants against each other in a series of events that included tandem bike riding, a swim relay, an obstacle course, a war canoe race and the tug-of-war that served as the competition's climax. Yes, the '70s were a lot more fun.
DON OHLMEYER, producer and director for the "Superstars": "The original idea was Dick Button's, the old figure skater. He had a thing he wrote up on a half page of paper: famous athletes competing in sports other than their own. ABC Sports was interested in the idea, and we fleshed it out and came up with 'Superstars' -- and out of 'Superstars' came 'Superteams.' We just kind of made up the events, a running race, a bicycle race. We were in Hawaii, so that's how we came up with the war canoe race. And the tug-of-war just seemed to be sort of a natural thing for teams to compete in. It wasn't anything scientific. It was just coming up with seven events you could do."
[+] Enlarge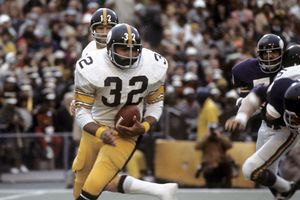 Sylvia Allen/Getty ImagesFranco Harris led the Steelers to a 16-6 victory in Super Bowl IX with 158 yards rushing.
STEVE RUSHIN, former Sports Illustrated columnist and Minnesota native: "As a kid, I didn't distinguish between events and nonevents, so the Vikings-Steelers tug-of-war carried as much weight as the Super Bowl. Perhaps more, since the Vikes were trying to avenge their Super Bowl debacle, which was one of the great disappointments of my childhood. (I'll never forget my best friend Mike McCollow making a sign to hold up to the TV during the NFC Championship Game: 'We're Vikes Fans And Here's Our Plans. We're Gonna Pack Our Jeans for New Orleans.') So I was geeked up for the tug-of-war, owing only partially to the Lucky Charms overload I'd have been on in those days."
IAN ALLAN, publisher of Fantasy Football Index and Steelers fan: "In hindsight, it was ridiculous -- down there with the likes of the one-on-one basketball challenge between Julius Erving and Kareem Abdul-Jabbar and Muhammad Ali taking on a pro wrestler. But it was meaningful at the time. This was 1975. There was no cable television. We didn't have access each week to hundreds of college and pro sports games. So when ABC put the two Super Bowl teams on TV against each other, I cared. I figured my beloved Steelers would roll through the Vikings, as well as the baseball teams."
DON OHLMEYER: "It got good ratings. Originally we put it on because ABC Sports had lost the NBA to CBS and the NBA had been our big attraction on Sunday afternoons. We put the 'Superstars' on and just clobbered the NBA."
BARRY FRANK, event producer, current vice president of IMG World: "Like so many things, if all the people who say they saw it on TV actually saw it, we would have had Super Bowl ratings."
MIKE McCOLLOW, Minnesota native and NBA analyst for Fox Sports Net: "I remember caring more about that tug-of-war than any human being should ever care about a made-for-TV event."
ORANGE CRUSHED BY EARL CAMPBELL
In the first installment of "Behind the Highlights," Page 2 spoke to the men involved in an eye-popping play from Earl Campbell's 1977 Heisman season. Thomas Neumann
"Superteams" was taped soon after the Super Bowl for broadcast later that winter. Players were guaranteed a base amount of money for participating, with bonuses for winning an event, and the Steelers wound up taking home something like $4,000 or $5,000 each and the Vikings about $6,000, plus roughly $5,000 for reaching the next round. The competition was tied heading into the tug-of-war, the final event.
ANDY RUSSELL, former Steelers All-Pro linebacker and "Superteams" captain: "Winning the Superteams competition was a big deal, not because of its importance but because of the money for the winning team. We weren't there just to have fun -- we were there to win and collect the winner's check, which was substantially more money than any of us were making for a football game -- including the Super Bowl. … I put the money in my kid's college fund, helping him go to Dartmouth."
DAVE OSBORN: "Back in those days, we didn't make a lot of money. By going and getting in this 'Superstars' deal, if we won the first round we were guaranteed, I think, $5,000 a person, and [even] if you didn't win, you got a free vacation. The tug-of-war was the final event, and by winning that, we moved on to the final and got like $10,000. That was big when you were making $50,000 a year -- if you were lucky. To go over there and pick up $10,000, that was a big deal. Plus, they beat us in the Super Bowl. The TV people pitched that idea to us right after the Super Bowl. They must have been planning it ahead of time. I don't know how they chose the people who went, but they asked us to come. It was the first year, and we didn't even know what it was. We looked up and said, 'This will be a nice vacation if nothing else.'"
BARRY FRANK: "We paid their hotel bills, but instead of fooling around with their incidentals, we gave each of them an envelope of money. We said, 'This will pay for your incidentals,' and in each envelope was $300, three $100 bills. You would have thought we had given them $20,000. The reaction to cash as opposed to a check is so much greater. I learned a lesson there. Cash is king with athletes."
PAUL KRAUSE, former Vikings defensive back and Hall of Famer: "Back then, when TV said, 'We'll do this, we'll do that,' you wanted to do it because it was something that no one else could do."
[+] Enlarge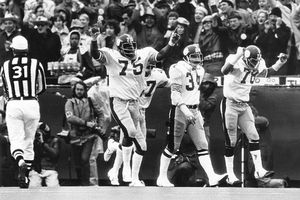 Manny Rubio/NFL/Getty ImagesJoe Greene and the Pittsburgh defense dominated the Vikings, holding Minnesota to just 119 yards on offense.
DAWN SIEMON, Jeff's wife: "It was January in Minnesota, and everybody was like, 'Wow, we're going to Hawaii.' It wasn't a big deal for the West Coast teams, but it was definitely big for us."
The tug-of-war was held on the beach at Waikiki. The track, tandem bike and swimming events were held at Punahou School, from which Dawn Siemon graduated in 1969 and where Barack Obama was a 13-year-old student at the time of the "Superteams" competition. Would a certain teenager have gone to see players from the Super Bowl and World Series compete at his school?
BARRY FRANK: "[Obama] may very well have been there, but if he was, I didn't recognize him at the time. He should have worn a T-shirt that said, 'Stay Tuned, I Will Be President.'"
STEVE RUSHIN: "I remember being fascinated by Waikiki, wanting to go there, to those white sands where twin icons of my childhood -- the Vikings and the Brady bunch -- vacationed."
The Steelers had six players on the rope: Franco Harris, L.C. Greenwood, Ernie Holmes, Jim Clack, Ray Mansfield and Andy Russell. The Vikings countered with these six: Alan Page, Carl Eller, Jeff Siemon, Dave Osborn, Ron Yary and Mick Tingelhoff. The two sides were separated by a 3-foot-deep pit of water and a long stretch of rope. The first team to drag a marker on the rope over to its side was the winner. Whoever won the tug-of-war would advance to the championship round against the Dodgers-A's winner.
DICK BUTTON: "It always was a magnificent thing to see one team pull the other into the water pit. You got expressions and anger and real emotion that couldn't be faked. I think we were going berserk on the side. It was one of those brilliantly wild moments that great athleticism gives you."
JEFF SIEMON: "What really set that up is we had lost to them in the Super Bowl, and I think there was a real determination to win, and everything hinged on the tug-of-war. Everything was tied going into it, and we were determined not to lose."
FRANCO HARRIS, Steelers Hall of Fame running back: "For us, the most important thing and the biggest part was the Super Bowl, OK? … Now these other games -- hey, we wanted to compete, these were fun events to see what other guys could do in other categories, but I guess we looked at it more that, hey, we'll give our best, we'll give our all, we want to win -- but we knew that the victory that really counted was the Super Bowl."
ANDY RUSSELL: "That event, the last and deciding event, was poorly executed by our team. If I recall correctly (and I seldom do) each team was allowed as many participants until the total weight exceeded 1,500 pounds or some number like that. As captain of our 'super team,' I mistakenly used our biggest and strongest players -- i.e., Fats Holmes at 300-plus pounds -- causing us to only have six tug-of-warriors. The other mistake we made was to allow ourselves to fall backwards onto the sand and then not to be able to use any muscles other than our arms. We were totally exhausted, laying there in the hot sand, using only our arm muscles -- we should have stood up and used our legs."
PAUL KRAUSE: "I was the … what would you call it? The guy who was telling everybody to pull? I was the coxswain. I'd run up and down the line and tell them to keep pulling. It was just extraordinary to watch those giant, strong guys pull and pull and pull. Neither team wanted to get beat. It was phenomenal. It was just incredible. They were both pulling for everything they had. I was glad I wasn't pulling because they were suffering."
[+] Enlarge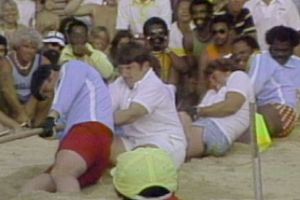 ABCFor 16 minutes, the Vikings dug in the sand and pulled with all their will.
The show producers didn't think the tug-of-war would last more than a couple of minutes. Instead, after the Steelers jumped to an early lead, the two teams dug deep into the sand and fell into what appeared to be an unending stalemate. The tug went on so long ABC had to go to a commercial break and the two teams were still dug in when the cameras returned.
FRANCO HARRIS: "Once I think people saw some people digging in, everybody decided to dig in. And it really turned into a quite a bit longer event than people thought. I believe there was starting to be some pressure from the TV crew that we have to get this over, we can't just have people sitting on the rope."
DON OHLMEYER: "We couldn't just stop it because we hadn't really thought of that. Anytime you do something new, you end up seeing something where you say, 'Oh, we didn't think of that.' We thought it might go three, maybe four minutes. We were afraid it would be over in 30 seconds. How wrong we were."
BARRY FRANK: "This wasn't life and death. But they got into it. That's another thing -- you don't want to let down your teammates."
BEV OSBORN: "I just remember the veins sticking out in Dave's neck and arms. I thought they were going to pop. We got very concerned at the end. You wondered how much longer they could go on. By their expressions, you knew they couldn't last."
DAWN SIEMON: "Jeff was sick, and I was concerned about that. He hadn't eaten a lot. So I was worried about him. I had no idea it would go on that long. I figured it would be a few minutes and done. As it went on I think we were all wondering, 'Is somebody going to call this?' But I knew those fellows would not give up. I knew someone would have to do something exceptional or the refs would have to call it. And I think some of us wanted to have them call it."
DON OHLMEYER: "What was great about it with the football players was it was an opportunity to see them without all their helmets and equipment on. We had all these powerful shots of them straining."
MIKE McCOLLOW: "I remember Franco Harris looking like Gabe Kaplan and also looking like he was going to die and him wishing he would."
With both teams dug into the sand, players attempted different approaches to break the deadlock. At one point, Page stood up, turned around, put the rope around his shoulder and tried to drag his team to victory. The turning point, however, occurred when Pittsburgh's Ernie Holmes left his anchor position to go to the front of the rope and pull in a desperate attempt to change momentum. Instead, that move likely gave the Vikings the opening they needed. They pulled hard and gradually dragged the marker across the line to win.
STEVE RUSHIN: "As I recall it, Page more or less pulled the entire Steelers team across the line -- they appeared to be barefoot water-skiing in the sand --- and then both teams collapsed in a pile of biceps, mustaches, muttonchops, jogging shorts and tube socks."
JEFF SIEMON: "We felt vindicated. We had prevailed, and it meant something. I think I would be understating it if I didn't acknowledge that it was important to every guy that we not lose again. The motivation for us far eclipsed what it was for the Steelers. But that it went on for 16 minutes suggested they were fully committed, too."
After the tug was over, O.J. Simpson (working for ABC) asked Franco Harris why he hadn't gotten up. Harris, lying spent in the sand, raised his head high enough to tell Simpson, "I'm going to out be here for a while, Juice."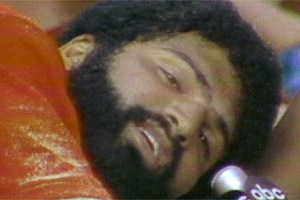 ABCFranco Harris couldn't even move at the end of the tug-of-war.
FRANCO HARRIS: "It was pretty brutal; it took a lot out of us. And with my face in the sand -- that felt pretty good in the time afterwards. When you're in a classic event and you lose it, that makes it a little tougher, that makes you keep your head down in the sand a little longer. … Losing in that vein, there's nowhere to go and so you just have to ponder it and feel the agony a little bit more."
DAVE OSBORN: "We were too tired to celebrate. We were exhausted. It took a long time to recover. I've never been so totally exhausted in my athletic career. My arms -- I couldn't even move my arms for a complete hour. You were so tense for so long, your muscles just locked in that position. I had gloves on -- we all wore cheap handball gloves -- and I couldn't open my hands to get the gloves off."
DAWN SIEMON: "Jeff was just prostrate on the sand and our son, Jeff Jr., who was 2, came running up, 'Daddy, Daddy! Ohhhhh, what's happened to him?' He was all worried about him because he was lying in the sand so long. [The wives] just sat there by them because they literally could not move. They were spent. I sat there with him until he was able to get up and walk away."
ANDY RUSSELL: "I remember lying there in the sand, exhausted and cramping up, quite disgusted that we found ourselves without the use of the strength of our legs -- the Vikings were in the same position -- but knowing that the action of just standing up would have released our 'tug' and the Vikings would have won easily at that moment. Probably the reason the Vikings won was their frustration of having lost that Super Bowl, a game that could easily have gone either way. Perhaps in that 16th minute we were too self-satisfied to continue pulling at our max."
With the tug-of-war victory, the Vikings advanced to the championship against the Los Angeles Dodgers, who were the defending National League champs. With a team including Steve Garvey, Ron Cey, Jimmy Wynn, Bill Russell and Davey Lopes, the Dodgers whipped the Vikings 7-2, including a surprising victory in an anticlimactic tug-of-war.
DAVE OSBORN: "We took on the baseball team in the finals and they had one or two more guys in the tug-of-war. It was the weight limit thing, and they put all their light guys on, so they beat us in like 30 seconds. They just had more arms and legs to work with."
ABC brought back the "Superteams" for a few years and added "Battle of the Network Stars," which became the source of the classic Second City Television parody, "Battle of the PBS Stars" with Mr. Rogers, Julia Child, Carl Sagan and Dick Cavett. It's difficult to imagine under what circumstances you could get Super Bowl and World Series champions to compete in such an event as the "Superteams" these days.
DAVE OSBORN: "You couldn't pay enough money to do it now. They make so much money now, they won't go over there and take the chance of pulling muscles or getting hurt. They wouldn't do what we did. We talked at banquets, dinners, we played in celebrity basketball games -- most of us needed that. We had second jobs to earn money. Teams wouldn't let them do it now. It's tough to even get guys to go to the Pro Bowl."
BARRY FRANK: "What happened was, baseball teams put into their contracts that the players couldn't do it so they wouldn't get hurt. The football teams never did that, but the baseball and basketball teams did. We had a bike race crash, and I thought we killed a couple ballplayers."
KEN GRIFFEY JR., whose father, Ken Sr., competed in "Superteams" with the Reds: "I think the money is different and the guys are getting paid a substantial amount, so unless it's an activity that is related to baseball and MLB is behind it, it will never happen again. If you pull a hamstring in January, it can take you all year to heal. I don't think teams would be real happy about guys participating in that anymore."
In the emotion of the moment immediately after the tug-of-war, Dave Osborn told Sports Illustrated that it was the greatest victory, "the greatest experience," he had ever had in sport and that people "will remember it when they've forgotten who played in the 1975 Super Bowl."
DAVE OSBORN: "It was quite a feat. They talked about that for a long time. You can ask people about the Super Bowl and they won't remember much, but they remember that tug-of-war."
DON OHLMEYER: "It's one of the reasons people love sports and admire athletes. Here are guys who came over to have a good time and yes, they get a little money, but this was competition. The gun fires, the competition starts, and these were a bunch of guys who weren't going to lose no matter what. They were killing themselves. It was unbelievable. When you're making up events, you have an idea in your mind about how good they will be, and sometimes they turn out even better. That's a function of guys really getting into it, and those guys really got into it. It was a matter of pride, and they weren't going to give up. That's the power of television and the power of competition.
"It's kind of a tribute to the athletes and to the guys to make stuff like that memorable."
Jim Caple is a senior writer for ESPN.com. You can follow him on Twitter at @jimcaple.