Commentary
The annual Hall of Fame question
Originally Published:
December 2, 2009
By
Jim Caple
| Page 2
Some votes are easy. U.S. president? Please. Most of us simply vote for the Democrat or the Republican. Besides, we vote for president only once every four years and we don't have to tell anyone how we voted (though the bumper sticker and yard sign usually give it away).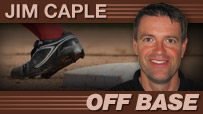 The Baseball Hall of Fame ballot is a different matter. Every year I debate with other voters ("Are you a complete moron? How can you vote for Lee Smith but not vote for Bert Blyleven?") and second-guess myself (was Andre Dawson really better than Dale Murphy?) regarding the candidates, only to have even more players that I have to agonize over added to the ballot the very next year. Not only that, a Hall of Fame vote usually becomes public, so I also have to read through all the e-mail from readers calling me a complete moron and wondering how I keep my job.
Further complicating matters is that none of the borderline candidates offer to lower my taxes.
This year poses more challenges than usual. I haven't even received my ballot yet, but just knowing that it's in the mail leaves me sweating more than if I knew the mailbox would soon contain an audit notice from the IRS, an overdue credit card bill and a reminder that it's time to have my teeth cleaned.
How will I vote? I honestly don't know yet but here's my take on the new candidates:
ROBBIE ALOMAR
OK, this one is an easy yes vote for me, and I hope, for at least 75 percent of the voters necessary for election. Alomar played in 12 consecutive All-Star games, won 10 Gold Gloves, finished within the top six of MVP voting five seasons, hit .300 nine times, scored 1,508 runs, stole 474 bases and helped his teams to two World Series championships. He was a superb, graceful fielder. At his peak, we were not asking whether he was the best second baseman in baseball but where he ranked among the very best of all time.
So instead of debating his credentials further, I will simply relate my favorite Alomar story.
I was interviewing Dave Stewart in the Blue Jays clubhouse just before a spring training game in Dunedin, Fla. With a couple minutes until first pitch, Alomar rushed into the clubhouse. He reached into his locker, grabbed a bottle of cologne and liberally sprayed himself. "Do you always wear cologne when you play a game?" I asked.
"To play good, you must feel good," Alomar replied. "And to feel good, you must smell good."
Admit it. The man belongs in the Hall of Fame just on the off chance they put that quote on his plaque.
EDGAR MARTINEZ
I remember hearing a fellow writer ask Padres broadcaster Jerry Coleman -- who was a former teammate of Joe DiMaggio -- whether Marilyn Monroe was really that good-looking. I loved Coleman's disgusted reply: "No, we just all had really bad eyesight back then." That was the same sort of response I got in the mid-'90s when I asked then-Twins manager Tom Kelly whether he feared any batter more than Edgar. Are you kidding me? Who else would there be?
I bring that up simply to establish that for about a decade, Edgar was considered by many to be among the finest, if not the finest hitter in the American League. But is that good enough to reach Cooperstown when you never do anything but hit?
Just how good does a DH have to be to get in the Hall of Fame, anyway?
I would say that he has to be a hitter whose production ranks him with the sort of baseball legends who normally inspire movies starring Gary Cooper, get candy bars named after them and find their names on Page Six a lot more than they would like. And although virtually no fans outside of Seattle noticed it -- on the few occasions they did pay attention to the Mariners, they were focused on Griffey, A-Rod or Ichiro -- Edgar had a string of seasons that put him in that class. As a stats-oriented friend points out, Edgar had eight seasons of 150 OPS+, which is as many as Roberto Clemente, Ernie Banks, Jim Rice and Paul Molitor combined. He also finished with a .312 batting average, .418 on-base percentage and .933 OPS. Despite being so slow he had moss on his north side instead of grass stains, Edgar also scored nearly as many runs as he drove in. Forget the esoteric stats: For about a decade, almost no one produced runs -- which is kind of the whole point of the game -- the way Edgar did.
So I should vote for him, right?
The other part of a player's job, however, is to prevent the opponent from scoring. And in that regard Edgar did little because he was a full-time DH the majority of his career (roughly 70 percent). If he played only half the game, how can I vote for him?
Now, another friend counters that Hall of Fame voters almost never take fielding into account except when it is considered a plus for the player. He's right about that, and I doubt anyone will hold back a vote for Manny Ramirez because of his poor defense (the steroid thing will be a different matter with some voters). My friend also asks how much difference there is between a DH and a bad first baseman.
Further, he says that, whether we like it or not, designated hitter is a position and if Edgar filled that position so well an award is named after him, how can you hold it against him? Well, I disagree that DH is a position. I see it more as a spot in the lineup -- specifically, the pitcher's spot. After all, you are not required to have a DH in an American League game, but you do need nine players on the field. Further, you can DH only for the pitcher.
So how to vote? After going back and forth, I leaned toward not voting for Edgar, mostly because fielding is important and partly because of his low counting numbers (only 2,247 hits).
And then I thought of Ichiro.
With his 10th season next year, Ichiro will reach the Hall of Fame's minimum eligibility requirements. Ichiro is a career .333 hitter, nine-time All-Star, nine-time Gold Glove outfielder (though several of those are based more on reputation); he has averaged 230 hits and 110 runs per season and is one the most exciting players of his generation. I consider him a clear-cut, no worries, no anxiety, no question about it future Hall of Famer, even if you don't consider his career in Japan. On the other hand, if I had to choose between Edgar and Ichiro for my team, I would be tempted to pick Edgar. Even though he didn't play in the field, he meant that much more to the Mariners offense.
In than case, how can I not vote for Edgar?
So I will.
I think.
(Speaking of Ichiro, as we all know, the guy is a little eccentric when it comes to his equipment. He keeps his bats in a humidor, doesn't let the bat boys touch them and once took a bat back to his hotel room because he felt guilty for throwing it hard to the ground and staining it with grass. Edgar, however, matched him eccentricity for eccentricity. Edgar used a postal scale to weigh his bats -- "Ha! Just as I thought! All that pine tar added one-twentieth of a gram!" Because he had a bit of a lazy eye, he did daily eye exercises with flash cards to strengthen and focus his vision. He also didn't watch TV during the season to further protect his vision. If all that did not get him a ticket to Cooperstown, it wasn't a total loss. At least he avoided watching episodes of "Just Shoot Me!")
BARRY LARKIN
I was already leaning toward voting for Larkin, and then I read what Jayson Stark wrote about him in "The Stark Truth," his book about the most overrated and underrated players of all time. Stark points out that Larkin's career batting average (.295) was 39 points higher than the average shortstop. His OPS was 137 points higher -- 20 percent better -- than the average shortstop. He was a great base stealer with some power (he was the first shortstop in the 30-30 club), a 12-time All-Star and a three-time Gold Glove winner despite playing in the same league as Ozzie Smith for much of his career. And he was the MVP in 1995. Sure, Larkin was hurt a lot but big deal. He still played a lot of games (2,180), and when he did, he was simply one of the best shortstops in history.
So he gets my vote.
Whew. That wasn't so difficult, was it?
FRED MCGRIFF
During the peak of the offense boom, these were my favorite stats about McGriff: He led the American League in home runs with 36 in 1989 and led the National League in 1992 with 35. Which just goes to show you how much the game changed after that due to expansion, smaller ballparks, smaller strike zones, different hitting approaches and, as you might have heard, increased use of steroids. Hmmmm. It's kind of nice to see 39 home runs lead a league again, isn't it?
Are McGriff's 493 home runs, 1,550 RBIs and 1,349 runs enough to merit the Hall of Fame? My initial reaction is no. I just never thought of him as a Hall of Famer. A very good player? Yes. One of the greatest of all time? No. (And in case you're wondering -- no, I don't consider 500 home runs a magic mark so even if McGriff had hit seven more homers, I still wouldn't see him as a Hall of Famer.)
I'm not sure that's fair to him, though. I think his reputation is hurt by having played for so many teams -- he switched clubs six times -- that no fans were able to really claim him as their own. McGriff moved around so much that if he does reach Cooperstown, the most logical cap for his plaque is the goofy one he wore for the Tom Emanski fundamentals commercial.
But while I don't think of McGriff as a Hall of Famer, I'm seriously tempted to vote for him anyway just to ensure he remains on the ballot. I liken him to Lou Whitaker, whom I considered another very good player and borderline candidate. Whitaker, however, didn't receive the necessary 5 percent of the vote to remain on the ballot and was gone after one year. That has always bothered me. Whitaker was good enough to deserve more consideration, especially in this era when statistical analysis is rapidly changing and influencing voters.
Of course, the flip side is if everyone took that approach with McGriff, he would be voted in, which I'm not sure he deserves.
I suppose you could apply the same standard to the other first-timers (Andres Galarraga, Robin Ventura, Eric Karros, Ellis Burks, Ray Lankford, David Segui, Todd Zeile, Shane Reynolds, Kevin Appier, Pat Hentgen and Mike Jackson), but while some of them were excellent players, we don't need extra time to consider their credentials. Congratulations on making the ballot, guys, and feel free to visit Cooperstown any time ... with your paid admission.
Just to complete my ballot, here are the holdover candidates for whom I also vote: Blyleven, Dawson, McGwire, Jack Morris, Tim Raines and Alan Trammell, most of whom I've written at length about in past years.
Anyway, that's how I see my ballot. At least for now. Feel free to offer your thoughts before I send in my vote by the end of the year, though I really don't need to hear I'm a complete moron. Trust me, that point has already been made.
TELL YOUR STATISTICS TO SHUT UP
• While writers agonize over their votes, Cooperstown announces next week whether any executive has been elected to the Hall. Former union chief Marvin Miller didn't get voted in last time even though former commissioner/stiff Bowie Kuhn was. Kuhn over Miller? That was like watching the Yankees win the World Series in six games but presenting the championship trophy to the Pirates instead. Frankly, if Miller doesn't get elected, it will be a disgrace that demeans the entire Hall of Fame. If you fail to recognize the one executive who changed baseball more profoundly (and for the better) than any since at least Branch Rickey, you might as well stop inducting executives. Which the Hall ought to consider, anyway. Those plaques on the wall at the Hall of Fame should elicit admiration, happiness, pride and warm, nostalgic memories. They should not inspire muttered curses and heart palpitations. What the @&$@#?!!?! That SOB Walter O'Malley moved the Dodgers from Brooklyn! And Charlie Comiskey? Give me a break! He financially abused his players so much he drove them to fix the World Series and also helped keep the color line intact! The Hall of Fame is a museum and has ample areas/means to recognize the impact executives have had on the game. But to induct them into the Hall with a plaque on the wall? Sorry, that honor -- the game's highest -- should be reserved for the players on the field, not billionaire owners who did little more than enthusiastically take our money and (often reluctantly) give some of it to the players.
• If you read my similar blog posting over the weekend, skip to the next item. Otherwise, read on ... Baseball teams will approach this weekend's winter meetings the way American consumers approach the day after Thanksgiving: They rush to spend, spend, spend, even though most of what they purchase will be clogging the lineup/riding the pines/forgotten with the rest of the toys within two months of Opening Day. And just like Americans with credit card debt, the teams will still be on the hook for that free agent for years to come (the Diamondbacks owe Bernard Gilkey at least $1 million for each of the next eight years even though he last played for them in 2000, when he batted .110). Parents overspend on toys so they can see their children eagerly unwrap them Christmas morning, even though the kids will wind up spending more enjoyable time playing with the boxes in which they came. Teams do that, too. They overspend on free agents to see fans eagerly buy tickets after watching the new player put on his jersey at a news conference. And what happens? The fans will wind up jeering the new player and getting much more pleasure wearing the team replica jersey in which he came. But it's worse for the teams than the American consumer because teams can't return the free agent to the store ("This Andruw Jones is defective!"). Rather than get caught up in the whole Black Friday/Black Winter frenzy, Americans and teams should instead relax, limit their time in the mall, make some of their own presents and fill their rosters from the farm system. Of course, it all would be easier for baseball teams if they could only get gift cards that could be used later for what they really want ("I think I'm going to go buy that Roy Halladay now.")
• With the holiday season in full swing, here's my list of the top Christmas movies to buy/rent/download: 1, The Ref (does anything capture the Christma spirit better than Kevin Spacey smashing the tree with a fire poker?). 2, A Christmas Story ("I want a Red Ryder Carbine-Action Two-Hundred-Shot Range Model Air Rifle BB gun with a compass in the stock and a thing which tells time").3, It's a Wonderful Life (no matter how many times I see it -- and I see it every year with friends at a little theater by the University of Washington -- the tears always start when Harry says, "To my big brother George, the richest man in town.'' 4, Bad Santa (that little theate, by the way, is the Grand Illusion and it usually combines Bad Santa with IAWL for the most awesome Christmas double-feature ever); 5, Love Actually (the scene when Emma Thompson goes to the bedroom after she realizes her husband gave the necklace to his secretary is simply gut-wrenching -- and she doesn't speak a line. Why doesn't she get better roles these days?); 6, The Shop Around the Corner (far better and truer than the sappy remake You've Got Mail;) 7, In Bruge (not really a Christmas movie, but sort of. Well worth watching regardless). 8, The Big Lebowski (definitely not a Christmas movie in any way shape or form, but funny as hell and always recommended if you need a stress break).
Jim Caple is a senior writer for ESPN.com. You can follow him on Twitter at @jimcaple.