Commentary
Courting the Hall of Fame voters
Originally Published:
December 17, 2009
By
Jim Caple
| Page 2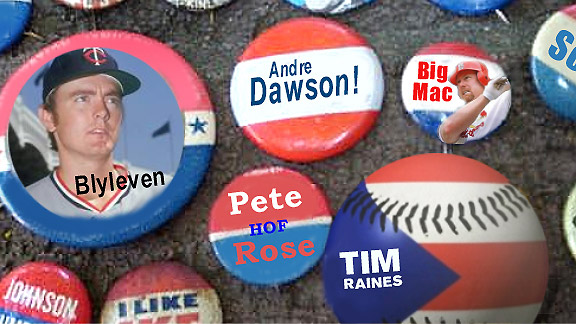 Kurt Snibbe for ESPN.com
Among the Pottery Barn/REI/Harry and David catalogues, magazines, phone bills, Christmas cards (would it kill people to write a brief note along with the photo of the kids?), charity solicitations and supermarket circulars swelling my mailbox this past weekend was a large envelope from an unfamiliar name and address in Miami. Carefully opening the envelope (do you realize how many angry Yankees/Phillies/Red Sox/Cardinals fans are out there?), I found a five-page letter and a DVD from an accountant named Nicolas Villageliu.
"Dear Honored Members of the Baseball Writers Association of America," Villageliu's letter began. "Please accept the enclosed DVD that includes some of the highlights of Andre Dawson's impressive career that features eight gold gloves as well as some statistics that compare very favorably with his peers that have been in the Hall of Fame for some time."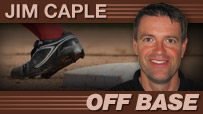 Several pages of statistical analysis followed, all part of a respectful request to write Dawson's name on my Hall of Fame ballot. "We hope all of you should feel proud to elect one of the greats that respected the game and played by the rules," the appeal concluded. "Please show all of us fans, and present ballplayers that integrity and respect are much more important than artificially enhanced statistics."
Essentially, Villageliu had written a letter to Santa, only he did so on behalf of Dawson, asking for a Hall of Fame vote rather than a Red Ryder BB gun with a compass in the stock and this thing which tells time.
Villageliu estimated he and his wife, Carola, worked more than 50 hours putting together the Dawson package. Even though he suffered a massive heart attack this fall, Villageliu worked up a statistical analysis of Dawson's career, Carola searched through media guides for the names and addresses of the Hall of Fame's 500-plus voters, and then they mailed a packet to as many voters as they had found. The postage alone cost more than $250.
And get this. Dawson wasn't even one of Villageliu's favorite players.
"Not really," he says. "I followed baseball a lot and I was very aware of his accomplishments. I'm a big fan of the Reds; I wasn't particularly a Dawson fan. I liked him as a player, but there are players on other teams that you admire."
It's a bit like putting up a yard sign for another state's Senate candidate because you so fervently believe he or she could do great things for the country. Villageliu simply is convinced a great player has been denied his reward by the BBWAA voters and feels compelled to help correct this injustice. "You don't want the players to be suffering all these years," he said. "Let them enjoy the Hall of Fame while they can."
Dawson came close to election in 2009 when he received 67 percent of the vote (75 percent is needed), and he can only hope Villageliu's efforts result in the same sort of spike Rich Lederer has helped provide Bert Blyleven. The pitcher's vote total has increased from 29.2 percent to 62.7 percent since Lederer began advocating for him in 2003 with the first of what would grow to at least 27 articles.
"I did it on Christmas Day when I should have been spending it with my family," says Lederer, a money manager who also writes for baseballanalysts.com. "My family had opened the presents, and I had some time before going to my wife's family. My kids and wife were all good, and so I started pounding out this 'Only the Lonely' article on Bert for the Hall of Fame. I really wanted to get it out there because there was only a week to go before the votes had to be postmarked."
The irony is that while he has no vote, Lederer might have more influence on the writers than did his father, George, who covered the Dodgers for the Long Beach Press-Telegram and had a Hall of Fame vote from 1968 until his death in 1978. It's hard to say how much Blyleven's rise is due to Lederer -- Minneapolis advertising exec Bill Hillsman runs a BertBelongs.com Web site -- but I know I started voting for the pitcher after reading Lederer's arguments.
"I've been a beneficiary of the Internet," Lederer says. "Without that, I wouldn't have a voice. And that voice has helped drum up other advocates for Blyleven."
"He's been a nice blessing for me," Blyleven says. "And hopefully some of the writers on the fence will take a closer look at the numbers."
Lederer says his campaign for Blyleven started out as a natural subject for his baseball blog.
"Over the years, I gained greater interest as Blyleven's voting totals increased," he says. "Now, with him at 60-some percent and within striking distance, and with only three years to go on the ballot, his candidacy is closer to my heart than ever. I'm fearful that if he doesn't get in the next three years, it could be awhile with the veterans committee. Goodness gracious, it would be nice to see him in the Hall of Fame while he's still alive."
Seeing a favorite player get passed over each year must be maddening for these guys. At least in a general election, you can counter the ignorant voters with your own ballot. Not so with the Hall of Fame. Tucson's Corky Simpson gets to vote for Matt Williams and NOT vote for Rickey Henderson, but you can't vote for anyone because you're not "qualified."
"There is a group of baseball researchers who dedicate themselves to, you know, research," Tom Tango says. "They study the players, the context of the performances, the era, everything. They have an expertise. But these researchers are shut out of the voting. For some reason, you need 10 years of membership in the BBWAA to have the privilege to vote. Is this really the best way to do it?"
Tango is a computer systems developer who grew up in Montreal rooting for his favorite player, Tim Raines. He believes Raines belongs in the Hall of Fame, and three years ago, he started Raines30.com to promote the player's qualifications.
"I knew how underrated he was [as a player] and how he's still not appreciated," Tango says. "So, I decided to get out in front and start a push. I guess I may have been inspired by Rich Lederer's push for Blyleven. I presumed that a large group of writers will not see his numbers in the appropriate light. Given his 20-25 percent voting, I was, unfortunately, vindicated."
Many Hall of Fame voters were daily beat writers for years, and most have a deep love of baseball and its history. Regarding a Hall of Fame vote as a privilege and a responsibility, we take great care in filling out ballots. Some, however, gained a vote because they were general sports columnists and editors, not baseball writers. They don't necessarily have a particular knowledge of baseball, and their votes reflect that.
Meanwhile, better-informed fans are denied votes because they never worked in a press box, eating free hot dogs and spilling mustard on worn jackets they received for covering a golf tournament.
"I don't know if the writers use all the information available or if they do their homework," Villageliu says. "But I think they should include some players and managers. What that percentage is, I don't know, but I think they should have some weight on who goes into the Hall of Fame. I know most writers do their homework, but I've seen some arguments that are absurd."
These advocates have no vote to their voice. All they can do is make their cases and hope someone listens.
"It's also very touchy because I know some of the writers might resent this," Villageliu says. "You have to be careful -- you don't want to sound like you're pushy, but you just want to say, 'Here is some information you might not have been aware of.'"
As a Hall of Fame voter, I say bring it on. The BBWAA doesn't have a monopoly on baseball knowledge, nor should we have an exclusive hold on the Hall vote. Add some broadcasters. Add some players. Add passionate stats guys (Rob Neyer and baseball-reference.com founder Sean Forman now are in the BBWAA and eventually will get votes). This won't necessarily get more players elected -- try getting 75 percent of people to agree on anything -- but at least the voters will be better informed. If these guys devote this much effort when they don't have a vote, imagine what they could do if they had an actual ballot.
By the way, Villageliu is a big Barry Larkin fan. And if Larkin doesn't get voted in this time around, his first year of eligibility, writers can expect a Larkin packet next December. "I wouldn't hesitate to help him if that situation comes about," Villageliu says.
TELL YOUR STATISTICS TO SHUT UP
• One of the problems with Hall of Fame voting is that writers base some of their votes on how many MVP and Cy Young awards a player received during his career. Those honors, however, were awarded on vote totals by writers who might have overlooked that player in the first place. So the writers initially punish a player by not voting him an award he deserves, then punish him again by withholding their Hall of Fame votes because they didn't vote him the earlier award. As Lederer says, "One mistake leads to another." Lederer points out this is particularly true with Blyleven. In 1973, he led the league in WHIP, led the league in adjusted ERA, was a close second in ERA, led the league in shutouts, was fourth in innings pitched, a very distant second in strikeouts (Nolan Ryan set the record that year) and won 20 games. Those sorts of numbers would have resulted in very strong Cy Young support today, but back then, only one voter put Blyleven on his ballot -- and he put him third. That's all Blyleven got, a single third-place vote, and he finished seventh. Writers who base their decisions on such vote totals without placing them in proper context are punishing players with standards we no longer consider valid.
• Based on the many rumors that never came true at the winter meetings, the principal value of Twitter seemed to be that it allowed more people the ability to be wrong earlier, quicker and more often.
• Meanwhile, I'm still crossing my fingers that the other teams involved don't realize the Mariners made off like bandits in the Cliff Lee/Roy Halladay trade. The Mariners gave up a couple of prospects, including former first-roud pick Phillippe Aumont, whom the team was wasting anyway by moving him to relief (once again -- you don't draft relievers/closers; you pick them up off waivers). In return, the Mariners got a left-handed Cy Young winner who will pair with Felix Hernandez for what should be the best one-two punch in the league. True, Lee is eligible for free agency next winter, but that gives the Mariners a year of service, plus the option of re-signing him or dealing him for something else later. Seattle fans must come to grips that in Jack Zduriencik, they finally have that GM who fleeces the other team. Meanwhile, the Blue Jays not only received minor league prospects (promising though they might be) for one of the game's best pitchers, but they had to kick in $6 million for the Phillies to take him.
• Mike Cameron signed a two-year, $15.5 million contract with Boston, bringing his career earnings to more than $75 million. That's not bad for a player who has never had 150 hits in a season, has never scored 100 runs, has only one 100-RBI season (2001) and has made only one All-Star team. It goes to show you that if you work hard, are a good, upfront teammate and can cover some ground, you'll do all right.
• Finally, a professional golfer saying he is taking an indefinite hiatus from golf in early December is like a Pittsburgh Pirate saying he's taking an indefinite break from baseball in October. How are we supposed to notice?
Jim Caple is a senior writer for ESPN.com. You can follow him on Twitter at @jimcaple.