Commentary
What might be in A-Rod's art museum?
Originally Published:
December 23, 2009
By
Jim Caple
| Page 2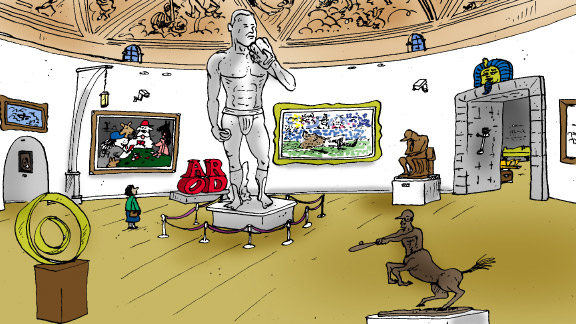 Kurt Snibbe
During the World Series, a former girlfriend of Alex Rodriguez told a gossip magazine that A-Rod had a painting of himself depicted as a centaur (half-man/half-horse) hanging in his bedroom. Everyone enjoyed a good laugh about that. A-Rod as a centaur -- that is so conceited, so bizarre, so thoroughly believable!
In the weeks since Rodriguez repaired his postseason image by winning his first World Series ring, he has had plenty of time to work on his art collection. Just imagine, an A-Rod Institute of Fine Arts! And imagine getting a guided tour …
[A writer is interviewing A-Rod at the player's home.]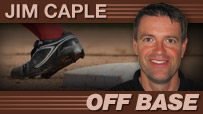 Writer: Is it true you have a painting hanging in your bedroom of you posed as a centaur -- one of those half-man/half-horse beings from Greek mythology?
A-Rod: Ha -- you should know better than to believe the gossip magazines. Besides, that was back when I was with the Rangers -- it was a different art culture back then. I was young and naive. I felt like I had to prove I was worth that big contract with a painting that implied I could win the Triple Crown by leading the American League in batting average, home runs and RBIs, and by winning the Kentucky Derby, Preakness and Belmont. But I've matured since then. Come, let me show you the new acquisitions in my art institute.
[A-Rod leads the writer into a massive rotunda. Among the many pieces of art is a new version of Seurat's "Sunday in the Park."
A-Rod: This is "Sunday in the Ballpark with Alex." It's a depiction of a day game at Yankee Stadium. Notice how the artist's pointillist style captures the blues in the empty seats behind home plate.
Writer: Nice. But why are you lying down in the on-deck circle without a shirt on? Isn't that a little casual?
A-Rod: Not really. As you can see by looking closer, we're playing the Royals, and Zack Greinke isn't pitching for Kansas City.
[They stand by a slightly altered replica of Michelangelo's David -- with a glove in his left hand, a ball in his right, and wearing a jockstrap and stirrup socks.]
A-Rod: I call this simply, "Alex." It shows me poised to knock off the Goliath that is the New York media.
Writer: You have very big … hands.
[They walk over to a new take on Grant Wood's "American Gothic," with A-Rod holding a baseball bat instead of a pitchfork, posed next to Derek Jeter, with Yankee Stadium in the background.]
[+] Enlarge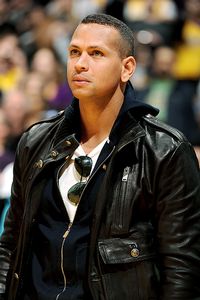 Andrew D. Bernstein/NBAE/Getty ImagesA-Rod's been hitting some NBA games this offseason, and maybe working on his art collection?
A-Rod: I call this one "American League Gothic." It depicts the two great Yankee co-captains just before a big game.
Writer: But why is Jeter wearing a dress?
A-Rod: That's a secret between us co-captains. All I can tell you is, it has something to do with this little superstition Derek picked up while watching "Bull Durham" during a big slump.
[They walk up to a copy of Rodin's "Thinker," only with A-Rod posed in Yankee pinstripes.]
Writer: Wow. You look like you have the weight of the world on your shoulders. Are you deciding whether you should take steroids?
A-Rod: No, I'm deciding whether to stay with my original $250 million contract or opt out in the middle of the World Series for an even bigger contract.
[The writer looks up toward the ceiling of the rotunda.]
Writer: Whoa. Now that is impressive.
A-Rod: Yes, it's a precise recreation of Michelangelo's Sistine Chapel. It took my guy four years to paint it. He developed carpal tunnel and osteoporosis from lying on his back the whole time, and got cataracts from the paint dripping in his eyes. Then, this month, I had him paint over the creation scene. You'll notice that instead, it now shows George Steinbrenner placing a World Series ring on my finger.
[They look at one last painting.]
A-Rod: And this is my personal favorite.
Writer: Well, it's refreshing to finally see that you're not the subject -- though I'm not sure about the velvet canvas. But it's interesting. Let's see. There's Manny Ramirez, J.D. Drew, Carl Pavano and Schottzie -- all sitting around a table playing cards.
A-Rod: I call it "Baseball Dogs Playing Poker." Now, before you leave, I want you to see my collection of ancient Egyptian and Bostonian mummies …
TELL YOUR STATISTICS TO SHUT UP
• Still stuck trying to get a Christmas present for that impossible someone? It could be worse. That impossible someone could be a passionate Phillies fan and you could have purchased a $120 Cliff Lee replica jersey as a gift before the Roy Halladay trade went down. Actually, that may not be such a problem. A Modell's Sporting Goods employee in Philadelphia (he/she asked to be unnamed) said that people are still buying Lee jerseys. "Maybe it's because they want to have the jersey before [they're gone]," the employee said. Or maybe they want something to pair with the Pat Burrell jersey they got last Christmas. Or perhaps they have the inside skinny on a deal that will send Derrek Lee or Carlos Lee to Philadelphia. Which reminds me of when I bought a very cool Jack Clark San Francisco Giants replica road jersey in 1983 (gray with the SF logo on the chest). When Clark left the team before the 1985 season, I was out of luck until Will Clark came up with San Francisco in 1986 and wore the same number (22). Of course, if you bought a Chris Jakubauskas Seattle Mariners jersey this season, you may have a long wait before Seattle has another player by that name.
• The SEC will try to speed up the games in its baseball tournament this season by using a game clock between pitches and innings. During the tourney, pitchers will have to throw a pitch within 20 seconds when there are no runners on base, or they will be charged with a balk. While the intent is good -- college games can last so long, seniors sometimes lose their eligibility by the seventh-inning stretch -- the problem is, most game delays take place when runners are on base and the pitcher is throwing over to first. But how do you limit throwing over to first without giving a baserunner an enormous edge? If college baseball really wants to crack down on the length of games, require that everyone use wood bats again.
• Movie recommendations of the week: "Invictus" (directed by Clint Eastwood, starring Morgan Freeman and Matt Damon) and "Up in the Air" (directed by Jason Reitman, starring George Clooney). "Invictus" is a terrible name for a fine movie about the Rugby World Cup that Nelson Mandela shrewdly used to help bind South Africans together after the end of apartheid (the final game goes on much too long though, even if you know the rules of rugby). Even better than the movie, however, is the book on which it is based, John Carlin's "Playing the Enemy" (a much better title). "Up in the Air" hit a little too close to home for someone who spends way too many days/nights traveling to sporting events and counting frequent flyer/hotel points, but superbly captures the pleasures and sacrifices of that lifestyle (though reaching 10 million miles seems a bit much, kind of like hitting 1,000 home runs).
• Good luck to Brandon Morrow in Toronto. Seattle infamously drafted Morrow over local product Tim Lincecum, and thus Morrow was always compared to the two-time Cy Young winner, which wasn't exactly fair. Seattle also repeatedly switched Morrow between starting and relieving, which didn't help, either. (Although Morrow bears the blame for requesting one of those switches last spring.) Here's hoping the Blue Jays will better utilize him and see that his strength is as a starter.
Jim Caple is a senior writer for ESPN.com. You can follow him on Twitter at jimcaple.