Commentary
Ways to improve the Hall of Fame
Originally Published:
January 6, 2010
By
Jim Caple
| Page 2
You know those traffic signals that transportation departments install at the ends of busy highway entrance ramps? You hate them, right? Well, the Baseball Hall of Fame has the same sort of thing, and it will lead to infuriating gridlock in the next couple of years.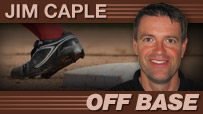 Baseball Writers Association of America members can vote for no more than 10 candidates on a Hall of Fame ballot. It doesn't matter how many worthy candidates there are in a given year; you can't vote for more than 10. I don't know why this is the case. Neither longtime BBWAA secretary-treasurer Jack O'Connell nor researchers at the Hall of Fame knew of an explanation, only that it has always been thus. (By the way, "That's the way it's always been!" is the official, copyrighted motto of the BBWAA, a few members of which still stubbornly resent that we don't travel by train or send our stories via Western Union.)
The 10-player limit hasn't been an issue in the past -- very few BBWAA members max out a ballot, and this year was the first time I did in 13 years as a voter -- but that will change as more and more players suspected of using performance-enhancing drugs become eligible. As we've seen with Mark McGwire, some members never will vote for such candidates -- which means otherwise-shoo-ins like McGwire, Rafael Palmeiro, Barry Bonds, Roger Clemens, Sammy Sosa, etc., will wind up sitting on the entrance ramp to Cooperstown waiting for the signal to turn green.
Here are players who are likely to be on the 2014 ballot: McGwire, Palmeiro, Bonds, Clemens, Sosa, Edgar Martinez, Barry Larkin, Tim Raines, Jack Morris (his last year of eligibility), Alan Trammell, Fred McGriff, Frank Thomas (his first year of eligibility), Mike Piazza, Tom Glavine (first year), Greg Maddux (first year), Jeff Bagwell, Curt Schilling, Jeff Kent, Mike Mussina, Bernie Williams and Lee Smith.
OK, now vote for just 10 of those guys.
Even if players unlikely to make the Hall of Fame anyway were removed from the ballot to make room for all those guys, someone please explain how a 10-man limit is fair. If there are more than 10 deserving candidates in a year, why not be able to vote for them all? If the Hall of Fame is worried that without a limit, writers will vote for undeserving candidates, why trust us with the vote in the first place? Actually, I suspect some writers will use the 10-man limit as a convenient excuse not to vote for players they think used PEDs. "I would have voted for Roger Clemens, but there wasn't any room left on the ballot after I voted for Lee Smith."
This rule makes no sense and needs to be lifted. Ramp meters are intended to facilitate highway traffic flow, not back it up on side streets. A player's career accomplishments should determine whether he gets into the Hall of Fame, not the timing of his candidacy and the size of the ballot.
While I'm on the subject, here are some other ways to improve the Baseball Hall of Fame:
MOVE THE SUITS: When fans pay their $16.50 admission fee to enter the Hall of Fame, are they eager to see which owners and league executives have been enshrined on the walls alongside Willie Mays, Mickey Mantle and Roberto Clemente? Of course not. In fact, seeing the likes of Walter O'Malley and Charles Comiskey up there damages the experience. Seeing the Hall of Fame plaques should inspire joy, pride and wonderful memories -- not disgust and cursing. "That no-good, autocratic, four-flushing slimeball stole my team!!!"
[+] Enlarge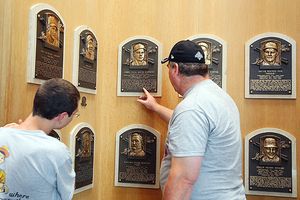 Jim McIsaac/Getty ImagesFans come to Cooperstown to celebrate players, not executives.
The last straw was passing over Marvin Miller again. To recognize the executives who had the greatest effect on the game without including Miller is like recognizing the greatest players without including Babe Ruth. If you're not going to honor Miller, don't honor anyone, particularly the many owners who stubbornly adhered to the indefensible racial barrier. Limit the Hall of Fame plaques to players and managers. You know, the people fans pay to see.
That doesn't mean you can't recognize the achievements of executives. Baseball's Hall of Fame is a museum dedicated to the game's history; there is plenty of space for executives, owners and umpires in the back, side and upper rooms with all the other exhibits, including the writers and broadcasters who receive the Spink and Frick awards. (It always amuses me to hear references to the "writers wing" or the "broadcasters wing," as if there is this massive marble room with Greek statues and oil paintings. There isn't. It's just a simple plaque on a back wall listing each year's winner, not unlike the plaque at your old high school listing honor society members. And if that's good enough for Ernie Harwell and Vin Scully, it damn well should be good enough for Bowie Kuhn.)
Oh, and while we're at it, we should find space in a back room for a few scouts. After all the years of virtually anonymous work and countless miles on the road, they deserve some recognition.
MAKE VOTES PUBLIC: I can hear writers howling already. "Votes are private in this country. We don't have to reveal them or explain them to anyone." I'm sorry, but that applies only to general elections. Voting for the Baseball Hall of Fame is not like voting for the president of the United States. It's more important.
Thanks to the Internet, more people have been able to learn how writers voted and why. That has led to spirited discussion, debate and a free flow of opinion that has increased the knowledge of the voters and broadened their views (as well as made us aware of how many angry people there are out there with spare time on their hands). Making all votes public would help even more.
If you're embarrassed by your ballot, maybe you shouldn't have one.
IMPROVE THE VOTE: As I wrote last year, expanding the voter base would not necessarily help borderline players. In fact, the more people vote, the harder it might be to get 75 percent to agree on anything. Ask a school board trying to pass a levy about this or refer to last year's ESPN.com poll in which less than 75 percent of users said they would vote for Pedro Martinez.
That doesn't mean, however, we shouldn't try to broaden the base of voters. We should include select analysts who put a lot of research into this issue, as well as broadcasters who see more games than writers. I would even include a panel of ballplayers and/or managers.
But how do you do all that without getting too many voters?
One way is the Corky Simpson rule I proposed last year, named for the meathead who didn't vote for Rickey Henderson. This rule would take ballots away from voters who fail to vote for a player who received, say, 92 percent of the total. In other words, we all can disagree about the qualifications of Andre Dawson, Bert Blyleven and Tim Raines; but if you fail to vote for someone such as Henderson or Hank Aaron (as people have), you not only lose all credibility as a baseball expert, but you also should lose your vote.
To trim the ranks further, the Hall candidates could be posted on the BBWAA Web site during spring training, with full statistics from sites such as baseball-reference.com. Everyone would be invited to contribute arguments for or against players until November. At that point, only eligible voters who reached a specified level of participation in the blogs would receive actual ballots. This would go a long way toward weeding out voters who don't really care that much and don't put adequate thought into their ballots.
These proposals wouldn't necessarily increase the number of players elected -- nor is that necessarily bad. The Hall should be difficult to reach. But it would get us a more diverse and better informed electorate. More importantly, it would guarantee one thing: All those people complaining about how stupidly the writers vote finally would see how challenging it really is when you have an actual ballot in your hand.
DONNY, YOU'RE OUT OF YOUR ELEMENT
[+] Enlarge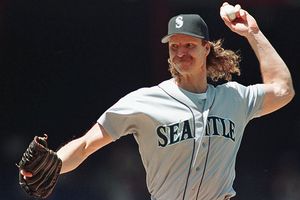 AP Photo/Duane BurlesonRandy Johnson's heroics in 1995 perhaps saved baseball in the city of Seattle.
• Speaking of Baseball Hall of Fame candidates … low-flying doves are safe again. Randy Johnson announced his retirement Tuesday after compiling 4,875 career strikeouts, 303 victories, five Cy Young Awards and one very bad haircut. There were many impressive things about Johnson, but consider that, at age 26, he still had only 10 major league victories, and he had less than 100 victories when he was 32 years old. That was due in part to the long time it took him to harness his control. In his first three seasons of pro ball, Johnson walked 246 batters in 287 innings, including 128 in 140 innings in the Double-A Southern League in 1987. Johnson figured it out, though. Congratulations on a great career, Randy. Here's hoping they hang your Hall of Fame plaque high enough to be at eye level for one of the absolute greatest pitchers of all time.
• It's worth pointing out again that Johnson was part of a 1989 Seattle Mariners rookie class that included four possible Hall of Famers. The others: Ken Griffey Jr., Omar Vizquel and Edgar Martinez.
• Jayson Stark, my respected colleague, thinks Hall of Fame voters should have to make up their minds about a player within five to 10 years. And he's right; we should. Unfortunately, we don't, which is why we need the full 15 years. Consider Bert Blyleven. He received 18 percent of the vote his first year, dropped to 14 percent the next year and still was nowhere near election his fifth year (26 percent). But he was all the way up to 63 percent last year and stands a good chance of being elected either this year or next. Also, remember that it took Jim Rice 15 years on the ballot to get elected. Given that the Veterans Committee is letting virtually no one in these days, remaining on the ballot for 15 years is the only way some players will get in. Isn't that worth some annual disappointment for the candidates along the way?
• By the way, according to ESPN Stats & Info, the player to go from the smallest vote percentage to eventual election in the past 40 years was Luis Aparicio. Aparicio is an amazing case. He went from 12 percent of the vote in 1981 to 84 percent and election just three years later in 1984. How did that happen?
Jim Caple is a senior writer for ESPN.com. You can follow him on Twitter at jimcaple.