Commentary
The passion of figure skating fans
Originally Published:
January 21, 2010
By
Jim Caple
| Page 2
SPOKANE, Wash. -- Figure skating fans are different than, say, Yankees or Browns fans. For one thing, skating fans don't ever throw beer or batteries at the athletes. They throw stuffed animals to the skaters and they used to throw flowers and sometimes they throw, well, other things.
"I've had lingerie thrown on the ice before," two-time silver medalist Elvis Stojko said. "I remember at one competition the panties came out on the ice after my short program and the top came out the next night after the long program, with a phone number and name attached."
And the really interesting thing is, the underwear wasn't part of Johnny Weir's costume.
Fans in other sports show up in team caps and jerseys with their faces painted and they shout things like "A-Rod sucks!" Skating fans wear patterned sweaters decorated with pins and flashing buttons and they hold up signs that read, "I [HEART] YOU, EVAN!"
[+] Enlarge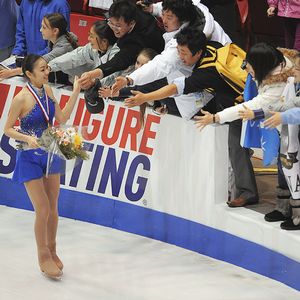 Timothy A. Clary/AFP/Getty ImagesIt's all love and no hate among the figure skating faithful.
Baseball fans can tell you Derek Jeter hit .324 in 1998 with a league-leading 127 runs and an OPS+ of 127 for the Yankees, who won 117 games through the postseason. Skating fans can tell you Michelle Kwan's music that was played at the 1998 Olympics, both in her short program and her long program.
"She skated to a Rachmaninoff medley and then she skated to 'Lyra Angelica,'" Katy Waldram said without a moment's hesitation.
Waldram said this while waiting eagerly in line to get Evan Lysacek's autograph at the U.S. figure skating championships this week in Spokane. Impressed, I tested her further by asking what Johnny Weir skated to at the 2006 Olympics. After she hesitated for a moment, I said he skated to "The Swan" in the short program, to which she indicated that, duh, everyone knows that. What she was struggling to remember was Weir's music for the long program. Once she realized the hangup was that he had changed his music between U.S. nationals and the Olympics, the answer was easy. "He changed his music to "Otonal" because he didn't like his long program at nationals."
It was like talking to the Bill James of sequins.
"We're more loyal to one person. In football, people are loyal to a team and the teams always change so their favorite players have to change," Waldram said. "For example, I've followed Johnny Weir for five or six years. I followed Michelle Kwan for 15 years, and you become way more loyal and way more attached to them. If your favorite football team doesn't win, you're probably not going to burst into tears. When Michelle Kwan lost the Olympics, I was inconsolable."
Wasn't everyone?
The biggest difference between figure skating fans and other fans is that you will never, ever hear a skater heckled during a competition. Sure, fans will boo the judges when they lowball a routine. But to heckle an actual skater? Unheard of. Nobody ever shouts, "You stepped out of your triple toe, you clutz!" or "Your costume makes your butt look huge!" or even, "What, Tchaikovsky again? Get some American music, you commie @#&%!"
Stojko said the only time he can remember anything close to heckling during a performance was at the 1994 Olympics when Tonya Harding stopped her routine to plead for a re-do after a lace snapped on one of her skates. As she cried and pleaded her case to the officials, Stojko could hear a smattering of boos. But even those boos weren't very loud.
Basically, the only way fans will boo is if the skater is involved in a felony plot to break the kneecap of a competitor with a metal baton -- and only then if the skater also has a problem with the routine and asks to start over. In that case, a few people will show their displeasure by not applauding or throwing stuffed animals.
Milton Bradley would love this sport.
"You should hear the way we talk, though," Denise Sorenson said. "We have our own little commentary. We're very truthful if we don't like them."
(Perhaps there are no hooligans in figure skating because there is so little alcohol. Instead of drinking grossly overpriced beer, skate fans drink grossly overpriced lattes.)
Actually, there are more similarities than differences between skating fans and fans of other sports. Skating fans love their sport and they'll spare little expense to see it. Waldram flew here from St. Louis for the national championships. I met an Atlanta man who not only travels to the national championships with his wife every year, they went to Warsaw to see the European championships. Skate fans passionately follow and root for their athletes. They know their statistics. They even have fantasy leagues.
Darn! I knew I should have started Caydee Denney and Jeremy Barrett for my pairs team!
Skating fans know their stuff, the same as every other fan. It's just that it's different stuff.
As a fan named Mary Towne told me, "There are people who know every single thing. They'll say, 'That's going to be a good routine because he has Scott Hamilton's choreographer.'"
Fortunately, there is one more significant difference between figure skating fans and other fans. Skating fans never wear replica jerseys.
Jim Caple is a senior writer for ESPN.com. You can follow him on Twitter at jimcaple.