Commentary
The Page 2 Winter Olympics preview
Originally Published:
February 12, 2010
By
Jim Caple
| Page 2
Confused by what to watch in an Olympics that Michael Phelps isn't competing in? No worries. The Page 2 Olympics guide highlights the top event for each of the next 17 days.
Feb. 12: Opening ceremonies -- Which iconic Canadian will light the torch to open the 2010 Vancouver Olympics? The smart money is on Wayne Gretzky -- and by "smart money" I do not mean any bets placed by his wife, Janet Jones Gretzky, who would probably take the 200-1 long shot on William Shatner even if she saw the torch in her husband's closet. By the way, the opening ceremonies are being held inside a domed stadium, which should make for a spectacular visual when the Olympic torch is lit and the Vancouver fire department rushes in to extinguish it for violating multiple fire codes.
[+] Enlarge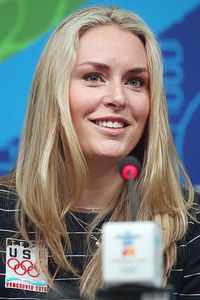 Jamie Squire/Getty ImagesYou're going to continue hearing a lot about Lindsey Vonn over the next two weeks, that's for sure.
Feb. 13: Men's downhill -- At Torino in 2006, Bode Miller partied so hard that he had as much trouble navigating bar stools as he did slalom gates -- turning his official Olympic motto into "Higher, Faster, If I said you had a beautiful body would you hold it against me?'' This time we've heard so much about how he is a new father and more mature, so the question is not whether Miller will stay sober, but whether he can win while skiing with a BabyBjörn.
Feb. 14: Women's super-combined -- Lindsey Vonn is supposed to be the face of these Olympics, but unfortunately right now her face is a big :(. Vonn pulled off the rare double of appearing on the cover of Sports Illustrated one week and posing in a bikini in its swimsuit issue the next week -- thank God David Wells never did this -- and she paid heavily for it with the SI jinx. She suffered a deep bruise in her lower right shin last week and isn't sure how well she'll compete or in what events -- more bad news for NBC, which has already said it will lose $250 million covering these Games, and was banking on turning Vonn into the Michael Phelps of Vancouver. If she doesn't overcome her injury, she'll instead be Vancouver's Jay Leno.
Feb. 15: Pairs figure skating final -- And you thought Shaq and Kobe had an interesting team dynamic? Amanda Evora, who skates with Mark Ladwig on one of the American pairs teams, is dating Jeremy Barrett, who skates with Caydee Denney in the rival American pair. "Hey, sweetie, I won a gold medal! How was your day?"
Feb. 16: Women's snowboardcross -- This was the event in 2006 in which Lindsey Jacobellis embarrassed herself by attempting to show off near the finish line and instead fell, blowing a huge lead and finishing second. Jacobellis learned her lesson though, and promises that this time she won't stop to answer reporters' questions and sign autographs until after she crosses the finish line.
Feb 17: Women's downhill -- By the way, part of Vonn's treatment for her bruised shin is wrapping cheese on the injury to reduce swelling. Seriously. Cheese. If that doesn't work, she could always try leaches, peach pits and copper bracelets. But even if the cheese remedy works and Vonn pulls through to win gold, the big question is whether she can avoid testing positive for Velveeta.
Feb. 18: Men's figure skating -- All eyes will be on Johnny Weir, who buckled to animal rights protests and removed the real fox fur from his Fallen Angel costume. Weir said he's replaced it with fake fur, but you never know with Johnny, who sometimes responds to mail from angry animal rights protesters by sending back a postcard on which he's drawn a chipmunk with the eyes crossed out. (Really, that's what he said he does.) So, just out of spite for the activists who flooded him with hate mail, he might drag bludgeoned baby seals across the ice.
Feb. 19: Skeleton -- This is Zach Lund's chance for revenge. Lund is finally getting his chance to compete in an Olympics, after being banned from the Torino Games just before the opening ceremonies because he had previously tested positive for a substance that was in an anti-hair-loss treatment. It was the worst sports scandal involving hair care ever, with the possible exception of Pete Rose singing the Brylcreem jingle.
[+] Enlarge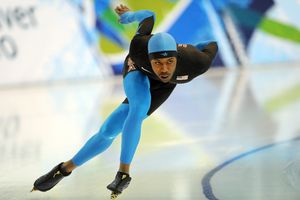 Saeed Khan/AFP/Getty ImagesShani Davis will be another oft-mentioned name over the next fortnight.
Feb. 20: Men's 1,500 -- Shani Davis, expected to win multiple gold medals, recently beat Stephen Colbert in a 500-meter race despite spotting the "Colbert Report" host a 13-minute lead in an event that usually takes Davis about 35 seconds to complete. That's nothing unusual for Davis, who has so distanced himself from his teammates that he often spots them a 13-minute lead when going out to dinner, then takes a separate cab and goes to eat alone at another restaurant on the other side of town.
Feb. 21. Hockey rivalry day -- Big rivalry day in hockey. Sweden plays Finland, Russia plays the Czech Republic, the U.S. plays Canada, and the Charlestown Chiefs play the Syracuse Bulldogs, with a $100 bounty placed on Syracuse head coach and chief punk Tim McCracken.
Feb. 22: Free dance -- If you think Johnny Weir's costumes are outrageous, wait until you see what Russian ice dancers Oksana Domnina and Maxim Shabalin are wearing. They'll don Australian aboriginal costumes for their original dance, which has greatly offended Aborigines. Hope they don't do something like a tribute to minstrel shows in the deciding free dance.
Feb. 23: Nordic combined team -- The U.S. may win its first-ever medal in Nordic combined. Which is a huge relief, because I know the lack of a Nordic-combined medal has been keeping Americans up at night.
Feb. 24: Women's giant slalom -- If Vonn isn't healthy enough to race by this event, a desperate NBC will resort to putting skis on Michael Phelps or Jay Leno.
Feb. 25: Women's figure skating final -- There is a good chance the U.S. will fail to medal in this event for the first time since the 1964 Olympics. Hmmm. What are Jeff Gillooly, Shawn Eckhardt and Shane Stant doing these days?
Feb. 26: Short-track speedskating -- Here's a great drinking game to play at home: Every time a heat ends with a crash or interference, drink a beer. Every time a race ends with the official "winner" crossing the finish line any time other than first, drink another beer. Every time a skater shrugs when asked how capricious and bogus it all seems, and replies, "That's short track," drink yet another beer. I guarantee you will quickly become so hammered that short-track speedskating may actually seem like a real sport.
Feb. 27: Men's four-man bobsled -- Sadly, the Jamaican bobsled team did not qualify for the Olympics this time. Worse, they weren't eligible for "American Idol," either.
Feb. 28: Gold-medal hockey game -- If Canada does not win the gold medal, the closing ceremonies will begin with the traditional lighting of Canadian hockey coach Mike Babcock.
Jim Caple is a senior writer for ESPN.com. You can follow him on Twitter at jimcaple.