Commentary
Saying goodbye to Hi Corbett Field
Originally Published:
March 24, 2010
By
Jim Caple
| Page 2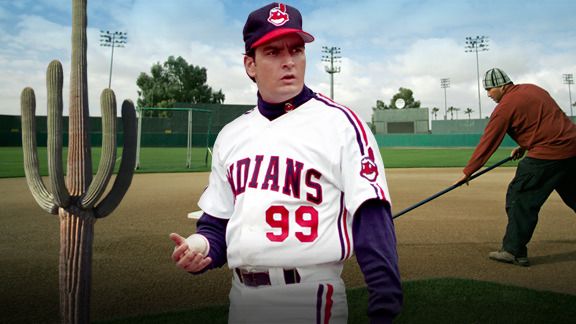 ESPN.com Illustration
TUCSON, Ariz. -- The Rockies will play the final Cactus League games at Hi Corbett Field this week and then move to Scottsdale next year. And when they do, spring training will become just a little more corporate.
Hi Corbett has been home to spring training since 1947, but few players are shedding tears about saying adios. "It's old, very old," Colorado first baseman Todd Helton said, trying his very best to come up with a non-derogatory description. "Yeah, a good way to describe it is very old."

Yes, it is, and that's what I like about the place. Hi Corbett feels more like the way spring training once was, when a team's objective was to get overweight players back in shape after a winter peddling insurance rather than to sell $30 "premium date" tickets, $8.50 beers and $40 souvenir shirts to wealthy fans vacationing from Chicago. Don't get me wrong -- spring training still is a wonderful time, and every fan should enjoy its many pleasures at least once (every date is a "premium date" when you're layering on sunscreen while watching a Cactus or Grapefruit League game instead of shoveling snow). But as teams gouge taxpayers to build ever more lavish new "complexes," spring training not only becomes a little more big league; it becomes a little less personable and a little less accessible.
Hi Corbett, however, is as old-school as a flannel uniform. Set amid Tucson's Gene C. Reid Park, the stadium is surrounded by a golf course (the Braves really should have trained here), a zoo (the only one in baseball outside of the bleachers at Yankee Stadium and Fenway Park), picnic areas, walking paths, ponds and very public spaces. On a recent Sunday, you could see the Rockies warming up on one field, a dozen or so people performing Tai Chi beneath a small grove of trees a few yards away and a father and son playing catch just behind them.
It was so wonderfully pastoral that Georges Seurat should have painted the scene -- "Sunday in the Park with Jorge De La Rosa."
"You don't feel like it's a moneymaking venture here," said former pitcher Roy Smith, who trained at Hi Corbett in the 1980s with Cleveland. "The guys are getting ready. You're close [to players]. It's more like a park over there instead of a complex. The fans can get close. That's why I always liked it. It was like that at Vero Beach [Fla.]. It has some of the aspects of the Vero Beach when the Dodgers were there."
Unlike at other facilities where the fans are fenced off from the players, the home clubhouse at Hi Corbett leads directly into a public area, requiring players to either come in contact with fans or never leave the stadium. And many of them are very willing to sign autographs. Not just a couple signatures, but autograph after autograph.
"The fans are right on top of you," Helton said in an approving tone. "They have more access to you coming in and out. That's good on some days, bad on others."
Hi Corbett is not only figuratively a step backward in time, it is also literally backward, with home plate and the batter facing west into the sun. The strange geography is especially noticeable given that there is virtually no shade in the stadium -- a meager roof covers only a very small section of the seats behind home -- which means that the stadium's unofficial slogan is "Always wear sunscreen." With, one longtime fan added, the additional clause that you should also bring cold beer.
You've probably seen Hi Corbett even if you've never been to Tucson because they filmed the spring training scenes for "Major League" here. This gives Hi Corbett the distinction of having both Bob Feller and Charlie Sheen pitch from its mounds.
"That's definitely a unique experience. I never thought of it that way but I had a chance to meet Bob Feller and he's really a neat individual," Rockies starter Aaron Cook said. "I've never had the chance to meet Charlie Sheen, but the chance to pitch on the same mound as a Hall of Famer and a great actor like Charlie Sheen is something that not too many people can say they've done."
Granted, "Major League" made Hi Corbett look pretty rustic, but Charlie Sheen, Tom Berenger and Wesley Snipes still had it better than when Feller and the Indians moved here in 1947. "It did not have a dirt floor, but we had scorpions in the clubhouse," Feller said. "They were in the toes of your shoes. It was very close and very cozy. Not a lot of room but it wasn't that bad. I actually saw worse clubhouses in the major league."
Wait a second. Scorpions? "There were scorpions that would go and hide in the dark part of your shoe," Feller said. "And you had to be careful when you put on your shoes because there might be a scorpion in there and he would come out and sting you. Those little scorpions could nail you pretty good."
Feller was still a Hi Corbett presence long after he retired. Ex-players and writers vividly recall him standing in center field, practicing his pickoff move. He would stand there and look over his shoulder as if checking a runner at first base, then suddenly turn and fire the ball to the fence. He was doing that, mind you, when he was in his 70s.
All of this is what gives Hi Corbett its character. And it's what's missing from so many of the new spring facilities. They're all very nice and useful for teams, but they're also like the multipurpose, cookie-cutter stadiums built in the '60s and '70s. They all look alike. Peoria resembles Surprise, which resembles Goodyear, which resembles Jupiter. Stand in front of a Dippin' Dots stand or wait in line for an $8 cheeseburger and, like Milton Bradley, you may not be sure exactly which team you're with that day.
Colorado outfielder Jay Payton said he heard the Rockies' new facility in north Scottsdale (which they'll share with the Diamondbacks) will have a portable workout room that can be wheeled outside when the weather is nice. Great. Good to know the players can work on their bench press and their tans at the same time.
[+] Enlarge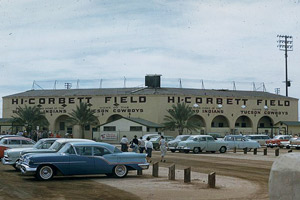 Tim Sheridan While Hi Corbett may not have the amenities of a modern complex, it oozes the essence of baseball.
The Cubs, meanwhile, are threatening to move from Mesa unless the city agrees to more than $100 million in upgrades to their camp. The funding proposal would add another fee to rental car taxes that already are at 50 percent -- my car cost $344 for nine days and the taxes were $175 -- plus an 8 percent tax on every ticket to every game their rival teams play in Arizona (White Sox fans will be thrilled to pay money to the Cubs to see their team play in its own stadium). Few things upset me in sports anymore, but owners who blackmail communities into building them new stadiums (and then hypocritically bitch about government "socialism") still make me turn so red in the face I look like Chief Wahoo.
I mean, come on. The Cubs need a $100 million makeover in this economy? In a state that has been hit about as hard as any by the recession? For a spring training site? Really? Get real. There are 14 other teams in Arizona -- including a Chicago team that has won the World Series in the past five years, let alone the past century -- and fans will be only too happy to go see them instead if the Cubs move.
I say let the Cubs leave. Better yet, have them move to Hi Corbett, a beautiful ballpark that will be available next spring. It may not have a portable fitness room or a high-priced steakhouse, but it was plenty good enough to send a team to the World Series in its second year of spring training (Cleveland in 1948) and another one in its 60th (Colorado in 2007). The Cubs are too pigheaded and greedy to take advantage of this opportunity, but a couple Japanese teams are considering moving their camps to Tucson.
It's easy to see why. Hi Corbett has the sort of appeal that extends across oceans and beyond generations. Whether you're a 10-year-old Little Leaguer, a faux "Major Leaguer" or an aging Hall of Famer, the park provides such a spring training feel that you just have to pick up a baseball and see how hard you can throw it.
BOX SCORE LINE OF THE WEEK
With minor leaguers trying to make the club and veterans simply getting their work in, you get used to high-scoring games in spring training. So that the Royals beat the Diamondbacks 24-9 on Friday was not surprising, nor that Billy Buckner gave up eight runs in two innings or that Aaron Heilman gave up seven hits in one inning. What was surprising was Brian Anderson's award-winning line:
5 AB, 3 R, 5 H, 7 RBI
That's right -- five hits in a Cactus League game! Not only that, he hit for the cycle as well. He tripled home two runs in the first, doubled in a run in the second, hit a two-run homer in the third, singled home two more runs in the fourth and singled in the fifth when the Royals took a 21-0 lead. "You can't have a much better day than Brian Anderson," Royals manager Trey Hillman told reporters. "I was actually planning on playing him the majority of the game, but I was afraid he would pull something if I left him in there."
DONNIE, YOU'RE OUT OF YOUR ELEMENT
• I received a review copy of the Willie Mays biography by James S. Hirsch just before I drove up to Vancouver for the Olympics at the beginning of February and experienced the weirdest thing: When I opened the book, the pages had the same wonderful smell as a freshly opened pack of baseball cards, circa the early '70s, when Topps still included sticks of gum. I was instantly transported back to 1971, when my brother and I listened to the Giants' night games over a fading radio signal from 700 miles away, and copied the box scores into a notebook each day, and Mays homered in the first four games of the season, and I taped a newspaper photo of his fourth homer to the wall above my bed, and Sister Joanna had me stand up in front of my third grade class and tell them about the homer (my first venture into sports "reporting"), and I checked out a battered copy of a Mays biography from the school library and read it from cover to cover. I bring all this up to drive home the point that I was as well-prepared to enjoy the new biography as anyone possibly could be. Which also explains my disappointment. At 628 pages (including notes), the book is long, so long that I wound up reading 3½ other books before finally finishing it while covering the Paralympics this weekend, six weeks after I started the bio. I brought it with me to spring training to read while waiting in clubhouses and on fields for interviews, and fans frequently asked me what I thought of the book. My response was "It's OK, kind of long, but well worth reading if you're a Mays or Giants fan." The book includes a lot of good detail about Mays' finances, and some of the racism he faced over the years, along with a pretty decent account of the Giants' history from 1951 until Mays' trade in 1972. The problem is that despite its length, only a final 24-page epilogue covers Mays' life from his 1973 retirement to the present. There is only a brief account about his relationship with Barry Bonds. In many ways, the epilogue is the freshest and most interesting part of the book (his career has been well-chronicled previously) and I wanted much more of it. As I told the fans at spring training, if you're a Mays or a Giants fan, you'll enjoy this book. It just devotes too much time to Mays the player and not nearly enough to Mays the man.
• BTW: A fan who was there told me Mays was signing copies of the book for $250 (including the book) at a Giants spring game two weekends ago. At first I was stunned by the amount but quickly changed my mind after thinking about it some more. Mays was one of the three greatest players in the game's history and yet he was cheated out of his deserved earnings by the owners, their greed and their reserve clause. The man deserves to make whatever money he can off his name.
• Joe Mauer's contract extension is probably only a surprise to Boston and New York fans who couldn't imagine the catcher playing anywhere but their cities next season. But Mauer, a St. Paul native, is as much a part of Minnesota as Frances McDormand's accent in "Fargo" and I always assumed he would re-sign there. What is difficult to come to grips with is the Twins' signing a player without using an IOU. I mean, the Pohlads are paying a player $184 million? On top of an $80 million contract for Justin Morneau? A payroll near $100 million? Seeing the Twins spend money like this is as strange as hearing a talk radio host saying, "Actually, I don't know the answer to that. So let's call up an impartial authority to explain all sides of the issue." Pity the Pohlads couldn't have felt this generous when it was time to decide whether to include a retractable roof on their new ballpark.
Jim Caple is a senior writer for ESPN.com. You can follow him on Twitter at jimcaple.