Commentary
Mets, Cardinals delight in extra innings
Originally Published:
April 21, 2010
By
Jim Caple
| Page 2
I love extra innings. Bonus panels, supplemental stanzas, extended entertainments, additional chapters, prolonged procrastinations, appended filibusters, federally approved allotments of surplus cheese, another hole to fill the Albert Hall … whatever you want to call them, I can't get enough.
It's odd. Three-hour, drawn-out games with batters stepping out of the box after every pitch are excruciating for me to sit through. But as soon as a game goes into extra innings, I never want it to end. I want the game to break records and last forever. And in theory, it can. There are no gimmicky shootouts in baseball, no sudden death. Baseball just keeps playing, inning after delicious inning, with no game clock to end things while everyone is being entertained. It's like "The Simpsons" getting renewed season after season.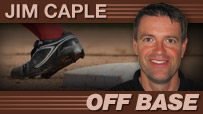 I thought about this while tracking the 20-inning game between the Cardinals and Mets on Saturday. I was in the Safeco Field press box for the Mariners-Tigers game, but as we all glanced at the out-of-town scoreboard and saw the Cards and Mets were still tied 0-0 after 14 innings … after 15 innings … after 16 innings … a game 2,000 miles away stole our attention away from the one right in front of us. Seventeen innings … 18 innings … and still no score. It was as if the Mariners were playing the Astros. The PA announcer began delivering updates to the fans, and the crowd cheered when St. Louis scored a run in the 19th to tie the game and send it on to the 20th. At some point, it ceased being a game and became an event.
Tony La Russa, aka the Smartest Man in the World, ran out of pitchers first, and the only surprise is that it took him until the 18th inning to do so -- given that he replaced Matt Holliday with a pitcher in the 11th during a double-switch. Infielder Felipe Lopez, who began the game at third base and later moved to short, wound up on the mound in the 18th and threw a scoreless inning. (Pitcher Kyle Lohse eventually played three innings in left field and caught two fly balls.)
Joe Mather pinch hit in the 10th, went to center in the 11th, went to third base in the 17th and took the mound for the 19th. He walked one batter, hit another, walked two batters intentionally and gave up the first run of the game even though the first six batters he faced didn't have an official at-bat against him (no easy feat). Then the Cardinals came back and tied it with a run in the bottom of the 19th -- you knew they would -- against Francisco Rodriguez, who estimated he threw 100 pitches in the bullpen while warming up repeatedly as the game wore on.
The Mets scored again off Mather in the 20th and held on to win 2-1 in the longest game in the majors in two years, and what had been the longest game to remain scoreless in more than 20 years. Mather became just the fifth position player in the past 22 years to earn a decision, while New York starter Mike Pelfrey pitched the bottom of the 20th for the Mets to get the save, giving him the team lead for wins (two) and saves (one).
You don't get wild stuff like that in other sports, which is to their detriment. Sure, basketball has overtime periods (a very rational method for ending a tie), which theoretically can go on forever, but games rarely go into more than double or triple overtime (the NBA record is six overtimes, and the NCAA record is seven) and no overtime has lasted as long as a regulation game.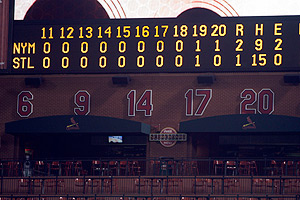 AP Photo/Jeff RobersonThere is simply no such thing as too much baseball.
The NFL recently made a puzzling change to its sudden-death overtime rules. The first team to score still wins unless it's a playoff game. In a playoff game, if the first team with the ball kicks a field goal, the other team gets a chance to respond with a possession. If the first team scores a touchdown, however, the game is over. The difference, the NFL says, is because the first team wins on a field goal too often, which is unfair to the team that loses the coin flip.
But if the NFL is so concerned about being fair to both teams in overtime, why not mimic baseball's extra-inning format by simply letting each team have a possession until one team scores and the other doesn't? Yes, some games would go on and on and on, but that's the beauty of it. That's what makes extra innings so much fun, the way the drama builds as managers cross players off the lineup card, subs are sent into unfamiliar roles and fans' babysitters move up to a new tax bracket.
Tell me you wouldn't rather see two exhausted, grass-stained football teams battling through a 12-possession, 45-minute overtime than watch a kicker end a game with a 38-yard field goal. I mean, a TV network could switch to "Heidi" during the two-minute warning and still come back after the movie to catch the final couple drives. Imagine how many more Peyton Manning commercials could be shown. And think of how many points your fantasy team could pile up. While there might be an injury issue in football that you don't have in baseball, that wouldn't be a problem because as far as I can tell, player health hardly ever seems to be a concern in the NFL.
Of course, the NFL will never copy baseball, which is fine. Let other sports settle games with sudden death, shootouts, Kansas tiebreakers, Rhode Island resolutions or District of Columbia parliamentary procedures. Baseball has the best way to settle ties, allowing us to savor every extra inning, bonus panel, special legislative session and Cialis-sponsored extension lasting more than four hours.
CSI: BOX SCORE
Each week, Off Base provides you a fragment from an old box score, then asks whether you can determine its historical significance from that bit of information. Here's this week's fragment. Difficulty rating: 7.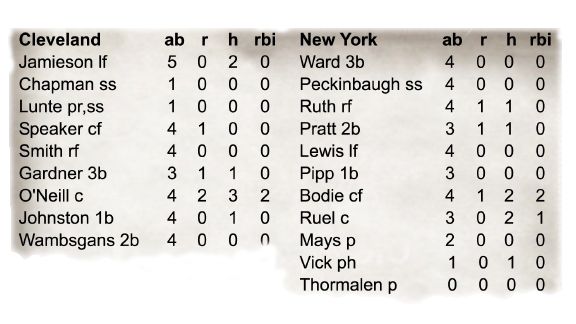 ANSWER: Take a bow if you knew this was the game Carl Mays hit Ray Chapman in the head with a pitch. Chapman died afterward, the lone major leaguer ever killed by a pitch. His death led to the banning of spitballs in part because they discolored the ball and made it harder to see. It would be 51 years, however, before batting helmets became mandatory in the majors. Baseball changes slowly.
BOX SCORE LINE OF THE WEEK
Boy, was there competition for this award last week. Toronto's Ricky Romero took a no-hitter into the eighth inning before hitting (well, not really) A.J. Pierzynski with a pitch and then giving up a two-run home run for this dandy line: 8 IP, 1 H, 2 R, 2 ER, 2 BB, 12 K, 1 HBP. Philadelphia's J.A. Happ had an interesting one as well -- 5 1/3 IP, 3 H, 1 R, 0 ER, 6 BB, 0 K -- but in the end, the winner has to be Colorado's Ubaldo Jimenez, who threw the first no-hitter in Rockies history despite walking six batters before recording his 13th out. His line:
9 IP, 0 H, 0 R, 0 ER, 6 BB, 7 K.
At the suggestion of pitching coach Bob Apodaca, Jimenez threw from the stretch from the fifth inning on, making him one of the few pitchers to throw a no-hitter while working from the stretch most of the game.
BASEBALL CARD OF THE WEEK
[+] Enlarge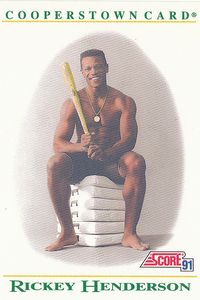 ESPN.com
I was flipping through an album of cards at the local shop when this one (Pinnacle/Score, 1991, Cooperstown Card, B4) caught my eye. At first glance, the card seems almost pornographic until a closer inspection finds that (whew) Rickey is indeed wearing sliding shorts. It's less surprising that Rickey agreed to pose nearly naked -- "Sure, Rickey will take off Rickey's shirt. And Rickey's pants. And Rickey's jockstrap if you want. Rickey is not afraid to show off Rickey's physique. Just put on some Barry White …" -- than it is that a card company thought it would be a good idea. I mean, is it a baseball card, or an outtake from "Pulp Fiction"? This isn't the only card that featured a shirtless player -- there also was a shirtless card of (who else?) Jose Canseco, and surprisingly, Kirby Puckett, though both of those players had the good sense to leave their pants on. The Score/Pinnacle brand is long gone but at least that means we need not fear opening a pack and finding a topless card of Carlos Silva.
DONNIE, YOU'RE OUT OF YOUR ELEMENT
With the Jimenez no-hitter and Seattle's Doug Fister and Toronto's Brandon Morrow taking possible no-hitters past the fifth inning Monday, here's an interesting question regarding social media: Should you tweet that a pitcher has a no-hitter going or does that violate baseball's unwritten rule that you never mention a no-hitter out of fear you'll jinx it? Tweets or no tweets, the Mariners were so quiet when Fister took a no-hitter into the seventh inning that second baseman Chone Figgins didn't even realize the pitcher had one going. When Nick Markakis broke up the no-hitter with a single up the middle and the fans eventually gave Fister an ovation for his effort, Figgins wondered why the crowd was cheering after an opponent's base hit. He said he didn't realize what had happened until looking at the scoreboard. …
With the NFL draft moving into prime time this week, there will likely be calls for baseball to promote its draft more. But do we really need that? We live in a world of constant overpromotion, where we're told that a injured pitcher throwing a simulated game is "breaking news," where people feel the need to tweet their every movement ("Right now the state trooper is writing me a $154 ticket for texting while driving") and where every B-list celebrity struggling for attention in a reality show is somehow must-see TV. Do we then really need another display of excessive hype? We all know that most draft picks flop, and that even the ones who succeed rarely make it to the majors within two years. Why make the draft out to be more dramatic and important than it really is just because we can, or because we have programming space to fill? Leave the draft the way it is. We hyperventilate enough as it is. …
Yet more proof that winning teams are more important than the ballparks in which they play: Baltimore, Cleveland, Seattle and Toronto had the smallest crowds in the history of their stadiums in an eight-day span. The fact that those games were played on school nights explains part of the low attendance (though school nights weren't as much of a problem when things were going good), but attendance is especially bad in Toronto. The Jays used to average 50,000 fans a game when they were winning championships, but they drew less than 47,000 combined for three weekend games against the Angels. When the Blue Jays had their first record-small crowd last week (Toronto had an even smaller crowd later in the homestand), the Globe and Mail newspaper reported it took so long for fans to slowly make their way to a foul ball in one empty section they couldn't remember where the ball landed when they finally arrived there. …
This doesn't have anything to do with baseball, but indulge me. I was looking for a review of the new book "George, Wilhelm and Nicholas" on Amazon.com last week and saw that it was rated 3½ stars. Looking closer though, I saw that the reviewers who had actually read the book rated it five stars. The problem was a bunch of bloodsuckers who acknowledged they had not read the book but gave it a one-star rating because they thought the price of the Kindle edition was too high. Good Lord. What is wrong with people? When I went to buy a copy of the book at my local bookstore (yes, I still prefer such antiquated things, having never read a book and thought, "You know, this thing just weighs too damn much to hold in my hands"), I told the clerk about the rating issue and he said he sees the same thing fairly often. …
Jim Caple is a senior writer for ESPN.com. You can follow him on Twitter at jimcaple.