Commentary
Saying farewell to a baseball legend
Originally Published:
May 5, 2010
By
Jim Caple
| Page 2
When I covered the Twins in St. Paul, I once received a letter from Ernie Harwell. Inside was a gift certificate to a store in Minnesota that he had received for appearing on a local broadcast, along with a short note explaining that he would never be able to use the certificate but thought I might. Gestures such as that are why Ernie was the nicest, most considerate man in baseball. He will be very deeply missed.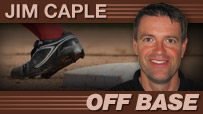 I take comfort, however, that somewhere Ernie's soothing voice is now providing play-by-play for games on station WHVN (that's heaven, for those who are still waking up) …
"'For lo, the winter is past, the rain is over and gone; the flowers appear on the earth; the time of the singing of birds is come, and the voice of the turtle is heard in our land.' … Hello, everybody, this is Ernie Harwell. We have a layer of low clouds for this afternoon's opener against the Angels, but I'm assured those clouds are standard around here and nothing to worry about; we'll get in today's game. I'm told they haven't even dragged the tarp onto the field here since Genesis 7:12.
[+] Enlarge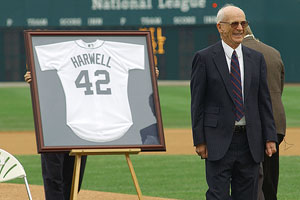 Mark Cunningham/Getty ImagesThe Tigers honored their longtime broadcaster on Ernie Harwell Day in 2002.
"This is a new perch for me, but I'm happy to say the surroundings feel very familiar and comforting. Picture Tiger Stadium on a warm, sunny day when both decks are filled with fathers and sons, mothers and daughters, loud students and retired autoworkers. The smells of recently mowed grass and freshly grilled hot dogs fill the nostrils; the vendors' shouts of 'Ice-cold beer!' fill the ears; and gleaming new Ford, Chrysler and GM cars fill the parking lots outside. Everyone is smiling and wearing dark caps with the Old English D. In fact, everything appears to be printed in Old English font here.
"Mark Fidrych is the starting pitcher today. Talking to Mark before the game, he said he doesn't feel a bit of pain in his shoulder anymore. He says he feels 21 years old again and so energized he could fly, though I suspect that might also be because of the wings they issued him. His first pitch to leadoff batter Vada Pinson is in for a strike at the knees.
"A refreshing breeze is blowing out to right, and the pennant atop the flagpole in center field is flapping in the wind. I bet Kirk Gibson would like to get an at-bat today. Then again, probably not, given the roster requirements.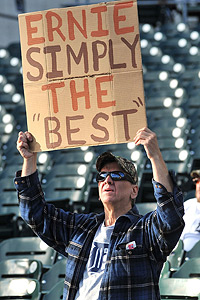 Mark Cunningham/MLB Photos/Getty ImagesDetroit fans loved their longtime radio voice.
"Fidrych walks behind the mound and bends down to pat and smooth the dirt, making certain it is just right. Farmers don't tend their acreage this carefully -- all he is missing is a watering can. Fidrych is ready to go again. He gets the sign, and he kicks and fires. Pinson fouls the pitch back into the stands, where it is caught by a woman from Kalamazoo. Which reminds me -- a belated happy anniversary to Charles and Dorothy Jeter. You should be very proud of the fine son you raised, though I'm sure some listeners would prefer he had a different employer.
"Fidrych is speaking to the baseball now, probably hoping to talk the hits out of it. I hope the ball listens better to Mark than Jack Morris ever did to Sparky Anderson. Fidrych kicks and fires. Curveball on the outside corner for strike three. Pinson stood there like the house by the side of the road and watched it go by. Catcher Mickey Cochrane throws to first baseman Hank Greenberg, who goes around the horn to Charlie Gehringer at second, Harvey Kuenn at short and on to my good friend George Kell at third. Kell tosses the ball back to Fidrych.
"The great Roberto Clemente is the next batter. He walks up to the plate, as cool as the other side of the pillow. Cochrane goes out to talk to Fidrych. They're having a confab on the mound. Fidrych assured me that he can go nine, 12, 15, 20 innings today, as many as his team needs. But manager Mayo Smith will be careful with him. He knows baseball is a marathon, not a sprint, that it is a very long season -- and especially so in this league.
"Cochrane is back behind the plate. He gives the sign. Fidrych kicks and fires … "
Goodbye, Ernie. There is crying in baseball today.
[+] Enlarge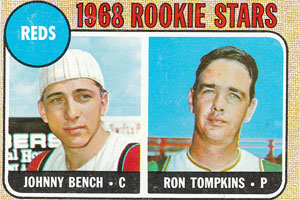 ESPN.com Is it good news or bad news to be paired with Johnny Bench?
BASEBALL CARD OF THE WEEK
Not all players get their own rookie card. Nolan Ryan shared his with Jerry Koosman (546 combined career wins), and Carlton Fisk shared his with Cecil Cooper and Mike Garman. And then there were Bill Denehy and Ron Tompkins. They had either the fortune or misfortune of sharing their rookie cards with, respectively, Tom Seaver (Topps 1967, No. 581) and Johnny Bench (Topps 1968, No. 247). The disparities in the careers are stunning. Seaver pitched 20 years, won 311 games, struck out 3,640 batters, received the Cy Young Award three times, was on 13 All-Star teams and came five votes shy of being voted unanimously into the Hall of Fame. Denehy was 1-10, pitched only 104 innings in the majors, was out of pro ball by 1974 and was once traded for a manager (Gil Hodges). Meanwhile, Bench hit 389 home runs, won 10 Gold Gloves, played in 14 All-Star Games, was elected to the Hall of Fame and is considered by some the greatest catcher ever. Tompkins threw 1,574 innings in professional baseball, all but 50 in the minors, and never won a game in the majors. When Bench and the Reds won the 1975 World Series, Tompkins was out of baseball with a career record of 0-2.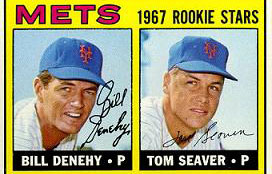 When I look at these cards, I wonder whether Denehy and Tompkins are happy they share their rookie cards with two of the greatest players of all time. On one hand, if they happened to obtain many copies when they were rookies, they were in luck because the cards became so valuable. If they did not, though, it meant they had to pay a small fortune to get a couple of copies of their own rookie card.
CSI: BOX SCORE
You know the drill. Each week I give you a fragment from an old box score and ask you to solve the mystery of what game it was from and why it was significant. This one is a tough one. I give it a difficulty rating of 9, but here's a clue: Think about the curious incident of the dog in the night-time. Answer at the bottom of the column.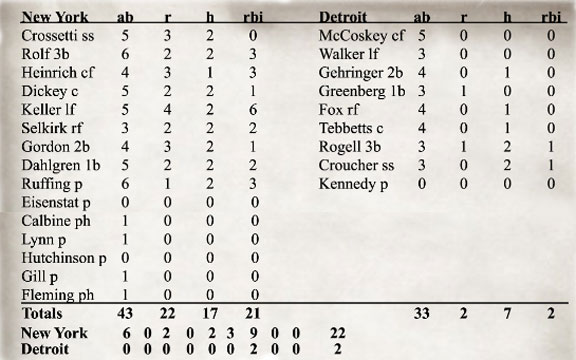 BOX-SCORE LINE OF THE WEEK
If you ever feel as if you're the only one pulling your share in the office, that everyone else is reading 2011 mock drafts in their cubicles while you labor over your TPS reports, consider Zack Greinke. Last year, the Royals provided so little run support that he won only 16 games despite a 2.16 ERA. And it hasn't improved this season. He's winless so far in six starts despite a 2.27 ERA. Last week, he pitched seven scoreless innings and didn't win, and on Sunday he gave up one run in eight innings and took the loss. His line:
8 IP, 3 H, 1 R, 1 ER, 0 BB, 6 K
"It almost looked like he was throwing on the side," Tampa Bay manager Joe Maddon said. "It was effortless. Totally effortless. When he wanted to dial it up a notch, he did. We had bad swings, bad takes. He was very impressive. And he threw what, 80-some pitches? I actually thought he could have pitched 12, 13 innings that day."
Given the way things are going for Greinke, he might have to do so to win next time.
DONNY, YOU'RE OUT OF YOUR ELEMENT
• Was stunning the fan who ran on the field in Philadelphia with a Taser excessive? Yes. Fans have no business being on the field, but excessive force by security is not acceptable, either. Not that players and managers have a problem with Tasers. They know how vulnerable they are out there. "I like it. Bring it on," former outfielder Jay Buhner said of using Tasers on fans. "What's to keep a fan from jumping on the field and going after you? It's happened before, and if it does happen again, where's your out? Where are you going to go? In certain ballparks, you're screwed. There was many a time in New York I was standing there going 'Oh, crap.' And it's crazy times now … I tell you what, [Tasers] will stop that crap in a hurry." Of course, Buhner doesn't want to see everyone Tasered. For instance, a Morganna type fan would be OK. "There's always an exception to the rule," he said, laughing. "As long as she's a blond bombshell, what the heck, it's good clean fun." And Maddon has his own criteria for the use of Tasers. "If he goes out there without any clothes on, you pretty much know there are no weapons involved. If someone wanted to streak, that person should not be Tasered. If he has any clothes on at all, he possibly should be Tasered." But wouldn't being naked also make security guards more reluctant to tackle a man running on the field? "I guess it depends on your persuasion," Maddon offered with a smile.
• Some people think increasing the All-Star rosters to 34 players per team dilutes the games, that there aren't enough true All-Stars to justify that many roster spots. I disagree. As long as managers are required to pick a player from every team, even if some are undeserving, they need some extra spots to make room for deserving players. Does that cheapen the honor of being an All-Star? Look at it this way. Not including guys on the disabled list, there are 750 players in the majors. With 68 All-Star spots, that means roughly one in 11 players will make an All-Star team. But in 1960 there were 400 major leaguers and 60 were All-Stars (30 in each league), or one in every seven players (actually one for every 6 2/3 players). That was back when they played two All-Star Games each summer, but you can go back a few years before that when there were 50 All-Star spots and one in every eight players was an All-Star. Even in 1979, when the ratio was just about this year's 1-in-11, you still wound up with such marquee names as Joe Sambito, Sid Monge, Jeff Newman and Dave Lemanczyk on the roster. So I don't think the expansion is exactly dishonoring the All-Star tradition.
• How weak is Seattle's offense? With nine home runs in the first 26 games, the Mariners are on pace to hit just 56 for the season, which is the total Ken Griffey Jr. hit by himself in 1997 and in 1998. Seattle pitchers threw 26 scoreless innings in a three-game series with the Rangers this past weekend yet lost all three games. Not easy to do.
CSI: BOX SCORE ANSWER: In the Sherlock Holmes mystery "Silver Blaze," a Scotland Yard detective asks Holmes, "Is there any other point to which you would wish to draw my attention?" Holmes replies: "To the curious incident of the dog in the night-time." But, the detective points out, the dog did nothing in the night-time. "That was the curious incident," Holmes remarks. Similarly, what is significant about this box score is what isn't there: Lou Gehrig's name. That's because this is the game in which Gehrig's then-record 2,130-game playing streak came to an end, when he sat himself on the bench May 2, 1939. He never played again. It was a sad day, but leave it to Lefty Grove to have come up with a funny line: "Hell, Lou, it took them 15 years to get you out of a game. Sometimes they get me out in 15 minutes."
Jim Caple is a senior writer for ESPN.com. You can follow him on Twitter at jimcaple.