Commentary
Ken Griffey Jr. is asleep ... Shhhhhhhhh
Originally Published:
May 11, 2010
By
Jim Caple
| Page 2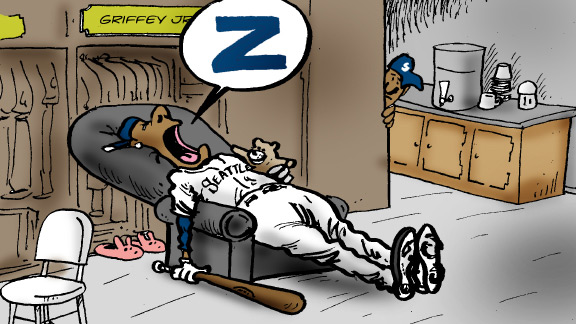 Kurt Snibbe/ESPN.com
PRIDE OF THE MARINERS
(A sellout crowd gathers at Seattle's Safeco Field for an emotional ceremony on KEN GRIFFEY JR. NIGHT. Bunting is draped from railings. We see two fans holding a banner that reads, "Tonight, there IS crying in baseball." Players from both teams line each side of the field while revered Mariners broadcaster Dave Niehaus stands before a microphone in front of the mound.)
MORE ON KEN GRIFFEY JR.
• Griffey, Wakamatsu deny sleep report
• Mariners won't speak to Tacoma paper
• Kirkjian: Mariners refute details


• Olney: Bigger question for Griffey

NIEHAUS: Tonight, we honor the greatest athlete in Seattle sports history, and one of the greatest players in baseball history. A player who turned on an entire region with his smile and saved baseball in his city. A player who was a hero to millions and gave us some of the finest and happiest baseball memories of our lives …
(As Niehaus continues speaking, the crowd begins to chant.)
CROWD: Junior! Junior! JUNIOR! JUNIOR! JUNIOR
[When the noise reaches a deafening decibel level, KEN GRIFFEY JR. finally emerges from the dugout, takes a step onto the field, looks up into the stands and bellows the words that will join Lou Gehrig's as some of the most memorable in baseball history:]
GRIFFEY: Could you keep it down? I'm trying to sleep here!
---
The problem with being a city's official sports icon is that it's like being a Supreme Court justice. No one can tell you it's time to retire unless you start showing up for work wearing your underwear on the outside. Even then, they may give you the benefit of the doubt ("Maybe it's a superstition of his. Or the new fashion"), unless you've also soiled it.
WHAT WAS JUNIOR DREAMING ABOUT?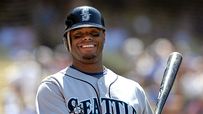 Mariners star Ken Griffey Jr. reportedly fell asleep in the clubhouse during a recent game. Naturally, we wonder what visions were dancing through his head.
• The lush, mystical world that existed years ago inside Randy Johnson's mullet
• Whatever happened to grunge?
• Potential endorsements from hair clubs
• Friending Betty White on Facebook
• "I played for the White Sox?!"
• Being called "Junior" again
• The wacky exploits of Snooki, J-Woww
• More afternoon games instead of ones that start at 7:10 p.m. and end way past bedtime.

-- Nina Mandell
No, when you're the most popular player in a city's history, with three -- count 'em, three -- bobblehead giveaways in your honor this season (and fortunately, none depicting you nodding off), you pretty much have to decide for yourself when it's time to hang them up. And that's not easy because the person least likely to know is the person himself.
I spoke to Griffey last week, and if he was contemplating retirement, he gave no clue. Instead, he talked about how batting averages aren't a reliable barometer of anything because they go up and down constantly. He recalled a recent season when he started off just as slowly as this one and finished with 30 home runs. He mentioned how people weren't noticing the times this season he has advanced the runner from second to third with ground balls to second.
For some reason, Junior has always rebelled at any suggestion that he is a power hitter -- where would we get such an idea, just because he twice hit 56 home runs in a season and has more than 600 for his career? -- but even so, when a DH in the middle of the order is talking about how well he's moving the runners along with ground balls to second base, it's time to wonder how much he really has left.
Griffey has 630 career home runs but none this season, and it is not an unreasonable question to ask whether he will ever hit another. Last week, Junior hit a drive to deep right-center and did a little crow hop as if he thought the ball was out of the park. Instead, it barely reached the warning track. He made an out late in another game, and some fans booed loudly enough that it was noticeable.
Is Griffey done? After he struck out on a fastball in a pinch-hit at-bat a couple weeks ago, my friend Scooter e-mailed me to say it reminded him of when the Whammer strikes out in "The Natural."
---
THE NATURAL
(We see MR. HOBBS stagger underneath the giant tree on the farm. He clutches his heart and drops to the ground. JUNIOR rushes to his side, but it is too late. Later, we see lightning strike the tree and split it in two. The next day JUNIOR carefully removes a chunk of the tree. He saws it up. He meticulously carves the pieces. He sands them lovingly. He carefully glues them together into a rocking chair and burns the word, "La-Z-Boy" into it. Then he sits down in the rocking chair, turns on the Knights game, sees Bump Bailey strike out looking with the bases loaded and falls asleep.)
---
Everyone wants to go out like Ted Williams, by homering in a final at-bat. Few do.
Willie Mays is the official example of great athletes who hung on too long. But was he really that terrible his final season in 1973? I suspect that many of the people who bring that season up never actually saw Mays play that season or are too young to remember it clearly. Maybe Mays was that awful. I don't know. I do know that he was able to finish his career in the World Series, his first appearance in the World Series in more than a decade. So I don't think he was so wrong to keep playing.
Likewise, I don't blame Griffey for trying to squeeze one more season into his Hall of Fame career. If someone was willing to pay me several million dollars to play baseball, I would do the same thing. In fact, they not only would have to rip the jersey off my body before I would retire, they wouldn't get rid of me until they sealed me in Carbonite and wheeled me out of the clubhouse. We all wanted him to have one more season in him, to help us make ourselves feel young again.
But while I don't blame Griffey for wanting to continue the life he loves, I do, however, blame him for not making a better effort to get into shape over the winter. Supposedly he lost a few pounds over the winter; if so, he can find them by looking around his waist. It's maddening. The man is only 40. It isn't that hard to lose weight at that age, especially when you're one of the best athletes of your generation. Griffey's fellow rookie from the 1989 Mariners, Omar Vizquel, isn't hitting either, but he keeps himself in great shape so he can give it a good try. Meanwhile, Junior looks like he wants to dip the batting donut in a sugar glaze and eat it.
Now he is apparently falling asleep in the clubhouse.
Granted, falling asleep isn't unheard of. Old managers occasionally fall asleep in the dugout, and Lee Smith was famous for sleeping in the clubhouse prior to his appearances. I've even heard of broadcasters falling asleep in the booth during games. Can you imagine?
---
SEINFELD: SLEEPING BEAUTY
(ELAINE is on a dinner date with KEITH HERNANDEZ.)
KEITH: He needs to retire. He doesn't have a home run. He has five RBIs. He's hitting .210, and he fell asleep in the clubhouse! That's inexcusable. I've never heard of anyone doing that. I've never even seen Mr. Met fall asleep in a game. I know I certainly never did it. I mean, I'm Keith Hernandez. I was the 1979 MVP. I won 11 Gold Gloves in a row. I was part of the most amazing comeback in World Series history. I would never have fallen asleep during a game. Never.
ELAINE: Right. Anyway … I was thinking that perhaps next week we could go see the new exhibit at the Guggenheim. I think you might like it. It's a selection of post-pre-expressionism works by Latvian feminist artists. Then maybe we could go out dancing? What do you think?
KEITH: Zzzzzzzzz.
---
The Mariners' offense is putting plenty of people to sleep this season, so why should Rip Van Griffey be any different? Because Junior wanted another season, and he owes his fans, teammates and himself the best possible effort.
After everything he's done in his career, after everything he's meant to the Mariners and because we still make certain to watch his at-bats, Griffey deserves more time to see if he's really done or just in a very bad stretch. After 21 years in the majors, he's earned that. Besides, it's not like the Mariners have a lot of great options to bat in his place.
So give him time. If this early struggle continues, though, Junior also needs to be honest with himself. A bad end won't diminish his career in any way, but that doesn't mean anyone wants to see it play out that way. He's too great a player to end his career with people booing because he didn't know when to say goodbye.
Griffey came into the majors as The Kid. It would be a shame to see him go out as Grandpa Simpson.
---
BULL GRIFFEY
The camera pans across ANNIE SAVOY's bedroom. As Edith Piaf's "Non je ne Regrette rien" plays in the background, the camera finds clothes strewn across the carpet: shoes and socks, pants and shirts. A black lace bra and a garter belt with a rose in the front dangle from a bronze bedpost at the foot of the bed. Handcuffs dangle from the other bed post. Several candles and incense are burning at a bedside bureau. Bottles of oils, creams and nail polish are scattered across the top of a bedstand. Silk scarves are draped over a lamp.
An obviously frustrated ANNIE is reading Walt Whitman. Lying next to her, wearing flannel pajamas and clutching a teddy bear is JUNIOR. He is snoring loudly.
ANNIE: This is not exactly what I had in mind when I picked Junior to sleep with me.
Jim Caple is a senior writer for ESPN.com. You can follow him on Twitter at jimcaple.