Commentary
Bobbleheads are bigger than ever
Originally Published:
May 13, 2010
By
Jim Caple
| Page 2
Like reality TV, the bobblehead craze is about a decade old, and like reality TV, it remains stubbornly popular. A little more than 10 years in, the question no longer is when bobblehead dolls will decline in popularity, but when Michael Bay will release "Bobbleheads, The Movie."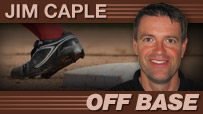 EXT. SHOT: Towering, 500-foot-high bobblehead dolls of Ichiro Suzuki, Joe Mauer, Tim Lincecum, Jamie Moyer, Manny Ramirez and Prince Fielder advance awkwardly through downtown Chicago, their heads bobbing into skyscrapers and knocking huge chunks of concrete, steel and shattered glass to the streets below. The falling objects crush cars and narrowly miss extras who are earning $50 a day. A squadron of Air Force jets swoop in against the bobblehead invaders, launching missiles that produce massive fireballs, which blast small chunks off the bobbleheads and shower flaming debris on the streets and sidewalks. Amazingly, not a single person is killed or injured. In fact, the only noticeable effect is that after a missile strikes their faces, the bobbleheads finally resemble the actual players.
Bensussen Deutsch & Associates Inc. in Woodinville, Wash., produces most of the bobbleheads given away at major league ballparks. The company says it is scheduled to deliver more than 1 million dolls combined for at least 44 promotional dates this season. The Mariners not only are holding six bobblehead promotions this season but also have increased the giveaway to 30,000 fans to accommodate demand for those of Ken Griffey Jr. and Ichiro. The lines were so long for a Griffey bobblehead giveaway on Friday that I wasn't sure whether fans were queuing for a Mariners game or the Matterhorn ride at Disneyland.
A dual Griffey/Ichiro Cooperstown-bound bobblehead promotion in June is expected to be so popular that I think fans are already lining up (and after getting their bobbleheads they will immediately go stand in line at a theater for the next "Star Wars" movie). Which isn't surprising. BDA says that two of the best markets for bobbleheads are Cleveland and Seattle. (The Yankees, naturally, are generally above such silly promotions that would, like, please their fans.)
I find the whole thing a little overwhelming. I mean, bobbleheads are cool, but how many does a person need? More to the point, how many bobbleheads will your spouse permit you to bring home?
But in the world of bobbleheads, too many is never enough. Give people a bobblehead of their favorite player, and they immediately start mentally clearing mantel space. If we get rid of the wedding photo and the portrait of the in-laws, we'll have plenty of room for the Albert Pujols and Tony La Russa bobbleheads.
[+] Enlarge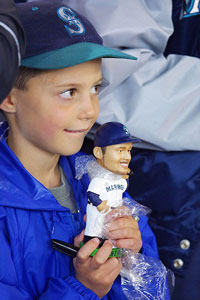 Dan Levine/AFP/Getty ImagesWhen this boy first lined up for his Ichiro bobblehead, he was 3 months old.
"I would form a chain reaction in my room with all my bobbleheads," Mariners fan Jesse Sanchez said when I asked what he could do with his new Griffey dolls. "I would go around the room and start them all bobbing."
Beanie Babies may have gone the way of Tickle Me Elmos, but Mariners marketing director Gregg Greene says he sees no decline in the popularity of bobbleheads. Fans love them.
"They're like 3-D baseball cards," he said. "You can collect your favorite players throughout their career. It's the players and their personalities, and it's getting a giveaway item. It's a giveaway of value. It comes in a really nice box and it's tangible, and you can put it on your mantel or in your office."
I'm waiting for someone to write a dissertation outlining the Darwinian changes in bobbleheads throughout the years. Unlike most Americans, bobbleheads have steadily lost weight, evolving into slimmer figures in more elaborate positions, such as a surfboarding Grady Sizemore or a disco-dancing CC Sabathia or the Griffey figure that recreated his slide home to score the winning run in the 1995 AL Division Series.
"Ichiro started out as the short and stubby guy, and then we put him in the sleeve-tugging pose, and then going up against the wall," Greene said. "The toughest one was the 262-hits one. In it, he's doffing his cap and his hair is exposed, and it was much more difficult to get the hair right. In the first version, the hair was too big, and he looked like Elvis. Then he had too little hair. But eventually they got it right."
I'm old-school when it comes to bobbleheads, preferring the cherubic figures with the enormous skull and squatty, Kruk-like body to the newer ones. I know fans love them, but I find the new bobbleheads vaguely creepy. And I just don't trust them.
This is the way world conquest starts. First, bobbleheads start looking like specific players (well, specific players if you use a driver's license photo for reference). Then they lose fat and gain muscle tone. Then they start suggesting other products you might want to buy. Then they're conducting surreptitious searches of your hard drive and telling you they can't shut the pod bay door. And then they're marching in vast armies across the nation, hunting us down, caging us, enslaving us and forcing us into a universal health care program that covers 100 percent of our medical expenses.
EXT. CLOSE-UP: Chicago police SWAT team commander Chance Tinker II (played by Shia LaBeouf) shouts into his cell phone.
CHANCE: There's no negotiating with these monsters! No matter what we offer them, they just shake their heads!
And you know what? Even when that happens, fans will still line up around the block for them.
CSI: BOX SCORE
You know the drill. Each week you get a fragment from an old box score and must solve the mystery of which game it was from and why it was significant. Last week's was very tough, but if you remember the answer to that one, you should be able to crack this case without too much problem. I give it a difficulty rating of 6. Answer is at the bottom of the column.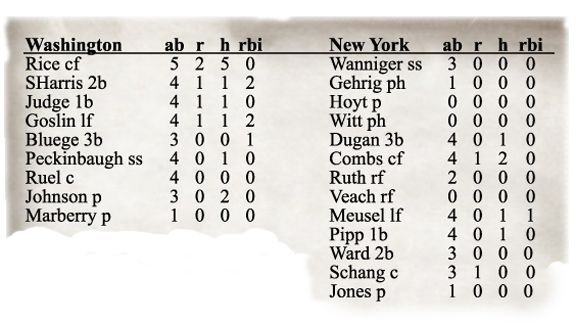 BOX SCORE LINE OF THE WEEK
Wow, was there some competition for this award this week. Seattle reliever Brandon League struck out three batters yet recorded only two outs for this mystifying line: 2/3 IP, 0 H, 0 R, 0 ER, 0 BB, 3 K. Cubs reliever Esmailin Caridad put up this beauty: 0 IP, 0 H, 2 R, 0 ER, 0 BB, 0 K. Teammate Sean Marshall followed immediately with: 0 IP, 0 H, 1 R, 1 ER, 1 BB, 0 K. And Florida's Renyel Pinto gave us the always difficult line of: 0 IP, 0 H, 0 R, 0 ER, 0 BB, 0 K, 1 HBP.
Any of those would have been an easy winner in almost any week. But not this one, because Oakland starter Dallas Braden threw the 19th perfect game in major league history, and he did it against the Rays. Is that enough for A-Rod to consider his opinion worthwhile? His line:
9 IP, 0 H, 0 R, 0 ER, 0 BB, 6 K
In other words, Braden found the best way to keep opponents from running across his mound: just don't allow any baserunners.
BASEBALL CARD OF THE WEEK: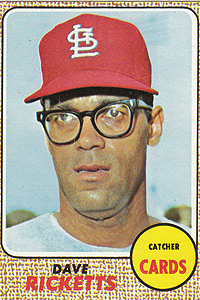 ESPN.comIf Ricketts wanted to, he probably could use his glasses to set opposing batters on fire during day games.
Being visually challenged, I've always loved this card (Topps 1968). Dave Ricketts batted .249 with one home run and 20 RBIs in a six-season career, but he also set the unofficial record for the largest pair of glasses in National League history. Look at those frames! Even Joe Maddon would call Ricketts Four-Eyes.
Looking at this card of Ricketts, I'm reminded of my final season of organized baseball. I was a sophomore in high school and much smaller than everyone else on the junior varsity team. I spent most of the season riding the bench -- I'd made the mistake of telling my coach I could keep score -- and my playing chances were ruined one afternoon in practice when I was taking fly balls in left field. The coach hit a low liner, and I ran and left my feet to attempt a diving catch. But I didn't catch the ball. That would have been bad enough, but my glasses also fell off. Not only that, but my vision was so bad that I couldn't find my glasses. So while the coach shook his head and my teammates laughed, I crawled around the grass on my hands and knees searching for my glasses. I don't know how long it took to find them, but I think I was still searching for them when the principal called my name to come up for my diploma at graduation two years later.
So, let all of us with bad eyesight raise a toast to honor Ricketts for providing inspiration that we, too, could make the major leagues, as long as we have the foresight to wear a band to keep our eyeglasses from falling off and leaving us blinded while the runners circle the bases.
DONNY, YOU'RE OUT OF YOUR ELEMENT
• How great is baseball? The same day that Jamie Moyer, 47, became the oldest pitcher to throw a shutout (24 years after he threw his first two-hitter), Cubs rookie Starlin Castro, 20, drove in six runs in his major league debut while becoming the first major leaguer born in the '90s.
• One of baseball's greatest pitchers, Robin Roberts, passed away last week. If you want to know how much baseball has changed over the years, consider this: Roberts won 20 games for the Phillies every year from 1950 to '55. Since 1981, the entire National League has had just two streaks of 20-game winners that long or longer (1988 to '93 and 1996 to 2005). But if you want an even better indication of how baseball has changed, check this out: Roberts threw at least 300 innings in each of those 20-win seasons, including 346 2/3 in 1953, when he threw 33 complete games in 41 starts (and also pitched three games in relief). He never pitched fewer than 21 complete games during that stretch. If they had hot tubs back then, that's where relievers could have spent the game when Roberts started.
And I dare say we will never see this stat by another pitcher: 24 wins, 336 2/3 innings, 44 games, 29 complete games and 7 relief appearances. That was in 1954, when Roberts had this incredible stretch from June 12 to July 31: complete game, four days' rest, 15-inning CG victory, four days rest, CG, three days' rest, CG, three days' rest, CG, one day's rest, save in 2/3 innings, one day's rest, 10-inning CG, four days' rest, seven-inning start, one day's rest, save in 1 2/3 innings, one day's rest, starting and pitching three innings in the All-Star Game, two days' rest, seven-inning start, one day's rest, 2 1/3 innings in relief, two days' rest, CG, one day's rest, CG, one day's rest, six innings in relief, three days' rest, CG, three days' rest, CG. In 51 days, Roberts pitched 16 games (not counting the All-Star Game), hurled nine complete games, threw 111 2/3 innings and went 8-3 with a 2.50 ERA and 2 saves! By comparison, Padres "closer" Heath Bell led the league in saves last year, but from June 11 to July 31, he pitched in only 13 games (and 15 innings, or as many as Roberts pitched in one game).
• The Mariners didn't win much on their recent homestand, but boy, did they keep things interesting. While Seattle was going 1-8, Eric Byrnes screwed up a squeeze bunt, biked past GM Jack Zduriencik in the hallway outside the clubhouse immediately after the game, was released two days later and then joined a softball league in California. Milton Bradley left the stadium in the seventh inning of another game, gave an emotional speech to elementary school students during the team's Education Day the next afternoon and was placed on the restricted list with emotional issues. Hitting coach Alan Cockrell was fired. To top it all, Ken Griffey Jr. reportedly fell asleep in the clubhouse during another game. Not that Griffey being unavailable to pinch hit because he was supposedly power-napping would be the worst such incident in team history: In 1987 former shortstop Rey Quinones was unavailable to pinch hit because he was busy playing "Super Mario Brothers" in the clubhouse. The real issue is not that Junior fell asleep during a game in which he wasn't playing, but that he might as well be asleep at the plate when he is in the lineup. He's hitting .200 with six RBIs and no home runs. The Mariners severely limited their options when they kept both Griffey and Mike Sweeney on the roster out of spring training. Worse, they don't even use either as the DH some games (Jose Lopez filled the role Wednesday). If they're hitting so poorly that you don't want to bat them sometimes, why are both on the team? …
Seattle was a trendy pick to win the AL West this season, and it's not too late for the Mariners to bounce back. They have very good pitching but desperately need some offense. Mariners offense bad note of the week: Seattle catchers entered Tuesday's game with more passed balls (eight) than RBIs (seven).
CSI: BOX SCORE ANSWER: Last week's box score was from the game when Lou Gehrig's playing streak ended at 2,130 games. This week's box is from the game when it began. Contrary to popular belief, Gehrig did not begin his streak by starting in place of Wally Pipp. Instead, he began the streak by pinch hitting for Pee Wee Wanninger. He subbed for Pipp the following game.
Jim Caple is a senior writer for ESPN.com. You can follow him on Twitter at jimcaple.