Commentary
Kendry Morales inspires safe exultation
Originally Published:
June 2, 2010
By
Jim Caple
| Page 2
Editor's Note: This week's video episode of Jim Caple's "Stadiums, Ballparks and Drives" takes us to the Little League venue of his youth, John Null Park in Longview, Wash.
---
A recent David Ortiz home run trot took more than 30 seconds, but that's perfectly reasonable. The man was just being careful to circle the bases without breaking, pulling or straining anything.
Look at what happened to Kendry Morales this past weekend. The Angels first baseman fractured his leg Saturday when he leaped onto home plate while his teammates rushed to congratulate him for a game-winning grand slam. Morales thus ushered a new term into the baseball lexicon -- the cart-off home run.
You hate to see anyone get injured, but it was inevitable that something like this would happen with the way teams increasingly celebrate every possible accomplishment. Hey, we didn't fall for the hidden-ball trick this time! Tap the keg!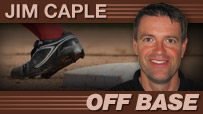 Actually, Morales wasn't the first player hurt this way. Although it is not widely known, there also was an injury after the greatest walk-off home run in baseball history. The climax of "The Natural" occurs when the New York Knights mob Roy Hobbs at the plate after he hits his pennant-winning home run into the light towers. But why do we not see him later batting in the World Series? Because during the celebration at the plate, the Knights congratulated Hobbs so heartily that they reopened the years-old, already-bleeding bullet wound in his gut. Hobbs collapsed, lost consciousness and was rushed back to the hospital. He missed the World Series, and the Knights were swept in four games. Because of the poor showing, Pop Fisher was forced to sell his share of the team, while Hobbs was suspended for not telling the league that gamblers offered him money to throw a game (baseball rule No. 21) and never played again.
A number of players also have been injured in team celebrations of various sorts in recent years. Padres prospect Tagg Bozied blew out his knee jumping on home plate after a walk-off grand slam in Triple-A several years ago. Seattle catcher Rob Johnson sprained his ankle last year after Ichiro hit a walk-off homer against Mariano Rivera when he jumped up and landed awkwardly in a hole dug by hitters in the batter's box.
"You're so emotional and so excited whether it's you or a teammate that had the walk-off hit that you're so pumped up that your emotions go crazy," Johnson said. "I think there are smart ways of doing it without getting hurt, though. You can celebrate without jumping up and down. Just being smarter and more aware of your surroundings and more careful coming into the plate."
[+] Enlarge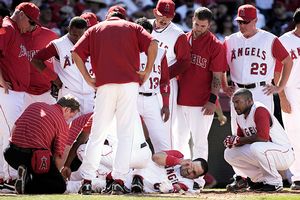 AP Photo/Mark J. TerrillKendry Morales lies on the ground after fracturing his left leg celebrating a game-winning home run.
He's right. There is no need to end celebrations. There just need to be some sensible guidelines.
1. Keep things in perspective: A walk-off home run? A walk-off RBI during the pennant stretch or postseason? Yeah, feel free to scream and shout and run onto the field naked and kiss the mascot. But a sacrifice fly to beat a last-place team in June? You might want to hold the skyrockets and keep the champagne on ice for a more meaningful game.
2. Be gentle: Hey, I don't have a problem with celebrating, but keep it peaceful. There is no need to slap a guy on the back so hard that it pops out a chunk of steak he ate three days earlier, nor is it necessary to swat a guy on his helmet as if you're trying to crack open a walnut. A hug, high-five or simple handshake is sufficient.
3: Don't throw things: To discourage teammates from slapping them hard in the head, players have started tossing away their helmets before reaching home plate. But this just causes another potential hazard from flying objects. So stop it with this rule of thumb: Don't toss helmets or caps after a game unless you're also prepared to shout, "Two, four, six, eight, who do we appreciate!"
4. Don't block the plate: Give the guy a wide, clear path so that he doesn't have to attempt a difficult scissors-kick high jump over several teammates to touch home. Be patient. It would really ruin the celebration if the runner was called out because he never touched the plate.
5. No shaving cream pies in the face: Can someone explain why this old ritual is supposed to be so amusing? It's not. (And what's even worse is the way the Yankees think they invented something that other teams had been doing for years.) Just stop it. Please.
If you can't restrain yourself, though, I have the following recommendation for walk-off home runs: Really go for it. Teammates should rush onto the field and lift the hitter onto their shoulders, then carry him around the bases as if he were a Roman emperor. This will avoid a Morales-type injury by keeping the batter nice and safe. On the other hand, there may be a surge in hernias and shoulder separations resulting from carrying David Ortiz, Prince Fielder, Pablo Sandoval, etc.
CSI: BOX SCORE
You know the drill. Each week I give you a fragment from an old box score and challenge you to solve the mystery of which game it was from and why it was significant. I give this week's puzzler a difficulty rating of 5. Answer at the bottom of the column.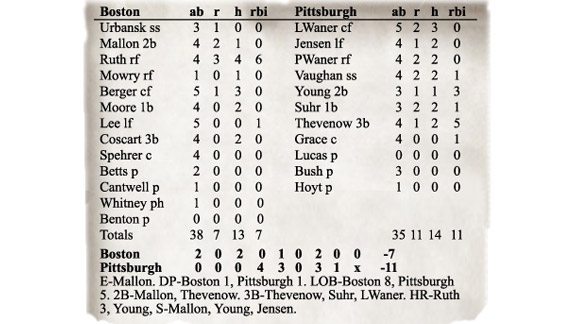 BOX SCORE LINE OF THE WEEK
Normally, Roy Halladay's perfect game (9 IP, 0 H, 0 R, 0 ER, 0 BB, 11 K) would be an automatic winner, but perfect games are almost routine this season. What Max Scherzer did the other night, however, was extraordinary. The Detroit starter not only struck out a season-high 14 batters but did so despite pitching only 5 2/3 innings. His astounding line:
5 2/3 IP, 2 H, 0 R, 0 ER, 4 BB, 14 K
Scherzer recorded 17 outs -- only three not by strikeout. So 82 percent of his outs were strikeouts, breaking the record of 80 percent (minimum five innings) set by Randy Johnson when he struck out 16 batters in 6 2/3 innings against Milwaukee in 2001.
BASEBALL CARD OF THE WEEK
[+] Enlarge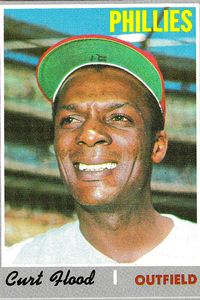 ESPN.comCurt Flood's trade to the Phillies would change baseball history.
Here's an interesting card (1970 Topps, No. 360): You'll notice it pictures Curt Flood with a red cap conveniently angled in such a way that you can't tell whether it's a Cardinals cap, his team for the 12 previous seasons, or a Phillies cap, which the card indicates is his new team for 1970. Actually, we know it is not a Phillies cap because, despite what this card says, Flood never played for the Phillies. The Cardinals traded him to Philadelphia following the '69 season, but Flood refused to report.
Flood wrote the following in a letter to then-MLB commissioner Bowie Kuhn on Christmas Eve of 1969: "After twelve years in the major leagues, I do not feel I am a piece of property to be bought and sold irrespective of my wishes. … It is my desire to play baseball in 1970, and I am capable of playing. I have received a contract offer from the Philadelphia club, but I believe I have the right to consider offers from other clubs before making any decision. I, therefore, request that you make known to all Major League clubs my feelings in this matter, and advise them of my availability for the 1970 season." Kuhn refused his request, and Flood sat out the '70 season while suing baseball. Flood ended his career with 13 games for the Washington Senators in 1971, and his case eventually went to the Supreme Court, which ruled 5-3 against the player in 1972.
DONNIE, YOU'RE OUT OF YOUR ELEMENT
Heading into June, five teams that didn't make the playoffs last year were in first place: Cincinnati, San Diego, Tampa Bay, Oakland and Atlanta. Five small-market teams were in first place: Cincinnati, San Diego, Tampa Bay, Minnesota and St. Louis (tied for first place with the Reds). The Padres, with the second-lowest payroll in the majors, are in first place in the NL West. Heading into June, no team in the top 10 of payroll was in first place. Meanwhile, the Celtics and the Lakers are playing in the NBA Finals. Yes, a salary cap would solve baseball's terrible problem with competitive balance. …
At last glance, Ken Griffey Jr. had batted once since May 23 and started only one game in two weeks. He's hitting .184 with no home runs. Yet he was third in the All-Star voting for designated hitter. Actually, that's not a bad thing. What Junior needs is an exit strategy for his career, and playing in the All-Star Game would provide that. Name him to the AL team's roster (Lord knows there is enough roster space now) as a way to honor his great career and popularity, then let him retire at the game if he still hasn't gotten things going. It would make for an emotional moment and a fitting send-off to one of the all-time greats. …
If it seems there have been a lot of near no-hitters this season, there have been. At last glance, there were 24 games in which a starter finished at least six innings and allowed fewer than two hits, 20 games in which a starter finished seven innings and fewer than two hits, and six complete-game one- or no-hitters. …
This has nothing to do with baseball, but get your hands on a copy of Hampton Sides' "Hellhound on His Trail." This book about the stalking and assassination of Martin Luther King Jr., and the subsequent manhunt for James Earl Ray, is such a riveting page-turner that I had calluses on my fingertips by the final chapter. This is a fantastic book. …
CSI: BOX SCORE ANSWER
This box score is from the game in which Babe Ruth hit the final three home runs of his career. Ruth was well past his prime in 1935 and playing for the Boston Braves. He was batting just .153 on May 25 that season when he had one final Ruthian moment. The Babe went 4-for-4, homered three times -- including one over the roof at Pittsburgh's Forbes Field -- and drove in six runs. He played one more week, had no more hits and retired.
Jim Caple is a senior writer for ESPN.com. You can follow him on Twitter at jimcaple.