Commentary
The future of Strasburg and Harper
Originally Published:
June 9, 2010
By
Jim Caple
| Page 2
Stephen Strasburg pitched on the Olympic team, was the No. 1 pick in last year's draft, signed the biggest bonus in the history of baseball's draft moments before the deadline in August, got married in January, saw his baseball card sell for $16,403 on eBay, and then struck out 14 and walked none while hitting 100 mph on the radar gun in his major league debut Tuesday night in a game so hyped and anticipated it was termed "Strasmas" by some of the 200-plus media in attendance.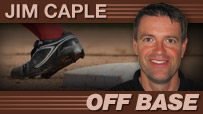 Bryce Harper, meanwhile, appeared on the cover of Sports Illustrated with the headline "Chosen One," hit home runs so long they were measured by tape measures and Google Earth, earned his high school GED two months after turning 17, entered junior college, was reported to have a major attitude, was ejected and suspended from his final game of the season last week, then was chosen by the Nationals with the first pick in the draft Monday.
What lies ahead for baseball's two most-hyped draft picks of the Internet era? Off-Base gazes into the crystal ball:
Wednesday: Jim Cramer of "Mad Money" instructs viewers to take their money out of risky government bonds and federally guaranteed savings accounts so they can invest more wisely in Strasburg rookie cards.
Thursday: British Petroleum fails with its latest "Top Kill" attempt to plug the leak spreading down Harper's face. Environmental groups warn that Harper's eye black may soon extend down his cheeks to his neck, then to his chest and eventually to the coast of Florida and the Carolinas.
Friday: With thousands of reporters credentialed and former South African president Nelson Mandela in attendance, billions of passionate fans around the globe turn their focus to the world's most eagerly awaited sporting event: Strasburg playing pepper.
Sunday: In his second career start, Strasburg appears to complete a perfect game against Arizona but home plate umpire Jim Joyce doesn't see Mark Reynolds swing and miss at strike three and calls the pitch ball four instead, even though it was an 0-2 pitch. Commissioner Bud Selig responds by saying that he is weighing whether to appoint a blue ribbon panel to consider looking into the feasibility of perhaps maybe having court artists sketch controversial plays for possible further review by purple ribbon committee.
June 18: Washington sells out every seat for Strasburg's second start at home, including Helen Thomas' old seat in the front row.
June 21: Harper and his family go on a summer vacation to Yellowstone, where Bryce hits a home run out of the park.
July 7: Strasburg strikes out 21 batters, throws a no-hitter and also sets the most cherished record in America when he gets his 6 millionth follower on Twitter.

Kurt Snibbe/ESPN.comHow long before these buttons crop up in DC?
July 13: After receiving a few pointers from Strasburg, President Obama (now proudly wearing a Nationals cap) throws the ceremonial first pitch before the All-Star Game and hits 92 mph on the gun. Strasburg strikes out six consecutive batters in the game but the MVP award goes to Carlos Silva, who started the game due to his 14-0 record.
July 29: In order to adequately staff the building Strasburg-Mania, TMZ reduces itself to mere quadruple-coverage on Sandra Bullock, Miley Cyrus and Betty White.
Aug. 14:Three seconds before the midnight signing deadline, agent Scott Boras and the Nationals come to terms. Harper signs for $20 million but retains the oil drilling rights to his eye black.
Aug. 15: The Nationals honor the newly signed Harper by having him toss out the ceremonial first pitch before their game against Arizona. Tim Tschida ejects Harper for complaining loudly after the umpire doesn't call the ceremonial pitch a strike.
Sept. 24: Strasburg's phenomenal rookie season comes to an abrupt end when he strains his right knee while attempting to put his pants on two legs at a time.
Dec. 20: Children of all ages tune in to watch the traditional holiday airing of "A Charlie Brown Strasmas," in which Charlie Brown and Linus search for the true meaning of WHIP and VORP.
Jan. 8, 2011: Bert Blyleven receives 12 votes more than necessary and is finally elected to the Hall of Fame. His election is overshadowed, however, by angry columnists, bloggers and radio hosts bitching that Strasburg wasn't elected, falling 23 votes short.
June 9, 2011: Harper makes his major league debut and hits three home runs, the last of which clears the roof at Nationals Park. ESPN assigns Pedro Gomez to follow him until he breaks Barry Bonds' career home run record.
April 10, 2015: Harper hits his 100th career home run off Jamie Moyer.
June 17, 2014: Strasburg wins his 100th career game by beating Jamie Moyer.
Nov. 25, 2016: Strasburg shuts out the Twins and Harper homers to win Game 7 of the World Series, which was played in snow and 25-degree weather, the most pleasant World Series weather conditions in three years. After the game, Strasburg and Harper say how honored they are to have taken the Nationals from last place in June 2010 to a world championship, and assure fans that no amount of money is worth more than wearing the Washington uniform.
Dec. 18, 2016: Strasburg signs with the Yankees.
Dec. 18, 2017: Harper signs with the Red Sox.
November 2018: After the Nationals finish last in the NL East and attendance plummets, the team moves back to Montreal and re-names itself the Expos.
June 2019: Montreal uses the first pick in the draft to select Jamie Moyer's youngest son, who aspires to pitch in the majors with his father.
CSI: BOX SCORE
Here's how it works. Each week you get a fragment from an old box score and must solve the mystery of what game it was from and why it was significant. I give this week's a difficulty rating of 3.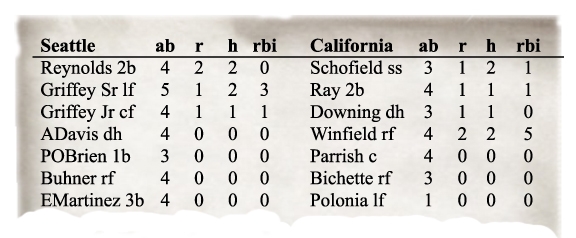 BOX-SCORE LINE OF THE WEEK
So what should Bud Selig have done about Armando Galarraga's "perfect game"? Exactly what he did. Nothing. As unfortunate as it was, to reverse the call after the fact would establish a terrible precedent. For instance, that same night in Seattle the umpire appeared to blow a call at second base in the 10th that should have been the third out of the inning. He instead called the runner safe, allowing the winning run to score and end the game. Wasn't that just as important a situation to reverse upon review?
But while there was nothing to do about Wednesday's game, we can avoid living with horrendous calls in the future. The easy solution is to have a fifth umpire at each game whose job is to watch each controversial call on video. If he sees an egregious mistake -- the sort that the umpire himself would want reversed so he can sleep at night -- he signals the crew and informs them so they can reverse it. The trick, of course, is defining what calls to reverse so that games aren't endlessly delayed, but I'm thinking of rare and obvious ones like Joyce's last week or Phil Cuzzi's and Tim McClelland's blown foul call last fall in the playoffs.
In the meantime, here's what else we can do. We simply consider Galarraga's performance a perfect game, the same way I still consider Ernie Shore's no-hitter in relief of Babe Ruth a perfect game even though Fay Vincent's rules committee officially expunged it and many others from the list of no-hitters and perfect games. Vincent may have arbitrarily wiped out no-hitters that had existed for decades but that didn't mean we had to agree.
So we can call Galarraga's game for what it really was. A perfect game. But as exceptional as his line was -- and as dazzling as Strasburg's was in his debut -- this week's award goes to an even more impressive line from the Galarraga game:
A-17,738. T-1:44.
That's right. The time of game was just 1 hour and 44 minutes, the shortest game in five years, according to ESPN Stats & Information and Retrosheet. And had Joyce not blown the call, the game would have been even shorter -- six minutes shorter and it would have been the shortest game in more than 25 years.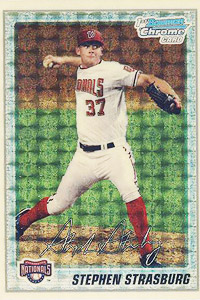 Topps CompanyYou know you have money to burn when you drop $16,000 on a card for a dude who hadn't even played yet.
BASEBALL CARD OF THE WEEK
What would you buy with a spare $16,400? Well, you could buy a Honda Civic. Or, if you had acted swiftly enough -- and more importantly, didn't have a spouse to answer to -- you could have bought this Stephen Strasburg baseball card (2010 Bowman Chrome Prospects SuperFractor), which sold for $16,403 on eBay over the weekend. If that sounds steep for a baseball car, even a one-of-a-kind card, bear in mind that it sold for that price before Strasburg struck out 14 in his major league debut. On the other hand, the seller reportedly did offer free shipping.
DONNIE, YOU'RE OUT OF YOUR ELEMENT
• Before we get too carried away by Stras-Mania, let's breathe into a paper sack for a minute. Was his debut highlight video sensational? Absolutely. Was it the greatest major league pitching debut in history? No. It's among the best but not THE best. Don't forget, just two years ago Johnny Cueto gave up one hit, struck out 10, walked none and allowed one run in seven innings -- and isn't allowing one run better than allowing two runs (as Strasburg did), even if you are in Cincinnati, where no one is paying attention? And as far as ranking the best debuts, I still go with Juan Marichal's in 1960 when he pitched a one-hit shutout, striking out 12 and walking one. And before we anoint Strasburg the greatest pitcher from the 2009 draft, let's bear in mind that Mike Leake, picked seven spots later last year and signed for $13 million less, has a lower ERA (2.22 to Strasburg's 2.57) and four more wins. I'm not saying Strasburg won't be good; I'm just asking for a little perspective.
• With Ken Griffey Jr.'s abrupt retirement last week, this is the first time since 1974 that there isn't a Ken Griffey in the major leagues. The most interesting thing about his retirement? He drove home from Seattle to Florida. Torii Hunter says he got a call from him Thursday when Junior told him he was already near Kansas City (he must have been straining the speed limit). I can appreciate the emotions Griffey was dealing with -- after all, he had pretty much been around the major leagues his entire life. And I can also understand his reluctance to hold a formal news conference -- as emotional as Junior can be, his news conference would have made Mike Schmidt look poised, and then he would have had to deal with the embarrassing video living on YouTube for decades. On the other hand, would it have killed him to give the Mariners a heads-up so that they could have called up a player to replace him on the roster so they didn't have to play a man short that night?
• Jamie Moyer had 34 wins in his 20s, 130 in his 30s and now has 100 in his 40s, with 2½ more years to go in his 40s. How many wins will he have in his 50s?
CSI: BOX-SCORE ANSWER
If you didn't recognize this as the box score from the game Ken Griffey Jr. and Ken Griffey Sr. hit back-to-back home runs, you might want to consider trying an easier game. Congratulations on your career, Junior. See you in Cooperstown in 2016.
Jim Caple is a senior writer for ESPN.com. You can follow him on Twitter at jimcaple.