Commentary
John Isner, Nicolas Mahut and changes
Originally Published:
June 24, 2010
By
Jim Caple
| Page 2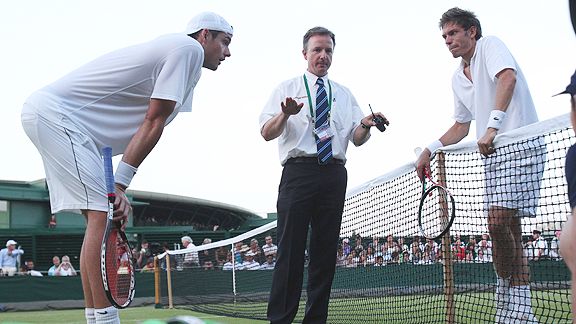 AP Photo/Alastair GrantBy the time John Isner and Nicolas Mahut completed their match, the world changed immeasurably.
Perhaps I'm just remembering things through the soft filter of nostalgia, but life seemed so much simpler and more innocent back in those long-ago days before John Isner and Nicolas Mahut began their first-round match at Wimbledon. We were all so much younger and optimistic in those distant, carefree days, when sports were still a game and not a business, and everything seemed possible.
Back then, Nationals pitcher Stephen Strasburg was undefeated and, based on the media fuss, likely to stay that way for the remainder of his career. He had such a long, distinguished track record that talk show hosts and columnists were saying he belonged in the All-Star Game, and Cooperstown had already requested his cap. Nothing seemed beyond his grasp. Thirty-win seasons. Multiple no-hitters. A winning record and a fourth-place season for the Nationals. Now look at him. Strasburg has lost every start he's made since the Isner-Mahut match began, including a loss to Kansas City. The Royals! His most recent strikeout total was 40 percent lower than in his long-ago first start. Who knows when he'll win again?
POTENTIALLY FUNNY RELATED CONTENT
• Former Red Sox pitcher Bruce Hurst recalls playing in a 33-inning game in the minors, the longest professional baseball game in history. Jim Caple
• Page 2 sent an unsuspecting writer to face John Isner's 140 mph serves and document his injuries. Patrick Hruby
---
ALSO SEE ON ESPN.COM
It's sad to see such promise disappear. But youth is fleeting, and Strasburg's fall is just a haunting reminder of how much time has passed since the Isner-Mahut match started.
When the match began, Fredi Gonzalez was the longtime manager of the good ship Florida Marlins, seemingly as firm and reliable a leader as U.S. General Stanley McChrystal. But that was back then, before the patient and generous ownership team of Jeffrey Loria and David Samson eventually decided it was time to change direction. Their free-spending days behind them, they decided that a club with the heart of Hanley Ramirez and a payroll of $55 million should be better than two games under .500. True, $55 million doesn't seem like much these days, but way back then -- when baseball was still a game and not a business -- that was considered a fortune (by Loria and Samson). So now Gonzalez is gone, as distant a memory as other Marlins managerial failures such as Joe Girardi.
That is the way of sports these days. It's a world of agents, salary caps and "What have you done for me lately?" It wasn't always like this. In the era before Isner-Mahut, there was such a thing as loyalty. Back then, Blackhawks veteran Dustin Byfuglien was as much a part of Chicago winters as the fierce wind howling down Michigan Avenue and the Cubs flushing away more money on a terrible free agent.
Oh, it's hard to remember now but there was a time -- back when only men were inducted into the Hall of Fame -- when Big Buff had played his entire career with Chicago. Go into a Chicago bar and you can still find old fans who fondly recall how he scored 11 goals in the 2010 playoffs -- including five game winners -- and led the Blackhawks to their first Stanley Cup championship in a half century. Back before Isner-Mahut, Byfuglien's heroics would have been enough to make him an immovable Chicago fixture like Ernie Banks, Walter Payton and Roger Ebert after a double feature's worth of popcorn and Milk Duds. No more. It's not a game anymore. It's a business, and players no longer spend their entire careers with one team. So Buff is a journeyman, and only 16 players who were on the ice that distant, magical night when the Blackhawks beat the Flyers still remain with the team.
Fortunately, there have been some positive changes in sports since the Isner-Mahut match started. Way back then, U.S. soccer was in turmoil. A tie against England thanks only to a gift goal. A tie against tiny Slovenia. (Or was it Slovakia? It was so long ago, I can't recall.) Refs were conspiring against us, our World Cup hopes were in serious doubt and coach Bob Bradley's job was in jeopardy. When, soccer fans wondered, will America finally have a soccer team on par with great World Cup champions such as France? All that seems laughable now. In the Post-Isner/Mahut World Cup Order, the U.S. program finds itself among the remaining powers, and the sound of vuvuzelas rings in the ears of proud, chest-pounding Americans.
Or is that just the annoying sound of Red Sox fans complaining about how they haven't seen their team win since the Isner-Mahut match began?
Jim Caple is a senior writer for ESPN.com. You can follow him on Twitter at jimcaple.