Commentary
Let's get creative at the trade deadline
Originally Published:
July 28, 2010
By
Jim Caple
| Page 2
Saturday is baseball's trade deadline, which is the game's most overhyped event outside of $8.50 Beer Night.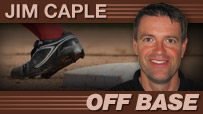 One, it's not really a deadline because teams still can make deals -- and often important deals -- after July 31 as long as the players clear waivers. Two, most of the rumored deals talked about for weeks on end never take place. And three, given that the Mariners had to pay $2.25 million for the honor of trading the league's best pitcher (Cliff Lee) and a reliever (Mark Lowe) to a division rival for Justin Smoak (.176, 21 strikeouts, one walk since the trade) and other prospects, how much incentive will there be for teams to make a big deal?
We'll see whether the trade deadline lives up to the hype, but rather than more trades of high-salaried free-agents-to-be for cross-your-fingers prospects, baseball needs the unconventional deals of yesteryear.
As a minor leaguer, Hall of Famer Lefty Grove was traded for the repair costs of an outfield fence. The Brooklyn Dodgers traded Cliff Dapper to the Atlanta Crackers for broadcaster Ernie Harwell. The Brewers once traded Tim Fortugno for $25,000 and 12 dozen baseballs. And during the 1994 strike, the Twins traded Dave Winfield to Cleveland for a dinner between general managers.
In that same can-do spirit, here are five creative deadline deals I would like to see this week:
1. White Sox and Angels: Entering Wednesday, the White Sox were 1-37 when trailing after seven innings. No American League rival had fewer victories in that situation. Clearly there is only one move Chicago can make to turn this around: trade Gordon Beckham (.624 OPS) to the Angels for the Rally Monkey. The Sox would get the primate they need to turn frustratingly close losses into title-deciding walk-off victories, while Orange County would match Los Angeles with its own Beckham to market with jerseys and T-shirts.
2. Rangers and Blue Jays, Cubs, Giants, Mariners and Yankees. The AL West-leading Rangers are in bankruptcy court, but they can turn that into a golden opportunity by taking on other teams' crippling contracts. Hey, when you're already bankrupt (according to New Era, the Rangers owe $106,000 for just their team caps), what's the harm in taking on a couple hundred million dollars in extra debt? So the Rangers could take Vernon Wells and his remaining $93 million from the Blue Jays, Alfonso Soriano and his remaining $78 million from the Cubs, Barry Zito and his remaining $82 million from the Giants and Milton Bradley and his remaining $13 million from the Mariners. And most importantly, the Rangers could offer promissory notes ("IOU Michael Young and three players to be named") to the Yankees for Alex Rodriguez and the remaining $184 million (plus incentives) on his contract. After all, the Rangers already owe A-Rod $25 million in deferred salary, so they might as well get some production out of him.
3. Marlins and Yankees: A great pleasure of a pennant race is scoreboard watching, but not in Florida, where the Marlins don't have an out-of-town scoreboard anymore. Their out-of-town scoreboard needed more than $1 million in repairs, and since the Marlins will move into a new ballpark in 2012 and are cheap, and arrogant club president David Samson (yes to vuvuzelas, no to scoreboards) believes that all fans get score updates on their cell phones, Florida fans must do without it this season and next. It doesn't need to be that way, though, if the Marlins trade third baseman Jorge Cantu for the Yankees' out-of-town scoreboard. It's a win-win-win-win. The frugal (i.e., cheap) Marlins would save a few million dollars on Cantu's contract, and their fans would get to see scores from games that actually matter and wouldn't have to watch Cantu strike out. The Yankees would have a replacement for A-Rod (who would go to the Rangers in Proposed Trade No. 2). Sure, Yankees fans would lose their out-of-town scoreboard, but if you're a New York fan, you don't give a @#%$ about what other teams do anyway.
4. Cubs and Reds, Nationals, Rockies, Giants: The Tampa Bay Rays traded Randy Winn to Seattle for the right to sign Lou Piniella away from the Mariners after the 2002 season. With Piniella announcing his retirement as Cubs manager at the end of the season, it's time to replicate that deal while clearing out deadwood and allowing the new owners to restore a hallowed Cubs tradition. The Cubs would trade Kosuke Fukudome to the Reds for manager Dusty Baker, Carlos Zambrano to the Nationals for manager Jim Riggleman, Carlos Silva to the Rockies for hitting coach Don Baylor and Bob Howry to the Giants for Class A manager Tom Trebelhorn. The Reds, Nationals, Rockies and Giants would gain players who can help them this year and in the future (well, maybe), while the Cubs would dump salary and, more importantly, gather four ex-managers to revive the College of Coaches. And if College of Coaches II doesn't work? Who cares? The Cubs still would have Wrigley Field and lots of cold beer to keep fans drunk and happy.
5. Mets and Phillies: Legend has it that the Red Sox once nearly traded Ted Williams for Joe DiMaggio, a deal so tantalizing that it still sparks discussions in New England bars. The Mets and Phillies could give fans a similarly landmark deal by trading the greatest and most storied figures in each franchise's history: Mr. Met and the Phillie Phanatic. The mind boggles at the drama that such a deal would entail. Would Mr. Met take Philadelphia by storm, or would Philly fans intentionally vomit on him? What would Lady Met say about living with an 8-foot-tall, green-feathered creature? And most importantly, would working in the New York spotlight give the Phanatic a big head, too?
BOX SCORE LINE OF THE WEEK
Boston's Manny Delcarmen had quite a night on Thursday, helping turn a five-run, ninth-inning lead into a tie game (0 IP, 2 H, 4 R, 3 ER, 1 BB, 0 K). Milwaukee's Randy Wolf gave up nearly as many earned runs in one start (12) this past Wednesday as Stephen Strasburg had in his entire career to that point (14) for this deliciously awful line (5.2 IP, 13 H, 12 R, 12 ER, 2 BB, 4 K). Joe Mauer had a big night (5 AB, 3 R, 5 H, 7 RBIs) against Zack Greinke, who allowed as many earned runs Monday night as he did in his final eight starts of last year (4 IP, 8 H, 8 R, 8 ER, 2 BB, 7 K). Meanwhile, the good news was Jamie Moyer held his opponent scoreless on July 20. The bad news was he left with a sore elbow after one inning (1 IP, 2 H, 0 R, 0 ER, 0 BB, 0 K). The Phillies say Moyer will be out indefinitely, which, when you're almost 48 years old, also means it could be forever, especially if he requires Tommy John surgery. Let's cross fingers that isn't the case.
But this week's award goes to Tampa Bay's Matt Garza, who threw the fifth no-hitter of the season:
9 IP, 0 H, 0 R, 0 ER, 1 BB, 6 K
The most amazing thing about the five no-hitters this season? None has been against the Mariners. Not only have the Mariners scored the fewest runs in baseball (not easy for an American League team), they also are averaging about a half-run less per game than the 1960 Chicago "Hitless Wonders" White Sox. The Mariners lost 11-0 in just 2 hours, 4 minutes Tuesday night. How is that possible?
BASEBALL CARD OF THE WEEK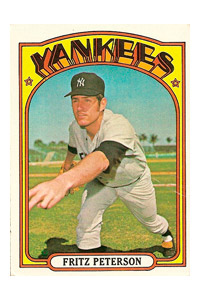 Topps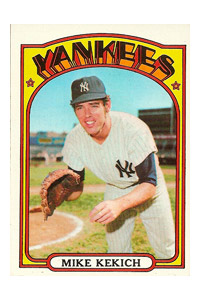 Topps
In honor of the trade deadline, I give you the cards from baseball's most astounding deal that did not involve Scott Boras. These are the Topps cards for Fritz Peterson (Topps 82) and Mike Kekich (Topps 371) from 1973, the year the two traded families: wives, children, dogs, homes and cars -- virtually every intimate aspect of their lives except the remote controls to their TVs. The trade was actually made in 1972 but not announced until spring training of 1973, just two months after George Steinbrenner bought the Yankees.
Imagine Steinbrenner's reaction to that news. "They WHAT? They traded their entire families? I didn't approve that deal. Who approved that deal? No one approved that deal. How will this affect our payroll? Did we at least get Ken Phelps? And wife-swapping? That's the most disgusting thing I've ever heard of since the progressive income tax. I told you those two needed haircuts." Peterson and Susanne Kekich eventually married and had four children of their own, but the deal didn't work out so well for Mike Kekich. His relationship with Michelle Peterson didn't last past 1973. That wasn't the end of the misery for Kekich. Matt Damon and Ben Affleck reportedly are interested in making a movie about the wife swap, which means Kekich could have to watch Affleck woodenly portray him on the silver screen.
CSI: BOX SCORE
The rules of the game: Each week I give you a fragment from an old box score. From those clues, you need to identify which game it came from and why it's significant. This week is a bit of a changeup. I give you an incomplete box score from a doubleheader. The full first game is here, but only part of the second. Can you spot what makes it noteworthy? Hint: Think of the old Hocus-Focus cartoons in which you're asked to find the differences between two very similar panels. Degree of difficulty: 7.5.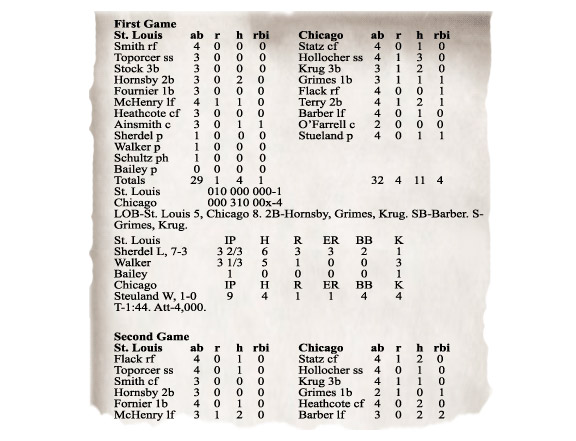 DONNY, YOU'RE OUT OF YOUR ELEMENT
• I was listening to an NPR report about summer concert dates being canceled thanks to poor ticket sales. I have two thoughts. One, if ticket sales are low, perhaps the bands and promoters might want to consider lowering prices. Two, why do low ticket sales give the bands/promoters the right to cancel the show? Don't they still have an obligation to their fans? So they're not going to make quite as much money as they expected. Tough. Whatever happened to "The show must go on"? Suck it up, guys, and play. For crying out loud, if poor ticket sales were grounds for cancellations in baseball, the Pirates, Marlins and Athletics would never play a home game after Opening Day.
• The always inventive Mariners marketing department is taking advantage of Seattle's relative proximity to Forks, Wash., home of the fictional "Twilight" series, by holding Vampire Night on Aug. 7. The promotion includes special "red beverages" and discounts on garlic fries. No word on whether there will be an appearance by the Mariners' very own undead, Erik Bedard, who hasn't pitched in a year because of a variety of arm injuries. He was expected to be back this month, but those hopes ended when he developed soreness in his arm again. The team has sent him to three different doctors -- what are the expenses of that? -- without any real explanation of what's wrong. It's too bad. Bedard is 11-7 with a 3.24 ERA for Seattle in 30 starts since the Mariners traded Adam Jones for him before the 2008 season. He was effective when he pitched. He just hasn't been healthy to pitch very often.
• This past weekend, the Rays won a game in Cleveland for the first time since September 2005 (when Piniella was still their manager), a stretch of five years and 18 losses. The White Sox won 24 games in Cleveland during the same span.
OFF BASE RECOMMENDS
Several books I've enjoyed of late are "The Imperfectionists," Tom Rachman's marvelously entertaining novel about a struggling international newspaper based in Rome, "Between Terror and Tourism," Michael Mewshaw's travelogue of his journey across North Africa to celebrate his 65th birthday, and "Gorgeous East," Robert Girardi's rollicking adventure of modern French Foreign Legionnaires, which includes perhaps the best author biography note I've ever read: "[Girardi] sells tickets at a theater in Bethesda, Maryland." I'm also still slogging through Stieg Larsson's at-times-incomprehensible conclusion to his Lisbeth Salander trilogy. I enjoyed the first two books, but "The Girl Who Kicked the Hornet's Nest" keeps shuttling more characters in and out than a Tony La Russa-managed bullpen amid preposterous plot twists and ludicrous actions. Did no one bother editing this book after Larsson's death? Meanwhile, perhaps the worst year for movies ever finally has some good offerings with "Toy Story 3" (the Pixar people are the Albert Pujols of Hollywood) and "The Kids Are All Right."
CSI: BOX SCORE ANSWER
Thinking about the trade deadline might have helped with this week's puzzler. These boxes are from the May 30, 1922, doubleheader in which the Cardinals and the Cubs traded outfielder Max Flack and outfielder Cliff Heathcote between the two games. The players played the first game, got traded, changed into their new uniforms and played the second game for their new teams.
Jim Caple is a senior writer for ESPN.com. You can follow him on Twitter at jimcaple.