Commentary
World-record zombie walk slays Seattle
Originally Published:
July 30, 2010
By
Jim Caple
| Page 2
Kermit Dannehl made the Guinness Book of World Records by golfing his age (or lower) 1,138 times. Matthias Auer, Christian Klandt and Olaf Behrend made the book by rowing 163 miles in 24 hours. Jacques Fox made the book by completing 14 Iron Man triathlons in a year.
I made the Guinness Book of World Records by zombie walking.
Granted, you're not going to find my name in the Guinness Book. There were at least 4,200 certified zombie walkers staggering, weaving and moaning through the Fremont neighborhood of Seattle earlier this month, so I doubt we'll be listed individually. And given that a zombie walk record has an even shorter life expectancy than an actual zombie in a George Romero film, our record walk may not hold up until publication.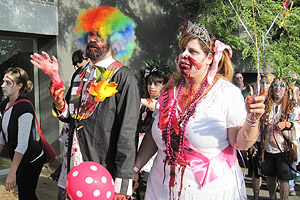 Vicki SchumanWho says the undead can't enjoy a little romance?
But what the heck. It beat breaking a world record by piercing my body (720 times by Elaine Davidson), or growing out my fingernails (28 feet, 4 inches by Lee Redmond), or doing as many push-ups as possible in an hour using the back of my hands (1,940 by Paddy Doyle).
And it totally beats eating as many cockroaches as possible in one minute (36 by Ken Edwards).
Fremont set the zombie walk record (who comes up with these categories, anyway?) last year with 3,848 certified zombies. The record lasted only a couple of months before it was surpassed by a town in England. Unwilling to give up without a fight, Fremont went after the record again this month and took it back with the greatest gathering of the living dead apart from the Mariners' offense.
I simply showed up wearing cycling gear smeared with a lot of fake blood, but the effort, creativity and detail many of my fellow zombies put into their costumes was truly impressive. I hadn't seen such an elaborate and outlandish use of makeup since the Olympic figure skating finals.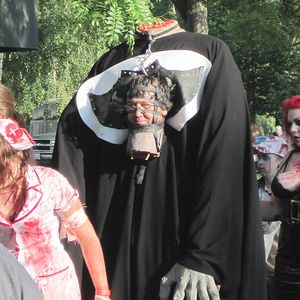 Vicki Schuman Don't lose your head when a world record is at stake!
There were headless zombies, zombies with half their faces peeled off and zombies with exposed brains. There was a "Where's Waldo?" zombie, a "Star Wars" stormtrooper zombie and a Jesus zombie. There were cheerleader zombies, lacrosse zombies and biker zombies. Worst of all, there was one zombie with a vuvuzela.
Watching all these zombies wandering around the street and rehearsing the "Thriller" dance in a parking lot was odd enough, but not nearly as unsettling as sitting in a bar and seeing a woman with half her face chewed off enjoying a pale ale at the next table.
After a long wait, the zombie walk began. And as if it wasn't weird enough already, we were required to walk on sidewalks. We also stopped at red lights and crossed in the crosswalks. We were well-mannered zombies, as if we were instead walking at Augusta National behind Phil Mickelson.
But we did it, and I qualified for the Guinness Book of World Records without passing a 22-ounce kidney stone (Wazir Muhammand), and a splendid time was had by all. We drank and moaned and stumbled around and shouted for brains to eat. In other words, the zombie walk was a bit like being in the bleachers at a Red Sox or Yankees game.
Jim Caple is a senior writer for ESPN.com. You can follow him on Twitter at jimcaple.