Commentary
Betting on your team's chances
Originally Published:
August 11, 2010
By
Jim Caple
| Page 2
Pssst. I can hook you up with World Series tickets.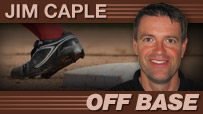 There are a few stipulations, though. First, the Cubs will have to make the World Series. And if so, I don't know where the seats will be, other than somewhere in Wrigley Field. And I don't know how much the tickets will cost. But if the Cubs do reel off, like, 40 or 45 consecutive victories to get into the playoffs and they manage to win three games in the division series instead of the customary zero and no fan interferes with a foul popup in the NLCS and no shortstop bobbles a routine inning-ending double-play ball and no first baseman lets a routine grounder roll between his legs and no stadium usher prevents a goat from entering the ballpark and the Cubs go on to reach the World Series for the first time in 65 years, I'll have a pair of tickets waiting.
I know this because I paid $41 to guarantee myself the opportunity to buy two tickets to Game 1 of the World Series at Wrigley Field. Buying potential Cubs World Series tickets is a little like investing in the figure skating rights to Lake Havasu but it's part of the postseason ticket reservation program baseball started last month. The program works like this.
You pick a team and choose a postseason game or games for which you want to buy a ticket reservation. These futures cost $10 per ticket for the division series, $15 for the LCS and $20 for the World Series. You can buy up to two tickets per team per series per household. There also is a $1 transaction fee. Then, if the team you picked gets to the postseason, you are guaranteed an opportunity to buy the ticket at face value (location and price unspecified).
It's a great deal except for one slight catch. If your team doesn't make the postseason, or if it doesn't play the game you picked -- say, Game 6 of a series that ends in five games -- you're out of luck. No refund.
Sweet deal, huh? Teams not only are selling tickets to games that have already been played (the Marlins and White Sox did so after the Roy Halladay and Mark Buehrle perfect games), the league now is willing to take your money for games that will never be played.
And baseball owners complain about scalpers?
Don't get me wrong. There's a lot to like about this program. The average fan not fortunate enough to be a season ticket-holder or to have some connections does not have much access to postseason tickets. In many cases, buying a postseason ticket either requires purchasing a prohibitively expensive complete strip of postseason games or pitching a tent on a cold sidewalk and camping outside the stadium ticket booth with a couple hundred of your closest, most contagious friends. Neither is very desirable.
So being able to guarantee yourself a couple of tickets to a specific game is a good deal, and frankly, $10-$20 a ticket sounds very reasonable.
But the part where you don't get your money back if your team doesn't reach the postseason? That not only sounds greedy; it has a slight whiff of gambling. Gambling is the cardinal sin in baseball, yet the league is effectively encouraging fans to bet up to $90 a household on their teams winning enough games to reach the postseason.
I don't know how many reservations baseball will sell -- I assume availability varies by stadium capacity and season tickets sold -- but if they sell an average of 5,000 per playoff team (just a guess) that's more than $6 million. Isn't that enough? Why not refund the money to fans whose teams don't reach the postseason to take away the appearance of gambling? Baseball can even charge a stiff convenience fee, but geez, don't charge people for games that aren't played.
Baseball will still make a ton of money just from the teams who do qualify for the playoffs, because a lot of fans have snapped them up. For them, the fee is a small price to pay for the chance to buy a ticket. Of the contending teams, the Yankees, Red Sox, Reds, Phillies, Rangers, White Sox, Braves and Cardinals are sold out or nearly so. The Rays have sold out the most reservations, while the Twins, Giants and Padres still have some remaining for several possible postseason games.
There are also still plenty of ticket futures available for the Pirates, Mariners, Royals, Nationals and, of course, the Cubs.
"Imagine if this MLB ticket plan (scam) were implemented in 1946 and a Cubs fan wanted to ensure tickets to the team's next World Series appearance," my friend, Sarge, wrote in an e-mail to me. "That fan would have spent $5,120 through the 2009 campaign. That's pure profit for MLB, much like the money the sports books rake in every year from people who annually bet on a Cubs World Series."
Sarge is such an eternally optimistic Cubs fan that in several Octobers he has booked flights from Seattle to Chicago just in case. (I used my membership in the BBWAA to secure tickets for him to the 2003 World Series and called him before the sixth inning of Game 6 of the NLCS to talk about how to pick them up. He says the next time the Cubs play a pennant-clinching game he will not accept any phone calls from me.) But though he considered it, even he cannot bring himself to put down money in this ticket-reservation program, because he doesn't think the 2010 Cubs are capable of reaching the World Series.
However, he added, "I would welcome you reserving a ticket on my behalf."
So one of my World Series tickets is spoken for. That still leaves one available.
Don't worry, I would never sell it for more than face value. No, sir. Because that would be scalping. And as any sports team would tell you, scalping is very, very bad. Almost as bad as gambling.
By the way, Pete Rose insists he has only bought postseason reservations on the Reds.
BASEBALL CARD OF THE WEEK
Congratulations to Nolan Ryan, who joined yet another exclusive club -- players who became owners -- when his group's bid for the Texas Rangers was accepted in bankruptcy court last week. Of course, things have changed a little since this card (1970 Topps, No. 712) came out. That season, the major league minimum was $12,000 -- double what it was when Ryan broke into the majors -- and the average salary was $29,300. He'll be paying his players a little more than that now he's an owner. A couple of things stand out about this card. One is Ryan's awkward pose. And he looks so young it's hard to believe it's even him. Then there are the career stats on the back. Nolan was 12-13 with just 231 career strikeouts when this card came out. Who knew he would win more than 300 more games and strike out nearly 5,500 more batters? And I love the cartoon that says he once struck out 21 in extra innings (it must have been a minor league game). Well, if someone was going to do it, it would be Ryan.
Good luck on the ownership thing, Nolan. Here's hoping you're just as successful in he owner's box as you were on the mound.
CSI: BOX SCORE
The rules of the game: Each week I give you a fragment from an old box score. From those clues, you need to identify what game it came from and why it's significant. Here's an interesting one. Degree of Difficulty: 5.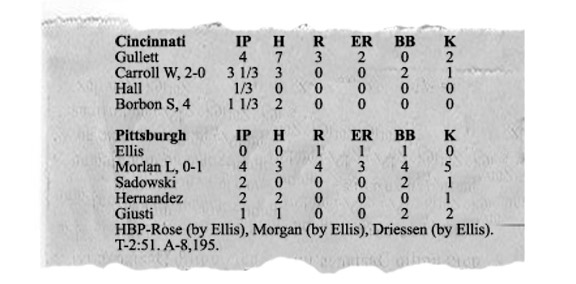 BOX-SCORE LINE OF THE WEEK
Cincinnati's Jonny Gomes walked four times to put up this beauty Sunday (1 AB, 4 R, 1 H, 0 RBIs). Toronto catcher J.P. Arencibia had one of the best debuts in baseball history Saturday, homering twice and driving in three runs (5 AB, 3 R, 4 H, 3 RBIs). Tampa Bay's James Shields contributed to Arencibia's day by serving up his first home run, plus five more (4 IP, 9 H, 8 R, 8 ER, 4 BB, 2 K, 6 HR) to tie the modern record (post-1900).
But this week's award goes to Toronto right-hander Brandon Morrow, who had an even more remarkable performance when he struck out 17 batters -- the most in the majors this season -- while also taking a no-hitter into the ninth inning before Evan Longoria broke it up with a two-out single Sunday. Morrow threw 137 pitches, a total topped by only three pitchers in the past five years -- Livan Hernandez (150 and 145 in 2005, 138 in 2006), Edwin Jackson (149 in his no-hitter this year) and Tim Lincecum (138 in 2008).
Morrow's incredible line:
9 IP, 1 H, 0 R, 0 ER, 2 BB, 17 K, 137 pitches
It was the third no-hitter Morrow has taken through five innings this season and the second he's taken into the eighth inning in his career. Neither of which makes Mariners fans feel better.
That's because the Mariners traded Morrow over the winter for reliever Brandon League. Now, League isn't a bad pitcher, but you don't trade a first-rounder with great stuff for a setup man. Then again, Seattle fans could never get over the Mariners drafting Morrow in the first round in 2006 instead of Lincecum, who grew up in a Seattle suburb and starred at the University of Washington. Like many teams, the Mariners worried about how Lincecum's arm would hold up, so they instead drafted Morrow, who has Type 1 diabetes. Then they jerked him around from starter to reliever to starter to reliever, retarding his development and eventually dishing him off to Toronto. Finally allowed to concentrate on starting, Morrow is showing why he was a first-round pick in the first place and, more importantly, how people can overcome diabetes, throwing nine quality starts in his past 12 games.
So for Mariners fans, these are the saddest of possible words: Lincecum to Morrow to League.
OFF-BASE RECOMMENDS
If you miss the clever writing of former Sports Illustrated staffer Steve Rushin, who is probably the best sportswriter of the past 20 years, then get to the bookstore and pick up a copy of his first novel, "The Pint Man." A perfect summer read, the book tells the tale of Rodney Poole, a young man in New York with a thirst for beer, Irish pubs, sports and wordplay (I can't imagine who Rushin modeled him after), and allows Rushin 259 pages in which to perform his gymnastic prose. Here he describes a visit to the Gates of Heaven cemetery, where, "for a long time, you wouldn't want to be caught dead anywhere else."
"Inside those gates, Rachmaninoff stopped composing and started decomposing. … Magazine baron Conde Nast was interred immediately next to Billy Martin, so that the former Yankees manager appeared hounded by the press even unto eternity. … Fifty yards down a gentle slope from Martin's grave Rodney literally stumbled on the Babe and his second wife, Claire. On Ruth's headstone, Jesus held the hand of a little boy in a baseball uniform. Rodney stepped over the Yuengling can on his grave and found a riot of other tokens left behind by visitors: two American flags, three Yankees caps, a bat and a baseball on which was inscribed, in a shaky hand, "Take care of the Boys, Babe." More than fifty years since the Hearse of the Bambino stopped there, Rodney marveled, Ruth was still receiving fan mail."
Just be sure to keep some Kleenex handy. Not because it's a sad story. Far from it. But I fear I may have infected several dozen of my colleagues due to snot repeatedly blowing out my nose while reading comic line after line.
CSI: ANSWER
This box-score fragment was from the game in which Dock Ellis did something amazing -- he hit three batters without recording an out, the only pitcher to do so since at least 1920. And he would have hit four batters had Tony Perez not ducked well enough to get walked instead. Ellis, not surprisingly, did it intentionally to fire up his team. What's more amazing is that he wasn't ejected from the game. Instead, home plate manager Jerry Dale let it go on until Pittsburgh manager Danny Murtaugh finally took Ellis out after he tried to hit Johnny Bench with his two pitches (Bench dodged them both).
Jim Caple is a senior writer for ESPN.com. You can follow him on Twitter at jimcaple.