Commentary
The 100 greatest sports movie quotes
Originally Published:
August 16, 2010
By
Jim Caple
| Page 2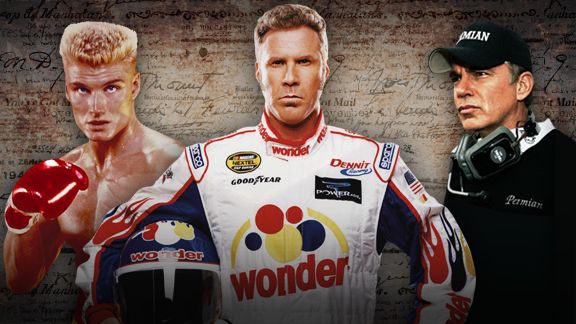 ESPN.com Illustration
One problem with compiling a list of the 100 best sports movie quotes (as Paul Katcher did for ESPN.com's Page 3 back in 2005) is that it leaves out so many good ones. Heck, you could almost get to 100 just from "Bull Durham," "Caddyshack" and "A League of Their Own," without even touching the Will Ferrell oeuvre. Another problem is the lines just keep coming with each new season of movies.
The beauty of compiling a definitive list of the 100 best sports movie quotes, though, is that there is always room for the definitive remake. And here it is, but first a review of the ground rules:
• As before, the movie doesn't have to be about sports, but the quote does. So you'll find Hyman Roth's line about baseball in "The Godfather II" at No. 36. But you won't find Renee Zellweger's "You had me at hello" line because she wasn't referring to sports at the time despite being in a "sports movie."
• Brevity is key. Generally speaking, one or two sentences, maybe three. These are movie lines, not movie monologues, which is a separate list. A line can come from a monologue, however, if it stands on its own.
• Sense or sensibility. Generally speaking, the line must make sense and be appealing even if you haven't seen the movie.
• Cultural impact helps. Lines scoring highest are those that are instantly recognizable and frequently repeated.
• Maximum of three quotes per movie. Which means far too many lines from "Bull Durham," "Caddyshack" and "A League of Their Own" landed on the cutting-room floor.
All right, enough with the ground rules. Bring on the quotes. (Again, thanks to Paul Katcher, as well as IMDB.)
• Click here to read Jim Caple's Top 10 sports monologues from movies.
100. "We all know most marriages depend on a firm grasp of football trivia."
-- Modell (Paul Reiser) in "Diner," commenting on Eddie (Steve Guttenberg) subjecting his fiancée to a football quiz before marrying her. He's being ironic because everyone knows all marriages depend on a firm grasp of baseball trivia.
99. "Oh, the usual. I bowl. Drive around. The occasional acid flashback."
-- The Dude (Jeff Bridges) in "The Big Lebowski" on what he does for recreation. (BTW: The real-life Dude was more of a runner than a bowler.)
98. "I don't hear as good as I used to and I forget stuff and I ain't as pretty as I used to be but goddamn it, I'm still standing here and I'm The Ram."
-- Randy (the Ram) Robinson (Mickey Rourke) in "The Wrestler." Did Rourke get robbed of an Oscar in 2009? Maybe, maybe not. But his was undoubtedly the finest performance ever by the back of a person's head. I mean it. The camera shows the back of his head so often you would yell "Down in front!" watching it alone in your living room.
97. "I voted that one time when Major League Baseball started the fan thing. I voted for Boog Powell for first base -- he didn't get in and it just depressed me. It's futile."
-- The Fad King (Denis Leary) in "Wag the Dog," explaining why he doesn't vote for president. The actual candidates might be another reason.
96. "Cheerleaders are dancers who have gone retarded. What you do is a tiny, pathetic subset of dancing. I will attempt to turn your robotic routines into poetry, written with the human body. Follow me or perish, sweater monkeys."
-- Sparky the choreographer in "Bring It On." On a personal note, if my high school had had Kirsten Dunst on its rally squad, we would have won state in every sport.
95. "You know, Nickerson, you are not God! You're just a typing teacher."
-- Stefan Djordjevic (Tom Cruise) in "All the Right Moves," reaming out his football coach who interfered with him getting a scholarship. Cruise, of course, finds a creative solution to this scholarship dilemma in "Risky Business."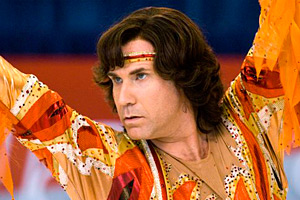 Paramount PicturesWill Ferrell makes his presence felt with four entries on our list of the top 100 sports movie quotes ever.
94. "Hey, they laughed at Louis Armstrong when he said he was going to go to the moon. Now he's up there, laughing at them."
-- Chazz Michael Michaels (Will Ferrell) in "Blades of Glory," on skepticism that two men can win a medal in pairs figure skating. These inspiring words belong on the Diamond Vision right after the John Belushi "Did they say it was over when the Germans bombed Pearl Harbor?" video clip.
93. "All right men, now here's the play we're going to use. I don't think the guards know this formation. It's called 'incidental punishment after the ball is blown dead.'"
-- Granville (Harry Caesar) in "The Longest Yard." Hines Ward, however, is very familiar with that play.
92. "What's the matter, Champ? Champ, wake up! Wake up! Wake -- wake up!"
-- T.J. (Ricky Schroder) in "The Champ." Spoiler alert! Champ never even reaches over to hit the snooze button on his alarm clock.
91. "He could run OK for a fat man."
-- Ty Cobb (Tommy Lee Jones) in "Cobb," grudgingly acknowledging what he saw as one of Babe Ruth's few athletic talents. Another Cobb compliment that didn't make it into the movie: "Lou Gehrig was punctual, I guess. Or at least, he was up until his late 30s."
90. "Tate University -- a large football stadium, with a college attached."
-- Title card in the silent movie "The Freshman." Also applies to Notre Dame, LSU, Alabama, USC, Ohio State, Tennessee.
89. "He pitched Saturday. Not scheduled to pitch until Wednesday."
-- Rain Man (Dustin Hoffman) in "Rain Man," explaining to his brother (Tom Cruise) when Fernando Valenzuela will pitch again. The weird thing? If Fernando pitched on Saturday, he wouldn't pitch again until Thursday. Rain Man can count cards in a six-deck shoe, instantly count 246 toothpicks spilled on the floor and calculate the square root of 2,130 to eight decimal places. Bur for some reason he couldn't figure out how a five-man starting rotation works.
88. "I love baseball. You know it doesn't have to mean anything, it's just beautiful to watch." -- Zelig (Woody Allen) in "Zelig." In other words, baseball is like a sunset, a Monet painting of water lilies or an episode of "Gossip Girl."
87. "Life gives you many opportunities. Baseball only one."
-- The baseball coach in "Sugar." But you get two chances if you're a 40-year-old biology teacher/pitcher who is the subject of a movie starring Dennis Quaid.
86. "It's fourth-and-15 and you're looking at a full-court press."
-- Frank Drebin (Leslie Nielsen) in "The Naked Gun." Not only that, you're in a sand trap with two strikes on you and you've also pulled your goalie.
85. "No. Tomorrow's taken care of, one way or another. I was thinking about how you spend 30 years in a tiny cell, and come out ready to forgive the people who put you there."
-- Francois Pienaar (Matt Damon) in "Invictus," when asked whether he's thinking about the next day's South Africa-New Zealand rugby World Cup match. He's either referring to Nelson Mandela or Cleveland fans.
84. "He didn't slam into you, he didn't bump you, he didn't nudge you. He rubbed you. And rubbing, son, is racing."
-- Harry Hogue (Robert Duvall) in "Days of Thunder." Sure, that sounds good when one of our greatest actors says it on the big screen but try telling that to the insurance company and see how far it gets you.
83. "Oh my god! They've shot him!"
-- Hot Lips (Sally Kellerman) in "M*A*S*H" after hearing the gun fired when the quarter ends in the big football game at the end of the movie. Fortunately, we have commercial breaks nowadays.
82. "I couldn't figure out why you kept yelling 'slide.'"
-- Linda (Diane Keaton) in "Play It Again, Sam" when Woody Allen tells her that he thought about Willie Mays and baseball while they were having sex in order to errr, prolong his performance.
81. "Gentlemen, the hopes and dreams of an entire town are riding on your shoulders. You may never matter again in your life as much as you do right now."
-- Coach Gary Gaines (Billy Bob Thornton) in "Friday Night Lights," giving the team a pep talk that could inspire the players or make them curl up in a fetal position and cry.
80. "People say that it can't work, black and white. Well, here we make it work, every day. We have our disagreements, of course, but before we reach for hate, always, ALWAYS, we remember the Titans."
-- Coach Boone (Denzel Washington) in "Remember the Titans." Denzel, on the other hand, is all inspiration.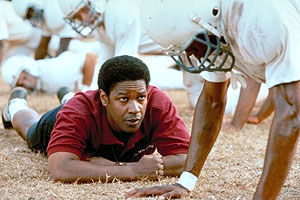 Buena Vista Pictures How would Coach Boone handle Albert Haynesworth?
79. "A water break? Water is for cowards."
-- Coach Boone (Denzel) in "Remember the Titans." On second thought ... Water is for cowards? I don't even want to know what Boone thinks about who Gatorade is for.
78. "Hey, unless you're gonna kiss me, get your hands off my ass."
-- McKenna (Jerry Sharp) in "Any Given Sunday." As Jimmy Dugan (Tom Hanks) says in "A League of Their Own" after signing "Avoid the clap" on a kid's baseball, that's good advice.
77. "You live more in five minutes on a bike like this going flat out than some people live in a lifetime."
-- Burt Munro (Anthony Hopkins) in "The World's Fastest Indian," while attempting to break the land speed record on his motorcycle. Once again, explain that to the state trooper.
76. "Money won is twice as sweet as money earned."
-- Eddie Felson (Paul Newman) in "The Color of Money." And it's sweet enough to kill lab rats compared with money lost betting on the Vikings.
75. "I must break you."
-- Ivan Drago (Dolph Lundgren) in "Rocky IV." Spoiler alert! Rocky only bends, leading to perestroika, the Soviet Union's collapse, and alas, "Rocky V" and "Rocky Balboa."
74. "Mr. McMurphy said something about a World Series? A baseball game? I've never been to a baseball game and I think I'd like to see one. That would be good therapy, too, wouldn't it, Nurse Ratched?"
-- Cheswick (Sydney Lasick) in "One Flew Over the Cuckoo's Nest," trying to convince Nurse Ratched to let the patients watch the World Series on TV. Good luck with that. You'd have a better chance asking Buck Showalter to let you wear your cap backward and your jersey hanging out.
73. "One, two, three -- CRY."
-- Bull Meacham (Robert Duvall) in "The Great Santini," while repeatedly bouncing a basketball off his son's head after losing to him in a game of one-on-one. When it came to coaching, Bull made Bobby Knight look like Richard Simmons.
72. "I wouldn't say I was the best manager in the country. But I'm in the top one."
-- Leeds United coach Brian Clough (Michael Sheen) in "The Damned United." Clough did not lack self-esteem.
71. "We had been calling it Murderball, but you can't market Murderball to corporate sponsors."
-- Mark Zupan in the documentary "Murderball," explaining why they changed the sport's name to wheelchair rugby. It's also why the NFL settled on football.
70. "We got a German here who wants to die for his country! Oblige him!"
-- Lt. Aldo Raine (Brad Pitt) in "Inglourious Basterds," commanding Sgt. Donny Donowitz to bash a German soldier's skull with a baseball bat. This is what director Quentin Tarantino considers a restrained display of gore.
69. "Which brings me to my second point. Don't smoke crack."
-- Lawrence Taylor (LT) in "The Waterboy." The saddest part of LT's post-playing career? He delivered a far better performance in this movie than Adam Sandler.
68. "The Red Sox are the best relationship I have had."
-- Ben (Jimmy Fallon) in the American version of "Fever Pitch." The British version of "Fever Pitch" is better because: (1) It is truer to Nick Hornby's book; and (2) It doesn't have Jimmy Fallon in it; Colin Firth plays the obsessed fan.
67. "You never played for Charlie Comiskey."
-- Chick Gandil (Michael Rooker) in "Eight Men Out," explaining why it was possible to get eight players to throw the World Series in exchange for money. The infamously cheap Comiskey would not have liked Scott Boras.
66. "No, I air-dry."
-- Rod Tidwell (Cuba Gooding Jr.) in "Jerry Maguire," when asked whether he needs a towel after a shower. Comiskey would have loved this guy. Think how much he could have saved on towels.
[+] Enlarge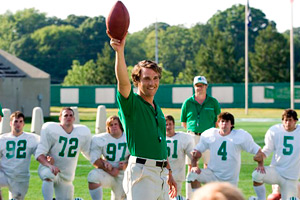 Warner Bros. PicturesMatthew McConaughey memorably portrayed Marshall football coach Jake Lengyel in 2006.
65. "The funerals end today!"
-- Coach Jake Lengyel (Matthew McConaughey) in "We Are Marshall." His next line, which they wisely dropped from the movie? "So let's go kill those guys!"
64. "Personal philosophy? Clothing optional."
-- Chazz Michael Michaels (Will Ferrell) in "Blades of Glory." This also could be the title of Chapter 7 in Rick Pitino's book: "Success Is a Choice."
63. "Here's the deal -- I'm the best there is. Plain and simple. I wake up in the morning and I piss excellence."
-- Ricky Bobby (Will Ferrell) in "Talladega Nights." If you believe Floyd Landis, Lance Armstrong does as well.
62. "My name is Mike Eruzione! Winthrop, Massachusetts! I play for the United States of America!"
-- Mike Eruzione (Patrick O'Brien Demsey) in "Miracle," finally saying the words that will make coach Herb Brooks (Kurt Russell) happier than anything short of "Do you believe in miracles?"
61. "I sure miss playing basketball. I got depressed as hell when my athlete's foot and jock itch went away."
-- Cyril (Daniel Stern) in "Breaking Away." Because now he doesn't have any excuse to scratch.
60. "Jesus, I like him very much, but he no help with curveball."
-- Pedro Cerrano (Dennis Haysbert) in "Major League." And Jesus, Buddha, Allah, Vishnu and the Flying Spaghetti Monster, etc., aren't much help with a Roy Halladay splitter, either.
59. "I think it's better to break a man's leg than his heart."
-- George Woolf (Gary Stevens) in "Seabiscuit." He could be right about that, but Joe Theismann might have a slightly different view.
58. "Look, boss, I only got one rule. And that's never bet money that you don't have on a dog race with an ex-girlfriend who happens to be a stripper."
-- Romeo Posar (Cheech Marin) in "Tin Cup," providing the sort of indisputably sage advice you look for from a caddie.
57. "If you can dodge a wrench, you can dodge a ball."
-- Coach Patches O'Houlihan (Rip Torn) in "Dodgeball," explaining the fine points of the sport.
56. "It's supposed to be hard. If it wasn't hard, everyone would do it. The hard is what makes it great."
-- Manager Jimmy Dugan (Tom Hanks) in "A League of Their Own," trying to convince Dottie Hinson (Geena Davis) to keep playing. Of course, some teams -- such as the Pirates, Royals, Cubs and Mariners -- make it look harder than it needs to.
55. "It's like being a black guy back home. Only there are less of us." -- Hammer Dubois (Dennis Haysbert) in "Mr. Baseball," explaining what it's like to be a gaijin (foreigner) playing baseball in Japan. An even better line would be Ozzie Smith's explanation.
54. "People always say to me, 'When you get to the NBA, don't forget about me.' Well, I should've said back, 'If I don't make it to the NBA, don't you forget about me.'"
-- William Gates (himself) in the documentary "Hoop Dreams." Words so wise even "Hoosiers" teacher/shrew Myra Fleener would approve.
53. "I believe God made me for a purpose, but he also made me fast. And when I run I feel His pleasure."
-- Eric Liddell (Ian Charleson) in "Chariots of Fire." Funny, when I run, I mostly feel a burning in my lungs, a stitch in my side, pain in my shins and a desire to lie down and nap.
52. "The inches we need are everywhere around us."
-- Coach Tony D'Amato (Al Pacino) in "Any Given Sunday." It's the yards that are so elusive in Detroit.
51. "I've been brushing up on my Spanish of late, and I think he is saying something about, you know, his being Catholic, and it's a sin."
-- Oglivie in "The Bad News Bears" explaining why the two Mexican kids don't want to wear protective cups. Perhaps they should let Adrian Beltre explain why it's a good idea.
50. "Michael, I want you to have a good time but if you get a girl pregnant out of wedlock, I will crawl into the car, drive up to Oxford and cut off your penis."
-- Leigh Anne Tuohy (Sandra Bullock) in "The Blind Side," offering some warm wisdom before her adopted son goes off to play at Mississippi.
49. "Hey, cowgirls! See the grass? Don't eat it."
-- Ernie Capadino (Jon Lovitz) in "A League of Their Own," when he brings his prospects to Wrigley Field for a tryout. Because the grass isn't for eating at Wrigley Field, it's for providing a soft landing spot for opponents' base hits
48. "One hundred thousand dollars? Makes me wanna walk on all fours and put a saddle on my back."
--Tick Tock McGlaughlin (William H. Macy) in "Seabiscuit." He was either very impressed by the prize money for a horse race, or this is from the movie's NC-17 version available only on Cinemax.
47. "Oh no, of course not, sweetheart, no. I mean I've got nothing against it. I was cheering for Martina Navratilova as much as the next person."
-- Paula Paxton (Juliet Stevenson) in "Bend It Like Beckham," insisting to her daughter that she has nothing against lesbians. Her daughter is played by Keira Knightley. Let your imagination run wild.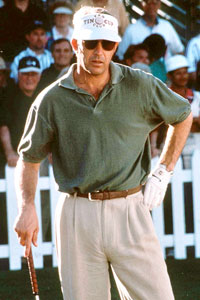 Warner Bros. Pictures"You define the moment ...
or the moment defines you."
46. "I hit it again because that shot was a defining moment, and when a defining moment comes along, you define the moment ... or the moment defines you."
-- Roy McAvoy (Kevin Costner) in "Tin Cup" provides the winning philosophy of a washed-up golf pro who lives in a trailer at a driving range.
45. "Laces out."
-- Former place-kicker Ray Finkle's mantra in "Ace Ventura." Or was that Crash Davis' advice to Nuke LaLoosh on how to wear his uniform in "Bull Durham"?
44. "Is that a catchphrase or epilepsy?"
-- Jean Girard (Sacha Baron Cohen) in "Talladega Nights," when Ricky Bobby (Will Ferrell) and Cal Naughton Jr. (John C. Reilly) come up with their "Shake and Bake" routine. Actually, Jean, it's both.
43. "Everybody cheats, I just didn't know."
-- Dave Stoller (Dennis Christopher) in "Breaking Away," breaking down to his father (Paul Dooley) after the Italian cyclists he worshipped knock him out of a race by sticking a bicycle pump in his spokes. "Breaking Away" came out in 1979 and this quote would be a pretty good disclaimer for all sports fans in the ensuing years.
42. "You don't throw a whole life away just because he's banged up a little."
-- Tom Smith (Chris Cooper) in "Seabiscuit." Especially if there is a guaranteed contract and Dr. Jobe is available.
41. "I'm your new catcher and you just got your first lesson. Don't think. You'll only hurt the team."
-- Crash Davis (Kevin Costner) in "Bull Durham," providing more sound advice to Nuke LaLoosh (Tim Robbins). Unfortunately Alex Rodriguez wasn't listening.
40. "When I walk down the street people will say, 'There goes Roy Hobbs, the best there ever was.'"
-- Roy Hobbs (Robert Redford) in "The Natural." Unless, of course, Albert Pujols is walking down the other side of the street.
39. "They brought their $#&$#&! toys with them!"
-- Coach Reggie Dunlop in "Slap Shot," lamenting about the immaturity of the Hanson brothers. Yes, it's much better to be like mature athletes and travel with a venereal disease.
38. "Protect yourself at all times."
-- Trainer Frankie Dunn (Clint Eastwood) in "Million Dollar Baby." Which means you may not want to step into a ring and let a trained boxer punch your head repeatedly.
37. "Leave the ball, will you, George?"
-- Coach Norman Dale (Gene Hackman) in "Hoosiers," while telling the Hickory boosters to butt out and leave the coaching to him. This does not win friends but it does influence one very important person with a great set shot. (BTW: You can visit the gym used for the Hickory court in Knightstown, Ind. It's kind of like the "Field of Dreams" site for basketball fans, only it's real.)
36. "I loved baseball ever since Arnold Rothstein fixed the World Series in 1919."
-- Hyman Roth (Lee Strasberg) in "The Godfather Part II." He's also partial to NBA games worked by Tim Donaghy.
35. "I don't hate Balboa. I pity the fool."
-- Clubber Lang (Mr. T) in "Rocky III." The pity should extend to the fools who paid money to see any "Rocky" movie after this one.
34. "Don't make me cry, Roy ... "
-- Rod Tidwell in "Jerry Maguire," appearing on the Roy Firestone show. Because he's saving his tears for Oprah.
33. "I am personally placing a hundred-dollar bounty on the head of Tim McCracken. He's the head coach and chief punk on that Syracuse team."
-- Hockey coach Reggie Dunlop (Paul Newman) in "Slap Shot," publicizing his team during a radio interview in an early version of Bobblehead Night.
32. "I want a guy who can play 36 holes of golf and still have enough energy to take Warren and me to a baseball game and eat sausages and beer. Not light beer, but beer. That's my ad, print it up."
-- Mary (Cameron Diaz) in "There's Something About Mary," assuring a response from Ben Stiller, Matt Dillon and oh, only about 130 million American males.
31. "I'm out there busting my buns every night. Tell your old man to drag Walton and Lanier up and down the court for 48 minutes."
-- Kareem Abdul-Jabbar in "Airplane," momentarily breaking character to quiet a young critic. Alas, there were no Oscar nominations.
30. "Strap, God wants you on the floor."
-- Coach Norman Dale (Gene Hackman) in "Hoosiers," to a player lost in prayer before a game. Given Hickory's limited roster, Coach Dale probably wanted him on the floor more.
29. "There are 108 beads in a Catholic rosary. And there are 108 stitches in a baseball. When I learned that, I gave Jesus a chance."
-- Annie Savoy (Susan Sarandon) in "Bull Durham," explaining the theology of her Church of Baseball, which apparently bears similarities to the Dugout of Christianity.
28. "I love Brian Piccolo. And I'd like all of you to love him too. And so tonight, when you hit your knees, please ask God to love him."
-- Gale Sayers (Billy Dee Williams) in "Brian's Song." Cue music, reach for tissues.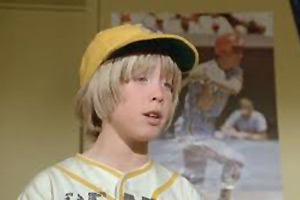 Paramount PicturesIn "The Bad News Bears," Tanner Boyle displayed
a potty mouth that would make Ozzie Guillen blush.
27. "Hey, Yankees, you can take your apology and your trophy and shove 'em straight up your a--!"
-- Tanner in "The Bad News Bears," providing a slogan for every decent, hardworking American citizen who will ever amount to a hill of beans.
26. "Losing is a disease. As contagious as polio."
-- The quack hypnotist in "The Natural." And apparently, they run out of the vaccine every summer in Pittsburgh.
25. "Every time you get hit, feels like I'm getting hit too."
-- Mae Braddock (Renee Zellweger) in "Cinderella Man," trying to convince her husband (Russell Crowe) to stop boxing. It could be worse. She could be married to Rocky Balboa.
24. "Yeah, well, you know, that's just, like, your opinion, man."
-- The Dude (Jeff Bridges) in "The Big Lebowski" responding to the taunts by Jesus Quintana (John Turturro) that Quintana will, ummmmm, well, let's just say he plans to beat them badly in the league bowling tournament.
23. "If basketball is all you care about, why you ----ing me? Why don't you ---- Dick Vitale?"
-- Quincy (Omar Epps) in "Love and Basketball." This, we can assume, is a rhetorical question.
22. "I've been ready for this my whole life!"
-- Rudy Ruettiger (Sean Astin) in "Rudy," before he finally gets into a game for Notre Dame. And the audience has been ready for it after what seems like seven hours.
21. "I play, Coach stays. He goes, I go."
-- Jimmy Chitwood in "Hoosiers," establishing just who's in charge of the town of Hickory. Another demand: "I play, you give me $10,000. Otherwise I play for Calipari at Kentucky."
20. "You do that, you go to the box, you know. Two minutes, by yourself, you know, and you feel shame, you know. And then you get free."
-- Denis Lemieux (Yvon Barette) in "Slap Shot," explaining on a talk show how various fouls will land you in the penalty box. Where you will, you know, feel shame.
19. "Smokey, this is not 'Nam. This is bowling. There are rules."
-- Walter (John Goodman) in "The Big Lebowski" while brandishing a gun and enforcing a foot foul during league bowling. An extreme measure? Perhaps. But remember, it was a league game.
18. "I just slid my ticket across the table and I said, 'Sorry, guys, I gotta see about a girl.'"
-- Psychologist Sean Maguire (Robin Williams) in "Good Will Hunting," explaining to Will Hunting (Matt Damon) how he gave up tickets to Game 6 of the 1975 World Series so he could stay in the bar and drink with a girl he just met instead. That girl winds up being his wife. It's a lesson on seizing opportunity and avoiding years of regret. Of course, he admits, he didn't know Fisk was to going to homer in the 12th.
17. "Sex and golf are the two things you can enjoy even if you're not good at them."
-- Roy McAvoy (Kevin Costner) in "Tin Cup." Fortunately for all of us, this statement is far truer than most anything Costner claims in "JFK."
16. "I'd keep playing. I don't think the heavy stuff is going to come down for quite a while."
-- Carl Spackler (Bill Murray) in "Caddyshack." Or is that what Bud Selig says each World Series?
15. "Juuuust a bit outside!"
-- Harry Doyle (Bob Uecker) in "Major League," on a wild pitch that all but hit the mascot.
14. "Hey Dad, you wanna have a catch?"
-- Ray Kinsella (Kevin Costner) in "Field of Dreams." "(Sniff) Not right now, son, (sniff) I've got something in my eye."
13. "Cinderella story. Outta nowhere. A former greenskeeper, now, about to become the Masters champion. It looks like a mirac ... It's in the hole! It's in the hole! It's in the hole!"
-- Carl Spackler (Bill Murray) in "Caddyshack" while doing a little weeding.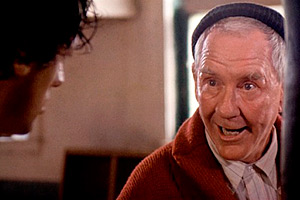 United ArtistsWhat would Mickey say to the Big Ten heading into its Week 3 showdowns with the Pac-12? "What are you waiting for?!"
12. "You're gonna eat lightning, and you're gonna crap thunder! You're gonna become a very dangerous person."
-- Mickey (Burgess Meredith) in "Rocky," telling Rocky (Sylvester Stallone) what will result from his intense training. It also pretty much covers what will result from Stallone later opening Planet Hollywood.
11. "Show me the money!"
-- Rod Tidwell (Cuba Gooding Jr.) in "Jerry Maguire," instructing his agent (Tom Cruise) and pretty much expressing the theme of modern American life.
10. "How much you wanna make a bet I can throw a football over them mountains?"
-- Uncle Rico (Jon Gries) in "Napoleon Dynamite," making it clear to his nephew that he still has a better arm than all of the Mannings combined.
9. "You don't understand. I coulda had class. I coulda been a contender. I coulda been somebody, instead of a bum, which is what I am."
-- Terry Malloy (Marlon Brando) in "On The Waterfront," whining he could have been a champion. No doubt, he also could have thrown a football over them mountains.
8. "Sometimes when the team is up against it and the breaks are beating the boys, tell them to go out there with all they've got and win just one for the Gipper."
-- George Gipp (Ronald Reagan) in "The Knute Rockne Story." A slightly more inspirational speech than Charlie Weis' famed "OK, go get 'em, boys. But first, let's get something to eat. We don't want to be caught with low blood sugar in the fourth quarter."
7. "Who's on first?"
-- Sebastian Dinwiddle (Lou Costello) in "The Naughty Nineties." This is also a question Mariners fans have been asking since John Olerud left.
6. "I feel like Buckner walking back into Shea."
-- Poker player Mike McDermott (Matt Damon) in "Rounders," describing his feelings about returning to the card room where he got his ass whipped by Teddy KGB (John Turturro). And then he wins so much money Teddy KGB feels like a fan leaving new Yankee Stadium after paying for tickets, concessions, beer, souvenirs and parking for a family of four.
5. "OK, well, uh ... candlesticks always make a nice gift."
-- Coach Larry Hockett (Robert Wuhl) in "Bull Durham," as part of the sermon on the mound. Wuhl should have walked off the mound and called it a career after this one.
4. "Today, I consider myself the luckiest man on the face of the earth."
-- Lou Gehrig (Gary Cooper) in "The Pride of the Yankees." Best repeated with echoes.
3. "If you build it, he will come."
-- The Voice in "Field of Dreams," instructing Iowa farmer Ray Kinsella (Kevin Costner) to plow up his corn crop and build a baseball field. Sports owners would mimic this directive in following years by commanding taxpayers to spend hundreds of millions of dollars to knock down entirely adequate stadiums and replace them with new stadiums designed to take more money out of the fans' wallets and place it in the owners' vaults.
2. "There's no crying in baseball!"
-- Manager Jimmy Dugan in "A League of Their Own," explaining baseball's etiquette to a bawling Evelyn Gardner (Bitty Schram). Dugan evidently never rooted for the Cubs.
1. "So we finish the 18th and he's gonna stiff me. And I say, 'Hey, Lama, hey, how about a little something, you know, for the effort, you know?' And he says, 'Oh, uh, there won't be any money, but when you die, on your deathbed, you will receive total consciousness.' So I got that goin' for me, which is nice."
-- Groundskeeper Carl Spackler (Bill Murray) in "Caddyshack," on what it's like to caddie for the Dalai Lama.
Oh, and here's a true story -- when Jesse Ventura was governor of Minnesota, the Dalai Lama visited the state. Ventura said of their meeting: "I asked him the most important question, I think, that you could ask him -- if he'd ever seen 'Caddyshack.'" The Lama said no.
Jim Caple is a senior writer for ESPN.com. You can follow him on Twitter at jimcaple.