Commentary
Page 2's Top 10 fictional home runs
Originally Published:
August 18, 2010
By
Jim Caple
| Page 2
Was Bobby Thomson's Shot Heard 'Round the World the greatest home run in history? Page 2 answered that question seven years ago, so we won't revisit it. Instead, here are the 10 greatest fictional home runs ever hit:
10. Scotty Smalls hits a home run into the next yard, which is protected by a baseball-eating dog called the Beast ("The Sandlot"). Unfortunately for Smalls, the ball he hit was the one he sneaked away from his stepfather, and worse, it was autographed by Babe Ruth, whom Scotty had somehow never heard of. He never heard of Babe Ruth? This may be the most unbelievable plot point outside of The Matrix series.
9. The Jeffrey Maier home run (1996 ALCS) off the bat of Derek Jeter. C'mon, you know it wasn't a real home run.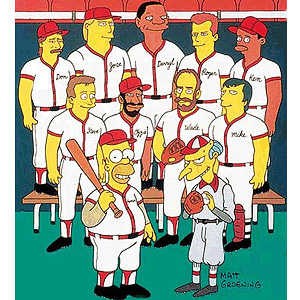 Courtesy of FoxUltimately, Darryl Strawberry and Co. need Homer Simpson to help capture the league championship.
8. Thanks to his secret weapon, Wunderbat, Homer Simpson homers throughout the season to send his team to the nuclear plant softball championships ("The Simpson's," Homer at the Bat). Unfortunately Homer gets benched when Mr. Burns hires big league ringers for the big game.
HOMER: You're Darryl Strawberry!
STRAWBERRY: Yes.
HOMER: You play right field.
STRAWBERRY: Yes.
HOMER: I play right field, too.
STRAWBERRY: So?
HOMER: Well, are you better than me?
STRAWBERRY: Well, I've never met you, but ... yes.
7. Pedro Cerrano ties the one-game playoff against the Yankees with a seventh-inning home run ("Major League"). Never lose faith in Jo-Bu.
6. In order to get back a birthday card signed by the Yankees, Kramer promises a kid in the hospital that Paul O'Neill will hit two home runs for him ("Seinfeld," The Wink).
KRAMER: Two? Sure kid, yeah. But then you gotta promise you'll do something for me.
BOBBY: I know. Get out of this bed one day and walk again.
KRAMER: Yeah, that would be nice. But I really just need this card.
Although appalled by Kramer's promise, O'Neill hits one home run and follows it with an inside-the-park job. Unfortunately, the kid doesn't want to give up the card, because second homer is later ruled a triple and an error.
5. Kelly Leak homers in his debut with the Bears ("Bad News Bears"). First he wins a date with Amanda by beating her in air hockey, then he joins the team to spite the stormtrooper in the league office and instantly reverses the Bears' fortunes as the best player in the league. He was like a 12-year-old Derek Jeter.
4. Kit Hinson hits an inside-the-park home run to win the championship ("A League of Their Own"). At least, it might have been a home run. We never see the scoring decision. Kit slams the ball, circles the bases, runs through a stop sign at third base and barrels into her sister, Dottie, in a sibling replay of Pete Rose meets Ray Fosse. The collision knocks the ball from Dottie's glove. Is that, like O'Neill's second round-tripper, a triple and an error, or a home run? The way official scorers are today, I say it's no question: home run.
3. Charlie Brown finally homers ("Peanuts," March 30, 1993). After 43 years of futility, Charlie Brown finally tastes success when he hits the first home run of his career. Responds sister Sally when he tells her: "YOU?!?!?" By the way, this marks the official beginning of baseball's steroid era. I mean, c'mon. Look at the size of his head.
2. Crash Davis breaks the minor league home run record at Asheville, N.C., takes a satisfying home run trot and then retires to have lots of sex with Susan Sarandon ("Bull Durham").
1. Bleeding through his uniform, Roy Hobbs slams a walkoff homer to give the Knights the pennant and force the Judge to buy new lights for the stadium ("The Natural"). This is a slightly more upbeat ending than in Bernard Malamud's original novel, in which Hobbs strikes out in disgrace and later hears a parent say this to a child after they pass him on the street: "There goes Roy Hobbs. Boy, he could have really been something."
Jim Caple is a senior writer for ESPN.com. You can follow him on Twitter at jimcaple.