Commentary
Golden Baseball League wackiness
Originally Published:
August 18, 2010
By
Jim Caple
| Page 2
There are several independent minor leagues, but none as geographically ambitious as the Golden Baseball League, which has teams in three countries (the U.S., Canada and Mexico), four states (California, Utah, Hawaii and Arizona) and two provinces (Alberta and British Columbia) and on two islands (Vancouver Island and Maui). It's the only baseball league with teams in three countries, unless you count Red Sox Nation.
The sun never set on the British Empire, and it rarely sets on the Golden Baseball League. Which is fortunate because the stadium lights are occasionally an issue.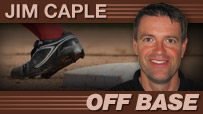 The GBL attracted national attention five years ago when Rickey Henderson attempted to keep his career alive with the San Diego Surf Dawgs (unfortunately, neither his career nor his team survived). If you've heard about the league at all since then, it might be because of Eri Yoshida, the female Japanese teenage knuckleballer for the Chico Outlaws, or because Jose Canseco played there in 2006, or perhaps because Mark Prior is attempting a comeback with the Orange County Flyers or because the Edmonton Capitals recently fired their manager for his terribly offensive homophobic rant against an umpire.
More than likely, however, you probably haven't heard about the GBL. Which is a shame because, man, have these folks got some stories to tell. Which is not surprising, given that they're trying to make this league work on a budget so tight the salary cap is $90,000 per team for the entire season.
Consider Chico first baseman Mark Samuelson's career. This is his first year in pro ball, yet he already has gone through pretty much every aspect of minor league life aside from sharing a candlelit bath with Susan Sarandon.
Samuelson started the season with the Yuma Scorpions, where he says he was paid once, then not paid for several weeks, then released. He signed with the Tijuana Cimarrones, which were forced to relocate to Yuma because of stadium issues. For a while, the Cimarrones played some games on what is listed on the official box score as "Practice field behind Desert Sun Stadium." At some point, he was traded back to Yuma (he must have been overjoyed). Then he was traded to Chico, where he's currently playing and getting paid. Or at least he was playing with the Outlaws when I met him this past weekend.
"I've played for three teams four different times," he said. "It's been moving around. It's been a crazy year."
While Samuelson still was with Tijuana, the Cimarrones had a road trip from Yuma to Victoria, B.C., and they drove the entire 1,500 miles in a couple of vans. Well, not quite the entire way. At Port Angeles, Wash., they took a ferry across the Strait of Juan de Fuca to Vancouver Island. Samuelson drove much of the way because he trusted himself as a driver and didn't think he would be able to sleep in the van, anyway. The drive took two days, including a stop in Chico to pick up some uniforms and money. It was such a miserable trip I'm surprised they didn't also pick up Rutger Hauer hitchhiking along the way.
"It was a job," Samuelson said of the drive. "I was released from my first professional job, and I had another job and I was playing every day. The situation wasn't great, but I was playing every day and I had a chance to show my talent."
I heard similar views from a lot of players at the Chico-Victoria Seals games this weekend. They'll play without pay. They'll drive 1,500 miles. They'll share cramped clubhouses with just one toilet. They'll play in 115-degree heat in front of 100 fans -- they'll do all that just so long as someone is willing to give them a uniform.
I remember when Mike Veeck started the Northern League in 1993 with a team in St. Paul. I was covering the Twins for the St. Paul Pioneer Press at the time, and I was certain there was no way anyone could field an independent league. With the arrogance of a young reporter on the big league beat, I told him that all the good players were already in major league organizations. No one would pay to see the castoffs the affiliates didn't want.
Boy, was I wrong. Hundreds of players have kept their careers going through independent ball, and partly because of these leagues and guys such as Kevin Millar (Northern League), Brendan Donnelly (Atlantic League) and Ben Weber (Western League), the Red Sox and Angels won the World Series.
On the other hand, they also have prolonged the career of Canseco, who just signed with the Laredo Broncos of the United League in Texas. Sigh. In independent ball, you learn to take the bad with the good.
BASEBALL CARD OF THE WEEK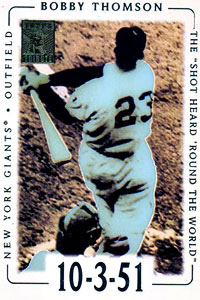 Topps
I like this card (2002 Topps, Bobby Thomson Tribute No. 3), not just because I was a huge Giants fan growing up but also because, in addition to showing Thomson hitting his fabled Shot Heard 'Round the World, it also prominently features the date: Oct. 3, 1951. In addition to being the date of perhaps the most famous home run in baseball history -- what other home run inspired a novel (Don DeLillo's "Underworld" opens with that game and explores what might have happened to the ball) -- it also was the day Hall of Famer Dave Winfield was born in St. Paul, Minn. I once mentioned to Winfield that he was born on the perfect day for a baseball player and, without blinking, he replied, "Yes, and I have the perfect name, too. Win and Field."
Rest in peace, Bobby.
BOX SCORE LINE OF THE WEEK
Continuing his inspiring season, R.A. Dickey came oh, so close to pitching a no-hitter (9 IP, 1 H, 0 R, 0 ER, 1 BB, 7 K), but at least he was able to complete the game. The circumstances were a little different for Minnesota's Kevin Slowey.
So what would you do? You're the manager of a first-place team in a pennant race, and your starter is throwing a no-hitter after seven innings. But his pitch count is already at 106 and he missed his last scheduled start because of tendinitis. Do you keep him in to give him a chance at the sort of personal glory that will last the rest of his life? Or do you take him out to protect the rest of his career? Arizona left Edwin Jackson in to throw 149 pitches for a no-hitter and Toronto left Brandon Morrow in to throw 137 pitches to pursue a no-hitter, but for Twins manager Ron Gardenhire, the decision is both simple and difficult. You take Slowey out no matter how emotionally painful it is.
Slowey's line:
7 IP, 0 H, 0 R, 0 ER, 3 BB, 5 K
Gardenhire made the right call. One, it's unlikely Slowey would have pitched two more hitless innings when he was already at 106 pitches (at that pace, he probably would have thrown more than 130 to complete the game). Just look what happened to Morrow the previous week. Two, he is recovering from tendinitis. I'm dealing with tendinitis right now, and I know what a pain it is and how careful you have to be to not make it worse. And I'm just an aging sports writer. A young athlete who stands to earn millions with his arm can't afford to take chances.
CSI: BOX SCORE
You know the drill. Each week, you get a fragment from an old box score and must solve the mystery of what game it was from and why it was significant. This week is another two-parter with fragments from two games, played four years apart. I give this week's a difficulty rating of 4, along with a clue: Gardenhire and Slowey can sympathize.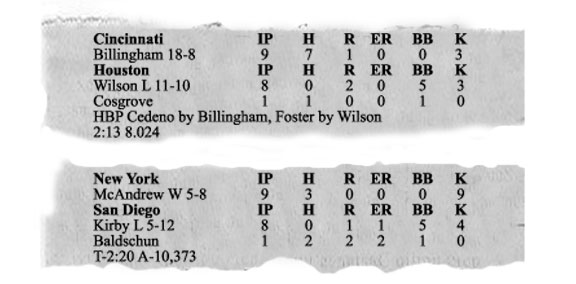 DONNY, YOU'RE OUT OF YOUR ELEMENT
The way the Twins are treating Justin Morneau's recovery from his concussion -- he hasn't played in more than a month now -- stands in stark contrast to how the NFL handles concussion. If Morneau were a football player, his team might have sent him back out there the next game (if not the next quarter) and then, a couple of decades later, expressed ignorance as to how he could be having so many memory issues. …
When the Mariners turned their first triple play in 15 years last week, I was struck by the same thought I had as when I saw the Twins turn two triple-killings in one game: Why doesn't this happen more often? All it takes is to have nobody out, runners at first and second, a sharp hit ball to third and a batter with no more than average speed. Yet according to SABR, there have been just 539 triple plays in modern big league history, or about five a season for the entire major leagues. I'm not saying it should happen every game, but when you see how easy it looks, four or five triple plays per team in a season doesn't seem unreasonable. …
Hollywood has chosen the actress to play Lisbeth Salander (Rooney Mara) in the American version of the "The Girl Who …" series and, in tried-and-true style, will film the movie in Sweden with the actors speaking English but with a Swedish accent. Which I'm down with. We won't tolerate subtitles in our blockbusters, but we expect foreign characters to speak English with a pronounced accent. It was slightly odd watching Tom Cruise in "Valkyrie" with a surrounding cast of English and Irish actors (Tom Wilkinson, Kenneth Branagh, Bill Nighy) playing Nazis with no German accents. It's like watching a movie about baseball players without hearing them cuss and talk about women's breasts. It just doesn't seem authentic. …
CSI: BOX SCORE ANSWER
You should have seen that the starting pitcher in each game was taken out with a no-hitter intact going into the ninth inning. That was the easy part. The not-so-easy part was that the manager who lifted each pitcher was Preston Gomez. Unlike Gardenhire, however, Gomez didn't make the moves out of concern for his pitcher's health (Who had heard of pitch counts in the 1970s?). Managing the Padres, he lifted Clay Kirby in a 1970 game even though San Diego would finish in dead last that year and another loss was pretty much meaningless compared with a player's chance for glory. (The Padres still haven't thrown a no-hitter in their history.) Then Gomez did it while managing the Astros in 1974. Starter Don Wilson told reporters after the game that he wasn't surprised because Gomez had done the same thing before.
Jim Caple is a senior writer for ESPN.com. You can follow him on Twitter at jimcaple.