Commentary
Ken Burns needs to have more fun
Originally Published:
September 22, 2010
By
Jim Caple
| Page 2
The thing about filming a documentary on the Civil War is you have a definite end. Once you cover the four bloody years of brother fighting against brother, a country ripping itself asunder, a house dividing against itself and Scarlett going on and on about Ashley Wilkes, you're done. There is no "lost" third battle of Bull Run you missed in the original, no reason for a "Civil War Part Deux: The South Strikes Back" sequel, no need for an alternative ending.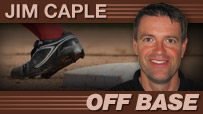 Baseball, on the other hand, continues on season after season. Which is why Ken Burns says he returned to his 1994 "Baseball" series for a two-episode "The Tenth Inning" that airs Tuesday and Wednesday (Sept. 28-29) on PBS (i.e, the one channel that does not air "Law & Order" reruns).
"This was among the most momentous eras in baseball, maybe the most momentous, outside of Jackie Robinson's arrival," Burns said. "Think about all the changes, from interleague play, to a team changing leagues, wild cards, to the strike and steroids, to the resiliency of the game with great, competitive players and stories -- the rise of Asian players with Ichiro, the Latin influence, Joe Torre taming the Bronx Zoo, the Atlanta Braves and their remarkable run and trio of pitchers, the Red Sox coming back in 2004, Barry Bonds and his whole incredible story arc, the home run chase in 1998."
So, yes, a "Tenth Inning" was justified. But cross your fingers this game doesn't go 11.
Burns is a smart, talented artist, and he is such a baseball fan that he's among those very few adults who wears his glove to a game just in case. But geez, can Bert Blyleven please give him a hot foot or a shaving cream pie or have him pull his finger? The guy simply has got to loosen up.
There are three problems with "The Tenth Inning:"
1. Where are the players? This isn't the Civil War documentary, where Burns had to rely on historians and old letters because every participant is dead. This is a history of baseball from the past 16 years. The players are ALIVE!!! Talk to them!!!! They are every bit as thoughtful and more insightful than ponderous Thomas Boswell quoting Keats about negative capability. (Boswell is a fine writer but he could have at least explained how negative capability factors into total average.)
There are player quotes from old broadcasts but I counted only three major leaguers interviewed for "The Tenth Inning" -- Pedro Martinez, Omar Vizquel and Ichiro (apparently, no player could weigh more than 180 pounds). Meanwhile, he interviews about 15 writers and broadcasters, almost all old enough to consider Jamie Moyer a young whippersnapper. Among the usual Burns suspects are Boswell, George F. Will and Doris Kearns Goodwin. Yes, Doris Kearns Goodwin! If Shelby Foote were still alive, I bet he would have been in there, too.
I just don't understand this. If there was a Way-Back Machine to transport Burns back to 1866 to remake his Civil War series, he would interview Robert E. Lee, Ulysses Grant and common soldiers who fought in the war wouldn't he? Or would he still rely on writers from another century who quote Keats?
It's great to add the voices of greatly respected writers and broadcasters (Jon Miller clearly wants to have more fun) to put events into historical context, but I don't want to hear only them. I certainly don't want to hear political columnists speculate on why players took steroids when there is the opportunity to ask the players themselves. I don't want to hear an oh-so-serious narrator read old quotes from players; I want to hear the players say them. (I didn't think it was possible to make Curt Schilling's classic "mystique and aura" quote in the 2001 World Series sound stiff and humorless, but Burns does when narrator Keith David reads it as if reading someone his Miranda rights.)
For that matter, where are the fans? I'm not talking about the writers and historians, who obviously love the game, but the average, normal fan who can't get into the ballpark without buying a ticket. Where are their thoughts about all that has happened? Their feelings? Instead, it's as if Burns tried to capture the game's history by filming only in the press box and luxury-suite level.
Actually, there is one writer's voice from the "Civil War" series I would dearly love to have heard in this. If Garrison Keillor was there, he could have informed Burns that baseball is played in Minnesota and so many other places outside Boston and New York.
2, Where's the beef? There is no new anecdote, no revelation, no opinion, perspective, no storyline we haven't heard many times over the past 16 years. Granted, Burns is handicapped because this is very recent history, but his great skill in previous documentaries was introducing us to the people history ignored or forgot and making us care about them. We don't get to meet Buck O'Neil here or learn about Moses Fleetwood Walker.
And I mean, I get it already -- yes, Red Sox fans suffered. Although I doubt they suffered as much as the viewers who are forced to listen to Doris Kearns Goodwin go on about it.
Rather than devoting so much time to the 2003 and 2004 Red Sox-Yankees series we all know about, Burns would have been much better off relating the lesser-told story of the 2005 White Sox and their fans, who went even longer without a World Series championship. He could have found fresh fans and stories and perspective. Plus, we could have listened to Ozzie Guillen instead of Thomas Boswell. (Did Keats ever say @#&$? And could you say it on PBS if he did?) Instead, we get 34 minutes on the 2003 and '04 postseasons of the Red Sox, Yankees and Cubs, and exactly 14 seconds on the White Sox.
3. Where's the humor? No, dated references to all those "wacky" new stats don't count.
Burns spends a lot of time on the very unfunny stories of the strike and steroids, which he clearly must. He also talks about how the game is so beautiful and so powerful it keeps overcoming such issues to draw fans back. But in doing so, he misses the essential reason we love the game. It's fun! Yes, it connects generations and reflects American society and unites us. But it only does that because it's fun to watch.
This series is crying out for Torii Hunter or Tony Gwynn or Sean Casey or -- if Burns insisted on yet another writer -- Jayson Stark to make this precise case and lighten the mood. Yes, there have been serious subjects in baseball since 1994, but Burns needed someone to remind everyone the game is still fun. And also make it clear that the biggest reason the game survives and thrives and triumphs during everything is because it makes us smile and laugh and feel glad we're alive no matter whether we're watching an Albert Pujols home run, a Tim Lincecum strikeout or a Rally Monkey video.
Sigh. At least there was no banjo music.
CSI: BOX SCORE
Here's how our game works. Each week you get a fragment from an old box score and must solve the mystery of what game it was from and why it was significant. I give this one a difficulty rating of 10. (Hint: They didn't give these guys rocking chairs after the game.) Answer at the bottom of the column.

BASEBALL CARD OF THE WEEK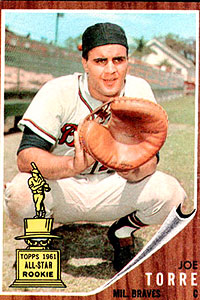 Topps Who knew that Joe Torre's pedigree would span five decades?
With Joe Torre announcing this week that he's retiring as a manager after the season, I give you his rookie card (1962 Topps, No. 218). Gee, do you think this is a posed photo or what? There Joe Torre is, in a full squat, no mask but his cap turned backward, pretending to wait for a pitch. Who knew he would be in the game another half-century? Joe has been such a great manager that it often overshadows how good he was as a player. He played 17 seasons and was an All-Star in nine of them, and won the National League MVP in 1971 when he batted .363 with 24 home runs and 137 RBIs. By the way, Joe needs seven more wins to match Pete Rose for most combined hits as a player and victories as a manager (Rose had 4,668).
BOX SCORE LINE OF THE WEEK
Colorado shortstop Troy Tulowitzki's game last Wednesday (5 AB, 2 R, 3 R, 7 RBI, 1 HR) continued his amazing September run in which he hit 11 home runs in 15 games, the sort of pace we haven't seen since Roy Hobbs reconnected with Glenn Close. But this week's award goes to our favorite actor, Derek Jeter, for this line against the Rays last week:
HBP-Qualls (Jeter)
As everyone knows by now, Jeter pretended he was hit by a pitch even though you could clearly hear the ball hit his bat on the replay. Of course, it isn't so easy to hear something like that during a game, so the umpire missed the call. Is this cause for expanded replay? Not at all. Players have been pulling this sort of thing since the game began. They just don't pull it off very often, certainly not often enough to justify a rule change. Rather than complain, we should compliment Jeter on the finest acting performance in a Yankees uniform since Gary Cooper.
CSI: BOX SCORE ANSWER:
Give up? OK, I admit it, this one was a beast. It is part of the box score from the last game played by "Shoeless" Joe Jackson, Buck Weaver, Swede Risberg and the other players accused of throwing the 1919 World Series. Baseball wound up banning eight players, but not until near the end of the 1920 season. Did Shoeless Joe really help throw the Series? Kevin Costner makes a good case for him in "Field of Dreams," but if Costner knows so much, why did he make "Dragonfly"? While I think Shoeless Joe should be eligible for the Hall of Fame -- remember, he received a lifetime ban, not an eternal ban -- the guy I really feel for is Buck. He didn't throw the series, he didn't take the money and he still received the ban.
Jim Caple is a senior writer for ESPN.com. You can follow him on Twitter at jimcaple.