Commentary
Ted Williams' last at-bat, 50 years later
Originally Published:
September 28, 2010
By
Jim Caple
| Page 2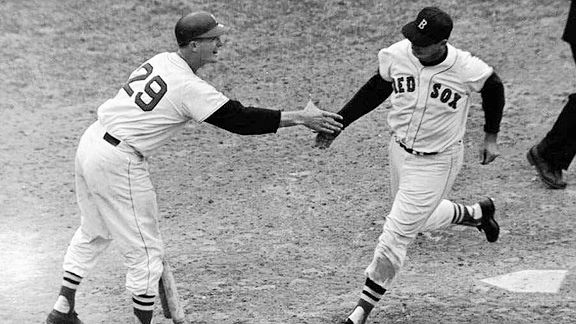 AP PhotoTed Williams crosses the plate after homering in the last at-bat of his career on Sept. 28, 1960.
Fifty years ago today, Ted Williams walked up to the plate on a chilly, overcast day at Fenway Park and stepped into the batter's box in the bottom of the eighth inning against Baltimore pitcher Jack Fisher. He took his familiar stance, looked at the first pitch for a ball, swung and missed at the second, then drove the third pitch into the bullpen for the most famous farewell in baseball history.
Williams had gone out the way so many players dream about and almost none accomplish: He homered in his final at-bat.
"I was gunning for the big one," Williams said in the clubhouse after the game. "I let everything I had go. I really wanted that one."
Some tidbits about that farewell shot:
Williams not only ended his 1960 season with a home run but began it with a home run, as well. In his first at-bat on Opening Day, he hit a tape-measure shot over the 31-foot-high wall in center field (421 feet away) at Washington's Griffith Stadium. He hit a home run the next day in the home opener at Fenway, as well. According to Leigh Montville's superb biography on Williams, "Ted Williams: The Biography of an American Hero," Ted pulled a muscle during his Opening Day home run trot and was out of the lineup for almost a month. He also turned 42 that year, so maybe it was time to retire.
Or maybe it wasn't. Williams hit .316 with 29 home runs and a 1.016 OPS in 1960.
Following that final game in Boston, the Red Sox had three more games remaining in New York. In his autobiography, "My Turn at Bat," Williams says he told Boston manager Mike Higgins before the game at Fenway that he was done. "'Mike, this is the last game I'm going to play. I don't want to go to New York,'" Williams says in his biography." ... I knew the club was thinking about youth. ... There was a kid named Carl Yastrzemski coming up who was going to be a hell of a ballplayer."
According to Montville's biography and published accounts from the time, however, there was some confusion about it all. Ed Linn described it in Sport magazine like this: "Somehow or other, the news was let out [after the game] that Ted would not be going to New York, although there seems to be some doubt whether it was Williams or Higgins who made the announcement. The official Boston line is that it had been understood all along that Ted would not be going to New York unless the pennant race was still on. The fact of the matter is that Williams made the decision himself, and he did not make it until after he hit the home run. It would have been foolish to have gone to New York or anywhere else, of course. Anything he did after the Boston finale would have been an anticlimax."
[+] Enlarge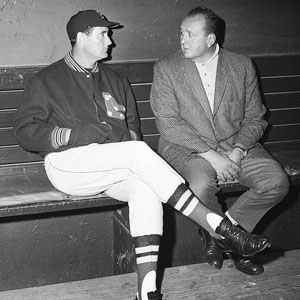 AP Photo/Frank C. CurtinWilliams ended his day the way he started it, sitting in the dugout with his jacket on.
The announced attendance for Williams' finale was just 10,454. In other words, when the greatest player in Red Sox history played his final game, Fenway Park was two-thirds empty for his goodbye. It was a different era.
Williams famously did not tip his cap to acknowledge the cheering crowd after his home run, though his teammates encouraged him to do so. Instead, he put on his jacket and sat on the bench. Linn quoted one unnamed Boston player who said, "I had the impression -- maybe I shouldn't say this because it's just an impression -- that he got as much of a kick out of refusing to go out and tip his cap to the crowd as he did out of the homer."
Says Williams in his autobiography: "I thought about tipping my cap, you're damn right I did, and for a moment I was torn, but by the time I got to second base I knew I couldn't do it. Like I said, I was just fed up with that part of the act. You can't imagine though the warm feeling I had, for the very fact that I had done what every ballplayer would want to do in his last time up, having wanted to do it so badly, and knowing how the fans really felt, how happy they were for me. Maybe I should have let them know I knew, but I couldn't. It just wouldn't have been me."
After Williams hit his home run, manager Higgins sent him out to take his position in left field for the top of the ninth but then immediately took him out of the game so he could receive one last round of applause (which he did not acknowledge). Replacing him was Carroll Hardy, who hit .225 for his career but is best-known as the player who replaced both Williams and Carl Yastrzemski in a game.
Williams' home run inspired a classic piece of sportswriting, John Updike's "Hub Fans Bid Kid Adieu" for the New Yorker. In it, Updike explains Williams' refusal to tip his cap despite the fans' desperate pleas, by writing this famous line: "Gods do not answer letters."
Ted's final game came 19 years to the day after he went 6-for-8 in a doubleheader on the final day of the 1941 season to finish the year at .406. He is the last major leaguer to hit .400 in a season.
Williams is not the only Hall of Famer to hit a home run in his final at-bat. Mickey Cochrane homered in his final at-bat, though he had another plate appearance two innings after that and pitcher Bump Hadley hit him in the head with a pitch, fracturing Cochrane's skull and nearly killing him. (Walter Johnson homered in his only at-bat in his final start as a pitcher but as a very alert reader points out, he entered a game as a pinch-runner eight days after that, and had a hitless at-bat that same game).
Nolan Ryan also went out with a home run, albeit on the receiving end. In his last start on Sept. 22, 1993, at the Kingdome, he gave up a leadoff single in the first inning, then walked the next three batters, then allowed a grand slam to the immortal Dann Howitt. He attempted to pitch to the next batter, Dave Magadan, but left after injuring his elbow on a pitch. As if that wasn't bad enough, he was charged with the base on balls after reliever Steve Dreyer walked Magadan while Ryan was being treated in the clubhouse.
"I remember pitching the start before over in Anaheim and having really good stuff but my elbow being sore in between starts," Ryan says. "And when I warmed up that night my elbow was bothering me and it was the last month of the season, and obviously I was just trying to get through the rest of the year because I had already announced that I was going to retire. And I didn't think that I would have a tear but it just didn't work out. After a few pitches, it was obvious that I had a problem."
How some of baseball's greats went out:
Player
Final appearance
Hank Aaron
RBI single
Barry Bonds
Fly out to center
Roberto Clemente
Intentional walk Game 5 1972 NLCS
Ty Cobb
Pop out
Mickey Cochrane
HR in last at-bat, hit by pitch next (and final) time up
Joe DiMaggio
Double to RF, thrown out at 3B on FC, Game 6 1951 WS
Ken Griffey Jr.
Fielder's choice
Sandy Koufax
Final batter hit into DP but he lost Game 2 1966 World Series
Mickey Mantle
Pop out
Willie Mays
Forceout 1973 World Series
Kirby Puckett
Hit by pitch by Dennis Martinez
Babe Ruth
Groundout
Pete Rose
Strikeout against Goose Gossage
Nolan Ryan
Allowed grand slam, left next batter with arm injury
Roy Hobbs
Pennant-winning home run (movie version)
Roy Hobbs
Season-ending strikeout (novel version)
Jim Caple is a senior writer for ESPN.com. You can follow him on Twitter at jimcaple.