Commentary
Sorting through the playoffs
Originally Published:
October 6, 2010
By
Jim Caple
| Page 2
Other people keep talking about adding teams to the playoffs, but not I. I'm having a difficult-enough time figuring out whom to root for as it is.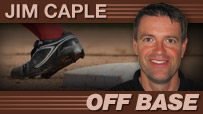 Choosing whom to root against is the easy part. Obviously, I'm rooting against the Yankees because, well, they're the Yankees. Although I don't have anything against the Phillies, I'm not rooting for them, either. They've been to the past two World Series, winning once, and it's time to spread the wealth. Plus, I worry whether security guards might accidentally taser Jayson Werth if the team sprints onto the field to celebrate a championship.
But whom do I root for among the six other teams?
I'm rooting for the Twins because after pleading small-market poverty for so long, they finally invested in a team with a payroll so large that former owner Carl Pohlad must be spinning in his grave as if God put him into a clothes dryer and pushed the eternity cycle. Because after playing baseball under the Metrodome's depressing, gray, Teflon sky, the Twins play in a ballpark so jaw-droppingly gorgeous that you should wear a catcher's mask to keep your chin from dropping to the ground. Because with two managers and three general managers in the past quarter century, the Twins have about the same employee-turnover rate as the Vatican. Because if the Twins play outdoors in November, I want to see fans replace Homer Hankies with Homer Blankies. Because they're playing the Yankees.
I'm rooting for the Giants because I want to watch home runs drop into McCovey Cove with splashes so large, it will be as if Pablo Sandoval cannonballed in. Because even though Buster Posey is just a rookie, he has shown so much savvy, leadership and dramatic power as a catcher that he really should be sleeping with Annie Savoy and telling Madison Bumgarner that the rose goes in front, big guy. Because the only foreign substance that the Giants' current best player, two-time Cy Young winner Tim Lincecum, has been busted for is definitely not performance-enhancing. Because their fans have endured more agonizing finishes and fewer championships than any fans' suffering not officially sanctioned in a Ken Burns documentary.
I'm rooting for the Rangers because they've been in Texas nearly 40 years and still have never survived in the playoffs past Fox's first promo for "The Simpsons' Treehouse of Horror." Because their Opening Day payroll was less than that of 25 other teams, including the Marlins. Because Josh Hamilton's return to the lineup was the most eagerly awaited since Roy Hobbs got out of the maternity ward. Because Cliff Lee provides such a pitching clinic each and every start that Tom Emanski should get royalties. Because Nolan Ryan is now a minority owner, and I would love to see him add himself to the postseason roster for the next round.
I'm rooting for the Rays because with Carl Crawford, Evan Longoria and David Price, they have the most baseball talent under one roof apart from Albert Pujols' home when he is watching TV in his living room. Because Longoria deserves national TV time apart from those 30-second commercials for baseball caps. Because manager Joe Maddon not only can talk about The Book, he can discuss even actual books. Because someone had better root for them.
I'm rooting for the Reds because it's been 15 long years since they last were in the postseason. Because despite all the unfair criticism, Dusty Baker has managed a third team to the postseason. Because Cincinnati fans need something to make up for Tom Sizemore's wig in "Hustle." Because I want Kobe Bryant to repay Joey Votto by flying across the country to see him play in the deciding game of the World Series.
I'm rooting for Atlanta because Jason Heyward deserves a national stage after missing the All-Star Game. Because manager Bobby Cox deserves to go out in a fitting way, and not by losing another World Series. Because I've forgotten how annoying the Tomahawk Chop is.
OK, so maybe I'm not rooting that hard for Atlanta. And when it comes down to it, I'm rooting for the Twins and San Francisco to meet in the World Series, with the Giants winning it for the first time since moving to California and the cast from "Glee" developing frostbite in Minnesota during one of those Fox promos.
BOX SCORE LINE OF THE WEEK
Yeah, I know. The Pirates had their 18th consecutive losing season. The Cubs lost 16-5 on Opening Day, lost 16-5 again in Lou Piniella's final game and finished fifth with a $146 million payroll. But no team had a worse season than the Mariners. It's hard to remember, but many expected the Mariners to contend for the pennant. Instead, they may have been the worst offensive team of all time, and they lost 101 games and finished in last place.
It's hard to pick the lowest moment of the season. Maybe it was when Eric Byrnes drew back his bat on a squeeze bunt, an at-bat so mind-numbing that Texas manager Ron Washington wound up ejected because, while arguing with the umpire that the pitch should have been called a strike, he refused to believe that Byrnes had done such a stupid thing. Or perhaps it was the game when Ken Griffey Jr. fell asleep in the clubhouse. Or the day Griffey abruptly retired and didn't bother to inform the team until he was driving through Montana on his way home to Florida.
Or perhaps it was Seattle's loss this past Wednesday, when the deciding run scored from first base on a strikeout! With two outs in the ninth and the game tied 5-5 (how did the Mariners ever manage to score so many runs?), reliever Dan Cortes struck out pinch hitter Nelson Cruz for what should have been the final out of the inning. But the ball bounced back to the screen, and Mariners catcher Guillermo Quiroz then threw the ball into right field, allowing Mitch Moreland to score all the way from first base. Yes, a walk-off strikeout!
The loss did, however, provide Cortes with this award-winning line:
1 2/3 IP, 1 H, 2 R, 1 ER, 3 BB, 1 K, 2 WP
CSI: BOX SCORE
You know the drill. Each week I give you a fragment from an old box score and challenge you to decipher the significance. This week's has a difficulty rating of 9.0. Hint: You should recognize one of the names, but that doesn't mean it's who you think it is.

BASEBALL CARD OF THE WEEK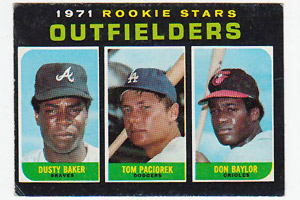 Topps Make fun if you want, but Dusty Baker has managed three different teams to the playoffs.
What were the chances in 1971 that two black players who shared the same rookie card (1971 Topps, No. 709) would go on to become major league managers? And not only that, but also manage in the postseason? Not good, because the majors were still four years from having their first black manager (Frank Robinson). Congratulations to Dusty Baker, who has taken his third team to the postseason. Don Baylor also reached the postseason while managing the Rockies in 1995.
DONNIE, YOU'RE OUT OF YOUR ELEMENT
• I didn't have a vote, but here are my picks for this year's awards.
AL Cy Young: Felix Hernandez. He threw 30 quality stars and 209 scoreless innings (which was more innings than the total that David Price threw), led the majors in ERA and finished one strikeout short of leading in that category. He won only 13 games because the Mariners gave him such horrible run support that they didn't score a single run when he was on the mound in his last five losses.
NL CY Young: Roy Halladay. If Adam Wainwright wanted the award, he should have thrown a perfect game, too.
NL MVP: Joey Votto. The most significant difference between his season and yet another sensational year by Albert Pujols is that Votto's will end in the playoffs.
AL MVP: Josh Hamilton. As my colleague Jayson Stark points out, if Joe Mauer could win it last year despite missing April, Hamilton can win it this year despite missing September (when the Rangers never led by fewer than seven games).
NL Rookie of the Year: Buster Posey. Heyward had an excellent season, but Posey is a catcher, and he hit .305 with 18 home runs (matching Heyward). And although Posey didn't get called up until the end of May, Heyward missed almost three weeks with an injury.
AL Rookie of the Year: Austin Jackson. My apologies to Neftali Feliz, but you know how I feel about closers.
AL Manager of the Year: Ron Washington. He showed why the Rangers made the right call by sticking with him after his positive cocaine test.
NL Manager of the Year: Bud Black. No one expected San Diego to contend, but Black came so very, very close to getting the Padres to the postseason.
• Former Cub Matt Murton broke Ichiro's Japanese league record for most hits in a season with 213 in a 144-game season to surpass Ichiro's record of 210 hits in a 130-game season, As a friend of mine asked: "What's the Kanji equivalent of the asterisk?"
• According to Elias, the Padres spent 147 days in first place before falling short of the postseason. It's the fourth straight year a team led its division for as many days without reaching the playoffs (Mets, 159 days in 2007, Diamondbacks 158 days in 2008 and Tigers 165 days in 2009). The last team to do so before that was the 1969 Cubs.
CSI: BOX SCORE ANSWER
Did you notice the name Yount? Good. But did you also recognize that the Yount in question is not Robin Yount (he never played for Houston or, for that matter, any team outside Milwaukee)? Instead, it's his older brother, Larry. Larry Yount made his major league debut during a September call-up in this 1971 game but felt arm pain while warming up on the mound. He left the game without throwing a pitch and never made it back to the majors. Still, he's credited with a major league appearance because his entry into the game had been announced before the injury. As far as I know, he is the only major league pitcher who never threw an actual major league pitch.
Jim Caple is a senior writer for ESPN.com. You can follow him on Twitter at jimcaple.