Commentary
Living the dream one season at a time
Originally Published:
November 3, 2010
By
Jim Caple
| Page 2
Another postseason over, I packed my bag Tuesday morning for my flight home. Among the dirty underwear, socks and assorted laundry were a few mementoes from the 2010 World Series: a Tim Lincecum wig, a blue Claw and Antler T-shirt, my old Willie Mays replica jersey, and a blue dress shirt smelling slightly of champagne and beer. I did my best to avoid the postgame spray in the clubhouse, but as is usually the case, fell victim to collateral damage in the team's celebration.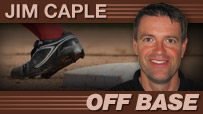 Having been a sportswriter for so many years -- this was my 24th season covering baseball and my 15th World Series -- it's too easy to take the job for granted. But this postseason reminded me how truly fortunate I have been.
As a kid, I was dazzled by Nolan Ryan's fastball, strikeouts and no-hitters like everyone else. Over the years, I've had the pleasure of interviewing him several times and always found him a gracious man with an underrated sense of humor. When I recently asked him what he's learned from owning a cattle ranch and owning a baseball team, he replied, "Well, cattle don't talk back to you and they pretty much do what you ask of them."
One afternoon near the end of my first year as a full-time beat writer, I was sitting in my Arlington hotel room, the lights off and the shades drawn, feeling miserable and homesick while questioning whether this is what I really wanted to do for a career. Then I walked over to the Rangers' hot and suffocating old stadium, entered the Texas clubhouse, nervously introduced myself to Nolan at his locker and asked if he had time for a short interview. Twenty delightful minutes later, I walked out of the Rangers' clubhouse thinking, "I just talked to Nolan Ryan. Is this job great or what!?!"
I got to talk to Nolan some more this year due to the Rangers' success. He not only read a Top 10 list I wrote for a postseason preview video, but he even laughed at a couple lines, making me feel as good as the day years ago when St. Paul Saints co-owner Bill Murray told me something I wrote was pretty funny. (Just to balance things out, Murray also once called my editor and demanded I be fired for another story.)
When the Rangers won their first pennant in the club's 50-year history (39 years of it in Texas), I was taking the elevator to the press box when a beaming Nolan and his family squeezed in just as the doors were about to close. Normally, a sportswriter on deadline will get irritated when delayed in an elevator, but this time I only smiled and thought, "I'm in the elevator with Nolan Ryan while he celebrates going back to the World Series for the first time in 41 years. Is this job great or what!?!""
I was there when the Red Sox ended their 86-year world championship drought in 2004 and I was there the next October when the White Sox ended their even longer drought. And I was there Monday night when the Giants won the World Series for the first time since moving to San Francisco in 1958. Even though I was a big Red Sox fan when I was in in my 20s, and even though I sympathize with Chicago fans, this one meant more to me.
As I've written too many times, I grew up rooting for the Giants. But being a sportswriter knocks the fan out of you fairly quickly. You stop rooting for a team and begin rooting for the story. It's one of the career's few drawbacks; you approach games as a job. You no longer care who wins or loses as long as there is a good story. A cardinal rule of sportswriting -- right behind "Enroll in a good hotel and airline frequent customer program" -- is that there is no cheering in the press box. No one posts this rule anywhere because they don't need to. Sportswriters never feel the urge to cheer, unless free food and alcohol are offered.
Of course, I've never been so callous as to not appreciate it when the Yankees lose, and this year I found myself rooting hard for the Giants again. Maybe it started in February when I rode my bike to DJ's Sportscards a couple of miles from my house to get ready for the season by buying a single pack of the new Topps baseball cards set. There was a Lincecum card and a Buster Posey rookie card in that pack -- a good omen -- and the owner, DJ Joss, told me that Lincecum used to come into the shop to buy cards, too.
That wasn't surprising. Lincecum grew up a couple of miles from where I live (he was a 4-foot-10, 85-pound freshman at the local high school the year we bought our house) and he also went to my alma mater, where he lived on the same floor of my dorm -- albeit a quarter-century later, so he probably didn't endure REO Speedwagon's "Hi-Infidelity,"Pat Benatar's "Hit Me with Your Best Shot" and Pink Floyd's "The Wall" blaring 24/7. (Though I wouldn't be surprised if some marijuana was smoked on that floor in both eras.) I interviewed his father, Chris, in his home on Monday last week, then flew to San Francisco and watched Tim win Game 1 of the World Series, then flew to Texas and watched him win the clinching game of the series.
Players often talk about how winning a World Series is a dream come true, which is a cliché, but only because it is true. That is what little kids imagine when they play baseball, whether they're in full uniforms on a travel team in California or swinging at a taped-up ball in the Dominican Republic ... or just playing catch with your father in Washington state. That was Lincecum's dream playing catch with his dad and it was also mine playing with my dad. I never came remotely close to playing professionally, but when my team finally won its first World Series, I was lucky enough to be there to smell the champagne in the clubhouse and stand on the field watching the players celebrate.
"Is this job great or what!?!"
As players and teams prove every season, dreams do come true. Thanks to my profession, mine come true even more often than Derek Jeter's, and sometimes, like this postseason, those dreams are so special that my flesh should be black and blue and pockmarked from repeatedly pinching myself.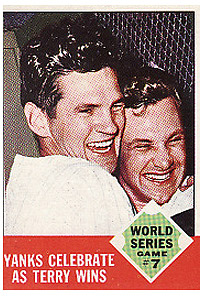 Courtesy of ToppsRalph Terry may not be in Monument Park, but he definitely earned his ring.
BASEBALL CARD OF THE WEEK
This card (1963 Topps, No. 148) shows Yankees starter and series MVP Ralph Terry celebrating after pitching a 1-0 Game 7 shutout over the Giants to win the 1962 World Series, which ended when Willie McCovey lined out to Bobby Richardson with Matty Alou at third and Willie Mays at second. That ending always has been a painful memory for Giants fans, but it's odd how it doesn't feel quite so bad right now. It's like Shawon Dunston, a veteran of San Francisco's 2002 World Series loss, told me as he watched the Giants celebrate Monday night. "Now I can put 2002 to rest. It still hurts, it always hurts, but it feels much better."
CSI: BOX SCORE
You know the drill. Each week I give you a fragment from an old box score and challenge you to put together the clues and figure out what game this is from and why it was important. This is another postseason box, which I give a difficulty of 5. Answer below.

BOX SCORE LINE OF THE WEEK
Cliff Lee got much of the pre-series hype, but Matt Cain (7 2/3 IP, 4 H, 0 R, 0 ER, 2 BB, 2K) and Lincecum (8 IP, 3 H, 1 R, 1 ER, 2 BB, 10 K) provided most of the pitching with two great performances. This week's winner, however, has to be Texas reliever Derek Holland for his amazing performance in Game 2 when he faced three batters, walked them all and threw only one strike: His line:
0 IP, 0 H, 3 R, 3 ER, 3 BB, 0 K
Holland also pitched in Game 4 and walked the first batter he faced again before settling down. More incredible than that, however, was how Texas manager Ron Washington didn't have a reliever warming up behind Holland in case something went wrong in either game in case he struggled. This was the World Series and yet Washington managed as if it were just another game in May. Sheesh, even Little Washington would have known to get Neftali Feliz ready.
CSI: BOX SCORE ANSWER
This is from one of the most infamous errors in World Series history. With the Giants leading 2-1 in the 10th inning of the eighth and deciding game of the 1912 World Series (Game 2 ended in a tie due to darkness), center fielder Fred Snodgrass dropped a routine fly ball that led to Boston's two-run rally against Christy Mathewson and a Red Sox victory. The error followed Snodgrass the rest of his life and to his grave -- when he died, the New York Times headline read: "Fred Snodgrass, 86, Dead; Ball Player Muffed 1912 Fly."
By the way, this was the first World Series at Fenway Park.
Jim Caple is a senior writer for ESPN.com. You can follow him on Twitter at jimcaple.