Commentary
WikiLeaks helps fuel the hot stove
Originally Published:
December 8, 2010
By
Jim Caple
| Page 2
Confused by all the hot stove rumors swirling from the winter meetings? Now you can find out what your team is really up to thanks to the cache of cables, e-mails and secret documents recently released by WikiLeaks.
NEW YORK YANKEES: According to a recipe card in the Yankees' dining room, "reality potion" is made from one $10 beer from Yankee Stadium, 1 ounce of Derek Jeter Driven fragrance, two cups of eggnog, one chaw of chewing tobacco, one bottle of unopened 2010 World Series champagne and a guaranteed $51 million (up to $65 million can be added for taste). Serve chilled until it loses its punch, then continue serving for several more seasons than you want to. … In a cable to Brian Cashman before Thanksgiving, Hank Steinbrenner assured his general manager that "the deflector shield will be quite operational when the American League's pitiful little band of general managers arrive at the winter meetings." … A search of property records revealed that in their attempt to sign Cliff Lee, the Yankees have secretly purchased the entire state of Arkansas plus several neighboring counties in Tennessee and Oklahoma.
SEATTLE MARINERS: According to team records, Ken Griffey Jr. fell asleep not just once in the clubhouse but also three times in the batter's box last season. "I've never known anyone who can sleep like he does," then-Mariners manager Don Wakamatsu complained in a May 27 e-mail to team president Chuck Armstrong. "He fell asleep in the shower last week and nearly drowned. He fell asleep in the dugout in the seventh inning against Tampa Bay and was still asleep when we came back the next day. And the worst thing is, he's still our third-best hitter."
WASHINGTON NATIONALS: Incoming House speaker John Boehner sent newly signed Nationals outfielder Jayson Werth a telegram congratulating him on his $126 million contract. "I look forward to seeing a winner in Washington," he said. "And I'll work tirelessly to balance the budget by extending the Bush tax cuts for you and your teammates. And hopefully that will also help some of our struggling citizens fill those empty $250 box seats behind home plate."
MINNESOTA TWINS: Minneapolis police reports show that manager Ron Gardenhire called 911 four times in the past eight Octobers asking to evict Derek Jeter, Mariano Rivera, Jorge Posada, Andy Pettitte and the rest of the Yankees from the Twins' heads, where the New York players keep playing loud music late into the night, smoking cigars and spilling champagne all over the carpet. Officers responded each time but could not get the Yankees to leave.
SAN FRANCISCO GIANTS: According to team-equipment orders, Barry Bonds wore a size 7⅛ cap when he signed with the team in 1993, a size 7¼ in 1999, a size 7½ in 2000, a size 7¾ in 2001 when he broke Mark McGwire's single season home run record, a size 7⅞ in 2004 when he passed Willie Mays' career home run total, a size 8⅛ in 2006 when he passed Babe Ruth and a size 8½ in 2007 when he broke Hank Aaron's career home run record. His cap, however, was still too small to fit manager Bruce Bochy.
PITTSBURGH PIRATES: In a December 2000 e-mail to former team owner Kevin McClatchy, then-general manager Cam Bonifay revealed a new revenue stream for the Pirates. "I received an intriguing e-mail today from an official with the Nigerian foreign ministry. Apparently, there is an enormous sum of money owed to his office that he is currently unable to obtain. I'm not exactly sure how it works, but it makes sense when you read the e-mail -- I think it's kind of like clearing waivers. Anyway, if we help him obtain the money, he's willing to let us keep 15 percent of the transaction, which he says would be ELEVEN MILLION, FIVE HUNDRED THOUSAND, TWO HUNDRED SEVENTY-TWO U.S. DOLLARS. That would allow us to sign free agent Derek Bell, who is just the sort of selfless, driven power hitter whose unflagging leadership will complete the Pittsburgh renaissance. And all we have to do is send $1,500 right now to pay for the transfer …"
In a June 2010 e-mail exchange with current general manager Neal Huntington, team president Frank Coonelly suggested the Pirates finally stop sending payments to the Nigerian official, noting that they already have paid the Nigerian doctor $1,204,312.78. Huntington responded, "Are you sure? We're THIS close to the payoff! What if we trade Andrew McCutchen instead?"
CHICAGO CUBS: The Cubs will finally guarantee their fans a championship at Wrigley Field by bidding to host the BCS Championship Game, Super Bowl, Final Four or U.S. Open. … According to Wrigley Field maintenance reports, plumbers have been called in to unclog the men's toilet in the front office more than a dozen times in the past three years, probably because Cubs general manager Jim Hendry repeatedly flushed huge stacks of money down it. … A search of IRS and Social Security records show that Ronnie Woo Woo is actually Cubs co-owner and "Undercover Boss" guest executive Todd Ricketts.
LOS ANGELES DODGERS: According to sealed divorce court documents, Jamie McCourt has never forgiven Frank for proposing to her by having "Will You marry Me?" flash on a stadium scoreboard. Now that the marital property agreement giving Frank sole ownership of the Dodgers has been thrown out, Frank's latest settlement offer is to share ownership, with him getting the team's revenue and Jamie getting the payroll.
TEXAS RANGERS: The Rangers' marketing department sent an e-mail to general manager Jon Daniels last week suggesting that instead of spending up to $150 million over seven years on Cliff Lee, they should save themselves a lot of regrets down the line by just putting team president Nolan Ryan on the roster. "He can't be any less effective than Lee was for us in August, and I guarantee you we will sell more tickets that way."
OAKLAND ATHLETICS: A hacker search of Michael Lewis' laptop found an unpublished epilogue to his best-seller "Moneyball" in which the writer acknowledges that in addition to exploiting market inefficiencies, an essential key to winning is developing excellent pitchers such as Tim Hudson, Barry Zito and Mark Mulder.
CSI: BOX SCORE
You know how this game works. Each week you get a fragment from an old box score and must solve the mystery of which game it was from and why it was significant. Consider this one a hot stove softball with a difficulty rating of 4. Answer at the bottom of the column.

BASEBALL CARD OF THE WEEK
I sadly give you Ron Santo's rookie card (1961 Topps, No. 35). Santo died last week before seeing what he truly deserves: a plaque of him wearing a Cubs cap on the wall at the Hall of Fame. Santo's absence from Cooperstown is perhaps the most glaring of any player. He was the National League's best-fielding third baseman in the 1960s (five Gold Gloves) and its best-hitting third baseman -- he averaged 29 home runs and 107 RBIs a season in an era when those were great numbers, not merely good ones. He also walked a lot -- he led the league four seasons and finished in the top five seven years -- and led the league in on-base percentage twice. Santo was good enough to make nine All-Star teams. And get this -- as the Chicago Sun-Times looked up first (and as you can look up as well on baseball-reference.com), Santo was that productive even though one of every eight at-bats he had was against an eventual Hall of Fame pitcher. And, of course, he also did it despite battling diabetes that would eventually lead to heart problems, multiple amputations and bladder cancer.
Santo more than meets the Hall of Fame standard for what he did as a player, and he also scores off the charts in the character issue: He raised an estimated $60 million for diabetes research.
[+] Enlarge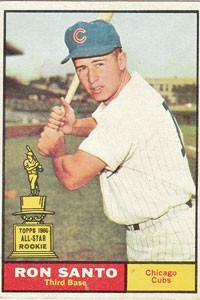 Topps Ron Santo's absence from the Hall of Fame defies about 10 different kinds of logic.
RIP, Ron. You were an inspiration to many. If there's any justice, you will be voted into the Hall on next year's veterans committee ballot.
DONNIE, YOU'RE OUT OF YOUR ELEMENT
• Speaking of Hall of Fame oversights … Marvin Miller's absence yet again from Cooperstown is a disgrace and demeans the Hall of Fame. If you are going to honor baseball executives for what they did for baseball, how can you include racist owners who maintained the color line but not Miller? How can you not honor Miller but induct Bowie Kuhn, who presided over two labor stoppages, lost every battle to Miller and barred Willie Mays and Mickey Mantle from working for teams because they represented a casino while allowing other owners to own racehorses? How can you honor those people but close the door on someone who truly righted an injustice?
Frankly, as I've said many times, I don't think any executive should have a plaque in Cooperstown. That honor should be restricted exclusively to players and managers. The Hall should recognize executives the same way it does writers and broadcasters -- with their names on a wall in one of the back exhibits (the so-called writers and broadcasters "wing"). But to put them in the grand hall with the plaques and the fabulous memories? That should be for only athletes. Here's the criteria: If you wear a jersey, cap and stirrup socks, you get a plaque. If you wear a suit or a blazer and a turtleneck, you get your name on a back wall. That's the way it should be. But under our established guidelines, as long as any executive has a plaque, it is an insult that Miller does not.
Sigh. At least George Steinbrenner didn't get in.
• If you're flabbergasted by the ridiculous $126 million contract given to Jayson Werth, don't worry. Some team might make that contract look reasonable (well, almost) when it signs Cliff Lee. Now, I like Lee a lot. Watching him pitch this year in Seattle was a pure pleasure. But that possible six- or seven-year deal in the neighborhood of $140 million that people talk about? No way.
The national media seem to be in love with Lee, but the numbers don't support that sort of contract. He'll be 33 next year but has just four good seasons under his belt. Granted, he's been exceptional the past three seasons, but even from 2008 to 2010, he was just eighth in ERA and fifth in innings pitched. Lee also missed the first month of 2010 with an injury and had a bad back in August when he was awful on the mound (1-4, 6.35 ERA). And did I mention he'll be 33?
Again, I like Lee. He's unquestionably the best pitcher available this winter, which raises his price. But he'll be this winter's Barry Zito if he gets the expected long-term contract. I predict he'll be more productive than Zito, but some team will regret the final years on that contract.
• I instinctively flinch whenever the government threatens our privacy, but as a very frequent flier, I would be more outraged about enhanced airport screening if I had actually experienced enhanced airport screening. What is more outrageous is the way the 24/7 media (mainstream and bloggers alike) gripped on to the story, blew it out of proportion and turned it into one of the year's most overhyped nonevents. The key element missing from these hyperventilated reports is that few travelers go through those screenings. I have flown seven times in recent weeks and gone through security in six different airports, and I still have yet to be pulled aside to go through the enhanced security detectors. In fact, I haven't even seen anyone pulled aside. Because of the media hype, however, my family was astounded (and dubious) when I told it I didn't go through any pat-downs at Thanksgiving.
CSI: BOX SCORE ANSWER
This was a relatively easy one. This is from the box score from Game 6 of the 1993 World Series, when Joe Carter won the series with a home run off Philadelphia's Mitch Williams in the bottom of the ninth. That gave the Toronto Blue Jays -- and general manager Pat Gillick -- back-to-back world championships. Here's to Pat on what is now an officially Hall of Fame career -- and best wishes for a return to the glory days in Toronto.
Jim Caple is a senior writer for ESPN.com. You can follow him on Twitter at jimcaple.