Commentary
The Hall of Fame ballot runneth over
Originally Published:
December 22, 2010
By
Jim Caple
| Page 2
Here's the difference between voting in a political election and voting for the Hall of Fame. In political elections I never look at my ballot and say: "There are just too many deserving candidates running! Why can't I vote for both the Democrats and the Republicans? Plus the Green Party! And the Libertarians! And the Whigs! And Ross Perot, if he's still alive! I want to visit Washington one day and see all of them in the White House and the Senate and the House of Representatives!"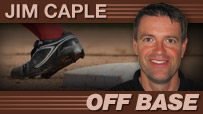 My Hall of Fame ballot, however, has too many deserving candidates I want to see in Cooperstown. There are 33 players on this year's ballot, including 19 first-timers, the most first-timers since there were a staggering 24 in 1991 (including, for some reason, the even more staggering names of Bob Bailor, Mike Jorgensen and Art Howe). The problem is the Hall of Fame limits us to voting for only 10 players. And this year, for the first time, I think there are more than 10 players who warrant induction. I'm not alone. Several colleagues are in the same position, including Jayson Stark and Tim Kurkjian.
This 10-man limit doesn't make any sense. Why should there be any limit? It's not like Cooperstown is fielding a team. This isn't a game in which they to have a strict lineup. Sorry, Bert -- we already have a starting pitcher. And it's not like baseball writers are suddenly going to flood the Hall with undeserving candidates if there is no limit -- hell, 23 writers didn't vote for Stan Musial.
The real issue here is that with steroid-era players now reaching the ballot, there will be several otherwise deserving players who will not receive the 75 percent vote minimum, which means they will remain on the ballot and obstruct future elections. I understand writers who do not vote for Mark McGwire out of principle and will not, perhaps, vote for Barry Bonds or Roger Clemens. I don't agree with that stance, but it's a logical and defensible one. But unless the 10-player limit is lifted, that stance will wind up hurting borderline candidates as well, because voters such as myself won't be able to justify voting for say, Fred McGriff or Alan Trammell (I currently vote for both) over Bonds, and be forced to leave them off our ballot.
I mean, take a look at this list of players, all of whom will almost certainly be on the 2014 ballot:
Barry Bonds
Roger Clemens
Greg Maddux
Tom Glavine
Frank Thomas
Mark McGwire
Mike Piazza
Sammy Sosa
Curt Schilling
Jeff Bagwell
Barry Larkin
Tim Raines
Edgar Martinez
Craig Biggio
Mike Mussina
Larry Walker
Rafael Palmeiro
Jack Morris
Fred McGriff
Alan Trammell
Bernie Williams
OK, now vote for 10 and only 10. Because unless something changes, that will be the limit.
Remove the limit, Cooperstown. This isn't Congress. Writers can disagree over whether they should cast votes for suspected steroid users. But that disagreement should not hurt other deserving candidates.
And now, here's my breakdown on this year's new candidates:
Carlos Baerga: There are times when a player appears on the ballot and I think "Could five years really have passed already since his last game?" Baerga is not one of those guys. When I saw his name, my initial reaction was "Didn't he retire more than a decade ago?" Well, almost. He was out of the majors in 2000 and 2001 before coming back and playing four more seasons. Not that it mattered much. He averaged .305, 16 HR, 84 RBIs his first six full seasons (two of them strike-shortened) and .272, 5 HR, 34 RBIs after age 26. Baerga aged faster than Tom Hanks. (Honestly, Hanks went from playing a yuppie in "Sleepless in Seattle" in 1993 to looking like Gene Hackman five years later. But I digress.)
By the way, a sales clerk at a memorabilia shop in the Mall of America told me Baerga once came into the store and paid $89 for an autographed photo of himself.
Jeff Bagwell: Did you remember that Bagwell twice was a 30-30 guy? (He's the only first baseman to do that even once, with a 100-game minimum). Or that he scored nearly as many runs as he drove in (1,517 and 1,529)? Or that he twice scored more than 140 runs in a season? Now, if the Red Sox had kept Bagwell instead of trading him for Larry Anderson in 1990, Ken Burns would have Doris Kearns Goodwin constantly reminding us about such things. But they did trade him, and he played his entire big league career for the Astros, the most overlooked team in baseball. Really, it is. Next season will be Houston's 50th year, and the Astros have never won the World Series. They were victims of two of the most painful losses in history (the 1980 and 1986 NLCS), plus four division-series losses in five years. The only time they reached the World Series, they were swept in four games, with two games decided by one run and a third that went 14 innings. But do you ever hear about the anguish of Astros fans? Never. Despite their half-century of baseball, despite all their great players (Nolan Ryan in his prime, Bagwell and Biggio), the most famous game in Houston history is still probably when the Bad News Bears visited ("Let them play!"). Anyway, Bagwell gets my vote.
Bret Boone: Boone isn't a Hall of Famer, but boy, he was a very good player for a lot of years. He was obsessive about his bats, filling an entire extra locker with more than 100 and keeping the Louisville Slugger rep on speed dial in case he ever felt unlucky with his current stock and needed another one overnighted to him. His third-place finish to Ichiro in the 2001 MVP vote was the worst miscarriage of justice outside of "The English Patient" winning Best Picture over "Fargo." Boone hit 29 more home runs than Ichiro that year, drove in 72 more runs, scored nearly as many runs, had nearly as high an on-base percentage and played great defense. Which is not to knock Ichiro, who still performed at an All-Star level last season at age 36, the same age at which Boone hit the wall. Boone went from 24 home runs in 2004 to seven home runs in 2005 and out of baseball by 2006.
By the way, Boone stopped by the Mariners clubhouse in May before going up to nearby Vancouver Island to manage the Victoria Seals, an independent league team with a salary cap of $90,000 for the entire team. Ken Griffey Jr. asked why he would possibly want to do such a thing and Boone replied, "Just wait until you've been retired for a while." (Boone lasted a week before going home.)
Kevin Brown: His seven-year, $106 million contract with Los Angeles famously required that his team provide his family with a private jet 12 times during the regular season and again during the postseason. I seriously considered voting for him, but despite six All-Star appearances and five top-six finishes in Cy Young voting, a 211-144 record and a 3.28 ERA, I think he'll fall short of needing a private jet to fly to Cooperstown for an induction ceremony.
John Franco: Don't get me started on what I think of closers!
Juan Gonzalez: Juan Gone wasn't just a nickname; it was his career. Gonzalez was a 30-year-old, a two-time MVP who had averaged 37 home runs and 117 RBIs his first nine full seasons in the majors and was on the fast track for Cooperstown when the Tigers offered him an eight-year, $143 million contract in the winter of 2000. He turned it down. Whoops. A quick career decline from probable Hall of Famer to almost full-time training-room resident meant he spent the next six years under short-term contracts. Which is not to say he didn't still make out like a bandit. Gonzalez earned $47 million his final six years despite hitting 25 home runs in only one season. He earned $4.5 million despite playing only 31 games for the Royals in 2004 (and you wonder why Kansas City is bad year after year?). He had to settle for a $600,000 contract with Cleveland the next year but still was vastly overpaid. He began the season on the disabled list due to a bad back, came off the disabled list in June long enough to reinjure the back while grounding out in his only at-bat and went right back on the DL for the remainder of the season.
I considered voting for him but won't out of fear that holding a Hall of Fame plaque at the induction ceremony would stress his back again.
Marquis Grissom: Blessed with one of the great names in recent baseball history, Grissom is one of seven major leaguers with 2,000 hits, 200 home runs and 400 stolen bases, which is just the sort of statistical gerrymandering you often hear when someone is trying to make a case for a player who isn't quite good enough for the Hall. Grissom was a very good player, though, and he caught the final out to secure his hometown Atlanta Braves their only world championship. But he's done more for Atlanta baseball since his retirement by investing heavily in his own baseball academy there to provide African-Americans and other inner-city youths a chance to play.
Lenny Harris: Every year, some player appears on the ballot and people wonder what he's doing there. This year, that player is Lenny Harris.
Bobby Higginson: And sometimes there are two.
Charles Johnson: Johnson was the first player ever drafted by the Marlins and he was a good choice to build the franchise upon -- he won a gold glove his rookie year and was an All-Star and their starting catcher when they won the World Series in 1997. Unfortunately, the Marlins soon traded him away during then-owner Wayne Huzienga's infamous fire sale, getting rid of him, Gary Sheffield, Kevin Brown, Edgar Renteria, Moises Alou, Bobby Bonilla, Al Leiter, Robb Nen, Jeff Conine, Jim Eisenreich, Devon White, Dennis Cook and every warm memory that Florida fans had of the World Series. Fortunately, Huizenga sold the team before he could also trade the World Series rings for a set of high school rings.
Al Leiter: The Leiter brothers were like the Quaid brothers. Al (162-132, 3.80 ERA) was Dennis, and Mark (65-73, 4.57) was Randy, minus the conspiracy theories. And neither are the Waners, the only brothers in the Hall of Fame.
Tino Martinez: What would Mariners and Yankees history be like had Seattle not stupidly traded him to New York after the 1995 season for Russ Davis and Sterling Hitchcock? Certainly preferable to what it wound up being.
Raul Mondesi: Unlike Baerga, Mondesi actually seems like one of those guys who is still playing, just drifting along from one outrageously foolish contract to the next. In fact, I think the Blue Jays might still be paying him.
John Olerud: Olerud played his first minor league game at age 36 (three games at Triple-A Pawtucket before joining the Red Sox roster), 16 years after his major league debut and 12 years after winning the AL batting title. I always felt bad he did that because otherwise he would have been one of the few players to spend his entire professional career in the majors. I covered Olerud when he was in college, covered his major league debut and covered him with the Mariners. He was always a favorite player: polite, humble and decent. He is as quiet as an old-growth forest but also has a dry wit. When Rickey Henderson joined the Mariners in 2000, there was a rumor that he supposedly told Olerud, "I played in New York with a guy who always wore a batting helmet, too," prompting Olerud to reply, "That was me." I asked Olerud about the story and he said it never happened. "But," he acknowledged, "It sounds like it could have."
Rafael Palmeiro: Boy, this is the tough one, the one I've been dreading. The numbers -- 3,020 hits, 569 HRs, 1835 RBIs, 1,663 runs, most of them seemingly compiled against the Mariners -- say Palmeiro belongs in, even though he never led either league in anything and only made four All-Star teams and his numbers are inflated by the high offensive era. And as I've said, I'm a libertarian when it comes to steroid users. My stance is if it wasn't against baseball's official rules when a player played, then I'm not going to retroactively hold it against him when it comes to the Hall of Fame. But unlike McGwire (who gets my vote), Palmeiro tested positive for steroids after baseball banned them and was suspended for it. This came shortly after he infamously told Congress: "I have never used steroids. Period. I don't know how to say it any more clearly than that. Never."
Now, there is only one reasonable response to someone who lies in Congress: You elect them to another term. And the bulk of Palmeiro's steroid use would have come before they were against the rules. And hey, Gaylord Perry was a known cheater for most of his career (violating a specific rule that was in the book) and finally busted near the end, and he's in the Hall of Fame. I'm not in favor in steroids or cheating but I firmly believe that in a decade or so we'll look back on the current hysteria over steroid use in baseball and think, "Why were we so incredibly outraged over players trying to make themselves better?" Which, after all, is pretty much the attitude NFL fans take.
Kirk Rueter: Woody had a 5.41 ERA for the Giants in 1999 and still won 15 games (only Bobby Witt ever won more with an ERA that high). Somewhere, Felix Hernandez is weeping.
Benito Santiago: I loved how Santiago would throw out potential base-stealers from his knees. It was such a complete dis. You're so lame I don't even need to stand up for this. He was the unanimous rookie of the year in 1987 and made the All-Star team four consecutive times from 1989-92. He never was an All-Star again and changed teams nine times in the next 13 years. Which cap would he wear on his Hall of Fame plaque? Padres? Reds? Cubs? Phillies? Giants? Royals? Blue Jays? Pirates? I really don't think we need to worry about it.
B.J. Surhoff: Surhoff is the fifth player from the 1984 U.S. Olympic baseball team to get on a Hall of Fame ballot (Will Clark, Larkin, McGwire and Witt are the others). He will become the third (joining Clark and Witt) to be dropped from the ballot.
Larry Walker: Here's a guy I really want to vote for. A career .313 hitter, an MVP, a three-time batting champ, a great fielder (seven Gold Gloves) and a former Expo. From 1997-2002, he averaged .353, 30 HR, 98 RBIs and 1.089 OPS. On the other hand, his home/road splits are just outrageous: .348 at home, .278 away and .381 at Coors Field. He hit .461 at Coors Field in 1999 and .286 on the road, and a lot of injuries also kept his counting numbers down. Still, I voted for Jim Rice, who benefited by playing in Fenway Park to a similar degree. And I vote for Edgar Martinez, who has similar stats and didn't even play in the field, let alone excel there. So this is kind of a vote on Coors Field. But Walker clearly was a superb player when he was at Stadium Olympique with Montreal. So what to do?
Which newcomers get my vote? With nine holdovers from last year (Robbie Alomar, Bert Blyleven, Larkin, Edgar, McGriff, McGwire, Morris, Tim Raines and Trammel), I only have room for one new player. And that's Bagwell. Which means that while I want to vote for Walker, and reluctantly feel I should vote for Palmeiro, I can't due to the ridiculous 10-player limit.
And that brings me to another difference between voting in political elections and voting for the Hall of Fame. The Hall of Fame ballot never includes an interesting referendum like, "Should Cooperstown do away with the 10-player limit?" or "Should a positive test for banned PEDs exclude a player from the Hall of Fame?" and "Should a 10 percent tax be added to major leaguers to help offset public financing for new stadiums?"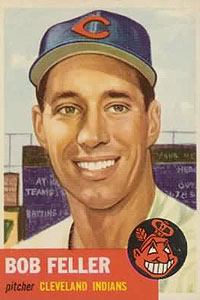 Topps Bob Feller was never short on opinions.
BASEBALL CARD OF THE WEEK
I look at this card (1953 Topps, No. 34) and imagine Bob Feller is looking at a group of young Cleveland pitching prospects and thinking: "Look at those darn kids with their hair down almost all the way to their ears. If they think they're going to come in and take my job away, they have another think coming. Why, in my day …" Feller died last week at age 92, but he did not go quietly. He was always dependable for a strong opinion, about how proud he was of his service in World War II ("The guys who didn't come back, those were the heroes!"), or how today's player didn't match up to those of his past, or how you should buy gold to protect yourself against those damn liberals who wanted to socialize the country. Even at his advanced age, he was undergoing aggressive therapy for leukemia. My favorite Feller anecdote was from Mets assistant Roy Smith, who came up in the Cleveland system during the early '80s. He fondly recalls watching Feller stand in center field at Tucson's Hi Corbett Stadium during spring training, look over his shoulder from a set position and then fire a ball to the outfield fence. Feller was in his mid-60s, three decades removed from his last major league game, but still working on his pickoff move.
I would say rest in peace, Bob, but why would he start now? He's probably already formed a barnstorming team up there.
CSI: BOX SCORE
In memory of Feller, I'm re-running this box score fragment from an extraordinary performance. If you didn't see it or guess it the first time, maybe you'll have better luck figuring out the significance now. The difficulty rating, however, dips to 3.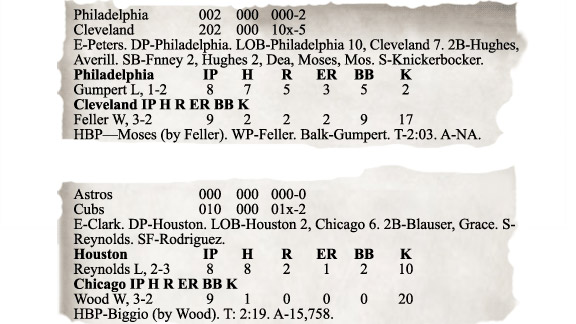 DONNIE, YOU'RE OUT OF YOUR ELEMENT
I can understand Kansas City's desire to get something for Zack Greinke while his value was high. I can also appreciate any worries KC had that his value would lower if he doesn't return to his 2009 form. But I don't understand trading a pitcher of his caliber for so little guarantee in return. Perhaps the prospects will develop. More likely, they won't (simply because most prospects don't). And if they do, so what? The Royals will simply trade them once they reach their potential and can command a top salary. You don't become a contender by constantly dealing away your best players as Kansas City has repeatedly done. The Royals had Johnny Damon, Jermaine Dye, Carlos Beltran and Greinke -- and traded them all away. And they traded Greinke even though they had him locked up for two more years. Based on the poor returns for teams who traded their Cy Young winners in recent years (Johan Santana, CC Sabathia and Cliff Lee), they and the Royals would be better off holding onto the star pitcher as long as possible. Of the seven Cy Young winners from 2006-09, five were traded away within two years. It's no coincidence that the team that held onto its Cy Young winner (the Giants and Tim Lincecum) won the World Series this year. …
He wasn't as famous as Bob Feller, but Phil Cavarretta's passing deserves mention as well. Cavarretta not only was the National League MVP the last time the Cubs went to the World Series, he also is believed to have been the last surviving player who played against Babe Ruth, and the only player whose career spanned from when Ruth was a Yankee to when Hank Aaron was in the majors. Cavarretta also was the first manager ever fired in spring training when he told Cubs owner Phil Wrigley in 1954 that he didn't think the team had a very good chance to win the World Series that year. As my friend Sarge says, Cavarretta was right then and he was right for the next 54 years as well. …
More Hall of Fame developments: This year, the broadcaster and writer award winners (Frick and Spink, respectively), will not be included in the general induction ceremony but will instead be honored at a separate ceremony the previous day. This makes some sense. Contrary to popular belief, the writers and broadcasters are not inducted into the Hall of Fame like the players. There is no separate wing for writers and broadcasters, just a plaque with their names on it in a back room highlighting the media history of baseball. And it's always seemed a little weird to have writers on the stage with the great players. On the other hand, broadcasters are often more beloved than the players, and they also frequently have the most entertaining speeches, so I think fans might be losing out a bit with this change. …
The newest Christmas classic? The Finnish dark comedy/horror picture, "Rare Exports," which tells the suspenseful, funny and very satisfying tale of what ensues when an American drilling company digs up the original Santa Claus near Finland's Arctic Circle. (Spoiler alert: Everyone is on this Santa's naughty list.) If it isn't playing at a theater near you, be sure to hunt it down and rent it next December. …
Reader Bill Chuck sends in this great video this great video of several Yankees making a cameo on the 1950s Phil Silvers/"Sgt. Bilko" sitcom.
CSI: BOX SCORE ANSWER
In case you missed it the first time, this was the game in which Feller struck out 17 batters at age 17. Kerry Wood is the only other pitcher to ever strike out his age (20 at age 20 in 1998). Feller went 5-3 that season, then returned to high school for his senior year! Good Lord, just imagine if someone did that today. We would need The Learning Channel 2 and 3 for all the resulting reality shows.
"Merry Christmas, and God Bless Us, Everyone!"
Jim Caple is a senior writer for ESPN.com. You can follow him on Twitter at jimcaple.