Commentary
HOF voters need to open their eyes
Originally Published:
January 5, 2011
By
Jim Caple
| Page 2
I have a message for BBWAA members who continue to withhold votes from players who used, or are suspected of using, performance enhancers: Get off your @#*& high horse.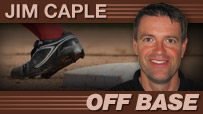 Hey, I get that you think steroid use is really, really bad. Or at least, that this is your view now. Your anti-steroid stance wasn't so clear when we were all glorifying these players a decade (and less) ago. And I'm with you -- I wish steroids had never entered the game and I'm very glad they've been banned. And I sympathize with voters who are simply uncertain about the whole issue and the stats of the era and are holding off until they sort it out better.
But as for the rest of you? I would agree more with your pompous Hall of Fame voting stance if it weren't so hypocritical, inconsistent and impossible to defend.
First, how can you reasonably justify withholding a vote for steroid use but not amphetamine use? Amphetamines became illegal two decades before steroids did. That was also about when we learned amphetamine use was rampant in baseball, thanks to "Ball Four." In other words, a whole lot more players used amphetamines and for a whole lot longer than ever took steroids. And you probably voted for them without hesitation.
Don't tell me amphetamines are a performance-enabler, not a performance-enhancer. That's simply a convenient rationalization to excuse amphetamine use by your favorite players. If a substance helps a player perform in any way, it is a performance enhancer.
Next, how can you say steroid suspects don't belong in the Hall of Fame because they cheated, but you're fine with Gaylord Perry, who not only threw spitballs but also bragged about it? I've heard writers say spitballs are "gamesmanship," by which they really mean, "I know I cannot rationally defend this incredibly inconsistent point of view."
Throwing a spitter is cheating, pure and simple. Baseball rule 3.02 prohibits players from using a foreign substance on the ball, and violating the rule carries a 10-game suspension. If you really consider spitballs mere "gamesmanship," then tell me who you would rather face -- a pitcher who took steroids or a pitcher throwing spitballs. I doubt you would want to face either.
Bottom line: Throwing a spitter has been against baseball's rules for 90 years. Meanwhile, steroids were not specifically banned until 2005.
Another justification I hear a lot is that just because we don't know the names of every player who took every possible PED doesn't mean we can't take a stand against the ones we suspect took some. After all, we don't stop prosecuting any criminal because we can't convict every criminal.
That sounds OK at first, but who do you suspect? Someone like Jeff Bagwell, because he has big muscles? If so, why not Frank Thomas, who has even bigger muscles? Is it because Bagwell started hitting lots of home runs as the steroids era kicked in after he had not hit many in the minors? Then why not Jim Thome, who had a similar career track?
Why not Cal Ripken Jr., whose streak would have benefited with something that aided recovery? Why not Nolan Ryan, who was throwing no-hitters in his mid-40s? Why not Tony Gwynn, who hit a career-high 17 home runs at age 37 after reaching double figures only twice in his 15 previous seasons? All these Hall of Famers enjoyed success in the steroid era (which we know started in the late '80s). Why not suspect them? Just because they're such good guys we can't believe they cheated?
Don't get me wrong. I very much like and admire those players and I don't think any of them needed or took steroids. I would be disappointed if I found out they did. But here's the thing: I don't know and neither do you. But you're still willing to give some a pass but not others, with such a lack of proof or consistency that the whole approach is nothing short of McCarthyism.
It's also hypocritical. We knew Mark McGwire used androstenedione during the 1998 season. We didn't know he also used steroids but if we didn't suspect it, we were even more naive than bloggers accuse us of being. And we didn't care! We held the great andro debate for a couple of weeks and then decided it didn't matter. We were having too much fun following McGwire and Sammy Sosa around for two months, glorifying both. Sports Illustrated printed special editions in their honor and declared them the Sportsmen of the Year, posing them on the cover in Roman togas with olive leaf crowns. I even compared McGwire to the original Spirit of St. Louis, Charles Lindbergh, saying that he carried the entire nation on his broad shoulders that summer.
We continued to praise these players up until 2002, when the excellent baseball writer Tom Verducci got Ken Caminiti to admit he used steroids. Two years later, President Bush used the bully pulpit of the State of the Union address to decry steroid use (though it would have meant more if he had mentioned this when he was the Rangers president and Jose Canseco and Rafael Palmeiro were on his team). And ever since then we've cared a great deal about steroid use, vilifying the players we previously glorified.
In other words, we are holding them to a standard now that we didn't during the majority of their careers. We are vilifying them for actions we not only condoned but unintentionally encouraged with our praise.
Finally, let's bear in mind something very important here. For all the self-righteous stances I read, this is not a weighty moral decision. We're simply deciding whether a career performance warrants a plaque on the wall of a museum, alongside the occasional racist, tax cheat, alcoholic, drug addict and abusive owner.
I remember Harmon Killebrew speaking at a dinner during Twins Fantasy Camp a couple of winters ago when he mildly criticized modern players for using steroids. Mudcat Grant then got up and pointed out that players in the '60s took amphetamines as well as something he referred to as "a horse pill" to improve their performances. Grant also told me about how he doesn't know how to respond when fans tell him how much they respect players of his generation for playing clean. He doesn't know whether to say nothing or tell them, "Wait a minute. Guys in our generation did things, too."
They did. They do. They will. It isn't some great moral failing that causes athletes to take performance enhancers, it's simple temptation and human failure. These are people in a very competitive, very public and highly scrutinized sport where the gap between making it and not is so enormous most of us don't entirely appreciate it. Players feel constant pressure to improve their performance -- pressured by their wallets, their families, their teammates, their fans and the media critiquing them on a daily basis. It is no wonder, then, that many succumb to temptation by taking PEDs that weren't specifically banned at the time and that many of their peers were taking, as well.
That's why baseball needed to specifically ban PEDs, so that their use was clearly against the rules and that there would be serious consequences for breaking the rules. So that "not knowing better" is no longer a reasonable defense.
Which wasn't that crazy an excuse. I used to hold to the majority view that an athlete earning millions wouldn't dare put anything into his body he didn't know absolutely everything about. And then I had this experience at Twins Fantasy Camp: After a couple of games, my shoulder hurt so much that when another camper offered me some pills to relieve the pain, I took them without pausing to ask what they were. I did because my arm hurt and I wanted to keep playing. And this was just for a stupid fantasy camp! Imagine what you would do if your career or a pennant was riding on the outcome and there was no penalty (at the time) for taking some substance.
That helps explain why, as Jane Leavy reported in her biography, Sandy Koufax took Butazolidine, which also was given to horses before being banned for human use or in animals raised for consumption. As Jim Bouton wrote 40 years ago, "If you had a pill that would guarantee a pitcher 20 wins but might take five years off his, life he'd take it."
But Caple, you say, a look at your own Hall of Fame ballot shows you didn't vote for Rafael Palmeiro, either, even though he had 500 home runs and 3,000 hits. How can you criticize us for not voting for him? Aren't you the one being hypocritical? You're right. I didn't vote for Palmeiro because the Hall of Fame limits writers to 10 votes (for no apparent reason) and my ballot was already full. I decided that I wasn't going to drop any of the nine players from my 2010 ballot and that Bagwell was the best of the new candidates.
I'm not sure I was right about that. Rather than not vote for Palmeiro, my colleague Jayson Stark lopped off players from last year's ballot whom he decided weren't as good as Palmeiro. He might have been right. I second-guessed myself all the way up to the Dec. 31 midnight deadline. I still second-guess myself. I might vote differently today if I had the chance. And if Bert Blyleven and Robbie Alomar get in this year I'll find room for Palmeiro next year.
I just hope enough of you will re-evaluate your stances, as well. You're being more than self-righteous and judgmental. You're being unfair.
CSI: BOX SCORE
You know the drill. Each week I give you a fragment from an old box score and challenge you to determine what game it is from and why it's significant. I give this one a difficulty rating of 7.5. Answer below.

BASEBALL CARD OF THE WEEK
Harmon Killebrew's rookie card (1955 Topps, No. 124) is not only beautifully simple, but there is an interesting story behind it. The Washington Senators signed Killebrew to a $30,000 contract when he graduated from high school in 1954, and that was enough money to qualify him as a bonus baby. That meant the Senators were required to place and keep him on the major league roster. They did so for two seasons, during which Killebrew mostly sat on the bench (batting only 93 times). He finally got some needed experience in the minors in 1956, and in his "true" rookie season in 1959, he led the league in home runs with 42 after hitting none (in 31 big league at-bats) the previous year. That was the first of his six home run titles. He averaged 40 home runs for 12 seasons, and that covered the entire decade of the '60s. He ended his career with 573 home runs, which was fifth-best in baseball history at the time. Even so, the BBWAA took four years to vote him into the Hall of Fame.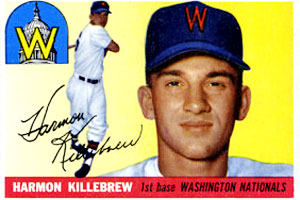 ToppsWhen he was away from the plate Harmon Killebrew was anything but a killer.
His nickname is one of the great misnomers in baseball history. I couldn't imagine Harmon as "The Killer" even if I saw him standing above a dead, bullet-ridden pitcher and holding a smoking gun. He is one of the nicest men I've ever met in baseball. Asked by a Sports Illustrated writer in 1963 whether he had any unusual hobbies, Killebrew replied, "Just washing the dishes, I guess." Despite his lack of flash or controversy, David Letterman devoted an entire hour to Killebrew in the early '80s, one of Letterman's classic episodes.
Sadly, Harmon announced last week that he is battling esophagus cancer, which is a very bad one to get. My thoughts go out to him. Get well soon, Harmon. Baseball has lost too many great ones recently.
DONNIE, YOU'RE OUT OF YOUR ELEMENT
• Best line in a Christmas letter, this one sent by my good friend and Cubs survivor Sarge, who described a trip to see a Cubs-Brewers game in Milwaukee with his brother and two exchange students staying with him. "On the ride home, the two German girls marveled that baseball fans drink a lot of beer and asked, 'Are the Cubs always, every year winning the championship of America?' Replied Sarge: "Well, not every year."
• Imagine the great media outcry if a baseball team had reached the playoffs with a 71-91 record. Sportswriters would pile their Sizzler buffet trays into a giant pyre and burn Bud Selig in effigy. Meanwhile, the Mariners are probably grumbling that they play in the AL West instead of the NFC West.
• Taking in a sing-a-long "Sound of Music" over the weekend provoked the question: Which movie has been seen by more people? Because, of course, these are the sort of questions that spring to mind while listening to more than 2,100 people in a sold-out theater yodeling along to "The Lonely Goatherd." I'm not talking about which movie has taken in the most money (a figure skewed so much by inflation that it loses meaning) or even which has sold the most tickets. I'm asking which has been seen by the most individuals. I have no way of knowing, but my guess would be "The Wizard of Oz." One, it was released more than 70 years ago and has been shown extensively on television for decades, so at least four generations are likely to have seen it. I mean, really -- do you know anyone who hasn't seen "The Wizard of Oz"? Other top possibilities would be "The Sound of Music" and "Gone With the Wind" (due again to the exposure to multiple generations) and perhaps "Star Wars."
• My 10 favorite movies of 2010 (and it wasn't easy finding 10 in such a bad year for films): 1 (tie), "True Grit" and "127 Hours"; 3, "The Kids Are All Right"; 4, "The King's Speech"; 5, "Toy Story 3", 6, "The Social Network"; 7, "The Girl With the Dragon Tattoo"; 8, "Fair Game"; 9, "The Extra Man"; and 10, "The Ghost Writer." BTW: Rest in peace, Peter Postlethwaite, the incredibly versatile, always convincing and ever-entertaining character actor with the cheekbones so pronounced it was if he had chaws of tobacco permanently in place there. His performance as the small-time crime boss who orders Ben Affleck to rob Fenway Park in "The Town" stole the show, as usual.
CSI: BOX SCORE ANSWER
This was from the Pirates-Phillies Sept. 1, 1971 box score, when Pittsburgh started what is believed to be the first all-black lineup (African-American and Latinos) in major league history. The Pirates were a hell of a team back in those days. Here's a new year's wish that they will be again soon. Or at least, within a decade. Or two. Or three.
Jim Caple is a senior writer for ESPN.com. You can follow him on Twitter at jimcaple.