Commentary
Page Turner: New rules for sports books
Originally Published:
January 14, 2011
By
Jim Caple
| Page 2
I love books. I love sports. And I love books about sports. Heck, if ballparks had bookstores, I would never go home. So welcome to the first edition of Page 2's Page Turner, my blog for author interviews, lists, passions, recommendations and opinions ... such as this opening rant.
Walk into a bookstore and you'll find shelves sagging under the weight of so many sports books it's as if Oprah was actually holding her book club on them. Log onto Amazon or Powells and you'll find so many more titles you'll wonder whether the Internet is really that infinite. Many should be on your reading list, such as George Dohrmann's new book on dreams and sleaze in AAU hoops, "Play Their Hearts Out: A Coach, His Star Recruit, and the Youth Basketball Machine" (see my interview with George below). Some should not.
[+] Enlarge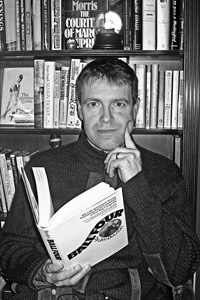 ESPN.comEnjoy sports books? Jim Caple's book blog will be featured on a regular basis on Page 2.
The reason people don't always realize just how many great sports books there are is because the shelves are too often clogged by sports books that not only are below par, they're below the Mendoza Line. There is so much mediocrity overcrowding the shelves that it could take you all Tuesday evening, Wednesday afternoon and Thursday morning to find a copy of "Friday Night Lights" and all winter to find "The Summer Game."
To keep the numbers manageable, what we need is a rule book for sports books.
1. No more books about Mickey Mantle. Please. I didn't read Jane Leavy's recent, well-reviewed book on Mick, in part because of the preposterously pretentious title -- "The Last Boy: Mickey Mantle and the End of America's Childhood" -- but mostly because did we really need another book about Mickey Mantle?
There are more than three dozen books about Mantle, including seven supposedly "written" by the Mick, which makes him the Stephen King of ballplayers, except instead of a possessed Saint Bernard/Plymouth Fury/Rockies ski lodge, Mantle's horror stories usually involve a drunk Billy Martin. Vivaldi had "The Four Seasons" but Mantle fortunately limited himself to just two: autumn ("All My Octobers") and summer ("My Favorite Summer: 1956"), though I suppose had he lived longer we might have also endured "My Winter of Discontent," his account of being snowed in with his in-laws for an entire January.
Mantle's biographers give us titles describing the Mick as "The Last Boy" (Leavy) and "The Last Hero" (David Falkner), which, if both are true, makes you wonder why there are so many kids wearing Derek Jeter replica jerseys. You can read about Mantle before New York ("Before the Glory" by John G. Hall), in New York ("The Yankee Years" by Ozzie Sweet) or before, during and after New York ("A Hero All His Life: A Memoir by the Mantle Family"). Robert Kravitz asks "Where Have You Gone, Mickey Mantle?" while former teammate Fritz Peterson answers "Mickey Mantle is Going to Heaven."
Once you have read all of them, you can even test yourself ("The Ultimate Mickey Mantle Trivia Book" by Tom Burkard), preferably while enjoying a drink in a bar ("Mickey Mantle's: Behind the Scenes in America's Most Famous Sports Bar" by Bill Liederman).
And if you're convinced you have read every possible fact, anecdote and legend ever written about the Mick, don't worry, you can always get "The Mickey Mantle Novel" by Peter Golenbock.
2. Win forever: One step to saving time for Success is not reading instruction manuals. I'm not talking about Ted Williams' "The Science of Hitting." I'm talking about all those books by coaches and athletes offering lessons for business and life. Especially the coaches. In 1998, Rick Pitino gave us "Success Is a Choice: Ten Steps to Overachieving in Business and Life." Three years later he had more advice in "Lead to Succeed: 10 Traits of Great Leadership in Business and Life." He later wrote a third book. None, unfortunately, involved proper table manners when a restaurant closes for the night. Then there is Pete Carroll's "Win Forever," or as the Seattle edition is subtitled: "Or At Least, Win Until You Get Overwhelmed in the Playoffs."
Enough. When even Darryl Strawberry has a self-help book, it's time for a moratorium. Or at least a one-book limit per coach.
3. Soccer does not explain everything. Don't get me wrong. I loved Franklin Foer's "How Soccer Explains the World." It's a tremendous, eye-opening, entertaining, absolute must-read, one of my all-time favorites. And I also really enjoyed "Africa United," which combines soccer and political coverage on that continent, as well as "Soccer Against the Enemy," which likewise tackles soccer around the world.
But do you think that maybe we might have perhaps exhausted this subject now? I mean, I get it already. Soccer is really, really popular around the world. But it's still just a game! So think twice before unleashing yet another book with this theme and how soccer affects, say, the mortgage crisis in Florida.
4. One book per championship. Teams win a championship every year, in every sport, at the amateur and pro level. If they all insisted on as-told-to journals from the MVP to the middle reliever, not even the Pentagon or Roy Jones Jr.'s crib would have enough shelf space. Keep the magical story to one, thoughtful book. (BTW: This means you, Boston and New York.)
And finally ...
5. There must be a life before there is a life story. LeBron James was right about contraction. And we should begin with life stories written before an athlete turns 30. I counted 13 biographies on LeBron, or one for every two of his years. Sheesh. At least Mantle lived 64 years.
BOOK OF THE MONTH CLUB
[+] Enlarge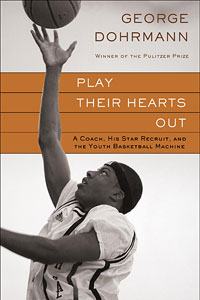 Ballantine Books
Click here
to purchase "Play Their Hearts Out."
"Play Their Hearts Out" by George Dohrmann.
Once upon a time I asked my editor whether it was kosher to review a book written by a friend. He said yes, just disclose the friendship early in the review, because if sports writers were forbidden to write reviews for friends' books, there would be no reviews.
So full disclosure: George Dohrmann is a friend and former colleague from the St. Paul Pioneer Press, where he won the Pulitzer Prize in 2000 for exposing an academic scandal in the University of Minnesota men's basketball department. I once worked with George on a story about a women's pro football team (it was professional in name only, because there was this little problem with the players actually getting paid) and thereby received a better lesson on journalism than I ever got in school. Dohrmann is driven and tenacious when exposing corruption yet sympathetic and caring when dealing with the humans involved.
So it was no surprise that he spent eight years following an AAU basketball team, doing so even though it meant spending approximately $8,000 a year out of his own pocket traveling to their tournaments. "Play Their Hearts Out" shows you what really goes on in AAU basketball. It's a gripping tale told through coach Joe Keller and wunderkind Demetrius Walker, along with others who rise and fall along the way.
By the way, George finished "Play Their Hearts Out," got married, underwent brain surgery and had a daughter all in his final two years following the team. That isn't exactly the way you draw it up in the playbook, but knowing him, it's not surprising.
Page Turner: What inspired you to write this book?
George Dohrmann: I was working on a story for Sports Illustrated with Alexander Wolff about Tyson Chandler. It was talking about all these leeches like [AAU coach] Pat Barrett, and how the agents, parents and high school coaches were all lining up to get paid. So I did all the reporting and I met this guy Joe Keller, who was Tyson's first coach. He was just this weird dude, arrogant but also insecure. He was starting up this team and he said, "I've got five guys who will be D-I and we're going to be great," so I said, "All right, I'm going to follow this guy."
I had done a three-part series at the Los Angeles Times in the 1990s that was one of the first to show how scummy grassroots basketball was getting. So I knew about this world and I was intrigued by it. I knew the only way to get inside was to get in when they're young. Just like Joe Keller starts young. I would follow them a couple years to gauge it and see where it went. I was not sure there was a book in it.
[+] Enlarge
Courtesy of George DohrmannDemetrius Walker and coach Joe Keller in happier times. Walker is sitting out this season after transferring to New Mexico from Arizona State (where he averaged 4 ppg as a freshman).
PT: How did your feelings about the Joe Keller evolve?
GD: He would show himself, reveal himself. He would reveal his insecurities. He would do it with the parents and with me. I became a confidante. He could complain about the parents and the players and it wouldn't come back to bite him.
PT: Or at least not then.
GD: Right. And I'm seeing him do something that I fundamentally disagree with. Berate kids, berate parents. Abandon people who were loyal to him. But when I also saw this vulnerable side, it was hard to separate that here's a guy who is acting a certain way and treating people this way and then he's treating you a certain way. I tried, I think, to show him a little more human and more vulnerable.
I think Joe was always cutthroat. It was always about the money. He helped the boys, he did good things for them and the parents. But he turns. There is this moment when I'm riding with him in the car, and he's just dropped one kid who's been loyal to him for a kid whose family provides more money. And after Demetrius falls asleep in the backseat, I ask Joe, "Are you going to dump Demetrius, too, if he gets hurts and can't play?" And Joe says, "He would be a bad investment if he broke his leg." That is his core. He is so driven that, that as much as he does nice things for the boys, he will dump them if they get in the way of his dreams.
PT: How many youth coaches are like Joe Keller?
CLASSIC LIT 101
With the Steelers in the AFC Championship Game, do yourself a big favor and track down a copy of "About Three Bricks Shy of a Load," Roy Blount Jr.'s classic account of the 1973 season he spent with the Steelers.
With unparalleled access to the team -- I can't imagine a writer getting this kind of access to everyone today -- and his brilliant prose and humor, Blount brings the players, coaches and owners wonderfully to life. He does an unmatched job of showing what being a pro football player is really like -- and especially what it was like in the early '70s (just as rough and dangerous as today, but more human and much, much, much, much, much lower paying). This and David Halberstam's "The Breaks of the Game" are the finest accounts of a team's season from a reporter, but Blount is a whole lot funnier than Halberstam. His early description of Pittsburgh and its residents is worth the price of the book alone. As is the chapter on center Ray Mansfield and guard Bruce Van Dyke. And the chapter about Thanksgiving dinner with the players and their wives ... and oh, well, just about every chapter is a gem.
It's a very funny book but re-reading it recently, one very unfunny passage that particularly stood out was this quote from Mansfield at the end of the season: "I'm getting at the stage now where I have to worry about losing my physical ability. My neck hurts so bad sometimes I think about killing myself. I know I'll be a cripple by the time I'm 50. But if that's what it takes, f--- it."
Mansfield was 32 at the time. He wasn't crippled by age 50 but he was dead by age 55. He was the first of at least five Steelers from that 1973 team to die of a heart attack before age 60 (another eight players from Pittsburgh's 1970s Super Bowl teams have also died of heart failure).
GD: The top AAU coaches, the high-level coaches, the Pat Barretts, these guys are businessmen -- they're about the dollars. They may pay lip service to player development but the bottom line is the dollars. Almost all of them at the top level. I bring some of the other guys into the book who are the foils to those guys. This world is not inhabited entirely by unscrupulous men but the good coaches are all small-time. The majority of the good coaches like Gary Franklin Sr., they operate at a lower level. The majority of the coaches at the highest level are more like Joe Keller than we or the parents want to admit or think about. The lower levels are more of the coaches that we like to think about as the noble coach who is in it for the player.
PT: I'm always puzzled by all these travel teams. If all the best players in an area are traveling somewhere to play teams, why don't they just stay home and play each other?
GD: In basketball there is this notion that you have to secure the services of the best kids in the area, so it ends up that the other teams aren't playing against top competition. They have to play kids at their level. But it's really just self-serving. It's about the coaches and parents having the kids play these tournaments so they can win trophies. They could keep them in the local area and just have them play up against a higher age group. It would be better for their development that way. Why not? The answer is because the parents and the coaches want to win s---.
You're really forced to put your kid into that system. You're forced to get him on the circuit if you want him to be seen and get a scholarship. It's a necessary evil and there is no guidance for parents.
PT: What can parents do?
GD: Do a little research on these coaches. Have they ever been investigated by the NCAA? Have they ever been sanctioned? There's a simple screening process. If your AAU coach doesn't have a job other than being an AAU coach ... if he can make a living just by being an AAU coach, I would stay away.
PT: What can be done to improve the situation?
GD: I have a simple solution and I have a big fix. The simple solution is to create some sort of database that a parent can go to and check on a coach. Give parents the ability to give recommendations for a coach. "This guy's a lying scumbag," or "He did this and that," so you can review a coach. So there are testimonials. And be able to verify claims. If an NBA player is listed by a coach, verify it. It's a flawed solution but it's a starting point.
The bigger fix is that the NBA puts together an academy system like in Europe. Demetrius Walker would have been in a Clippers or Lakers academy system. He would have been coached by coaches who are only interested in developing his skills and [he would also] be going to school. That way, you remove the middle man. When he graduates, the teams have an opportunity to sign him or he goes to college and their claim to him ends.
That's my pipe-dream fix, but I think David Stern would just laugh if he heard it.
PT: How do you handle thinking that Joe Keller used these kids, but in some way you also used them to write your book?
COMING ATTRACTIONS
Kostya Kennedy's "56: Joe DiMaggio and the Last Magic Number in Sports" is due out in March. Also coming out in March is "21," Wilfred Santiago's graphic novella about Roberto Clemente -- yes a graphic novella about baseball. And Steve Rushin's delightful first novel, "The Pint Man," will be out in paperback in March, as well.
GD: I've heard some people say that and it's totally a valid point. I would defend myself in two ways. One, my goal was never to get rich doing this. Anyone who knows book publishing knows I did not plan to get rich writing this book. My aim was to do some good by exposing what goes on. And I think that's what I've done. I spent eight grand a year traveling around with these guys. It was quite a bit of money. Not to mention the time -- I spent four birthdays with Joe Keller. Joe's aim from the very beginning was to get paid, to get rich. And mine was to expose what was going on.
There's a reason the boys are still fine with me and not with Joe Keller. They understand I used them for the book but I did not exploit them. I don't think Demetrius says, "George took advantage of me." I know because I've heard him say to the effect, "George told my stories so others wouldn't be taken advantage of like I was."
Jim Caple is a senior writer for ESPN.com. You can follow him on Twitter at jimcaple.