Commentary
What happened to cartoon logos?
Originally Published:
January 19, 2011
By
Jim Caple
| Page 2
Major league logos used to be a lot more fun.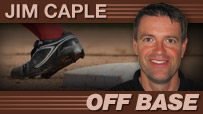 Remember Baltimore's Cartoon Bird? He was the Orioles official logo during their greatest era from the mid-1960s through the '80s, when they won multiple World Series and pennants. You can almost see him driving a pitch into the seats at old Memorial Stadium. The Cartoon Bird was fun and a winner. But after the Orioles started the 1988 season 0-20, Baltimore flipped the Bird to an ornithologically correct Oriole in 1989. And they haven't won been to the World Series since or been remotely close in a dozen years.
That is not to blame their demise on a simple switch from a cartoon logo. After all, the Twins had the awesome cartoon Minnie and Paul logo for their first quarter century. Minnesota jettisoned them for a more corporate logo in 1987 and they immediately won the World Series (plus another four years later). Boston slid into deep decline in 1950 when it dropped a simple "B" logo for a big, goofy Red Sock that looked as if it was going to set blood pressure records, perhaps because he was angry about being afflicted with what looked like the world's worst pimple on his chin. And, of course, the Padres canned the Swingin' Friar right after reaching the World Series for the first time.
(Little known logo trivia: Tony Gwynn was the physical model for the Friar.)
With a few exceptions, that playful cartoon style has disappeared from major league logos. Fortunately, it lives on in the minors, where fans are blessed with some of the most creative and dynamic logos you'll ever see involving onions and legumes.
I mean, just compare the logos of the Modesto Nuts or the Walla Walla Sweets to say, the Houston Astros (ugghhh!!).
It isn't easy taking something dull, ugly and inanimate like an onion or a seed and turning it into a character with enough personality for a Bravo reality series ("The Real Nuts of Modesto"), but the wildly talented Dan Simon does all the time. His Louisville, Ky.-based Studio Simon has designed superb logos and team identities for 60-70 clubs, including Modesto and Walla Walla. I absolutely love the Onion, which strikes just the right balance of athletic attitude and humor. If Pete Rose was an onion, this is what he would look like.
"Specifically we were striving for something athletic and would not belong on a McDonald's Happy Meal bag," Simon said." ... To give something like that life, I love that challenge. And not just with an onion but looking around my office -- a walnut, an almond, a fish hook, a lightning bolt, a cloud, an ear of corn, an acorn. Or taking any animal, taking birds and bees, fisher cats ... "
Well, you get the picture. And if not, that's OK, because Simon will draw it so that you do.
When Modesto contracted Simon, he said the team told him do what Disney did with Goofy. "I think they were envisioning a nut with big clown feet and buck teeth," he said. "I told them that you have to keep in mind that you're also a pro baseball team. You can have a logo with a little fun but also with an attitude. There should be just enough attitude where you don't think it's going to reach out and rip your throat out ...
"The business of minor league baseball is baseball and entertainment. The identity should reflect both, not just one or the other."
So why don't major league logos reflect both anymore? Simon said there is a distinct difference between a minor league and major league identity logo.
"In minor league baseball, the model for a lot of teams is family entertainment before baseball. And you need the logo to reflect that," he said. "Even though when you go to a Major League Baseball game, while you might be bringing the family, the teams are not selling the family. The main thing they're selling is big league baseball. So you don't have the Onion on the cap. That's not what they're about."
Apparently not. After using a stylized but mostly ornithologically correct blue jay for its history, Toronto switched to a cartoon bird in 2003. Sadly, that logo lasted just one season before Toronto switched to the current corporate monstrosity.
"When sports branding became an industry and mascot depiction became more graphic, teams and schools moved away from those cartoon renderings in favor of more iconic executions, which are visually more 'professional,'" Simon said.
Perhaps more professional, but not nearly as much fun.
Ranking the official major league logos (remember, we're talking logos, not cap insignias):

1. Mets
I'm no Mets fan, but I have always loved this logo: the distinctive dark skyline, the white bridge symbolizing the five boroughs, the classic Mets script, the terrific color scheme of orange and blue. My only suggestion: Mr. Met should have it tattooed around his whole head.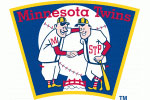 2. Twins
I'm cheating here by passing over the official logo, but I absolutely love the old logo, now worn as a sleeve patch and proudly displayed in the new stadium scoreboard. Those two cartoon guys shaking hands across the Mississippi absolutely capture the Minnesota character. I can practically hear them talking about the weather report and complaining that a restaurant is too spendy.

3. Red Sox
I find the two old red socks charming in an innocent sort of way, as if they were tacked to the mantle in hopes Santa will fill them with Carl Crawford and Adrian Gonzalez (but without the $200 million credit card bill).

4. Dodgers
The classic Dodgers script is elegant, but the baseball rising skyward is what adds just the right touch. You can hear Vin Scully talking, see Sandy Koufax or Fernando Valenzuela pitching, feel the warmth of a Los Angeles summer day and smell the fumes from the cars in the parking lot.

5. Yankees
The logo most identified with the Yankees is the world famous, classic, Tiffany-designed NY. Their official primary logo, however, is the baseball bat with the Uncle Sam hat. It's not as good as the NY design -- what could be? -- but it isn't bad. I just wish A-Rod had to wear this same hat when he plays.

6. Tigers
Detroit's old English D is the baseball equivalent of Penn State's uniform -- simple, clean and traditional. But I also have a soft spot for the old alternate logo of a uniformed tiger swinging the bat from a Rickey Henderson-like stance. Little known fact: That was actually a young Tony the Tiger, before he left Detroit to sign a $128 million lifetime contract with Kellogg's. That was a big winter for Kellogg's. It also signed Toucan Sam.

7. Cardinals
This logo first attracted my attention when I was six years old. Back then, you couldn't buy baseball merchandise outside the team's actual city, and I didn't have any money to buy a jersey anyway, so I painted the Cardinals logo on one of my white t-shirts. Only I didn't realize the bird is perched on a bat so I had him sitting on a branch. Worse yet, I forgot to include the MLB authentication hologram.

8. Rockies
This logo is the closest to the minor league style, and I mean that in a good way. It playfully blends two powerful American images -- purple mountains majesty and baseball -- and is only missing Uncle Troy Tulowitzki saying, "How much you wanna bet I can hit a baseball over them mountains?"

9. Angels
This logo features a very clever nod to the old Big A tower. Fortunately, the Angels resisted the urge to have the Rally Monkey swatting airplanes from atop the halo.

10. White Sox
I like the distinctive script. It's a little in your face, like a Chicago fan, but in a dignified way, as if it's saying, "Yeah, this is the South Side and you don't pay attention to us, but we don't care because we've won a World Series in the past century."

11. Cubs
It works well enough because it is so identifiable and enduring, but I think perhaps it is also too derivative of a bulls-eye. As in, "We're an easy target for every team to beat like a drum."

12. A's
Everything looks better in concentric circles, don't you think?

13. Royals
It's nice to know the Royals preserve some shred of evidence that they were once baseball royalty before trading their kingdom, castle, throne, crown jewels, scepter and perpetual tax-levying rights in exchange for about eight dozen minor league prospects who never amounted to anything.

14. Giants
I like how the large type-face accentuates the Giants' nickname, but I suspect I wouldn't be quite so impressed if I didn't grow up a San Francisco fan.

15. Reds
It's OK, but I miss Mr. Redlegs hustling inside the big C as if he were Joe Morgan scoring from first on a Johnny Bench double or Pete Rose legging out a base on balls.

16. Nationals
How can you have a team in Washington without incorporating one of the city's three iconic images: the Washington Monument, the Capital Dome or a lobbyist passing out envelopes bulging with cash?

17. Diamondbacks
A good try but ultimately a swing and a miss, not unlike a Mark Reynolds at-bat.

18. Atlanta
Well, it certainly beats the old logo of a Native American warrior screaming so demonstrably it was as if he just received his season-ticket renewal bill.

19. Marlins
I get what they're going for here, and part of me likes it. But whenever I see it, a bigger part of me thinks of Gilligan and the Skipper posing with the life preserver from the S.S. Minnow.

20. Mariners
I'm not exactly sure how to read the "compass rose," and based on Seattle's moves in recent years (seven managerial changes since 2002), I'm not sure the Mariners know, either.

21. Brewers
Which camp were you in? That the old logo of an "M" and "B" forming a mitt was very clever or just a little too clever for its own good? I could never make up my mind. Apparently, the Brewers couldn't either, which is why we have the current logo.

22. Orioles
I'm sorry. This isn't the Audubon Society, this is a baseball team. The old cartoon Oriole was good enough for Brooks Robinson, Boog Powell, Frank Robinson, Jim Palmer and Cal Ripken. It should be good enough for Matt Wieters and Luke Scott.

23. Phillies
I like the individual elements, but it's just a little too crowded inside that ball field outline, don't you think? Kind of like Greg Luzinski squeezing into one of those polyester uniforms after it had been left in the dryer too long.

24. Pirates
As a fan of cartoon logos, I should like this, but I just don't care for the scratchy artistic style of the cartoon. The pirate looks a little too aggressive, though perhaps that's because he is pissed off about 18 consecutive losing seasons.

25. Rays
OK, they got rid of the big, bad "devil." I hope everyone is satisfied. Because they got baseball's most boring logo in its place.

26. Rangers
Note to Nolan Ryan. Congratulations on the minority ownership thing. Way to get the Rangers to the World Series. And keep up the effort to have starters pitch longer into games. But can you please turn your attention to something really important, like getting the team a decent logo?

27. Padres
I'm not sure if this is a logo for a baseball team or a laundry detergent.

28. Blue Jays
Toronto tried to improve its old logo a couple years ago. It failed.

29. Astros
You know that overly quoted "Apollo 13" line that every headline writer has used at least 17 times? Well, when Tom Hanks said, "Houston, we have a problem," I think he is talking about this logo. I know Houston doesn't play in the Astrodome anymore, but the team would be a lot better off with the old logo of the baseballs orbiting the stadium.

30. Cleveland
And sometimes, even cartoons are just wildly inappropriate. People defend Chief Wahoo on the basis of tradition, but what kind of a defense is that? Yes, it's incredibly offensive, but we've been offending people with it for soooooo long we can't stop now. Do you think any responsible team or business would produce this logo today? Of course not. The only way a team could be more tone deaf to society values is if a franchise based in, say, the nation's capital used a racial slur for its team name.
CSI: BOXSCORE
You know the ground rules. I give you a fragment from an old boxscore and then you try to figure out what game it is from and why it is significant. We're still a couple weeks from spring training, so here's a relatively easy one. I give this a degree of difficulty of 4.0. Answer below.

BASEBALL CARD OF THE WEEK
[+] Enlarge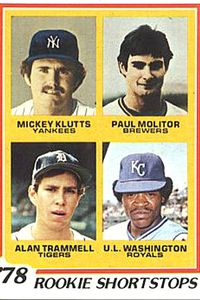 ToppsBeing on Paul Molitor's rookie card was the lone career highlight for a couple people.
On the one hand, this is a pretty good card (1978 Topps, No. 707). It has Paul Molitor (a Hall of Famer) and Alan Trammell (who should be in the Hall of Fame), plus the superbly named Mickey Klutts (real name: Gene Ellis) and U.L. Washington (real name: U.L. -- they are not initials). On the other hand, it is just an ugly card, which is unfortunate. Molitor hit .306 with 3,319 hits and 1,782 runs, and not only did he have to share his rookie card with three other guys, the photo Topps used is apparently a bad office photocopy of his yearbook photo. Not that the other photos are much better. Klutts looks like his photo was colorized by Turner Studios, Trammell looks like he has gas and Washington looks as if the photographer told him, "Now pull down your cap wayyyyy down, almost over your eyes. And don't smile, grimace."
DONNY, YOU'RE OUT OF YOUR ELEMENT
• One of these days, people will actually take the time to look at the studies that show that the success rate for holding late inning leads has remained constant over the decades, no matter the relief strategy (or the Heavy Metal entrance theme). Until then, relievers such as Rafael Soriano will receive $35 million contracts.
• Best wishes to Gil Meche, who chose to give up the final $12 million on his contract by retiring now rather than undergo shoulder surgery that would have kept him from pitching in 2011 but for which he would have been paid anyway. He deserves credit for doing the honorable thing, which damn few would have in his place. Of course, it's easier to walk away from $12 million when you've already received $43 million for going 29-39 with a 4.27 ERA in four years. No wonder the Royals never get any better. It takes a shrewd club to sign a pitcher with a history of arm problems to a $55 million contract.
• Natalie Portman's Golden Globe acceptance speech will never be mistaken for Lou Gehrrig's "I'm the luckiest man on the face of the earth ... " But give her props for her "Iron Man 2" workload lately. I went to the movies this week and saw another trailer for yet another Portman movie coming out. That will make five in one year, beginning with "Black Swan." Sheesh, not even Derek Jeter in October gets that much screen time.
• Oh, and check out my new column on sports books, including why we don't need any more books on Mickey Mantle.
CSI: BOXSCORE ANSWER
Did you recognize this as the game Willie Mays hit his first home run? And did you also know it was his first career hit? Of course, you did. Called up to the Giants in May of 1951, Mays went hitless in his first 12 at-bats and, as legend has it, pleaded with manager Leo Durocher to return to New York's Minneapolis farm team. Durocher instead told him to hang in there, and Mays responded in his fourth career game by hitting a home run over the left field roof at the Polo Grounds. Said Spahn: "For the first 60 feet, it was a helluva pitch."
Jim Caple is a senior writer for ESPN.com. You can follow him on Twitter at jimcaple.