Commentary
Academy Awards for baseball movies
Originally Published:
February 23, 2011
By
Jim Caple
| Page 2
The Academy Awards are Sunday, but unfortunately, Owen Wilson isn't nominated for his portrayal of a relief pitcher for the Washington Nationals in "How Do You Know."
I'm not saying he deserved one. I wouldn't know. The reviews were so bad that I didn't even go see the movie. But his performance wouldn't have mattered anyway. The Academy almost never recognizes baseball movies with a nomination, regarding them somewhere between hard-core pornography and Michael Bay-directed blockbusters.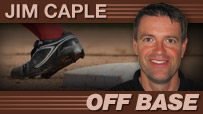 Boxing movies routinely are nominated for Oscars -- "The Fighter" is the sixth film with a boxing theme nominated for Best Picture while Christian Bale, Amy Adams and Melissa Leo bring total actor/actress nominations for a boxing movie to at least 20. Meanwhile, no baseball movie has ever won a best picture or acting Academy Award, and they have received so few nominations that Mordecai "Three Finger" Brown could almost count them on one hand.
To paraphrase Sally Field, the Academy really doesn't like baseball.
I'll grant you, there have been plenty of bad baseball movies. But there have been many wonderful baseball movies as well that were every bit as Oscar-worthy as, say, "A Beautiful Mind." Thus, I present the Oscar Madisons, my nominations and awards for baseball movies.
BEST ACTOR:
Kevin Costner, "Bull Durham": Gary Cooper was nominated for an Oscar for his performance as Lou Gehrig, but he won't get an Oscar Madison. That's because he simply isn't remotely believable as Gehrig thanks to his lack of baseball talent. They famously had to film him batting right-handed, then flop the negatives so he would be seen batting left-handed on the screen. Not that Cooper could bat right-handed, either. I'm sorry, but to be considered believable as a baseball player, you have to at least look the part. I mean, Colin Firth would not have been nominated for "The King's Speech" if he'd portrayed King George VI naturally speaking like Vin Scully. That's what is so impressive about Costner in "Bull Durham." He is completely believable as an aging ballplayer because his batting stroke -- from both sides of the plate, mind you -- is as smooth as his pickup lines. "I believe in long, slow, deep, soft, wet kisses that last three days."
Tom Hanks, "A League of Their Own": Showing the comedic ability he has abandoned since he became a big, important star, Hanks was splendid as the Rockford Peaches' manager. His "There is no crying in baseball" scene is justifiably one of the most beloved in baseball movie history. But if he'd managed the Pirates, Cubs, Mariners or Cleveland instead of the Peaches, he might have a different view about crying.
Walter Matthau, "The Bad News Bears": Always so good when playing rumpled, somewhat unscrupulous but ever appealing characters, Matthau was at his best as Morris Buttermaker, the alcoholic yet inspiring manager of the Bears. He's as endearing, savvy and unshaven a manager as Lou Piniella. That is, if Piniella also cleaned pools, drank more and got along with young players.
Dennis Quaid, "The Rookie": Quaid has never been nominated for an Oscar, but his goofy older brother Randy has, which seems about as ridiculous as Mike Maddux winning a Cy Young instead of brother Greg. My favorite Dennis Quaid performance is his monologue as Mike, the bitter ex-high school quarterback in "Breaking Away." "You know what really gets me, though? I mean, here I am, I have to live in this stinking town and I gotta read in the newspapers about some hotshot kid, new star of the college team. Every year it's going to be a new one. And every year it's never going to be me." Quaid's performance as Jim Morris, the aging high school science teacher turned major league pitcher, is the flip side of that character. "The Rookie" offers hope that it is never too late, that one of those years, that hotshot new star could be you. And just wait until Quaid ages another 10 years and is old enough to play Jamie Moyer.
Robert Redford, "The Natural": How good is Redford in this movie? He plays a guy who impregnates his teenage girlfriend, cheats on her within days, deserts her and his son for more than a decade, picks up his teammate's ex-fiancée days after the player's death, hangs around with known gamblers and disobeys direct orders from his manager ... and somehow makes him a lovable, admirable hero.
And the Oscar Madison goes to ... Walter Matthau. He was so good, he could have even taken the Pirates to fourth place.
BEST SUPPORTING ACTOR:
Vincent Gardenia, "Bang the Drum Slowly": Unlike Robert DeNiro and Michael Moriarty in this movie (they are, if anything, worse players than Cooper was), Gardenia is a convincing manager, mostly because he doesn't need to throw a ball or swing a bat. What he does best is fume in frustration, and no one ever did frustration like Gardenia. He received an Oscar nomination for his role, which was well deserved because he apparently was managing a team that played home and road games at Shea Stadium and in the National and American Leagues.
James Earl Jones, "Bingo Long Traveling All-Stars & Motor Kings": Jones' "People will come, Ray" monologue in "Field of Dreams" is so powerful that I'm surprised it didn't literally bring deceased players out of cornfields and back from their graves. But I've also always found it a little unsettling that Jones delivers this speech about the glory of baseball's history while standing in front of a field where there isn't a single black player. It's not as though the players are all from Shoeless Joe's era, either -- one is clearly identified as Gil Hodges. So I'm going with another, lesser-known Jones performance, as the great catcher Leon Carter in "Bingo Long Traveling All-Stars."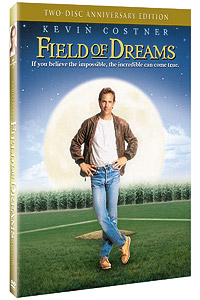 PRNewsFoto/Universal Studios Home VideoIf you build it, they will come -- then you try to unload everything for $5.4 million in 2010.
Burt Lancaster, "Field of Dreams": Jones' monologue is what people usually remember from "Field of Dreams," but Lancaster is even better in his smaller role as the old Moonlight Graham. His monologue about winking at the pitcher, stretching a double into a triple and hugging third base is pure poetry. "Is there enough magic out there in the moonlight to make this dream come true?" he asks. Well, not quite. We see Moonlight Graham get into a game but hit a sacrifice fly, which means he still didn't have an official at-bat.
Darren McGavin, "The Natural": McGavin delivers one of his best performances as Gus the gambler, but the interesting thing is he isn't even credited due to Byzantine union rules and haggling. He must have felt like Barry Zito being left off the Giants' postseason roster last year.
Vic Morrow, "The Bad News Bears": Morrow was great playing nasty guys, and he made Roy Turner the meanest villain in sports-movie history, a manager who smacked his own son to the ground, then strutted back to the dugout with his chest out. He was the Hannibal Lecter of Little League.
And the Oscar Madison goes to ... Vic Morrow. Of course, part of why he was so convincing a villain was his costume -- he wore a Yankees cap.
BEST ACTRESS:
Geena Davis, "A League of Their Own": Davis was coming off an Oscar for "The Accidental Tourist" and her classic performance in "Thelma and Louise" when this movie came out. She was terrific in it but hasn't done anything memorable since then, giving her a career trajectory similar to Howard Johnson.
Susan Sarandon, "Bull Durham": Sarandon sets the tone for the entire movie with her opening monologue about the Church of Baseball. This may have been her best performance in a great career, but she wasn't even nominated for a real Oscar -- a recent Vanity Fair story said the snub "destroyed" her -- which just shows the Academy must have had its eyes closed that year like the lava lizards of the Galapagos Islands.
[+] Enlarge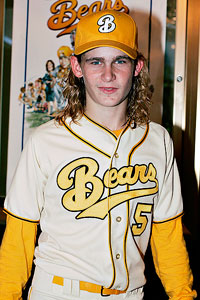 AP Photo/Stephen CherninNothing beats the original ... seriously, this is supposed to be Kelly Leak?
Tatum O'Neal, "The Bad News Bears": Talk about peaking early: She won an Oscar at age 10 (she was barely 9 when the film was made) and was 12 when "The Bad News Bears" was released. But the only notable things she has done since is marry John McEnroe and later accuse him of taking steroids. (Of course, she learned all about steroids with the Bears.)
Gwen Verdon, "Damn Yankees": As Lola, she does whatever it takes to lead Joe Hardy astray in "Damn Yankees," and I mean anything. Although she draws the line at hand-feeding him popcorn in a luxury suite. Some things are just beyond the pale.
Teresa Wright, "The Pride of the Yankees": Wright got an Oscar nomination for portraying Gehrig's devoted wife. The two are introduced to each other in the most unbelievable cute meet in film history -- he trips over some bats in the on-deck circle, and she calls him "Tanglefoot." This is not how women meet major leaguers. They meet them by passing them notes that read, "I'm not wearing any underwear."
And the Oscar Madison goes to ... Susan Sarandon. She could get me to wear a garter belt, too.
BEST SUPPORTING ACTRESS:
Kim Basinger, "The Natural": She's not exactly Meryl Streep. But as far as looks? Let's just say that if Basinger had been around in 1919 to tempt players to throw games for a gambler, the movie about the Black Sox would have been "25 Men Out."
Glenn Close, "The Natural": Can standing up with your hat stunningly backlit be considered a performance enhancer?
Barbara Hershey, "The Natural": She plays the killjoy Myra Fleener in "Hoosiers" who wants to keep Jimmy Chitwood off the court. She shoots Roy Hobbs in the gut and nearly kills him. And now she's the psyche-destroying stage mom in "Black Swan." In other words, she's ruined more young careers than a torn labrum.
Madonna, "A League of Their Own": "Hi, my name's Mae, and that's more than a name, that's an attitude."
Margaret Whitton, "Major League": Cleveland's 2011 major league roster might not be much better than its "Major League" roster, and worse, I doubt the 2011 team will be inspired to win by manager Manny Acta slowly revealing a naked poster of owner Larry Dolan.
And the Oscar Madison goes to ... Madonna. It certainly beats her performance in "Shanghai Surprise."
BEST DIRECTOR:
Ron Shelton, "Bull Durham": Shelton drew from his own experiences in the minor leagues while writing and directing this movie. His best season was .277, 6 homers and 54 RBIs for Class A Stockton in 1969, and he finished with a .291 career OBP. It's better that way. If he had made "The Show," he would have been just another forgettable major leaguer. Instead, he gave us the unforgettable Crash Davis, Nuke LaLoosh, Annie Savoy and, of course, the "Candlesticks always make a good gift" scene.
[+] Enlarge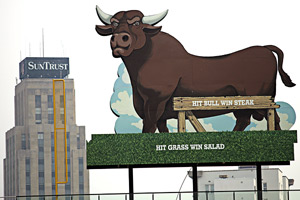 AP Photo/Jim R. BoundsGood news is we're only a few weeks away from another season in the Church of Baseball.
Barry Levinson, "The Natural": This movie contains the most gorgeous baseball images we'll ever see, with the single exception of when they raise the 2010 world champions banner in the Giants ballpark with San Francisco Bay in the background.
Michael Ritchie, "The Bad News Bears": Poor Richard Linklater. He's a good director ("Before Sunrise" and "Before Sunset"), but following up Ritchie's effort with a remake of "The Bad News Bears" is like the poor guy who will someday replace Vin Scully. He'll never quite measure up.
Phil Alden Robinson, "Field of Dreams": Robinson is responsible for the most male tears outside of "Brian's Song" and Jennie Finch's retirement.
John Sayles, "Eight Men Out": "Eight Men Out" came out in 1988, smack in the middle of the golden age of baseball movies when "The Natural" (1984), "Bull Durham" (1988) and "Field of Dreams" (1989) (plus "Major League" in 1989) were all released, so Sayles was kind of like Miguel Tejada -- damn good at what he did but overshadowed by bigger names.
And the Oscar Madison goes to ... Barry Levinson. Cue exploding stadium lights.
BEST PICTURE
"The Bad News Bears": It spawned two sequels, a TV show and a remake, none of which remotely compared to the original. That's because what made the original work was its honest portrayal of kids and parents in Little League. And if they remade it once more to accurately reflect modern kids, Engelberg would be considered the skinny one.
"Bull Durham": Unlike most cliché-laden sports movies, we see neither the start of the season nor a dramatic ending with a championship game. Instead, we get a wonderfully entertaining story about life in the minors that is filled with so much sharp, funny and occasionally touching dialogue that Bruce Bochy's cap couldn't contain it all.
"Field of Dreams": If you don't cry when Ray Kinsella asks his dad to play catch, they should test your urine to see if you're actually human.
"A League of Their Own": It takes a virtually unknown subject, adds wonderful acting and writing and turns it into a thoroughly enjoyable movie. The only drawback is the overwrought final scene that goes on longer than a Yankees-Red Sox twin bill.
"The Natural": It completely changes the ending of the Bernard Malamud novel upon which it was based (in which Roy Hobbs strikes out), replacing it with a feel-good climax. If real-life endings in baseball could be so easily changed for the better, Steve Bartman would have caught a Sammy Sosa grand slam in the ninth to send the Cubs to the 2003 World Series.
And the Oscar Madison goes to ... "Bull Durham." Because in addition to believing there ought to be a constitutional amendment outlawing AstroTurf and the designated hitter, and believing in the sweet spot, soft-core pornography and opening your presents Christmas Eve rather than Christmas morning, I also believe "Bull Durham" got screwed by not being nominated for Best Picture in 1988.
I mean, really. "Dangerous Liaisons" got a nomination that year. Please. Do you remember one line from that movie?
CSI: BOX SCORE
Here are the ground rules. Each week I give you a fragment from an old box score and challenge you to figure out what game it is from and why it is significant. Since we're still early in spring training, this one is an easy one, with a difficulty rating of 3.

BASEBALL CARD OF THE WEEK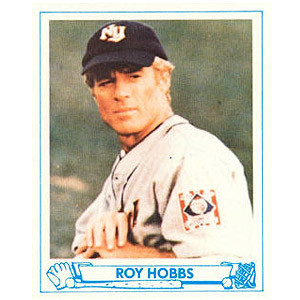 Courtesy of TriStarRoy Hobbs' rookie card was his only card. No wonder there's nothing on the back.
This is the Roy Hobbs rookie baseball card you see rolling off the presses when he gets hot in "The Natural." Hake's Americana auctioned off an original sheet in 2008 for $172.50, but you can find replicas of single cards on eBay. The original cards had blank backs, so if you see a Hobbs bio or stats printed on the back of one, you'll know it's a copy printed sometime after the movie's release.
DONNIE, YOU'RE OUT OF YOUR ELEMENT
• Just in case you were wondering whether George Steinbrenner's kids could possibly fill his shoes as baseball's biggest jerk, Hank takes a swipe at Derek Jeter. Saying that "unidentified" players spent too much time building mansions last year isn't quite like calling Dave Winfield "Mr. May" or Hideki Irabu a "fat, pussy toad," but give him time. He's still relatively young. Oh, and Steinbrenner also complained that baseball's luxury tax is "socialism, communism, whatever you want to call it, is never the answer." Unless, of course, you're receiving an estimated $350 million in public support for building a private stadium, right, Hank?
• It's snowing outside right now but spring can't be far away since a copy of Baseball Prospectus 2011 just arrived. Among the great nuggets I found in the first couple minutes: the 2010 Mariners had a lower OPS than Willie Bloomquist. CC Sabathia has thrown an average of 258 innings the past for seasons, highest in the majors. "Replace Tim Lincecum's five August starts with his five post-season starts and you get this season line: 20-6, 246 K, 2.78 ERA, 1.15 WHIP, 3.42 strikeout-to-walk ratio, 223 2/3 IP."
CSI: BOX SCORE ANSWER
This is from the box score when Senators pitcher Milt Gaston set the record for the most hits allowed in a shutout -- 14 -- and walked two. The Senators turned two double plays, and Cleveland stranded 14 runners. With the exception of rooming briefly with Lou Gehrig, that shutout was probably the highlight of his career. Gaston never played in the World Series, twice led the league in losses, had nine consecutive losing seasons and finished as the record holder for most games under .500 in a career (97-164).
Jim Caple is a senior writer for ESPN.com. You can follow him on Twitter at jimcaple.