Commentary
Your sports strike/lockout survival guide
Originally Published:
March 4, 2011
By
Jim Caple
| Page 2
This is the most stunning turn of events in sports since Rick Vaughn, Willie Mays Hayes and Roger Dorn took Cleveland to the playoffs.
After repeatedly firing beanballs off its own head, baseball actually finds itself as the sport with its act together. The NFL labor agreement expires this week and a lockout could threaten the 2011-12 season while the NBA contract expires in June with a work stoppage possible there as well.
Meanwhile, baseball's contract expires next winter but the owners and players are getting along so well the only people anticipating any disruption to the 2012 season are incurable pessimists or optimistic Pirates fans. "If baseball shuts down our streak of losing years will stop!"
The NFL and NBA have been through ugly, season-shortening contract battles before. The 1998-99 NBA lockout canceled much of the season while the 1987 NFL strike was even worse because it left us with two horribly painful legacies: "Replacement" players and the resulting Keanu Reeves movie. But baseball fans have suffered through so many bloody player-ownership wars that fans should be eligible for purple hearts:
1972: This strike only cost teams a couple games but that was too much for the Red Sox, who missed the playoffs because they played one fewer game than the AL East champion Tigers. I think this resulted in an estimated 3,000 newspaper columns, several hundred essays, a couple dozen books and a TV documentary on how much Boston fans have suffered.
1981: The strike ruined the summer for everyone, forcing fans to replace the morning box scores with lame Garfield strips about lasagna. The strike especially hurt in Cincinnati, where the Reds missed the playoffs despite the best combined record for baseball's "split" seasons. Worse, it introduced us to the full brunt of the dreaded qualifying term "non-strike-shortened season" in any statistical reference (as in, "The Cubs have finished at least 10 games out of first place in [Fill in the blank] non-strike-shortened seasons since ... ").
1985: The strike lasted just a couple days and the games were made up with doubleheaders, but then we had to listen to players complain about being over-worked.
1990: The lockout shortened spring training by a couple weeks, which may have caused arms injuries and, worse, most definitely cost many writers extra Marriott points.
1994: The strike canceled the World Series and hurt everyone but no one more than Montreal, which lost a shot at the World Series, then its core of All-Star players and ultimately its franchise. Youppi! still weeps.
2002: A last-minute settlement prevented a work stoppage but not before I had the unpleasant experience of asking Alex Rodriguez if he was willing to walk a picket line like everyone else who goes on strike. He gave me a withering look and walked away, telling Rafael Palmeiro, "Do you know what he just asked me?"
But as Nietzsche said, "What does not kill me makes me stronger" (he was obviously not a Cubs fan). Thus, my experience with baseball strikes and lockouts enables me to provide the following advice if NFL and NBA fans suffer through work stoppages:
1. Side With the Players Yeah, I know it's difficult to sympathize with millionaire players who have the audacity to show up for a union meeting in a stretch limousine, as Lou Whitaker did during the 1994 strike. "I'm rich," Whitaker said. "What am I supposed to do, hide it?"
Well, yes. As Albert Brooks replies in "Broadcast News" when William Hurt asks what you should do when your real life exceeds your expectations, "Keep it to yourself."
The alternative to siding with millionaire players, however, is siding with billionaire owners. Remember, these revenue-sharing owners so quick to blast "socialism" are the ones who cold-heartedly move "their" teams to other cities if taxpayers don't build them half-billion dollar stadiums, require that season-ticket holders buy full-price tickets to exhibition games, black out local games on TV and worst of all, charge $9 for a beer.
If you simply cannot side with the players, at least get the terms right. Don't call it a strike if the owners are locking out the players and vice versa. Otherwise you risk being corrected by an annoying columnist.
2. Keep the Mute Button Handy When Watching SportsCenter: You'll be tempted to check out every report, rumor and tweet, hoping that a settlement is near. But trust me. It rarely is. You'll only wind up frustrating yourself with false hope and indignation over the stubborn inability of the rich to divvy up their spoils. Some baseball fans still suffer facial tics and skin rashes from repeated, exposed news clips of Donald Fehr and Bud Selig.
When there is a settlement, you will hear about it. Until then, the less attention you pay to the negotiations, the better for your blood pressure.
3. Seek Alternatives: Baseball fans have it rougher during work stoppages than NFL and NBA fans. For one thing, every day of our week is ruined, not just Sunday. And at least NFL and NBA fans can watch college football and basketball, which frankly are cheaper and superior options. When baseball shuts down, there aren't a lot of alternatives beyond sitting around and crying softly. Yes, there is minor league baseball, but that's like replacing cotton candy with cotton.
4. Don't Punish Yourself: Many fans will feel the natural urge to "show" the players and the owners by not watching their games when the work stoppage finally ends. I heard it from plenty of family and friends after the 1994 strike. "I'm never going to watch baseball again." And a couple months later they asked me if I could get them Mariners playoff tickets.
Such a strategy only hurts yourself. You watch these sports for a reason. You love them. It's bad enough that you may have to do without them for any stretch of time. Don't make it worse by extending the work stoppage with a personal strike.
Although, I would suggest that you hold off buying that seventh replica jersey at least until your team reaches the postseason.
BASEBALL CARD OF THE WEEK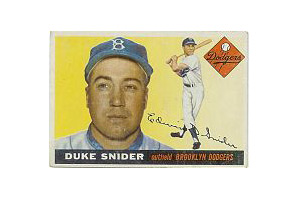 ToppsDuke was the forgotten third part of New York's powerful center field triumvirate.
This card (1955 Topps, No. 210) came out the year Duke Snider batted .309 with 42 home runs, 126 runs and 136 RBIs, then hit four more home runs while helping the Dodgers to their first and only world championship in Brooklyn. It was the brightest season for the Boys of Summer, who would move to Los Angeles within three years. "Duke was a fine man, a terrific hitter and a great friend, even though he was a Dodger," Willie Mays said in a Hall of Fame release. "It was great playing center field in New York in the 1950s, along with Mickey and Duke. I have wonderful memories of that. Duke and I played on some All-Star teams together and even on the same Giants team the last year he played [1964]. Today, I feel that I have lost a dear friend. He was a hero to the fans in Brooklyn and a great Dodger."
Rest in peace, Duke. "We're talking Willie, Mickey and the Duke ... "
CSI: BOX SCORE
You know the rules. You get a fragment from an old box score and the challenge of determining what game it is from and why it is significant. This one is a tough one but here's a hint that should drop the difficulty from 9.5 to a 7.0: Think Duke Snider.

BOX SCORE LINE OF THE WEEK
Every team is optimistic in spring training. Even the Pirates. And why not? In their first spring game last Friday, Pittsburgh starter Steve Pierce struck out the side on 11 pitches in the first inning and the Pirates scored a run every inning they batted en route to a 21-1 victory. True, this was against the State College of Florida Manatees but remember, the Pirates lost to the Manatees two years ago.
Manatees starter Josh Clemen took the brunt of the loss, allowing 10 runs while retiring only five batters. His line:
1.2 IP, 6 H, 10 R, 6 ER, 4 BB, 1 K
"This is about as lopsided as it's ever been," Manatees coach Tim Hill told the Sarasota Herald Tribune. "We just didn't handle the baseball and we looked sloppy in the field. Misjudging pop-ups and fly balls, a couple miscues on double plays. Pitching behind, ball four, it wasn't a pretty sight."
Hmmmm. Sounds about like what we've heard from managers after many Pirates games.
CSI: BOX SCORE ANSWER
Did you recognize this box score fragment from the Dodgers' final game at Ebbets Field? The attendance was the clue. Despite all you have heard and read about Brooklyn's passionate devotion to the Dodgers, they drew just 6,702 for their final game at Ebbets Field and only a total of 25,231 for their final four-game home stand in 1957. The Dodgers drew 1,028,258 fans in their final season in Brooklyn, fifth in the eight-team league. And that was coming off a World Series the previous season and their first world championship two years earlier. It also was half what Milwaukee drew the same year. In fact, despite the supposed Golden Age of New York baseball, the Dodgers never drew as many as 1.3 million fans in any season during the 1950s even though they went to the World Series four of those years. No wonder they moved in 1958 to Los Angeles, where they soon were averaging 2 million fans a season.
Jim Caple is a senior writer for ESPN.com. You can follow him on Twitter at jimcaple.