Commentary
Barnstorming the Cactus League
Originally Published:
March 23, 2011
By
Jim Caple
| Page 2
As I pull into the parking lot at the Texas Rangers' spring training facility on Monday morning, the wind is howling, rain is starting to pound the pavement, the temperature has dropped almost 10 degrees since I left the hotel and the radio is reporting that heavy snow has closed the freeway outside of Flagstaff. Worse yet, as I get out of the car, today's scheduled starter, C.J. Wilson, walks by wearing a heavy coat and a red-and-black plaid cap that looks as though he stole it from Elmer Fudd.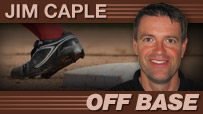 I think I may have picked a bad day to visit every Cactus League camp.
There was a time when the Cactus League stretched across Arizona, but after the Colorado Rockies and Arizona Diamondbacks moved from Tucson to Scottsdale this spring, all 15 Cactus League teams are now in the greater Phoenix metro area. With that the case, what better challenge than trying to see all 15 teams in one day?
Will I make it? In 16 hours, I will drive 220 miles and listen to 20 or so stories about spring training, ranging from a septuagenarian Bob Feller shagging fly balls to a minor league prospect wearing No. 99 while living out a dream miles from his boyhood home. I'll talk to big leaguers with guaranteed contracts worth as much as $28 million and another who recently had to tend bar for a living. I'll talk to prospects on their way up, veterans fighting to stay around and injured players battling to return.
In short, I'll get as much of the major league spring training experience as is possible without my name on a game jersey and a Louisville Slugger and afternoon tee time.
8:24 a.m., Surprise, Rangers clubhouse. Team 1: Spring training clubhouses start out crowded and grow less so. I'm always amazed at how quickly the clubhouse attendants can clean out a locker and remove all evidence that a player existed after he's been cut.
[+] Enlarge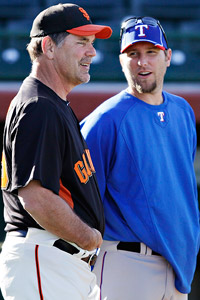 AP Photo/Eric RisbergTen teams later, Brett Tomko's 38-year-old arm has found new life with the Texas Rangers.
Which is what makes Brett Tomko's story unusual. He wasn't in the Rangers' clubhouse a couple of weeks ago when I visited. Now he is, after being called up from the minor league camp.
Tomko will turn 38 next month, and the Rangers are his 10th MLB team. (He once was traded for Ken Griffey Jr.) He was pitching for the Athletics two years ago when he felt a pop in his arm from a pinched nerve. An hour or so later, he couldn't feel his arm. He's been fighting to get his career back ever since.
"I played rookie ball, A-ball and AAA last year. I started re-evaluating what I was doing," he says. "There were times I was getting crushed. Guys were beating the daylights out of me, and I was like, 'What are you doing?' … I felt like it just never is going to come back. The arm isn't going to respond. Then I saw progress. Everything started coming back, the velocity started coming back."
The area near his right wrist still feels odd, as though Tomko had a bad sunburn there. But he's able to pitch effectively again. "I want to win comeback player of the year."
8:45 a.m., Surprise, Royals clubhouse. Team 2: Players crowd around anxiously as a list of primary importance is posted on the team bulletin board. The day's lineup? The Opening Day roster? No. Kansas City outfielder Jeff Francoeur has just posted the results after the first weekend of the team's NCAA tournament pool.
The NCAA brackets are crucial, allowing players a needed distraction when spring training really begins to drag for the established veterans and becomes very tense for the players on the bubble. "Everyone has brackets and comes in to check to see who's winning the spread pool -- it's very important," Francoeur says. "For us, it's a lot of fun for all the guys to talk trash, and you see guys pick the upsets. It brings the guys together."
[+] Enlarge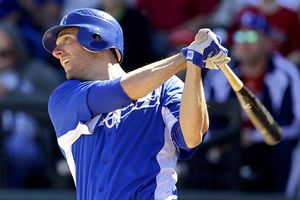 AP Photo/Charlie RiedelJeff Francoeur is in charge of the most important cut list of spring training -- the NCAA tournament bracket.
Francoeur is in charge of the Royals' pool because "No one else would do it. And I don't trust anyone else to do it." Like most teams, the Royals run two styles of NCAA tournament pools. One is the standard bracket and the other is the spread, where players pull the name of one team from a hat.
As you might expect, a major league team's office pool is a little more expensive to enter than yours and has bigger payoffs. Francoeur said he won in $6,400 in the spread pool last year. He assures me he reported his winnings on his income tax return and that everyone else will do so this year.
"Absolutely. We report it to everybody. Major League Baseball. The IRS. We want to pay taxes. We want to do the real thing."
9:16 a.m., Glendale, Los Angeles Dodgers clubhouse. Team 3: Before signing with the Dodgers several years ago, Los Angeles pitcher Hiroki Kuroda played for the Hiroshima Carp. The team's stadium was across the street from the A-Bomb Dome, where the atomic bomb detonated in World War II. I've always found that to be a jarring and sobering juxtaposition.
[+] Enlarge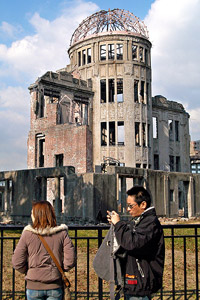 AP Photo/Katsumi KasaharaThe A-Bomb Dome serves as a stark monument to the first time nuclear weapons were used.
"The Atomic Dome is a very significant building," Kuroda tells me through an interpreter. "[On] the anniversary of the bomb we were not able to use the stadium. The whole day was dedicated to the victims. A game was not scheduled on that day. So every year we were reminded of what happened 60 years ago. We come from a generation that didn't experience the war, so it was a good thing that we were able to be reminded every year."
Japan is the only country against which an atomic bomb was used, and it is facing a nuclear crisis in the wake of the devastating earthquake and tsunami that crippled the Fukushima reactor. Just as there were questions about when baseball should resume after 9/11, there has been considerable controversy over when Japan should begin its baseball season. After fierce disagreement between owners and players, the Central League postponed the season from March 24 until March 29. The Pacific League postponed opening day to April 12.
"I can't really grasp what the whole situation is going on in Japan right now," Kuroda says. "But if they have to actually postpone the season opener, it tells me how really bad the situation is."
10:11 a.m., Goodyear, Cleveland clubhouse. Team 4: Bob Feller was a spring training fixture for most of Cleveland's franchise history. He pitched his first game in 1936 after his junior year of high school (he struck out 17 batters in one game at age 17) and decades later could tell you stories of spring training at Tucson's Hi Corbett Field in the late 1940s, when players had to check their shoes for scorpions. Former pitcher Roy Smith told me that when he was at spring training with Cleveland, Feller would stand in center field and work on his pickoff move.
That was in the 1980s, when Feller was in his 60s.
[+] Enlarge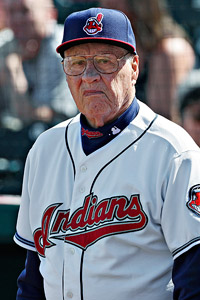 AP Photo/Mark DuncanNo matter which decade it was, Bob Feller was suited up and ready for action with the Indians.
"Bob was a guy who was in love with the game so much that even though he was retired, he would come to spring training and shag fly balls with us in the outfield," says Cleveland coach and former catcher Sandy Alomar Jr. "We used to train in Tucson, and one day he was in right-center and someone hit a ball to him, and he went to catch the ball and the ball flew by him. I said to [manager Mike Hargrove], 'Grover, we've got to get Bob out of the outfield,' but Bob is out there going, 'I'm not going to get hit. Don't worry if I don't catch the ball."'
That was in the 1990s, when Feller was in his 70s.
"It wasn't unusual to see Bob on the field no matter what decade it was," Cleveland outfielder Grady Sizemore tells me. "He was out here in full uniform throwing out first pitches every spring. He was a guy who loved to be around the clubhouse, around the players, around the game. It's hard to think of the Indians and not think of Bob Feller. He loved to be out there in uniform. He loved to be around the guys. He was one of those guys who had a rare passion for baseball."
Feller isn't at spring training this year. He died in December. But somewhere, you know he is in uniform, warming up his arm and getting ready for Opening Day.
11:25 a.m., Goodyear, Cincinnati Reds clubhouse. Team 5: Spring, of course, is when we imagine great seasons for the young prospects in each camp. Sometimes those players develop as imagined (Jason Heyward and Buster Posey). More often, they don't (all the players you pick for your fantasy team).
[+] Enlarge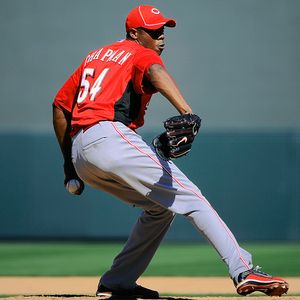 Kevork Djansezian/Getty ImagesUnfortunately for the rest of the National League, Aroldis Chapman will be good for a long time.
Which brings us to Aroldis Chapman, Cincinnati's amazing left-hander whose fastball was clocked at 105 miles last season. I ask Reds pitching coach Bryan Price whether that was using the same radar gun the state troopers use when they claim I'm going 75 mph in a 55 zone. "I don't have any in-depth knowledge of the radar and Jugs guns they use, but I don't have any reason to doubt the readings," Price says. "He's pretty impressive."
Chapman is in the Reds' bullpen for now, but Price says he'll eventually get his chance as a starter.
"You don't run across guys like this," Price says. "His potential is off-the-charts in regards of what he physically can be able to do. The essential part of this equation is what he does mentally and emotionally. The way you evaluate all pitchers with great stuff is, where does their mental side of the game allow them to go? Randy Johnson was a wild, hard-throwing left-hander years ago, and he figured it out, and his temperament and mentality allowed him to be a dominant pitcher for a long time. But you have a laundry list of hard-throwing pitchers who struggled with command or haven't taken the game seriously enough or didn't have the competitiveness to be great. I don't think Aroldis lacks any of those.
"He's athletic, he's bright, he's aggressive and he doesn't back to anybody. The sky is the limit. But time will tell. To say what he can do is unfair to all the guys who have done it and accomplished it. Let's not reward someone for something they haven't accomplished yet. But we have to honor the unbelievable talent level the kid has. It's undeniable."
11:56 a.m., Maryvale, Milwaukee Brewers clubhouse. Team 6: When you think of major leaguers, you think of millionaires with mansions so large they come with 10,000-square-foot guest houses. But that ignores what a struggle it is for so many players on the way up. Milwaukee closer John Axford knows. As recently as two winters ago, he worked as a bartender to make ends meet.
"There weren't a lot of places hiring guys for five or six months in the winter who had a film degree and half of a masters in sports administration," says Axford, who finished college with each. "It was tough to find a job, so I bartended. I made more money doing that than I did in minor league baseball.
[+] Enlarge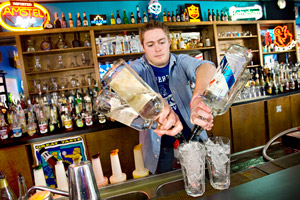 AP Photo/H. Scott HoffmanEveryone with half a brain knows you always tip the bartender -- especially if you plan on having another drink.
"I had previous experience. When I was in college, I worked at a bar, serving food or working behind the bar as well. It just gives you a little more respect for people and for how hard people work in other industries. I was working 40 hours a week and more during the offseason. You see what they have to put up with. So when I eat out, I always make sure to tip a little extra."
What is a good tip?
"I'm always a 20 percent-or-more guy. When I was serving people, that's what I would have wanted. That's what you're living off. You're making minimum wage, and you're hoping for those tips because that's what you need."
Axford won eight games and saved 24 last season. He doesn't bartend in the offseason anymore. "But I still go back to the bar and hang out and have some drinks. It's a fun little spot. And a lot of the people I worked with are still there, and I like to see them because they're still my friends."
12:56 p.m., Mesa, Chicago Cubs facility: Rain is falling hard when I drive up to Hohokam Stadium. Hohokam is located across the street from a cemetery, which provides a setup to the obvious question: What is the difference between Hohokam during a game and the cemetery? The cemetery has people in it who were alive when the Cubs last won a World Series.
The Cubs are scheduled to play in Tempe, but I hope to find a few players hitting in the batting cage. When I dash through the rain into the clubhouse, there is no one around but the clubhouse workers, who immediately chase me out. I'll have to go to Tempe to catch the Cubs.
1:23 p.m., Tempe, Tempe Diablo Stadium, Teams 7 and 8: The Cubs and Angels are playing a slow, drawn-out game in the rain, with the starters coming out early and a guy in jeans raking the mound between every half-inning. People who say baseball is dying have never seen thousands of people sitting in the cold rain at a spring training game and watching players who will never reach the major leagues.
A friend calls from Scottsdale Stadium to tell me it's raining hard there as well and that they've put the tarp on the field at the Rockies-Giants game. I decide to hurry over in case the game gets rained out.
2:30 p.m., Scottsdale Stadium, Rockies clubhouse. Team 9: For their first 18 springs, the Rockies trained at Tucson's Hi Corbett Field (where Feller trained with Cleveland), a two-hour bus ride from most teams in the Phoenix area. Had that still been the case, they would have bused two hours to Scottsdale on Monday just to play two innings before the game was rained out, then bused two hours back to Tucson. Even when other teams went to play in Tucson, they rarely brought their best players, so the Rockies seldom played against the same lineups they would during the regular season.
[+] Enlarge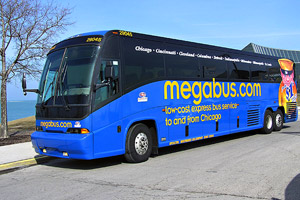 AP PhotoThe Rockies spent more time on a coach bus than they did on the field before moving their spring training headquarters.
Now they train at the new complex they share with the Diamondbacks in North Scottsdale, about 10 minutes from the Giants' stadium.
"No disrespect meant to Tucson, but now we have an opportunity to not be on a bus for five hours during the course of a day," Rockies manager Jim Tracy says as he packs up to leave after the game is called. "Half the spring you were on the bus. You were spending more time on the bus going to and from a game than you were between the lines working at your craft."
3 p.m., Scottsdale Stadium, Giants clubhouse. Team 10: The Giants always have been a good Cactus League draw, but after finally winning their first World Series in the fall, they are so popular that they are selling standing-room-only tickets for $26. Yes, $26 to stand and watch a game so meaningless that it isn't unusual to see players running along the warning track in their shorts after they've been pulled for the day.
"I don't know if the players knew how much of an impact they had," Giants manager Bruce Bochy says in his office. "But over the winter they heard so many stories and received so many letters. And then to see the reception when they go out on the field or go into the clubhouse here. Or when they go out to dinner. They grasp now how much of an impact they had on the fans' lives.
"The one story that stands out is the letter I got from this guy whose mom had Alzheimer's. She was a big Giants fan, and she was aware of what was going on. When we won, she said, 'I'm ready to die.' That was a pretty moving letter. And I got a few of those. It's generational, too. Young kids and their parents and their grandparents. You can see it by how they come out to see us."
3:20 p.m., Phoenix Municipal Stadium, Oakland Athletics clubhouse. Team 11: The rain is falling hard now. The Athletics were scheduled to play against the Dodgers in Glendale, so no players would be here even if it wasn't raining. But I know I'll find someone here. The clubhouse employees. They'll be here because, well, they're always here.
[+] Enlarge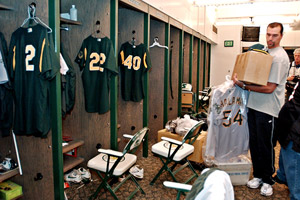 AP Photo/Paul SakumaIf you think your job is hard, try being in charge of all the crap that comes in and out of a Major League Baseball clubhouse.
The first clubhouse worker shows up around 4:30 in the morning, and most will stay until 7 at night. Except when there is a night game, when the employees stay longer. At the peak of spring, before roster cuts, they will wash 40 to 50 loads of laundry a day. "Just your average 15-hour day," says equipment manager Steve Vucinich.
This is Vucinich's 44th year in a clubhouse and he's seen spring training change a lot. "They used to wear a T-shirt and maybe one with full sleeves, and now they have six types of T-shirts. Long-sleeve, short-sleeve, lightweight, heavier. Shirts made just for working out, for cardio stuff. Players are just better equipped. BP jerseys, game jerseys. Guys used to just one pair of spikes. Now they have plastic spikes and metal spikes. Guys didn't have weight rooms, so guys didn't need tennis shoes or running shoes here. Cross-trainers. There's a lot more to clean and a lot more to pick up and send to Oakland."
I say goodbye and leave for my next camp. Vucinich and his crew likely will be there four more hours.
4:15 p.m., Salt River Fields at Talking Stick, Diamondbacks clubhouse. Team 12: The new Talking Stick training complex has more than a dozen fields, cost approximately $100 million and looks like it's either a major league stadium or a luxury resort. Feller wouldn't have to worry about scorpions in his shoes here.
"Every time players come over here, they feel like they're playing in the regular season," Arizona outfielder Chris Young says. "This park is nicer than some major league fields. The atmosphere has been great. Everyone has loved it so far."
If anything, the site is so lavish that it may be too nice for spring training. If it held just a few more fans, the Diamondbacks could play their regular-season games here. I don't know what spring training will look like when this place is considered inadequate, but I know I won't be able to afford a ticket.
The biggest difference for Arizona, though, is the travel. Like the Rockies, the Diamondbacks faced regular two-hour bus rides from Tucson to games. Young says the longest trip now is 40 miles (a trip Young can make in 35 minutes) to Goodyear.
Wait. Young can make it to Goodyear in 35 minutes? "The way I drive, yeah."
6:43 p.m., Peoria Stadium: The rain has stopped, the sky is clearing and the grounds crew is watering the field. "It's always funny to take the tarp off the field and come right out and water it," says Brandon Putman, the head groundskeeper for the stadium.
Putman started working on fields in high school, went to Colorado State for turf/grass management, worked some internship and had a job in the independent Atlantic League. Now he's in Peoria. The players aren't the only ones with baseball ambitions.
7:12 p.m., Peoria, Team 13: I wasn't at the Mariners' camp Monday morning, which is a shame, because I apparently missed quite the scene when Felix Hernandez turned on the clubhouse sound system and eventually led the team in a sing-along to Whitney Houston's "I Will Always Love You."
[+] Enlarge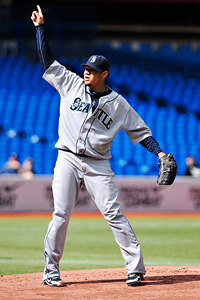 Brad White/Getty ImagesSadly, no one was present to see whether Cy Young winner King Felix could rock Whitney's high notes.
On the other hand, I make up for it by joining several players on the Mariners' Cactus League broadcast on ESPN 710 from the Salty Senorita restaurant just beyond the outfield fence of the complex that Seattle shares with the Padres. Pitching coach Carl Willis is being interviewed when I arrive.
I covered Willis when he was known as the Big Train with the Twins in the early '90s. I remember watching him walk out of the Twins' clubhouse after being cut in the spring of 1991. I didn't think I would see him again, but by the end of the year, he was a key reliever for the Twins and helped them reach the greatest World Series played. He still wears his world championship ring.
"CC Sabathia says you have to be a nerd to wear it," Willis says. "But there are plenty of times when you're having a horses--- day, and it's nice to look down at the ring and know that you had some pretty good days, too."
10:10 p.m., Peoria Stadium, Padres-White Sox night game. Teams 14 and 15: Players hate night games in spring training. But thanks to this game, I see something I've never seen: players wearing the Nos. 99, 98 and 97 batting in sequence in the bottom of the ninth. No. 95 is on the on-deck circle when the game ends. And No. 96, pitcher Mike DeMark, is in the bullpen.
"That's the beauty of spring training," Padres manager Bud Black says.
[+] Enlarge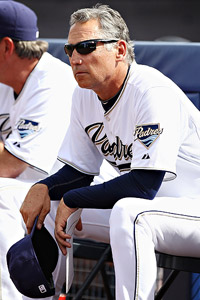 Christian Petersen/Getty ImagesOnly in spring training will Bud Black have to worry about where to bat Nos. 97, 98 and 99.
A chant of "Rudy! Rudy!" begins when No. 99 steps to the plate. It's not just because Jaff Decker is wearing the unlikely 99 number; it's also because he is built a bit like Rudy at perhaps 5-foot-9 and 190 pounds. Decker, 21, grew up just a few miles away in Peoria. Despite his size, he is considered a real outfield prospect.
When he showed up Monday morning at the Padres' minor league camp, he was told to go home for the day and come back to play in the night game. So he went home and watched the rain fall, hoping there wouldn't be a rainout. "I was just praying that the rain would stop," he says. "I spent the day hoping it didn't rain. 'Don't rain!' All of us guys didn't want it to rain."
After sitting around for most of the game, Decker singles in the ninth inning, steals second base and scores. "It felt pretty good to get an at-bat and go into the outfield. Growing up around here and always watching the Padres and coming out to the complex, this means a lot. … Just coming in and playing is a pretty good feeling; I don't really know how to put it. It's pretty special."
After the game, Decker removes the No. 99 jersey in the Padres' minor league clubhouse, which is separated from the big league clubhouse by the laundry room. (It's going to be a late night for these clubhouse workers.) Will Decker receive a lower number next spring? Will he reach the majors? Will he win an NCAA tournament pool some spring? Will he win a World Series ring some autumn? Will he play in the majors long enough to reminisce with reporters about the good old days of spring training when he wore 99 one cool, wet night with his family in the stands?
I don't know, but I'll be rooting for Decker to be back spring after spring, living and loving baseball so much that he's still shagging fly balls when he's in his 80s.
CSI: BOX SCORE
You know the rules. You get a fragment from an old box score and face the challenge of determining what game it is from and why it is significant. I'm warming up for the new season by giving you some Opening Day specials. With that clue, this box score's difficulty rating is 3.0. Play ball!

BASEBALL CARD OF THE WEEK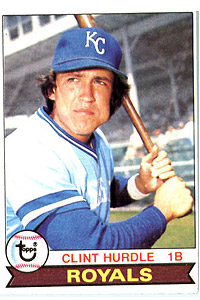 Courtesy of ToppsClint Hurdle's playing days are yet another reminder that a prospect does not usually end up a legend.
Let this card (1978 Topps, No. 547) serve as a warning for everyone. Not every highly touted prospect fulfills expectations. For instance, Clint Hurdle was on the cover of Sports Illustrated in March 1978 with the headline: "This Year's Phenom." Inside, a story read: "Every mention of Hurdle's name causes heads to bow and heartbeats to quicken. General manager Joe Burke calls him "one of the top prospects I've seen in the 17 years I've been in the major leagues." John Schuerholz, the director of scouting and player development, says, "I bubble inside when I think about his potential." Batting instructor Charlie Lau, the maestro behind George Brett's bat, considers Hurdle "the best hitting prospect I've ever seen in our organization."
Hurdle finished his career with a .259 average, 32 home runs and 193 RBIs. Often, phenoms don't phenomenate.
DONNIE, YOU'RE OUT OF YOUR ELEMENT
• As the Barry Bonds trial finally begins, I can only wonder how much money and time the government put into investigating and pursuing this case, and how we are possibly better off because of it.
• A worrisome possibility for Mariners fans: Despite last year's 101-loss season and the obvious need to rebuild, Seattle will quite possibly have only one position player younger than 28 in its Opening Day lineup: Justin Smoak.
• Everyone I talk to is astounded at Tim Lincecum's typical In-N-Out Burger order aka The Full Lincecum: three double-doubles, two orders of fries and a chocolate-strawberry shake. "Get out of here! That little guy?" said Tomko, a longtime In-N-Out addict. "If I did that, I'd weigh like 350. It wouldn't be pretty." By the way, Seattle fans, take note: Despite the In-N-Out love, Lincecum says he still prefers the cheeseburgers at Dick's Drive-In.
CSI: BOX SCORE ANSWER
You should have recognized that this was the box score from Jackie Robinson's major league debut in 1947. Note that he was playing first base. He played 151 games there in 1947 but fewer than 50 the rest of his career. Also, the attendance for that legendary opener was just 24,236 fans, significantly below capacity and further evidence that Brooklyn's passionate fans may not have been so passionate.
Jim Caple is a senior writer for ESPN.com. You can follow him on Twitter at jimcaple.