Commentary
Saluting announcer Dave Niehaus
Originally Published:
March 30, 2011
By
Jim Caple
| Page 2
The Mariners could have replaced Dave Niehaus with Vin Scully, and local fans would have complained, "What the hell are that bum's qualifications?" and run him out of town.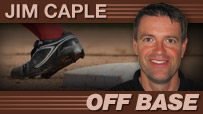 That's because replacing a legendary broadcaster such as Niehaus is simply a no-win situation, no matter how good the replacement. As Ken Levine put it, "To just bring in somebody new, I think that guy would be walking into a propeller."
Just ask Rick Rizzs, who was Niehaus' broadcast partner for 25 years. Rizzs left his job as the No. 2 guy with the Mariners in 1992 to replace Ernie Harwell in Detroit when the Tigers fired the beloved announcer. Three years later, Rizzs was back in Seattle with Niehaus.
"No. 1, you cannot replace someone who is irreplaceable. I know; I tried that," Rizzs said. "Unfortunately, I had that experience. You just can't replace Dave. That's 34 years of history in Seattle. Dave's stamp is on everything that has happened with the franchise, since Day 1. Other great broadcasters came in during the course of the history of a franchise and made their mark. He came in on Day 1 of the franchise."
But the season opener this week marks Day 1 without Niehaus, who died last November. For the first time in the team's history, when the Mariners open the season Friday, they will do so without Niehaus in the booth. Ken Griffey Jr., Edgar Martinez, Randy Johnson and Alex Rodriguez didn't leave a hole nearly this gaping when they departed the Mariners clubhouse.
After considering all the options for a new voice to replace Niehaus, the Mariners rightly chose to instead give fans familiar voices. Rizzs will slip into a lead role (he'll do play-by-play at least six innings a game) while the team rotates past announcers around him. Thus, Ken Wilson, Niehaus' original partner in 1977, will work games, as will Levine, Ron Fairly, Dave Henderson, Dan Wilson and Dave Valle. Dave Sims and Mike Blowers will return to work the TV side.
"We knew Dave [Niehaus] as well as anyone. We can tell those stories about him," Rizzs said. "We can carry on his legacy and keep his memory alive better than anyone. That is the best option for us in a very, very difficult situation."
Communications continue to change dramatically and swiftly, but radio broadcasters remain treasured parts of the baseball experience. Niehaus, Harwell, Harry Kalas, Jack Buck, Harry Caray -- we heard them for so many years, for so many generations that they became more beloved than the players they described. Randy Adamack, Mariners vice president of communications, said, when Seattle finally reached the postseason in 1995, "A lot of people were happier for Dave than for the team and the players."
"It's the intimacy. They're in your home. They're in your car. They're on your pillow if you're listening on a transistor radio," Levine said. "Over time you develop a relationship with them. All the names you mentioned -- Dave, Kalas, Ernie -- also happened to be really gifted broadcasters and had the ability to communicate with an audience, and they made you feel like they were talking directly to you."
[+] Enlarge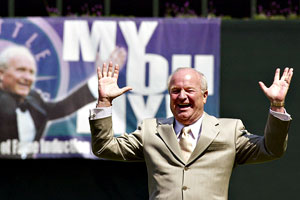 AP Photo/Elaine ThompsonDave Niehaus' iconic "My, oh my!" has been used to call the good, bad and ugly of Seattle baseball since day one.
Another factor that made Niehaus so special to Mariners fans is Seattle is so far removed from the nearest team -- the San Francisco Giants are more than 800 miles away -- that unlike every other market fans almost never heard any teams' games on the radio other than Mariners broadcasts. While you can occasionally pick up Giants or even Dodgers game at night when atmospheric conditions are just right in Seattle, if you listened to Major League Baseball between western Montana and Fairbanks, Alaska, in the pre-Internet age, Niehaus was generally the voice you heard.
Heck, I listened to him in my car so often I felt like I should be able to drive in the HOV lane.
"When you lose a Dave Niehaus, you lose a member of the family," Rizzs said. "I've met so many people over the last five months who never met Dave but knew him as a member of the family. He just became part of the fabric of Mariners baseball. When you thought of the Mariners, you thought of Dave."
And boy, was he good. Edward R. Murrow brought war-torn London into America's living rooms, and Garrison Keillor brings Lake Wobegon into our imaginations, but Niehaus did something even more special -- he made the likes of Bob Kearney and Salome Barojas exciting.
"The beauty of Dave Niehaus is that when there was a lot of bad baseball in the early years there were a lot of great broadcasts from Dave Niehaus," Rizzs said. "Dave gave you a reason to tune into the radio from 1977 to 1991, when the Mariners had their first winning season. It took 15 years to have a winning season here, but the one constant as players came and went, hundreds of players, thousands of players maybe, was Dave Niehaus. He was the rock of this franchise. He made you tune in because he made baseball fun."
Rizzs said it was weird the first time he walked into the broadcast booth after Niehaus died. The first spring training broadcast was difficult. The season opener will be difficult. The first home game will be difficult. So much will be difficult.
"It still hurts," Rizzs said. "To not see him, to not enjoy his company. But Dave is up there and he would say, 'Do your job. Do the best you possibly can.' He's with me. We have his pictures all over the booth. I have a picture of him with me I'll carry constantly. He's with me constantly; he'll be with the fans. He's going to be with the fans every second of the 2011 season, I guarantee that."
CSI: BOX SCORE
You know the rules. You get a fragment from an old box score and the challenge of determining what game it is from and why it is significant. This one has a difficulty rating of 3.0. Answer at end of column.

BOX SCORE LINE OF THE WEEK
It shows just how bad a spring you've had -- and how bad a past couple seasons, too -- when you're released even though you're owed $11.5 million and you put up this line in your final start:
6 IP, 3 H, 1R, 1 ER, 0 BB, 3K
But such was the case for Carlos Silva, whose spring consisted of a 1-2 record with a 10.90 ERA, an ugly dugout fight and angry, unjustified parting words about how he hadn't received a fair shot at the Cubs rotation. Responded general manager Jim Hendry: "Obviously we're dealing with a man at this stage of his career who's not willing to face the facts. What he's done for the last few years in his career, except for a two-month period, is way below major league standards. And he seems to have the continual problem [of] blaming everybody but himself."
Silva's release raises the intriguing question: Who is the real winner in the Silva for Milton Bradley swap? The Cubs, who got a 10-6, 4.22 ERA out of Silva before releasing him, or the Mariners, who still have Bradley after a .205 batting average, eight home run, 29 RBI season in 2010?
And the obvious winner is the Cubs. Chicago not only got two good months out of Silva -- the only two good months of his past three years -- the Cubs had the good sense to get rid of Silva and give his spot to 24-year-old Andrew Cashner, who may develop into a decent pitcher. The Mariners, however, are stubbornly sticking with Bradley, who turns 33 next month, has missed 417 games the past six seasons, has only twice hit more than 14 home runs in a single season and has never driven in more than 80 runs in a season.
The Mariners desperately need to get younger, but their Opening Day lineup may have just two position players under 29.
Plus, according to Cot's baseball contracts, the Mariners are on the hook for $5.5 million of Silva's salary this season (as well as the same amount for last year's salary) plus all of Bradley's.$12 million this year. All told, Seattle will pay $32 million to have Bradley take up space on the roster and Silva not take up space on the roster the past two years, which helps explain how the Mariners could have a $90 million-plus payroll this season.
BALLPARK RANKINGS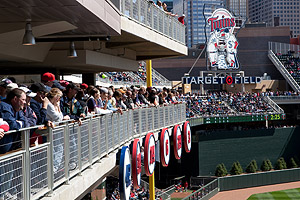 Wayne Kryduba/Getty ImagesPart historic, part modern, Target Field is pretty close to being completely perfect.
Beginning this week, I'll be ranking all the ballparks in the major -- along with some others. Which team has the best home? We'll see at the end of the year.
Target Field, Minnesota Twins. I'll always fondly remember the Metrodome -- I was introduced to my wife via the pressbox phone but Target Field is gorgeous. They got everything right, from its accessible location at the edge of downtown (walking, driving or light rail are all equally smooth as Joe Mauer's swing) to the limestone architecture to great concessions (Wild rice soup? You betcha!) to the scoreboard featuring the Twins great old Minnie and Paul logo. It even provides a sense of Minnesota's rich baseball history despite being just one-year-old. The one drawback is it lacks of a retractable roof but the Pohlad's probably would have foreclosed on 1,000 farmers to pay for that, so I guess it's OK to go roofless. One important criteria for judging a ballpark is whether it both reflects and fits into the community. Target Field does so well 00 ex-Twins pitcher Frank Viola said it looks like it was dropped from the sky -- that the only way this place could say Minnesota any better is if Garrison Keillor was the P.A. announcer.
Total: 91.0. Current rank: 1
BASEBALL CARD OF THE WEEK
[+] Enlarge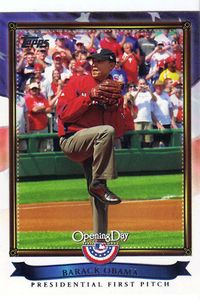 Topps President Barack Obama took the field in a Nationals jacket but he left the building in a White Sox cap.
With Opening Day this week, I give you this card (2011 Topps PFP-10) of President Obama throwing out the ceremonial first pitch in Washington last year. As you can see, he's wearing a Nationals jacket but maintains his Chicago allegiance by also wearing a White Sox cap, which all true fans should appreciate whether Democrat or Republican. William Howard Taft was the first president to throw out an Opening Day first pitch, back in 1910, and Obama was the latest (Jimmy Carter did not throw out an Opening Day first pitch but did throw out a pitch before the 1979 World Series). Franklin D. Roosevelt and Dwight Eisenhower threw out the most season-opening pitches (eight), followed by Harry Truman (seven). The Bush presidents have thrown out a total of 14 Opening Day or World Series first pitches, either as president or after leaving office.
DONNIE, YOU'RE OUT OF YOUR ELEMENT
• Regular readers know where I stand on the Neftali Feliz starter/closer issue. As I've said many, many, many, many times -- and will continue to say until people finally listen -- the closer is the most overrated role in baseball. There are several studies that quite clearly show teams win about 90 percent of the games in which they hold a one- to three-run lead in the ninth inning, regardless of pitcher or relief strategy used. That explains why closers are so easily replaced. Quality starters, however, are much more valuable.
• Grapefruit League attendance held relatively steady this spring, while Cactus League attendance was down about 3 percent. But if you look closer at the Arizona numbers, you'll find that regular sellouts at the new Diamondbacks/Rockies $100 million complex had a big effect on the total, with other teams dropping by double-digits. The Cubs, usually among the Cactus League leaders, lost more than 20 percent of their attendance though last weekend. Some possible reasons: The bad economy means fewer fans have money for spring training. Easter is April 24, so Easter breaks are later, so some families are unable to travel during spring training. The regular season also starts a couple days earlier, so spring training started a couple days earlier, so even fewer games were played during the peak of spring breaks. Cubs fans, who normally account for a big chunk of league-wide attendance, are losing patience in the team after several very disappointing years. The controversial Arizona immigration law discouraged a few fans from vacationing in that state. And the area has been maxed out. There are now 15 teams in the Cactus League, nearly twice as many as there were two decades ago. And yet the Nationals are rumored to be considering a move west. As if more D.C. fans would fly to Arizona rather than Florida in the spring.
Of course, perhaps it would help if Phoenix lowered its rental car taxes. My rental car cost $325 for nine days. The taxes and fees -- including $6 per day for the convenience of being bused to a rental car center miles from the airport -- were $173. That's a tax of 53 percent. Hope you like all the stadiums!
• Mike Hampton officially retired with the second-highest career home run total (16) by a pitcher since the designated hitter era started. Carlos Zambrano has the most since the DH, with 21. Don Robinson, Bob Forsch, Larry Christenson, Livan Hernandez, Fernando Valenzuela and JR Richard are the others with at least 10 home runs.
CSI: BOX SCORE ANSWER
This was a softball, like one of those Opening Day lollipops from a politician tossing out the ceremonial first pitch. All you needed to see was the DH next to Ron Blomberg's name and you should have recognized this as the first time the designated hitter was used in the American League. It was not an auspicious debut for the DH. While Blomberg walked with the bases loaded to drive in a run and singled in three at-bats, Orlando Cepeda went 0-for-6 as Boston's DH.
My favorite bit about the introduction of the DH was the Feb. 22, 1973, Peanuts strip in which Charlie Brown spends the first three panels reading the new DH rule: "A pinch-hitter may be designated to bat for the starting pitcher and all subsequent pitchers in any game without otherwise affecting the status of the pitchers in the game. Failure to designate a pinch-hitter prior to the game precludes the use of a designated pinch-hitter for the game. Pinch-hitters for a designated pinch-hitter may be used. Any substitute pinch-hitter for a designated pinch-hitter himself becomes a designated pinch-hitter. A replaced designated pinch-hitter shall not re-enter the game."
Says Charlie Brown in the final panel: "I probably won't get to bat this whole season."
Jim Caple is a senior writer for ESPN.com. You can follow him on Twitter at jimcaple.