Commentary
MLB's canceled promotions
Originally Published:
April 6, 2011
By
Jim Caple
| Page 2
Last week, colleague DJ Gallo presented the best and worst actual promotions scheduled for the 2011 baseball season. But he somehow overlooked these unbelievable giveaways: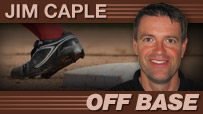 Twins Commemorative T-Shirt Night, April 12, Minnesota: The first 20,000 fans will receive free T-shirts that read: "My Twins Went to New York City for the Postseason and All I Got Was This Lousy AL Central Division Champions T-shirt." Full disclosure: Yes, these are leftover shirts from identical promotions in 2010, 2005 and 2004.
Frank and Jamie McCourt His Or Hers Beach Towel Day, April 21, Los Angeles: The first 20,000 couples will receive one free Dodgers beach towel so they can bicker and go to court over who it belongs to.
Bernie Madoff Souvenir Piggybank Night, New York, May 8: The first 15,000 fans 12 and under receive free piggy banks in the shape of Mr. Met and Lady Met that will pay 18 percent annual interest on every coin they deposit each year. Note: Fans will lose their entire investment when they grow old and the interest and principal is paid directly to Mets owner Fred Wilpon.
Bruce Bochy Helmet Sunday, San Francisco, May 22: The Giants will serve a family-style ice cream sundae in one of the Giants manager's old game-used batting helmets. Strictly limited to the first 15,000 fans, or until the helmet is finally empty.
Rick (Wild Thing) Vaughn Unfunny Nose and Glasses Night, Cleveland, May 24: In honor of the fictional closer who helped Cleveland to championships in "Major League" and "Major League 2," the first 10,000 fans who can prove they are warlocks or have tiger blood will receive black horn-rimmed glasses as well as calculatedly outrageous rants about winning by the ushers handing them out.
Tampa Bay Foam Puffy Hand Day, Tampa Bay, June 1: The Rays will give the first 548 fans a foam puffy hand with a raised middle finger to wave at people who suggest that a team that has won the AL East title twice in the past three years should be contracted.
Samuel Adams $10 Beer Night, Boston, June 20: The Red Sox will dramatically slash concession prices by offering beer for just $10 in a special souvenir five-ounce cup.
Ace Hardware/Adam Dunn Souvenir Tape Measure Day, Chicago, July 5: Weighing 36 pounds and roughly the size of a Cadillac whitewall tire, these tapes are incredibly inconvenient to carry but they also extend to 530 feet long, making them perfect for measuring Adam Dunn's home runs. Free to the first 10,000 fans who can lift them.
Felix Hernandez Bobble Head Night, Seattle, July 16: Note: This is not a giveaway. The Cy Young winner's head will simply repeatedly shake in frustrated disbelief when the first 27 Mariners batters once again give him no run support whatsoever.
Matt Stairs Commemorative Cap Day, Washington, July 31: The first 10,000 fans will receive a free baseball cap, with each and every one representing a different team for which the 43-year-old hitter has played.
Vladimir Guerrero Batting Helmet Night. Baltimore, Aug. 7: The first 10,000 fans will receive an exact copy of the slugger's batting helmet. Warning: Be careful handling. Insects, hot dog wrapper, random sheets of paper, hands and small animals may become permanently glued to the helmet by the many layers of pine tar.
Tigers Against Drunk Driving Night, Detroit, Aug. 19: Michigan state troopers will give a free breathalyzer test to the Tigers first baseman when he exits the stadium.
Angels in the Infield Run the Bases Day, Anaheim, August 21:. After the game, the Angels will invite all fans 12 and under to run around the bases and break their legs jumping on home plate, just like real major leaguers.
Wisconsin Salute to Labor Day, Milwaukee, Sept. 1: Governor Scott Walker will celebrate Labor Day weekend by throwing the Brewers out of the players' union.
Rangers Claw and Antlers Night, Texas, Sept. 14: No goofy T-shirts this time. The Rangers celebrate the opening of hunting season by giving the first 10,000 adults actual animal claws and antlers to display with the gun racks on their pickup trucks.
Phillies World Series Ring Presentation, Philadelphia, Sept. 20: Before the game the Phillies will hand each player a 2011 World Series championship ring.
Albert Pujols Replica Jersey Night, New York, Sept. 24: The first 30,000 fans will receive a replica of the pinstriped New York Yankees jersey that Pujols will wear in the 2012-18 seasons.
CSI: BOX SCORE
You know the rules. You get a fragment from an old box score and the challenge of determining what game it is from and why it is significant. I give this one a difficulty rating of 5.0

BOX-SCORE LINE OF THE WEEK
The first week of the season provided some beauties. In what could be his final Opening Day as a Cardinal, Albert Pujols produced eight outs by going hitless in five at-bats and grounding into three double plays (5 AB, 0 R, 0 H, 0 RBIs) -- according to Elias, the three twin-killings are an Opening Day record. Felix Hernandez became the first pitcher to throw an Opening Day complete game (9 IP, 5 H, 2 R, 2 ER, 0 BB 5 K) in four years. Cleveland's Fausto Carmona had kind of the opposite opener, allowing 10 runs in three innings (3 IP, 11 H, 10 R, 10 ER, 1 BB, 5 K). And Baltimore starter Chris Tillman pitched six hitless innings Saturday before manager Buck Showalter lifted him because his pitch count was already at 101 (6 IP, 0 H, 0 ER, 3BB, 5 K).
But this week's award goes to Cubs starter Matt Garza who pulled off the dazzling feat of giving up 12 hits and striking out 12 batters, only the third pitcher to hit that double-double in the past 25 years. Garza's line:
7 IP, 12 H, 3 R, 3 ER, 0 BB, 12 K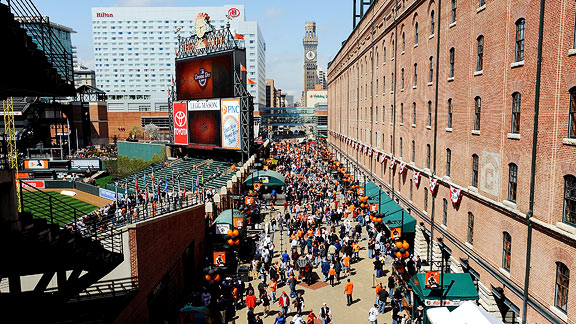 Greg Fiume/Getty ImagesCamden Yards was the first of the old-school ballparks and still stands out as the best.
BALLPARK RANKINGS
Baltimore's Camden Yards. It's dangerous being a trend-setter, as anyone who ever copied MC Hammer's pants or Billy Ray Cyrus's Achy Breaky Mullet could warn you. Or, for that matter, the folks who designed Three Rivers Stadium. But Camden Yards ended the trend of symmetrical, cookie-cutter stadiums and started a new (and regrettably very expensive) one with this beautifully nostalgic return to the old-style ballpark. Now in its 20th season, Camden Yards remains one of the very best of the retro parks. Why does it work so well? Begin with the setting. Camden Yards is neatly tucked in by downtown and the Inner Harbor close to Babe Ruth's childhood home; consider it the House Built Near Ruth's House. The architects made dramatic use of the location by turning the B&O Railroad warehouse into a backdrop as jaw-dropping as a Brooks Robinson diving stop. You not only can see the history here -- you can't look to the warehouse without thinking of Cal Ripken's streak -- you can smell it when the smoke drifts over from Boog's Barbecue pit. I love the Baltimore Sun scoreboard clock, but it's also a little out of place, because this ballpark is like a time machine to an older, simpler time. Only one thing could improve what remains one of the best of the retro parks: a title hunt that would fill it with baseball passionate fans again. Go Orioles.
Score: 92. Current Rank. 1.
[+] Enlarge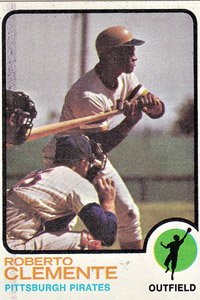 Topps Roberto Clemente's 1972 season would be his last ...
BASEBALL CARD OF THE WEEK
This card (1973 Topps, No. 50) shows Roberto Clemente ready to bat on the front. But it's the back of the card that hits you. The stats show Clemente with exactly 3,000 hits and the accompanying cartoon says "Roberto got his 3,000th hit in 1972." Clemente, of course, died in a plane crash on a relief flight to Nicaragua on New Year's Eve 1972, which apparently happened too late for Topps to make note of it on the card.
DONNIE, YOU'RE OUT OF YOUR ELEMENT
• As colleague David Schoenfield explained so well in a Tuesday Sweet Spot, the supposed possibility of contracting the Rays is pure nonsense. I think the only possible proponent would be a certain large-market team embarrassed by the Rays winning championships with roughly one-fifth the payroll and also unwilling to let another team move into the lucrative New York market that could easily handle a third team. (As I recall, there once were three teams in New York, and I probably recall this because New York fans won't stop reminding us that period was allegedly baseball's golden age.)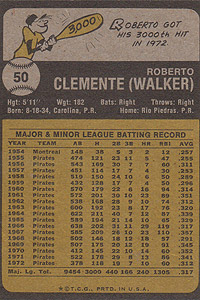 Courtesy of Topps... a fact lost on the Topps printing schedule for the 1973 set.
• Japanese League: There were a lot of great moments this opening week and here's another: On Japanese Heritage Day in Oakland, Hideki Matsui doubled for his 2,500th career hit (Japan and MLB combined), then Ichiro threw him out trying to advance to third on Kurt Suzuki's fly ball. "Three Japanese in one play. Who would've ever thought?" Oakland catcher Kurt Suzuki was quoted by John Shea in the San Francisco Chronicle. "We're in MLB now, right? Not Japan. Suzuki to Suzuki to Matsui -- out!" Matsui joked through his interpreter: "Usually I know the strength of his arm, and usually I don't run in those situations, but knowing it was on Heritage Day, I took a chance, and unfortunately it didn't quite work." Oakland raised more than $65,000 for Japan earthquake and tsunami relief.
• More Japan: Meanwhile, Japan's Central League further postponed the start of its season to April 12 after public pressure. The season was originally scheduled to start March 24, then postponed to March 29. The Pacific League, home to the Rakuten Golden Eagles located in Sendai, earlier postponed their opener to mid-April. The Golden Eagles will play their home games in the southern Hyogo Prefecture for now but hope to return to their stadium by summer. The Yomiuri Giants, Japan's most popular team, will move their home games from the Tokyo Dome to outdoors in Kyushu and play day games to save electricity for the time being.
• Lies, Damn Lies and Statistics: According to Elias, when the Yankees started the same four infielders and same three outfielders on Opening Day as they did last year (1B Mark Teixeira, 2B Robinson Cano, 3B Alex Rodriguez, SS Derek Jeter, LF Brett Gardner, CF Curtis Granderson, RF Nick Swisher) it was the first time they had done so since the 1926-27 seasons (1B Lou Gehrig, 2B Tony Lazzeri, 3B Joe Dugan, SS Mark Koenig, LF Bob Meusel, CF Earle Combs and RF Babe Ruth.) … David Price became the 13th player to start an opener, an All-Star Game and a postseason game before age 25. The others include five Hall of Famers. … Jason Heyward is one of two players in major league history to homer in his first at-bat in each of his first two seasons. The other is Kaz Matsui, who did so in his first three openers. … Edgar Martinez needed 18 years and 2,055 games to set the Mariners' record for hits with 2,247. It took Ichiro 10 years and two games (1,590 games total) to break it. Ichiro broke the mark on the 10th anniversary of his major league debut. On the other hand, thanks to all his walks, Edgar finished with a career .418 on-base percentage compared to Ichiro's .376 (his best on-base percentage in any season -- .414 in 2004 -- was less than Edgar's for his career). … The Cubs had their lowest attendance since 2002 on Monday (26,292 -- with plenty of no-shows).
• A great new read: "The Taliban Shuffle" by Kim Barker, a damn entertaining ride through her years as a reporter in Afghanistan and Pakistan. Filled with wild, humorous anecdotes, it also explains the mess over there very well.
CSI: BOX SCORE ANSWER
Give yourself a cold one if you recognized that the Rhodes in the Chicago lineup was Tuffy Rhodes and that this was the box score from the 1994 season opener in which he set a National League Opening Day record by hitting three home runs, all off Dwight Gooden. That opener inspired all sorts of wild, optimistic fantasies for his career -- even by the standards of Cubs fans -- but they never were fulfilled. At least not in America. Tuffy hit only five more home runs in the rest of the 1994 season, and 13 for his entire career in the majors. In 1996, however, he signed with the Kintetsu Buffaloes of Japan, and went on to hit 474 home runs there (the most ever by a foreign-born player), including 55 in 2001 to tie Sadaharu Oh's single-season record.
Jim Caple is a senior writer for ESPN.com. You can follow him on Twitter at jimcaple.