Commentary
Manny's moment in the Hall of Fame sun
Originally Published:
April 13, 2011
By
Jim Caple
| Page 2
I'm setting ahead Off Base's Clubhouse Whirlpool Tub Time Machine to a somewhat distant July, to a time sportswriters have begun looking nostalgically back on the steroid era as the last period of innocence in American sports ...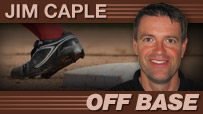 [Newly inducted ALBERT PUJOLS walks off the stage at Cooperstown clutching the Hall of Fame plaque that shows him wearing a GoogleNY Yankees cap. MANNY RAMIREZ passes him wearing ear buds, listening to music and singing to himself. He didn't wait for his introduction -- he just happened to get up and walk by while looking for something to eat.]
[BUD SELIG, serving what he insists is his final, final, no, this time he really means it, final year as baseball commissioner, grimaces and reluctantly hands MANNY his Hall of Fame plaque. MANNY drops the plaque as if it were a routine fly ball hit to him in left field.
[MANNY picks up the plaque and examines it.]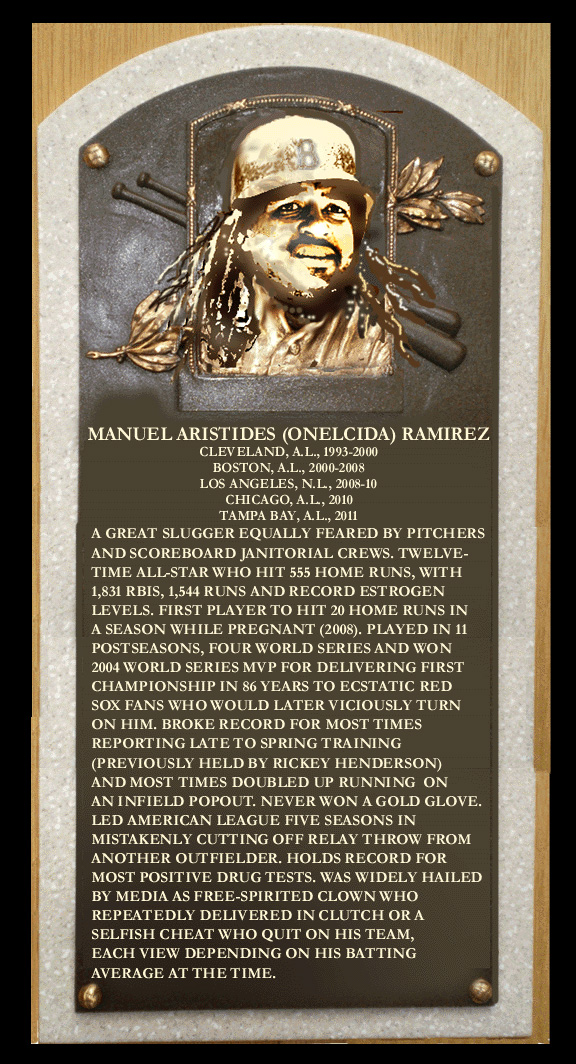 SELIG: [Peering over his shoulder.] Those dreadlocks are a disgrace. And good Lord, is that actual pine tar on the helmet? Disgusting. That plaque is worse than when the Hall considered allowing Tim Robbins to visit.
MANNY: Batting helmet? Why am I not wearing a do-rag?
[MANNY begins to read the plaque, starting with the list of teams for which he played.]
MANNY: "Cleveland. Boston. Los Angeles. Chicago. Tampa Bay. ... Chicago and Tampa Bay? When did I play in Chicago and Tampa Bay? I never played with the Cubs. And didn't I play in New York?"
[MANNY sets down the plaque and turns his attention to the crowd.]
MANNY: "This is a great day. And I would like to share it with everyone who helped me get here. But I have to go right now."
SELIG: "No, Manny. Don't you dare rush off. All these fans came a long way to see you. They paid a lot for parking."
MANNY: "No, I mean ... I have to go!".
[MANNY rushes off to go to the bathroom behind the back row of new Hall of Famers, including BARRY BONDS, MARK MCWIRE, ROGER CLEMENS, ALEX RODRIGUEZ and RAFAEL PALMEIRO.]
[SELIG tries to cover for MANNY.]
SELIG: "Well, in other baseball news, Jamie Moyer won another game today ...
CSI: BOX SCORE
You know the rules. You get a fragment from an old boxscore and the challenge of determining what game it is from and why it is significant. I give this one a difficulty rating of 5.0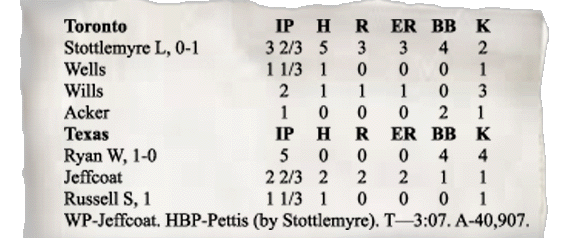 BASEBALL CARD OF THE WEEK
[+] Enlarge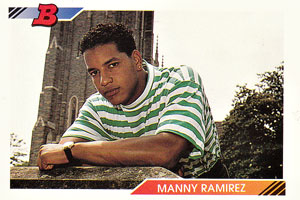 BowmanShouldn't this pic say something like, "Have a great summer! Stay in touch, Manny."
Now here is an interesting card (1992 Bowman, No. 532). It shows Ramirez in his pre-do-rag, pre-dreadlock days. And pre-major league as well -- Manny had just one summer in the minors when this card came out. And Lord knows where this photo came from. Is it his senior photo from high school? A glamour shots photo? I don't know. Nor do I know why they chose it over a photo of him actually playing baseball. Had he played so few games -- at that point, he had 59 games in the Appalachian League and 19 home runs -- that they didn't have a photo of him in uniform? Possibly. But in a way, that sort of mystery is fitting for Manny.
BALLPARK RANKINGS
Rangers Ballpark in Arlington. It's grand like a stadium in Texas should be, but the very pretty brick exterior would be more fitting for a ballpark in the middle of downtown Fort Worth. Out here in Arlington, amid strip malls and amusement parks, it seems as out of place as if Six Flags added a Soviet Flag Over Texas. I could do without the office park in center field as well. You almost feel like Josh Hamilton's home runs will land in a Staples checkout line. By enclosing the entire ballpark, they also sealed in the heat -- Nolan Ryan says the air movement in the old park made it a more comfortable stadium. But enough bashing. It's still a very nice place, like all the newer stadiums. I especially like the arches. The concourses are broad enough for even Bengie Molina to navigate easily, and the home run porch is an inviting nod to old Tiger Stadium. Most of all, it's certainly much preferable to the obscene Cowboys Stadium next door.
Score: 77.
[+] Enlarge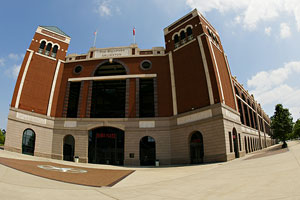 Ronald Martinez/Getty Images"At least it isn't Cowboys Stadium" is probably the nicest thing you can say about Arlington.
Current Rankings:

1. Camden Yards, Baltimore 92

2. Target Field, Minnesota 91

3. Rangers Ballpark in Arlington 77
BOX SCORE LINE OF THE WEEK
The season's second week provided fewer great lines than the opener, but we did have Tim Lincecum's 13-strikeout game (7 IP, 3H, 1 R, 1 ER, BB, 13 K) that was subsequently topped by Jered Weaver's terrific 15-strikeout game (7 2/3 IP, 4 H, 1 R, 1 ER, 4 BB, 15 K). Then there was White Sox closer Matt Thornton's less impressive outing against Tampa Bay (2/3 IP, 4 H, 5 R, 0 ER, 0 BB, 1 K). And the amazing performance by Toronto starter Jesse Litsch, who threw 95 pitches in the first four innings and 111 pitches in five innings -- and somehow didn't allow a run (5 IP, 5 H, 0 R, 0ER, 4 BB, 4 K, 111 pitches).
But this week's award goes to San Diego starter Clayton Richard for his unusual line Friday night:
1 IP, 1 H, 0 R, 0 ER, 0 BB, 0 K
Why just one scoreless inning for the starting pitcher? It wasn't because of injury or ejection. It was because of the second of four rain delays. That's right. Four rain delays in San Diego! The delays added up to 3 hours, 46 minutes and the eventual suspension of play, with a 2-2 score in the eighth inning at 1:40 in the morning (the Dodgers won). The four rain delays are more than the Padres have had in any season since moving to their new park in 2004.
DONNIE, YOU'RE OUT OF YOUR ELEMENT
• How much is Ichiro a creature of habit? Ever since he joined the Mariners in 2001, he had placed his game bat in the same spot on the Mariners dugout bench, slipping the bat in a space between the wood slats separating the backrest from the seat. This season, the Mariners replaced the bench with a new one that did not provide such a space for the bat. Ichiro's reaction when he saw the change the night of the home opener: "My God." And how did the team's all-time leader in hits solve the problem? He had the Mariners drill a hole in the brand new bench so that he could place his bat there during games.
• In case you missed it, Jose Canseco will manage the Yuma Scorpions in an independent league that stretches from Canada to Texas to Hawaii. He's going to love the road trips. One team last year drove from Yuma, Ariz., to Victoria, British Columbia, a distance of 1,500 miles, including a ferry ride. Can't wait for Jose's team to work on its Let The Ball Bounce Off Your Head And Over The Fence For A Home Run fundamental drill.
• The Brewers used Carlos Gomez as a pinch runner in the eighth inning Sunday with a 5-0 lead over the Cubs. Gomez then stole second and third. That apparently caused some debate over whether the Brewers and Gomez broke an unwritten rule by stealing a base with a big lead. But as my friend Sarge asked, since when is a five-run lead in the eighth inning insurmountable? In fact, just a couple hours after Sarge posed that question, the Mariners rallied from a six-run deficit in the eighth inning to beat the Blue Jays. If a team is offended by a runner stealing a base with a big lead, perhaps it should throw him out.
• Speaking of that Seattle comeback ... had the Blue Jays held on to win, each of the 10 games played Monday would have been won by the visiting team. The last day there were at least 10 games and the visiting team won each? According to Elias Sports Bureau, it was 1890, 121 years ago.
• While the Mariners are off to a rough start on the field, they raised the bar for concessions by opening a great new food court behind the bullpens. The 'Pen offers an outstanding variety of great food from top local chefs that would fill up even Carlos Silva. Plus, you can eat and drink while leaning right over the bullpen (cross fingers fans behave themselves). My favorite new concession item is the crepe. Is this the only ballpark offering crepes? If so, it shouldn't be. Crepes are so delicious that I'm always amazed there aren't crepe stands on every street corner. Sometimes the French are right. I mean, who doesn't like a pancake filled with ham and cheese or strawberries, Nutella and whipped cream? Mmmmm.
CSI: BOX SCORE ANSWER
Everyone knows Nolan Ryan pitched a record seven no-hitters, but did you recognize this as the usually forgotten eighth occasion he started and won a game without allowing a hit? This boxscore is from 1990 season opener, which took place after an abbreviated spring training because of the owners' lockout. Ryan threw 91 pitches in the first five innings and normally would have continued (despite being 43, he twice threw more than 140 pitches in games that season) but because spring was so short he came out of the game early. But it was OK. Nolan went on to pitch a complete no-hitter two months later and yet another the next season.
Jim Caple is a senior writer for ESPN.com. You can follow him on Twitter at jimcaple.