Commentary
MLB's ever-expanding playoffs
Originally Published:
April 27, 2011
By
Jim Caple
| Page 2
Commissioner Bud Selig said last week that baseball will likely expand the playoffs yet again, saying, "Ten is a fair number." Why does a sport that got by perfectly well with four postseason teams just 18 years ago and eight teams since then suddenly need 10 teams to be "fair"? Forget about handicapping the wild-card teams. The real reason behind the proposed change is money. The more teams in the postseason, the more teams in "contention" in September and the more tickets sold in between fantasy football roster moves.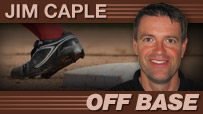 And it won't end with just two more wild-card teams, just as it didn't end with eight teams in 1995. Off Base Leaks reveals the full new postseason format that's been kept secret ... until now:
1. The Yankees and Red Sox automatically make the postseason every year. These are the only two teams the national media cares about, the only teams everyone regardless of age, gender, creed, ethnicity, political leaning or Facebook status wants to see playing each October. If you don't agree, tough. The networks don't give a damn what you think, especially if you live on the West Coast.
2. To boost late-season ticket sales for teams that are otherwise out of contention, an additional wild card in each league will be awarded to the team with a losing record that has the highest attendance in September. (Note: This is only a trial for the first year. If one extra wild-card team per league doesn't work, baseball will add two such wild cards per league the next year. If it does work, baseball will add three such wild cards.)
3. Teams with broadcast markets lower than 15th in size will be allowed into the postseason but not past the first round. Teams lower than 20th in size will not be allowed into the postseason. In other words, it will remain business as usual in Pittsburgh and Kansas City.
4. Each postseason round will be a seven-game series, including the wild-card elimination round and the division series. And by a seven-game series, I don't mean best-of-seven; I mean seven games. For instance, even if a team clinches the series in the first five games, the two clubs will play Game 6 and 7. That gives TV more games to broadcast. There will be no more lengthy gaps waiting for series to end, and teams won't have to waste time strong-arming you into putting down a deposit for next season's tickets, rather than simply refunding your money for playoff games that weren't played.
5. After the seven-game series is completed, the team with the highest number of viewers in its broadcast market will advance to the next round. (Note: This does not apply to the division-series round in the American League, in which, of course, the AL Championship Series will always be played between the Yankees and Red Sox, who in addition to automatic berths in the postseason also receive direct byes to the ALCS.
6. That brings up an addendum to No. 3. To maximum revenue, the ALCS will double to a 14-game series between the Yankees and Red Sox. If the series is tied at the end of Game 14, the winner will be determined by a Red Sox pitcher flipping former Yankees coach Don Zimmer on the ground to see whether he comes up heads or tails.
7. To avoid cold weather in late November, increase seating for corporate big shots and provide more opportunities for Fox shots of celebrities ("Speaking of good guys in the clubhouse, there's Bradley Whitford and Colin Hanks of 'The Good Guys' behind the dugout"), the entire World Series will be played in Los Angeles. And thanks to the Frank McCourt's efforts, there will not be a scheduling conflict at Dodger Stadium.
8. The winner of the All-Star Game determines whether the national anthem and "God Bless America" are sung by the "American Idol" winner or the cast from "Glee" at the World Series. (Note: Playoff teams cannot wear jerseys that are louder than Craig Sager's suits.)
9. Regardless of record, the Cubs will automatically advance to the World Series every year until they win the damn thing so their fans will finally stop moaning and leave the rest of us in peace.
10. In the event any of the above rules conflict with each other, the tiebreaker always goes to the team in the larger broadcast market.
CSI: BOX SCORE
You know the rules. You get a fragment from an old box score and the challenge of determining what game it is from and why it is significant. I give this one a difficulty rating of 4.0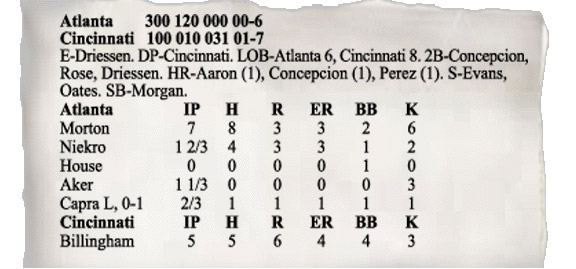 >BOX SCORE LINE OF THE WEEK
Wow. What a week for candidates. Roy Halladay struck out 14 Sunday (8 2/3 IP, 5 H, 1 R, 1 ER, 1 BB, 14 K); Daisuke Matsuzaka had his second consecutive one-hit start (8 IP, 1 H, 0 R, 0 ER, 3 BB, 9 K); and Anibal Sanchez took a no-hitter into the ninth (9 IP, 1 H, 1 R 0 ER, 3 BB 9 K). Any of those lines could be a winner most weeks but not this one. Just take a look at these lines from Friday alone:
Prince Fielder didn't have a hit but still scored three runs (3 AB, 3 R, 0 H, 0 RBI). Cubs reliever Jeff Stevens threw 89 pitches in relief (3 1/3, 1 H, 3 R, 3 ER., 6 BB, 2 K) of starter Casey Coleman, who threw 90 pitches and didn't make it out of the third inning. That's 179 pitches in six innings, which is considerably fewer than the total from the Cardinals' Miguel Batista and Cincinnati's Edinson Volquez.
Because of the threat of intense thunderstorms in St. Louis, manager Tony La Russa shrewdly switched his starters, sending Batista to the mound for the first inning. Batista threw six pitches and walked a batter before the storm hit and the game was halted for 2 hours, 10 minutes. When the game resumed, Batista was out. And so was Volquez. Because Volquez had warmed up before the storm, Reds manager Dusty Baker decided it was best not to have him pitch after such a long delay. But because Baker listed him as his starting pitcher, Volquez officially was still used in the game and appeared in the box score. That left him with this extraordinarily rare line for a "starting pitcher":
0 IP, 0 H, 0 R, 0 ER, 0 BB, 0 K, 0 pitches
By the way, Batista came back the next day and had another hitless outing but got the loss, anyway, because he allowed three unearned runs (2/3 IP, 0 H, 3 R, 0 ER, 1 BB, 1 K).
[+] Enlarge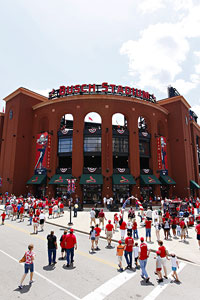 Joe Robbins/Getty ImagesWhile the fans may be great at Busch Stadium, the building didn't seem to get the message.
BALLPARK RANKINGS
Busch Stadium, St. Louis: Following a facelift in the 1990s, the old Busch was the best of the multipurpose stadiums. Granted, that's a low bar to set, but I liked the old place. I had high hopes for the new one, anticipating it would make me want to join Ozzie in a backflip. Instead, it is a little disappointing. The minimum standard for all stadiums built in the past decade is that fans should be able to circle the entire park and see the field from almost every spot in the concourse. That is not the case at Busch, where much of the view from the concourse is blocked. The concessions also are underwhelming. I'm not saying Busch isn't a nice park -- it is, just like all the new parks. But it's just, well, uninspiring. This park could have been -- and should have been -- better. St. Louis is a great baseball town and its park should be every bit as majestic as the Gateway Arch, the Mississippi River or an Albert Pujols swing.
Score: 78. Current Rankings:
1. Camden Yards, Baltimore 92
2. Target Field, Minnesota 91
3. Busch Stadium, St. Louis 78
4. Rangers Ballpark in Arlington 77
5. Oakland-Alameda County Coliseum 74
BASEBALL CARD OF THE WEEK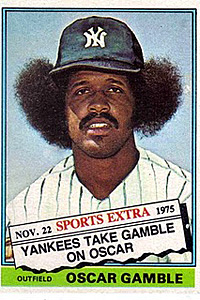 ToppsOscar Gamble's legacy is clearly his majestic hair ... and not his .265 average.
With Coco Crisp's brief tribute to the 1970s, I give you this card (1976 Topps, No. 74T), which shows Oscar Gamble in full afro glory. As you can imagine, this style did not sit well with owner George Steinbrenner, who had a thing about long hair. According to this story in the New York Daily News, when the Yankees traded for Gamble, Steinbrenner immediately ordered him to cut his hair -- and wouldn't give him a uniform until he got one. There was even a car waiting when he reported to spring training to take him to a barber. "It cost about $75-80, even back then," Gamble told the Daily News. "When I got back, all my teammates were waiting, they were rubbing my head, taking pictures. It was time for it to go." Gamble had an endorsement deal with Afro Sheen but said Steinbrenner paid him the money he lost because of the haircut.
DONNIE, YOU'RE OUT OF YOUR ELEMENT
• Beats Home Run Derby: Here's how they can settle the Dodgers situation and also improve ratings: The winner of the All-Star Game determines whether Frank or Jamie gets the team.
• Tickets, Who Needs Tickets? I don't think baseball needs to be too concerned about attendance just yet. One, the weather has been very bad in many cities. Two, while the Dodgers and Cubs have seen attendance declines, part of that likely is a reflection that fans are fed up with the clubs' ownership. And since when are fans not allowed to say, "Hey, I love my team but I hate what the owners are doing and I'm not going to feed the machine?" Three, it seems as if we read these stories every year and attendance still winds up at some ridiculously high, near-record figure. Despite all the alarm bells last year, attendance was down a mere one-third of a percentage point. Are some teams having trouble? Yeah, and for the most part it's because the team stinks or has been lousy for quite some time. An early attendance drop is not always an indication of a sport-wide crisis.
A Nod of the Head: I didn't think anyone could match the Twins great Kent Hrbek-Ron Gant bobblehead promotion, but the Reds came close with this Dusty Baker toothpick holder.
Your Homework: Diagram The Sentence in This Quote: Asked at the Associated Press Sports Editors convention whether baseball would erase Barry Bonds' records, Selig replied: "In life, there's always got to be pragmatism. I think that anybody who understands the sport understands exactly why." I have no idea what he meant by that but I'll take it as a "No." A better question is why anyone would even think baseball should or could erase Bonds' stats?
Add Your Own Punch line: My friend Sarge saw this headline over the weekend: "Carlo Silva Set To Throw Batting Practice For Yankees." Kind of speaks for itself, doesn't it?
Lies, Damn Lies and Statistics: Colleague DJ Gallo points out that Paul Maholm just tied Zach Duke for the record lead in victories at Pittsburgh's new ballpark with 31. Thirty-one! And the ballpark is 10 years old. But cheer up, Pittsburgh fans. At least the co-leaders are both Pirates. ... Four of Seattle DH Jack Cust's seven RBIs are on bases-loaded walks. Cust is batting .176, but because of his 15 walks. Why are pitchers so careful with him? His OBP is .322, but he's also struck out 25 times, so Cust has been to the plate 74 times this season and not put the ball in play 41 times. ... No one said it was easy to be mediocre. The Cubs became the first team to ever start a season 0-0, 1-1, 2-2, 3-3, 4-4, 5-5, 6-6, 7-7, 8-8, 9-9 and 10-10 but lost to the Rockies on Monday to drop to 10-12 and stop the progression. No one ever said being mediocre would be easy.
CSI: BOX SCORE ANSWER
Once again, all the (1)'s should have indicated to you this was a season opener. And if that wasn't enough of a clue, the appearance of Jack Billingham in the pitching lines definitely should have clued you in that this box score was from the 1974 season opener in Cincinnati, when Hank Aaron homered in his first at-bat to tie Babe Ruth for the record at 714. That Aaron did so on the road was a matter of controversy. Atlanta had announced Aaron would sit out the three-game series so he would stand a better chance of tying and breaking Ruth's record when the team returned home. Commissioner Bowie Kuhn stepped in and, using his "best interests of baseball" powers, ruled that Aaron had to play at least two of the three games in Cincinnati (a rare instance in which a team was ordered to play its best and most popular player). Aaron took off the second game, went hitless in the third then homered to break Ruth's record in Atlanta's home opener on national TV (when a game being broadcast nationally was a very big deal).
And now that we're finishing up the season's first month, we'll move on from season openers. Take that as a clue for the remaining box score fragments this year.
Jim Caple is a senior writer for ESPN.com. You can follow him on Twitter at jimcaple.