Commentary
Japan tries to pick up the pieces
Originally Published:
May 4, 2011
By
Jim Caple
| Page 2
Seven weeks after one of the most powerful earthquakes in history devastated their city and left team employees camped in the ballpark, the Tohoku Rakuten Golden Eagles finally returned to their home stadium in Sendai, Japan, last weekend. The players wore patches on their uniform sleeves that read "Gambarou."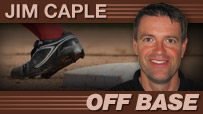 "It means, 'Do your best, fight your hardest, let's pull together,'" Marty Kuehnert said in a phone interview from Sendai. "It's something everyone is saying: Let's pull together. We're all in this together."
Kuehnert was once the general manager of the Golden Eagles, the only American to ever hold such a position in Japan baseball. He remains a senior adviser to the team as well as a vice president at Sendai University. He was working in his home office March 11 when the 9.0 earthquake hit. For several blood-chilling minutes, his building swayed, seemingly faster with each frightening second. Bookshelves tumbled, cabinets spilled open. The quake went on so long and so many books, files and baseball memorabilia fell that Kuehnert found himself buried to his thighs and almost unable to move.
He was among the very, very fortunate. No one in his family was harmed.
"It's like New Orleans after Katrina. Some parts were fine, some parts where the water overflowed the levees were disaster areas," Kuehnert said. "It's the same here. Pretty much everything on the west side of Sendai Station is OK. That's where we live. The ballpark is just to the east of the station and it had structural damage. You go beyond that and that's where all the people were killed. They estimate that 80 percent of the 30,000 people who died were drowned. It wasn't a building falling on you, it was the tsunami."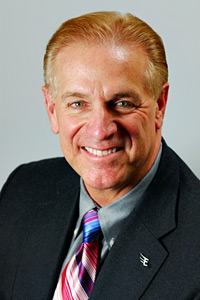 Courtesy of Marty KuehnertBaseball executive Marty Kuehnert sees the role the sport is playing in getting Japan back to normalcy.
The earthquake stranded several Golden Eagles employees working at the ballpark that day. Some, including a rehabbing player, spent several nights sleeping at the ballpark, using special-event tents and kerosene heaters to stay warm in the snow and near-freezing temperatures. The team, including former big leaguers Kazuo Matsui, Akinori Iwamura and Ryan Speier, was out of town playing an exhibition game in Kobe.
"Our players all think they're lucky. None of our players had any bodily harm to their family members," Kuehnert said. "But I'm sure some of them know people who were killed. It's hard to live in this area and not know someone who was killed. One of my favorite students at Sendai University was washed away with his mother in the tsunami.
"It's touched our players. They say they're playing for the people."
The Eagles play in Japan's Pacific League, which postponed its March 25 opening to April 12. The Central League, which is essentially controlled by the powerful owner of the Yomiuri Giants, wanted to stick to the original opening day, less than two weeks after the earthquake. Bodies were still washing ashore. Many thousands were still missing. Hundreds of thousands were homeless, many without food. The Fukushima nuclear plant was in danger of melting down. And the Central League was going to play baseball? Fans and non-fans were outraged. Politicians pressured league officials. There was talk of a player boycott. In the end, the Central League agreed to postpone opening day to April 12 as well. Games are being played during the day to save electricity.
The Golden Eagles played their first "home" games in and near Kobe, then finally came home to a sold-out stadium Friday, beating the Orix Buffaloes 3-1. It was just a baseball game but it also was a welcome bit of normalcy and pleasure in a world of chaos, pain and tears. Play ball.
"It seemed like a very appropriate break from when the season was supposed to start," Kuehnert said. "Certainly not everyone is back to normal. That will take years, if not decades. But people need a diversion, something to make life happy again. There was a special buzz around the ballpark. It almost had the thrill of a postseason game.
"The people need a diversion. They need to get out and cheer and be happy about something. From the reaction, I think we'll have a similar situation as the Blue Wave had after the Kobe quake."
The 1995 Kobe earthquake killed more than 6,000 people and left several hundred thousand homeless (Kuehnert lost two restaurants he owned in the city). With Ichiro leading the way, Kobe's Blue Wave won the Pacific League title that summer and won the Japanese Series in 1996.
"Maybe it will happen again," Kuehnert said. "Our players are playing together. We're playing harder. We've been winning and getting some outstanding pitching and some great closing pitching."
As Kuehnert prepared for his team's home opener last week, his son Justin was in Tuscaloosa, Ala., preparing for his upcoming graduation at the University of Alabama. One of the horrific tornadoes that struck the Southeast hit Justin's house. As it approached, he and his roommates ducked into the bathroom for safety -- one roommate squeezing into the bathtub with his girlfriend and her dog, another roommate lying in a fetal position by the tub and Justin squatting on the floor with his arms wrapped around the toilet. The tornado tore off half the roof and totaled their cars parked outside. But neither he, his roommates nor his younger brother Trent (studying at another college in the area) were hurt.
"It's ironic these things happen on both sides of the world," Kuehnert said. "Both he and his brother are fine. We rejoice all our damage is material."
Off-Base usually has fun with the lighter, goofier side of baseball, but sometimes the earth shakes and the wind blows and homes are destroyed and people die and you can't laugh. If you're among the lucky, you can only appreciate your fortune and extend a hand to those who weren't. Gambarou. It can be a dangerous world, but we're all in it together.
CSI: BOX SCORE
You know the rules. You get a fragment from an old box score and the challenge of determining what game it is from and why it is significant. I give this one a difficulty rating of 8.0

BOX SCORE LINE OF THE WEEK
Cincinnati's Aroldis Chapman had an interestingly progressive line (1 IP, 1 H, 2 R, 2 ER, 3 BB, 3 K's) while White Sox reliever Jesse Crain had this staggering one (2/3 IP, 0 H, 4 R, 0 ER, 3 BB, 1 K). And then there was this week's apparent winner from Tampa Bay's Ben Zobrist in Thursday's doubleheader at Minnesota. Zobrist hit two home runs and drove in 10 runs -- including eight in the first game -- for a combined line of 10 AB, 5 R, 7 H, 10 RBIs. As Zobrist told reporters in the clubhouse, "This must be what it's like to feel like Sam Fuld."
But then along came Minnesota's Francisco Liriano. He entered Tuesday night's game with a 9.13 ERA and, not surprisingly, more hits than innings pitched. He had never thrown a shutout at any level in pro ball. And then he not only pitched the season's first no-hitter, he may have put up the line of the season:
9 IP, 0 H, 0 R, 0 ER, 6 BB, 2 K's
His opponent, losing White Sox pitcher Edwin Jackson, could appreciate the game. Jackson walked eight batters in his no-hitter last season. "He made his pitches when he needed to," Jackson told reporters. "He was great."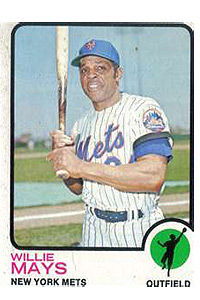 Courtesy of ToppsIt should never have come to Willie Mays on the Mets.
BASEBALL CARD OF THE WEEK
I hate this card (1973 Topps, No. 305). It's an absolutely terrible picture of THE GREATEST PLAYER OF MY LIFETIME wearing a New York Mets uniform instead of a Giants uniform. Nor does Willie Mays look very happy about it in this picture. In fact, he looks positively scared, as if he's staring at a very large and very frightening monster that has already eaten several of his teammates. And also realizing that if the monster could so easily devour Tom Seaver, Cleon Jones and Jerry Koosman, a Louisville Slugger isn't going to provide much protection.<.p>
I know what he felt like. The Giants traded Mays to the Mets 39 years ago this month and I still remember picking up the newspaper that morning and reading the story and asking why, why, FOR GOD SAKE'S WHY?!?!?!? The Giants traded THE GREATEST PLAYER IN THEIR HISTORY for a pitcher named Charlie Williams, $50,000 and, for all I know, 30 pieces of silver. Sure, the trade allowed Mays to end his career in the 1973 World Series, but who knew that at the time? All I know is I felt bewildered and betrayed that morning … and four decades later I'm still not happy about the deal.
Mays turns 80 this Friday. Happy Birthday, Willie, and Say Hey, everyone.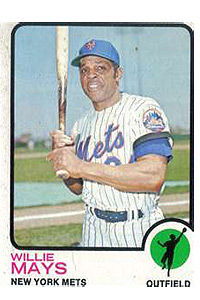 Courtesy of ToppsIt should never have come to Willie Mays on the Mets.
BALLPARK RANKINGS
Whatever the Giants are Calling it These Days, San Francisco: There are only two negatives to this gorgeous ballpark. One, the Giants don't sell tickets to sit in the big glove in left field, and that's where I most want to sit so I can just lean back and take it all in. Two, it can get cramped walking around the stadium, but I forgive that because of the Giants' old-school financing plan: They paid for it themselves. And because the Giants did, they were forced onto a small parcel of land. And just like with Fenway and Wrigley, that small footprint was a beneficial one. It meant the park was pressed snugly up against the water, giving us McCovey Cove, splash hits and kayakers. It meant there are fabulous views of San Francisco Bay from the upper deck. And it meant you practically hop off the Muni and step into the batter's box. There are also loving tributes to the past -- the Willie Mays statue takes a swing in front of 24 palm trees -- an exterior walkway that allows free peeks inside and, of course, the great aroma of garlic fries wafting throughout (among other smells). The only way this ballpark could say "San Francisco" any better is if the players took the field by riding a bell-clanging cable car out of the fog. (Or perhaps a nice marijuana haze.)
Score: 94.
Current Rankings:
1. San Francisco 94
2. Camden Yards, Baltimore 92
3. Target Field, Minnesota 91
4. Busch Stadium, St. Louis 78
5. The Ballpark in Arlington 77
6. The Oakland Coliseum 74
DONNIE, YOU'RE OUT OF YOUR ELEMENT
• Another interesting box score line last week was by Toronto starter Jo-Jo Reyes, who allowed six unearned runs (2 2/3 IP, 5 H, 6 R, 0 ER, 1 BB, 1 K). But should they all have been unearned? Let's look how they scored. With one out, Yorvit Torrealba reached base on an error. After striking out the next batter for the second out, Reyes walked a batter, threw a wild pitch, gave up a single, gave up a double, hit a batter, gave up another single and another double before finally getting the hook. Under the rules, all six runs were unearned because of the error. But shouldn't a pitcher have some obligation to get some outs after a mistake? Shouldn't there be some limit on the freebies?
• Great tweet last Wednesday by ex-ESPN.com blogger Rob Neyer: "You have to give some credit to Luke Scott for that homer. He must be at least a little bummed out by the official birth certificate." Indeed, a very interesting week for Scott. On the one hand, he hit four home runs. On the other hand, because President Obama released his long-form birth certificate, Scott probably needed to buy more tin foil to line his cap and block the transmission of all those disturbingly persistent facts he doesn't want to believe. (I just wonder if Scott needs Osama bin Laden's long-form death certificate to believe he's really dead.)
• Longtime readers know how it drives me nuts when the media stupidly reports that a billion people watch the Super Bowl every year. A billion people? Really? Barely 100 million Americans watch it. So you think 900 million around the world watch a sport they don't even play, let alone understand? Please. So imagine my frustration at the repeated reports (from the AP to CNN) that last week's Royal Wedding was viewed by 2 billion people worldwide. Two billion people! That's roughly 30 percent of the world population! Not even half the population of Great Britain (24 million out of roughly 61 million) watched it. How many of the 1.3 billion Chinese do you think watched it? Total viewership in Britain, the U.S., Canada and Australia was less than 70 million. Throw in India and you're just over 100 million. So that means you only needed about 1.9 billion to reach the supposed total of 2 billion.
• It doesn't seem fair. The Phillies already have Roy Halladay, Cliff Lee, Roy Oswalt and Cole Hamels. And then what happened when Joe Blanton got hurt? The Phillies called up Vance Worley and he threw six scoreless innings in his first start.
CSI: BOX SCORE ANSWER
If you said that this is the box score from the 1986 game in which Bob Horner became the ninth player to hit four home runs in a game, you would be correct. But don't pat yourself on the back yet. That's too easy -- it's spelled right out for you (HR-Horner 4). And it's not what I'm looking for, either. No, what really made this game interesting is that Al Newman, one of my all-time favorite players, hit the only home run of his career as well. He would step to the plate more than 2,400 times in his career, but that was his only home run. And alas, no one outside his family noticed this one because of Horner's big day.
Jim Caple is a senior writer for ESPN.com. You can follow him on Twitter at jimcaple.