Commentary
The official MLB owner rankings
Originally Published:
May 25, 2011
By
Jim Caple
| Page 2
Fred Wilpon furthered his candidacy for worst owner in baseball this week when he ripped everyone but Mr. Met in The New Yorker, then told Sports Illustrated that the Mets are "bleeding money." He thus violated two cardinal rules of ownership. One, he criticized his own players while maintaining exorbitant ticket prices to see them play. Two, he complained about his situation. Like anyone cares about a billionaire's financial problems.
But is all that -- and the lack of a Mets world championship since 1986 -- enough to snag the worst baseball owner title? Read Off-Base's completely objective and scientifically based ranking of baseball's owners: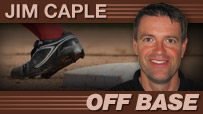 1. John Henry, Red Sox: In case you hadn't heard, the Red Sox hadn't won the World Series for at least a couple years before Henry took over. Now with two recent world championships and a spiffed-up Fenway Park always overflowing with "Sweet Caroline"-singing fans, Red Sox Nation is so rich and powerful that NATO should declare a no-fly zone over Boston.
2. Nolan Ryan, Rangers: Sure, this is way premature. Nolan's group hasn't owned the team for even a year yet. But when you're rating owners, premature is a good thing because, given enough time, all owners eventually do something to alienate fans (some quicker than others -- see Tom Ricketts). Although Nolan is just one of 17 investors, he's the CEO who calls the shots, and he played a major role in the Rangers' reaching the World Series.
And if a pitcher with a 5-9 record and 4.82 ERA asks for $6 million in arbitration, Nolan can tell him, "Son, back in my day, if I had an ERA over 4.00, struck out fewer than 300 batters and didn't throw at least one no-hitter, shoot, I would be too embarrassed to go out in public, let alone howl about needing a raise. I would just go home to Alvin, Texas, and build up my arm strength by installing more air-conditioning units in the winter. Now, why don't you just take our $600,000 offer, cover up those tattoos and go work on your cutter."
3. Arte Moreno, Angels The Angels have reached the postseason five times in his eight years as owner; he invests heavily in the team; and his club has passed the Los Angeles Dodgers of Divorce Court as the best franchise in southern California. True, he could spend that money a little wiser (Gary Matthews Jr.?) but who cares? The man lowered beer prices when he took over! He should be commissioner!
4. The Steinbrenners, Yankees: Yeah, yeah, yeah. Under the late Boss and then his sons the Yankees have won 11 American League pennants and seven world championships and have reached the postseason 15 times in the past 16 seasons. The Yankees are easily the most successful franchise in American sports and, as Wilpon demonstrates, it isn't just because they play in New York, either. Jealous fans can only wish their team's owners would demand such a high level of success. On the other hand, do they have be such asses about it so often?
5. Stuart Sternberg, Rays: When he took over the team after the 2005 season, the Rays had never had a winning record and were baseball's official punch line. Within three years, he had them in the World Series. Imagine what he could do with an actual fan base.
6. Jerry Reinsdorf, White Sox: Back in the '80s, Reinsdorf threatened to move the Sox to Tampa Bay's lovely new dome unless he got a new stadium, then played a major role in ownership's stubborn stance during the 1994-95 strike. On the other hand, he treats his employees well and won a World Series, which makes up for a lot. Plus, anyone who lets Ozzie Guillen speak his mind is OK with me.
7. Bill DeWitt Jr., Cardinals: You have two teams in Missouri. In Kansas City, you have David Glass and a team that hasn't been a factor in a quarter century. In St. Louis, you have DeWitt and the Cardinals, who are perennial contenders, won the World Series in 2006 and are in first place this season despite losing one of their best pitchers. Which is proof that market size and location aren't nearly as important as having a good owner. (Note: If DeWitt doesn't re-sign Pujols, he will slide down this list so rapidly he should be on a luge sled.)
8. David Montgomery, Phillies: A decade ago, he would have been much further down this list. But since then, the Phillies owners have turned the team into a world champion and one of the best-run franchises in baseball. Even Philadelphia fans would be slower than normal to complain anymore.
9. Mike Ilitch, Tigers: Despite how hard Detroit was hit by the recession, Ilitch keeps pouring money into the team and trying to win. It's almost enough for me to forgive him for moving the team out of Tiger Stadium.
10. Bill Neukom, Giants: He took over the team in fall 2008 and had the Giants winning their first World Series in San Francisco just two years later. The team is in first place; the ballpark is packed every night; and, best of all, no one worries about the size of the best player's testicles.
11. Mark Attanasio, Brewers: Attanasio invested in the team, let his employees do their jobs, increased attendance and made the Brewers relevant again. Which is a whole lot better than a certain previous owner who would have just continued moaning about small-market resources (not that I have anyone in mind).
12. Bob Castellini, Reds: Castellini is a driven, passionate owner who is working hard to return the Reds to their glory days. That's very good. Another bonus: He doesn't let his dog use the infield as a bathroom.
13. Liberty Media, Atlanta: CEO Terry McGuirk isn't exactly Ted Turner. Not that there is anything wrong with that at all.
14. Hiroshi Yamauchi, Mariners: The former head of Nintendo lives in Japan and has never seen the Mariners play in person. Now, Nintendo's purchase saved baseball in Seattle, and the club has spent money and genuinely cares about the fan experience. But the problem is that, like Yamauchi, Seattle fans have never seen the Mariners play in a World Series. Maybe things would be different if Yamauchi had to listen to fans and friends constantly hounding him about why the team hasn't drafted better in the past 15 years or added a needed bat or lowered beer prices or why it ever traded for Milton Bradley
15. The Pohlad family, Twins: I frequently criticized Carl Pohlad for his banker background and threats to move or contract the Twins, but he did win two World Series and showed incredible loyalty to employees. And the Twins are still in Minnesota. His sons also are willing to spend money now that the Twins are in a new stadium. So I'm declaring a personal moratorium on foreclosure references.
16. Rogers Communications, Blue Jays: The Jays are a long way from their glory days when they filled SkyDome and won consecutive World Series. But the club is investing in the draft and making an effort to grow the fan base across Canada (it even broadcasts some games in French on a Montreal radio station) while also no doubt wishing real hard that it played in a different division.
17. Lewis Wolff, Athletics: Wolff is in a tough position but -- and mind you, this is just a wild guess -- he probably would be more popular if he concentrated less on getting a new stadium in San Jose and more on winning in Oakland.
18. Ted Lerner, Nationals: Lerner will be judged on what happens after Stephen Strasburg returns and Bryce Harper reaches the majors. In the meantime, here's an interesting stat: The Nationals' payroll ($63 million) is the same as it was in 2006 when the league was still running the team. So at least there is one guy in Washington who can stick to a budget.
19. Jeff Moorad, Padres: It's too early to evaluate him, but it's interesting that Moorad used to be an agent (he represented Manny when Ramirez signed his $160 million deal with the Red Sox). This should make for some intriguing contract negotiations:
Player: I want a four-year, $50 million contract.
Moorad: Are you sure that's enough? If I were you, I would hold out for $60 million, plus incentive bonuses. Based on your popularity and our need for offense, the club would pretty much have to give it to you. D'oh! I shouldn't have said that.
20. Dick and Charlie Monfort, Rockies: A couple of years ago, the Monfort brothers were less popular than Rocky Mountain oysters served raw. But with the 2007 World Series and the 2009 playoff appearance, the Troy Tulowitzki contract and rising attendance, they don't look quite so bad anymore.
21. Ken Kendrick, Diamondbacks: He recently called for a ban on smokeless tobacco. Which is great. Now, if he can only enact a ban on overreacting to the team's fortunes.
22. Drayton McLane, Astros: He just sold the team, but I'm guessing few will miss him very much in Houston.
23. Tom Ricketts, Cubs: He told a Chicago reporter last week that "I can't stand it when I hear someone say they can't afford to go to a game. It might be hard to get tickets for a Yankees or Sox game, but there's no reason why they can't afford to go to another game." It must be nice to be so detached from the real world.
24. Larry Dolan, Cleveland: His team is leading the AL Central, but Rachel Phillips still was a more popular Cleveland owner in the original "Major League."
25. Jeffrey Loria, Marlins: I remember watching Loria run a victory lap around the bases at Yankee Stadium after winning the 2003 World Series and wishing that all the Expos fans he screwed over in Montreal were right behind nipping at his heels
26. Peter Angelos, Orioles: I applaud his refusal to participate in the 1995 replacement player scheme, but his ownership is a disaster otherwise. The Orioles haven't had a winning season since 1997, and attendance has dropped by half. If it gets much worse, Baltimore fans will start feeling nostalgic about Bob Irsay.
27. David Glass, Kansas City: Can't find an Eric Hosmer Royals replica jersey yet? Don't worry. The way Glass runs the team, you'll be able to buy a Hosmer White Sox replica jersey in a couple of years.
28. Bob Nutting, Pirates: Pittsburgh fans have suffered through 19 consecutive losing seasons, but that hasn't stopped Nutting from depositing those revenue-sharing payments into his wallet. He makes the judge in "The Natural" look like a big spender.
29. Fred Wilpon, Mets: Despite playing in baseball's most lucrative market, his team hasn't won a World Series in 25 years. He needed an emergency $25 million loan to cover expenses last year. He says the team could lose $70 million this season. And he's complaining about Carlos Beltran underperforming?
30. Frank and Jamie McCourt, Dodgers: The team has performed fairly well (two NLCS series), but then again, a lot of real estate portfolios performed well for a while, too. The McCourts paid an astrologer six figures to be a team consultant ("I sense big things for Juan Pierre in Dodger Stadium"). They're so over-leveraged they might not meet payroll, and even attendance is plummeting. It's so bad that Walter O'Malley would have a higher approval rating in Brooklyn now than the McCourts have in Los Angeles.
CSI: BOX SCORE
You know the rules. You get a fragment from an old box score and the challenge of determining what game it is from and why it is significant. I give this one a difficulty rating of 8.0.

BOX SCORE LINE OF THE WEEK
Boston reliever Matt Albers couldn't get an out (0 I, 3 H, 6 R, 5 ER, 2 BB, 0 K), and James Shields was almost unhittable (9 IP, 3 H, 0 R, 0 ER, 1 BB 13 K). But this week's award goes to 40-year-old Jason Giambi, who became the second-oldest player to hit three home runs in a game (Stan Musial homered three times at age 41) and drove in all of Colorado's runs. Giambi's line:
5 AB, 3R, 3 H, 7 RBIs, 3 HR
Amazingly, it was the first three-homer game of Giambi's career. And he had just three hits this season before the home runs.
[+] Enlarge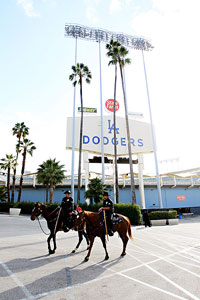 Stephen Dunn/Getty ImagesLet's hope no one gets the dumb idea of replacing Dodger Stadium.
BALLPARK RANKINGS
Dodger Stadium, Los Angeles: This is the 50th season for Dodger Stadium, and we all should look this good at that age. Walk in, and you can practically see Fernando Valenzuela winding up, Sandy Koufax firing a fastball and Kirk Gibson pumping his fist as he circles the bases. And, of course, you can hear Vin Scully's voice, just as clear and soothing as ever. The view of the palm trees and the mountains beyond the outfield remains one of baseball's greatest views not involving Albert Pujols swinging a bat. Sure, there could be some improvements -- would it kill them to have an out-of-town scoreboard? -- but let's hope that, however the McCourt situation turns out, the people in charge don't say, "You know what the Dodgers really need? A new stadium!"
Score: 88.
Current rankings
1. San Francisco 94
2. Camden Yards, Baltimore 92
3. Target Field, Minnesota 91
4. Dodger Stadium 88
5. Safeco Field, Seattle 87
6. Busch Stadium, St. Louis 78
7. The Ballpark in Arlington 77
8. The Oakland Coliseum 74
9. Tropicana Field, Tampa Bay 68
YEAH, WELL, THAT'S JUST LIKE YOUR OPINION, MAN
• Late Night With Harmon Killebrew: Charley Pride sang at Harmon Killebrew's funeral last week and briefly talked about how he and Harmon were supposed to appear on the David Letterman show together in 1986. Older Letterman and Killebrew fans remember that rather odd night when David devoted the entire show to Harmon. Yes, an entire one-hour show devoted to Harmon Killebrew, a man who once named "washing dishes" as one of his hobbies. You can view part of it here.
Former teammates Bob Allison and Jim Kaat briefly joined Killebrew, as did Liberace (did I mention this was an odd episode?). Letterman gave out Killebrew windshield scrapers to men in the audience and Killebrew rain bonnets to the women. He introduced Killebrew as the player who hit 573 home runs, batted .256 lifetime "and, in 8,000 at-bats, never once bunted." LeRoy Neiman painted a mural of Killebrew during the show. "Can Harmon have that, LeRoy?" Letterman asked. "No," Neiman replied. Pride could not attend the taping, but he sang a song over the phone. "I was supposed to do the show with Harmon, but the weather was so bad I couldn't get there," Pride said at the funeral. "They simulcast me [singing] from my bathroom -- it's the truth."
What prompted this episode? For an earlier show, Letterman had his staff produce a number of short films with various people, including Killebrew. The night that show aired, there wasn't time for Killebrew's video, so Letterman made up for it by inviting Harmon back for an entire episode. He also aired the Killebrew film, which showed the Hall of Famer going about a typical day in his hometown of Payette, Idaho, and at the Killebrew Motors car dealership he ran in nearby Ontario, Oregon. That film includes a "Fargo"-like moment in which Harmon sits with an older couple to finalize a sale. "That's the deal I offered you, huh?" Harmon says with a tone of resignation. "I guess we'll have to go with this one. We'll have to make it up on the undercoating."
Killebrew had been inducted into the Hall of Fame two years earlier, but Letterman further honored him by retiring Harmon's sport coat and raising it above the stage while Paul Shaffer sang, "Harmon Killebrew … Just say the name and I start to think about that long home run, a sharp line drive and dislocated elbow in 1965! Harmon Killebrew … You went straight from Payette, Idaho, to the Hall of Fame, so tonight we're paying tribute to that magic name. That's you. That's you -- Mr. Harmon Killebrew."
"It was an interesting night," Kaat remembers. "Harm was calm and unfazed by it. Just took it all in and seemed to be appreciative that Letterman was a fan of his."
• Conspiracy theory: Count my friend, the longtime Cubs survivor, among those unconvinced by recent stories alleging the 1918 World Series might have been fixed. In this New York Times story, official baseball historian John Thorn says, "It seems more likely that there would have been a fix than there would not have been." As Sarge says, "If I am ever convicted of a crime, I pray that John Thorn is not on the jury." I'm with Sarge. I know there was a lot of gambling in baseball in that era, but this sounds like just another conspiracy theory along the lines of Bigfoot, Elvis and the real Paul McCartney being held in Area 51 with the Roswell alien. On the other hand, I'm pretty sure the 1969 season was fixed. After all, the Cubs swept a doubleheader and had a six-game lead the day the United States faked the moon landing. They lost 13 games to the Mets the rest of the season. If you think that's just a coincidence, I suggest you change the tinfoil lining in your baseball cap to better protect yourself from the mind rays Google and the government have aimed at your brain.
CSI: BOX SCORE ANSWER
This was a tough one, another box score that required you to see what wasn't there. The linescore shows this is a game between Baltimore and Toronto. The names -- Murray, Moseby, Whitt, Dempsey -- indicate the game was played sometime in the 1980s. So what is missing? With (Floyd) Rayford listed as Baltimore's third baseman and (Bobby) Bonner and (Lenn) Sakata listed as the shortstops, you should have figured out that Cal Ripken Jr. was absent from the lineup. And then you could have guessed that what makes this box score notable is that it is from the game before Ripken began his playing streak (May 30, 1982). It would be the last Orioles box score without Ripken's name for more than 16 years.
Jim Caple is a senior writer for ESPN.com. You can follow him on Twitter at jimcaple.