Commentary
Modern spin on baseball card cartoons
Originally Published:
June 8, 2011
By
Jim Caple
| Page 2
I long for a world in which baseball players serve their country by tossing baseballs instead of grenades, pitch in scuba gear, sell real estate in catcher's gear and play winter ball in Venezuela while wearing Mexican sombreros.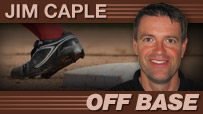 I haven't plucked this utopian world from my imagination -- it existed in the once familiar cartoons on the back of baseball cards. In the days before Twitter, Facebook, the Internet and the Worldwide Leader, back when there were only three TV networks to watch and news traveled so slowly that 10-day-old box scores in The Sporting News could still be considered "news," these cartoons were as vital as the career statistics printed below, above or beside them.
"I always loved those cartoons as a kid in the '70s," says Eric Reynolds, the associate publisher of Fantagraphics, which specializes in graphic novels and comic art collections. "I always enjoyed the ones that told you what a guy did in the offseason."
These also are the cartoons that Page 2 artist Kurt Snibbe pays tribute to throughout this column.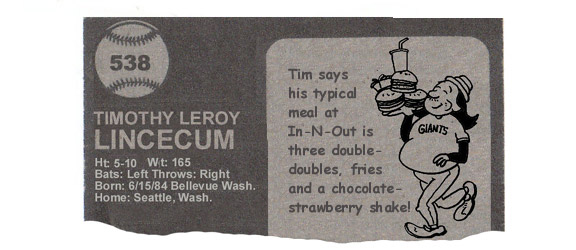 Kurt Snibbe/ESPN.com
You think it's difficult to distribute vital information in just 140-character tweets? Often in just 40 characters or less, those cartoons told us about a player's achievements both on the field ("Nolan once fanned 21 batters in ten innings and lost") and off ("Gary has a college degree in zoology"). They told us about their hobbies ("Jerry's hobby is skin diving"). They told us about their occupations ("Woodie is a tobacco farmer"). They told us about the same struggles they endured as the rest of us ("Mike went on a diet after the 1971 season").
Those cartoons brought the players to life and made them more human. After all, how could you not identify with Harmon Killebrew when you read, "Harmon enjoys watching television"?
Although, based on the cartoon, it appeared that Harmon watched TV while also playing first base, which doesn't seem in keeping with the Twins' famous fundamentals.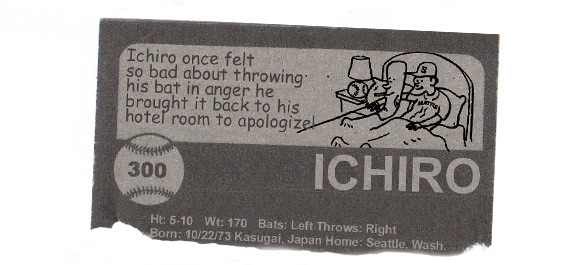 Kurt Snibbe/ESPN.com
Why cartoons? For one thing, these were the days when baseball cards were meant for kids and bicycle spokes, not Wall Street investors and museum-quality plastic cases. And, well, these were also the days when there was so little excitement that watching TV qualified as a hobby worth noting.
"In the early years, we felt having a cartoon on the back of our sports cards would be right up the young collectors' alley," remembered Len Brown, a longtime Topps employee who oversaw the cartoons for a time. "We used a few top cartoonists, including Jack Davis of Mad comics fame. Ordinarily the idea was to come up with an odd fact. A typical cartoon fact would be some oddity about a player. Example: 'John Smith is a mortician during the winter.'"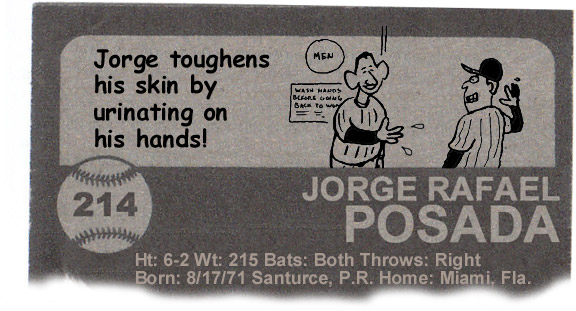 Kurt Snibbe/ESPN.com
That a player liked movies or pool were frequently mentioned "odd facts." Especially pool. One year, Joe Morgan was shown hitting an eight-ball with the caption "Joe likes playing billiards," and another year he was shown fielding an eight-ball with the same caption.
There also was some great private dope, such as the inside skinny on the back of catcher Dick Dietz's 1973 card: "Dick was ineligible for sports as a high school senior because he was married." Unfortunately, the card doesn't explain why he wed so young or the reasoning behind such a stupid rule against married athletes. Whatever the logic, we know this rule didn't affect Steve Garvey because his 1973 card informs us, "Steve was married during 1971 offseason." Although if the card's depiction of the wedding is accurate, I hope his wife wasn't too upset by the baseball cap and mitt Garvey wore to the ceremony.
Then there is the 1977 Topps card of Bill Russell (No. 322) that helpfully tells us that Bo Belinsky married a Playboy bunny, suggestively showing her in full bunny costume and carrying a bat on her shoulder. (In '77, Topps used random facts and cartoons, which were unrelated to the player on the front of the card.)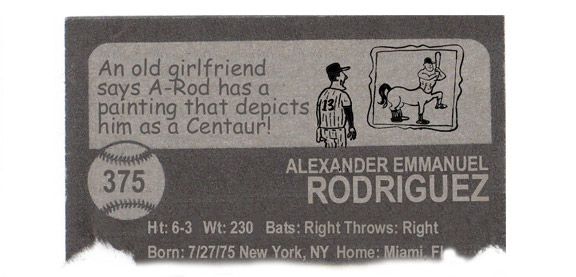 Kurt Snibbe/ESPN.com
But those weren't the best cartoons. No, the best cartoons depicted the player's job in the winter (remember, many of these cartoons were before free agency).
The beauty of these cartoons was that regardless of the offseason occupation, the ballplayer was always depicted in a baseball uniform, even when pumping gas, installing cable TV service, working in the Oklahoma oil fields, selling igloos and other real estate or towing away cars.
The military draft still was in force during the heyday of baseball card cartoons, so another popular theme was depicting players who served in some branch. What is most interesting about these cartoons is that we were somehow able to win the Cold War with an army of soldiers using bats instead of guns, baseballs instead of grenades and cannons that fired baseballs.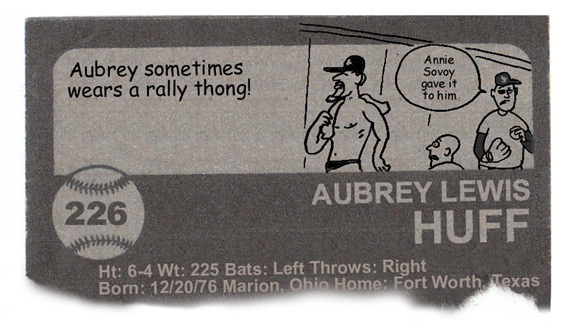 Kurt Snibbe/ESPN.com
Art Spiegelman, who would go on to write and draw the Pulitzer Prize-winning "Maus," worked for Topps in the 1960s but says he never drew any of the baseball cartoons. He says he did, however, swap a fanzine he produced for several copies of Jack Davis baseball cartoons.
That someone of Davis' stature -- he was a co-creator of Mad magazine, and by the '70s he had become one of the nation's highest-paid illustrators -- contributed to the baseball cartoons is amazing given how cheaply Topps paid for the work.
"We didn't have much of a budget, and I remember for a time in the 1960s we only paid about $3 a drawing," Brown recalled. "We would have the lettering done by a freelancer for $1 per panel."
Even considering inflation, $3 per cartoon wasn't much (about $25 in today's money). But then, Topps was notoriously tight with its budget. Even players themselves received just $5 for signing a contract with the company and $250 for appearing on an actual card.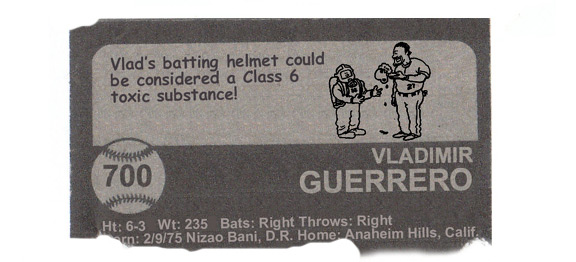 Kurt Snibbe/ESPN.com
As baseball cards and their collectors became more sophisticated and the photography grew to magazine quality on both the front and back, the cartoons faded from popularity. Chris Olds, the editor of Beckett Baseball, says the cartoons only really lasted in heavy amounts into the early '80s.
"In the standard Topps sets of the mid to late 1980s, the company often used trivia lines that were quite odd at times but saved space versus cartoons," Olds said. "Seems the cartoons died before even the bubble gum."
You can still find some cartoons -- the 2006 Topps set had them, and the 2011 Topps Heritage collection features current ballplayers in the 1962 card design, complete with repurposed cartoons on the back from that old set (they appear to have been drawn by Davis). But to really appreciate baseball card cartoons, you need to go to a card shop and look through boxes of old cards, especially those from the delightful 1973 set.
Those cartoons will instantly take you back to another less sophisticated, less money-obsessed and more enjoyable time, when ballplayers watched TV at first base, worked in department stores in the winter and, of course, played shortstop while wearing sombreros.
In the meantime, I hope we paid Kurt more than $3 a cartoon.
CSI: BOX SCORE
You know the rules. You get a fragment from an old box score and the challenge of determining what game it's from and why it's significant. I give this one a difficulty rating of 7.0.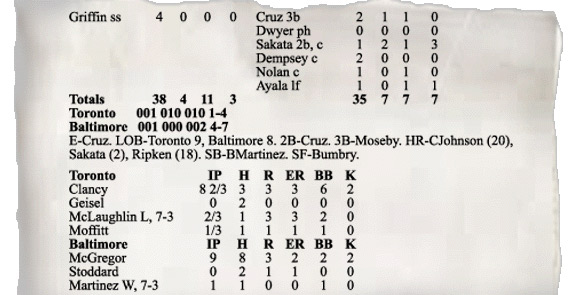 BOX SCORE LINE OF THE WEEK
Milwaukee reliever Zach Braddock threw one pitch Sunday and hit Florida's Logan Morrison (0 IP, 0 H, 0 R, 0 ER, 0 BB, 0 K). As Jayson Stark points out, Dodgers rookie Dee Gordon hadn't even batted in the majors before scoring more runs (one) than his father, Tom, did in a 21-year career (zero) by scoring as a pinch-runner (0 AB, 1 R, 0 H, 0 RBI). Of course, his dad was a pitcher who spent most of his career in the American League and batted only twice in those 21 seasons.
This week's award, however, goes to Cubs closer Carlos Marmol, who turned a two-run lead last week into a four-run loss with this staggering line in relief of Carlos Zambrano:
1/3 IP, 5 H, 6 R, 6 ER, 1 BB, 1 K
In Zambrano's next start, Marmol blew another save, which prompted Zambrano to vent about how the Cubs were playing like a Triple-A team, how embarrassing it was and how Marmol threw a stupid pitch to blow the lead. Zambrano received a fair amount of criticism for ripping a teammate, but I don't understand what the big deal is. Zambrano wasn't saying anything that most Cubs fans haven't been saying for a couple of years now.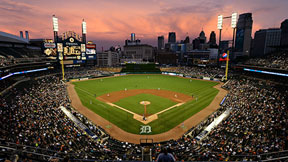 Mark Cunningham/Getty ImagesComerica Park, which opened in 2000, hosted the 2005 All-Star Game and the 2006 World Series.
BALLPARK RANKINGS
Comerica Park, Detroit: I loved Tiger Stadium. I mean, I really loved the place. It opened the same day Fenway Park did, and I am still upset that the Tigers replaced it with a new stadium. That said, the new one is magnificent. With a carrousel and a Ferris wheel and tiger statues and emblems everywhere you look (there are even claw marks on the walls), a visit here is like watching baseball with the Ringling Brothers (or perhaps Siegfried and Roy -- I mean, there are really a lot of tigers here). The sightlines are great, there are plenty of distractions for the kids and the team's history is emphasized throughout. Best yet, it looks like a ballpark, unlike Ford Field across the street, which by its appearance could just as well be a car assembly plant as a football field.
Who knows? Perhaps in 50 or 60 years, I'll feel the same way about this place as I did about Tiger Stadium. Although, I doubt whether I'll ever get the appeal of the Coney Dogs.
Score: 87. Current Rankings:
1. AT&T Park, San Francisco, 94.
2. Oriole Park at Camden Yards, Baltimore, 92
3. Target Field, Minnesota, 91
4. Dodger Stadium, 88
5. Safeco Field, Seattle, 87
6. Comerica Park, Detroit, 87
7. Progressive Field, Cleveland, 82
8. Busch Stadium, St. Louis, 78
9. Rangers Ballpark in Arlington, 77
10. Oakland-Alameda County Coliseum, 74
11. Tropicana Field, Tampa Bay, 68
[+] Enlarge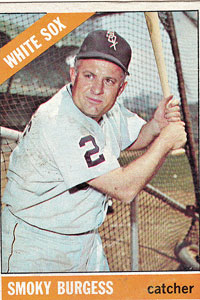 Topps
BASEBALL CARD OF THE WEEK
Let's play a little game with this card (1966 Topps, No. 354). Guess how old Smoky Burgess was when this photo was taken. 60? 50? 47? 45? Try 38! Yes, 38! Compared to Smoky, I feel as ageless as Jim Palmer.
YEAH, WELL, THAT'S JUST LIKE YOUR OPINION, MAN
Hey, I like the Giants, but they're not doing themselves any PR favors with their reaction toward Scott Cousins. I can imagine how Buster Posey feels, but it's time for him to take Cousins' calls and accept his sincere apology. And general manager Brian Sabean needs to stay off the radio until he learns to speak a little more responsibly. I want to see Posey back as quickly as possible, and I'm all for a rule change so catchers can be better protected. But as bad as the outcome was, it was not a dirty play. And the Giants should stop acting as if it was. That's the best way for them "to move on."
CSI: BOX SCORE ANSWER
Sometimes, a lot of information can be just as challenging as only a little bit. The key in this large box score fragment is all the Baltimore catchers. Three of them, if you include Lenn Sakata, which the Orioles did, reluctantly. Baltimore moved the infielder behind the plate in the 10th inning because manager Joe Altobelli had run out of catchers. Sakata had never caught in the majors, so when the Blue Jays got on base, they were eager to run on him. Too eager. Reliever Tippy Martinez picked three Blue Jays off first base to retire the side. Then Cal Ripken Jr. and Sakata homered in the bottom of the inning to win the game and give Martinez the victory without having retired a single batter.
Jim Caple is a senior writer for ESPN.com. You can follow him on Twitter at jimcaple.