Commentary
Coming together for Lenny Dykstra
Originally Published:
June 15, 2011
By
Jim Caple
| Page 2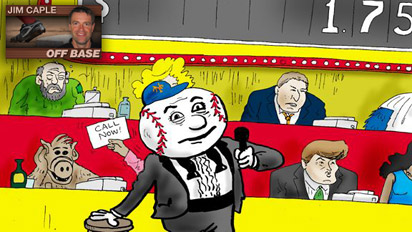 Kurt Snibbe/ESPN.com
News Item: TMZ says supporters of Lenny Dykstra are hoping to hold a fundraiser to cover the $500,000 bail for the bankrupt ex-player, who faces a slew of charges. They hope to have appearances by several former Mets teammates and Charlie Sheen …
EMCEE: It's the "Fifty Million Penny Nails Summer Telethon!" With former teammates Dwight Gooden, Keith Hernandez, Darryl Strawberry, Darren Daulton and Roger McDowell! Career advice from Charlie Sheen! And investment tips from Fred Wilpon and Bernie Madoff!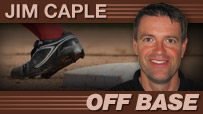 And now, the man of the hour, the three-time All-Star, 1986 postseason hero and investment guru -- Lenny "Nails" Dykstra!
[The camera shows DYKSTRA smiling broadly, then pulls back to show that the telethon is taking place inside the L.A. County jail where the ex-player is awaiting trial for grand theft auto, identity theft and other assorted crimes. The camera pulls back farther, and we see the EMCEE is his cellmate, a very big, very muscular and very menacing convict with many tattoos.]
DYKSTRA: Thanks for the great intro, dude!
EMCEE: Just remember you pay me back first. Or you know what happens.
DYKSTRA: Ummm, yeah. That was worse than watching Mitch Williams close a game.
Folks, you might have heard that I'm having a hard time of it, but everything has been completely blown out of proportion. I'm just going through a bit of a little life slump, and you know I will come through in the end, just like I did in Game 3 of the 1986 NLCS with that walk-off homer. I just could use a little help right now with some legal bills so I can prove my innocence. That's why I've brought together some of my best friends from baseball to ask you all for a little help in exchange for all the joy we brought you over the years. The phone lines are open, so just call 1-900-DYKSTRA! And remember, with every donation, you get a two-year subscription to Players Club magazine, the magazine that shows you how to live dangerously beyond your means!
And now, I'd like to introduce some of my absolute favorite guys from baseball, two class guys who always had my back every step of the way! Mr. Met and the Phillie Phanatic!
[The PHANATIC reluctantly walks into the cell and hands DYKSTRA a cue card that reads: "You Still Owe Me $50,000 For That Investment Deal In Clearwater." Then he bumps DYKSTRA with his belly, knocking the player to the floor, and stomps off.]
DYKSTRA: Ha! That's what I love about the Phanatic -- he's always clowning around! But now here's my real pal from the old days, Mr. Met!
[MR. MET trots into the cell but slips in an old pool of DYKSTRA'S tobacco spit and cracks his enormous head against the floor. Prison trusties wearing hazmat suits rush to the stricken mascot and use a large chunk of infield tarp to dress the head wound. As they cart him away on a stretcher, MR. MET gives the camera a feeble thumbs-up as we overhear the trusties' conversation.]
FIRST TRUSTY: I think he might have suffered severe brain damage.
SECOND TRUSTY: Like, how would we know the difference?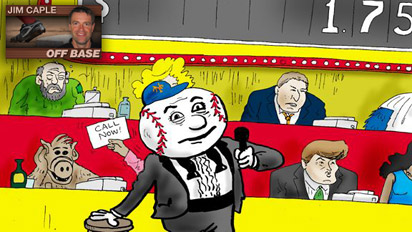 Kurt Snibbe/ESPN.com
DYKSTRA: Contact Lady Met as his next of kin, guys. [Pause.] Actually, better not. I'm not sure whether they're married or she's his mistress. That whole relationship was always very puzzling to me.
Anyway… Fortunately, I was also blessed with great teammates throughout my career. And my next guest is one of the absolute best and funniest guys I know. And a great prankster. The sort of guy you would want your daughter to marry. Though definitely not your son! [DYKSTRA mimics drumming a rimshot.] Just kidding. Fans, fresh off his major league suspension for offensive remarks, here's the winning pitcher from Game 7 of the 1986 World Series and the current Atlanta pitching coach -- Roger McDowell!
[McDOWELL walks into the cell carrying a bat. He gives the EMCEE a hotfoot and glares at a couple of inmates watching in the next cell.]
McDOWELL: What, are you guys a couple or a threesome?
[McDOWELL makes an obscene gesture with the bat. The EMCEE and another inmate calmly walk over to him and beat him mercilessly until two guards reluctantly step in and pull McDOWELL to safety after he falls unconscious.]
DYKSTRA: That McDowell, such a kidder. OK, my next guest is one of the Mets' biggest fans, a guy I could always count on to yell some encouragement from the box seats behind the dugout. Ladies and gentlemen -- via Skype from the federal correctional facility in Butner, N.C. -- Mr. Bernie Madoff! Thanks for taking the time out of your busy schedule to talk, Bernie.
MADOFF: Anything for you, Lenny. You were always was one of my favorite players. If it weren't for your walk-off home run in Game 3 of the NLCS, we never would have gotten to the World Series. I only wish you had listened to my investment advice so you wouldn't be in this mess now.
DYKSTRA: Actually, Bernie, I did invest with you. And I used your strategy to advise others.
MADOFF: Oh. [Long pause.] Well, nice chatting with you.
DYKSTRA: OK, next we have my good pal, a huge baseball fan and a man with even more stuff coursing through his body than me -- Charlie Sheen!
[SHEEN, drinking heavily, staggers into the cell.]
SHEEN: Damn, Nails. You've got a nicer cell than I've ever had.
DYKSTRA: Thanks, Charlie. I hear you're planning another sequel to "Major League."
SHEEN: Not quite. I'm actually planning a remake of "Eight Men Out."
DYKSTRA: As I recall, you played center fielder Happy Felsch in the original. That was a great movie. Why a remake?
SHEEN: Because I have a better ending. In this one, the 1919 White Sox still take the money from the gamblers to throw the World Series but I give the team such an inspirational speech about winning that we wind up sweeping the series anyway. It's a much happier ending than the original. We win, but we still keep the money for throwing the series. And the gamblers get their kneecaps broken by Arnold Rothstein.
DYKSTRA: Great ending! And such a good moral for the kids, too. In fact, I would love to help out as a consultant. How about starting me off with an advance of say, $50,000?
SHEEN: No dice, Lenny. You still owe me 50 grand from before. But give me a call when you get out in 10 to 20. I'll buy out a section of Angel Stadium, and we'll catch some home runs.
[SHEEN tosses his empty bottle against the cell wall and walks away. Crestfallen, DYKSTRA moves on.]
DYKSTRA: Well, I hope you fans at home have been more generous than my so-called friends. Fred Wilpon, what's our total so far?
[With the Mets owner standing nearby as sort of an older, much less attractive Vanna White, the tote board whirs and the numbers spin and, when the drumroll ends, the board displays: -- $174,265.87.
DYKSTRA: One hundred and seventy-four thousand dollars already! I'm overwhelmed!
WILPON: Actually, Lenny, that's minus-$174,265.87.
DYKSTRA: Minus-$174,000? How can that be? How can a telethon owe money?
WILPON: Well, part of it is I'm afraid I made some bad investments after the first couple of callers made their pledges. And the rest is a little complicated, but let's just say it involves Bobby Bonilla's contract.
CSI: BOX SCORE
You know the rules. You get a fragment from an old box score and the challenge of determining what game it is from and why it is significant. I give this one a difficulty rating of 3.0.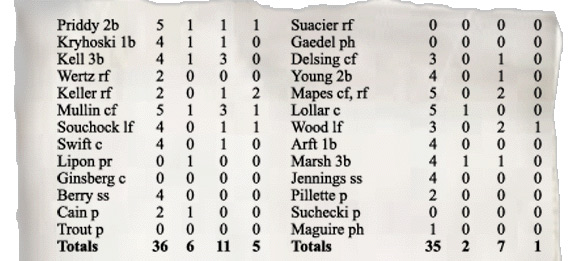 Kurt Snibbe/ESPN.com
BOX SCORE LINE OF THE WEEK
Atlanta Braves starter Tommy Hanson struck out 14 Sunday (7 IP, 3 H, 1 R, 1 ER, 2 BB, 14 K), and Gio Gonzalez of the Oakland A's and Carlos Zambrano of the Chicago Cubs each walked seven (5 1/3 IP, 5 H, 3 R, 2 ER, 7 BB, 2 K and 6 1/3 IP, 7 H, 7 R, 7 ER, 7 BB, 5 K, respectively), tying the high for the season.
This week's award, however, goes to Detroit's Justin Verlander, who flirted with his second no-hitter of the season before finishing with this sublime line Tuesday night:
9 IP, 2 H, 0 R, 0 ER, 1 BB, 12 K
Since May 7, Verlander has allowed just 33 hits in 52 2/3 innings while striking out 42.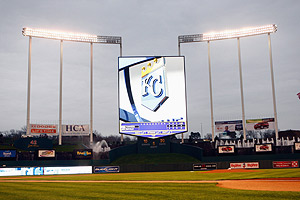 G. Newman Lowrance/Getty ImagesKauffman Stadium didn't need a facelift but got one.
BALLPARK RANKINGS
Kauffman Stadium, Kansas City: I'm torn on this one. I've always liked Kauffman Stadium, for years baseball's most underrated ballpark. Seeing the stadium lights from the highway after a night game was an even grander sight than watching the outfield fountains from home plate or watching George Brett's stroke. And it always amazed me that a place so beautiful was built in the early '70s when the rest of baseball gave us Veterans Stadium and Riverfront and Three Rivers. It was as out of place for the era as seeing someone in classic polo shirt and khakis amid guys in leisure suits. How you rate Kauffman now depends on how you feel about the recent remodel (which, I wrote at the time, was a nice effort but as unnecessary as plastic surgery for Megan Fox). On the one hand, there was something very relaxing and pastoral about seeing the wide green berm surrounding the fountains in the original ballpark. It made you want to go have a picnic there. That's gone now, replaced by outfield seating and lots of concessions and amusements. It's all very busy, but, I must admit, it's also very fun if you're a fan. So, how do I feel about it? I don't know. It's still a great stadium, but I miss the old layout.
Score: 86.
Current rankings
1. AT&T Park, San Francisco 94
2. Camden Yards, Baltimore 92
3. Target Field, Minnesota 91
4. Dodger Stadium, Los Angeles 88
5. Safeco Field, Seattle 87
6. Kauffman Stadium, Kansas City
7. Progressive Field, Cleveland 82
8. Busch Stadium, St. Louis 78
9. Rangers Ballpark in Arlington, Texas 77
10. Oakland-Alameda County Coliseum 74
11. Tropicana Field, Tampa Bay 68
[+] Enlarge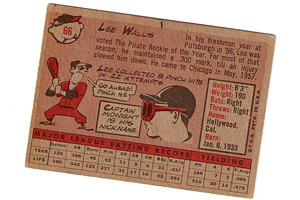 ToppsCartoons are for kids ... and so is baseball.
BASEBALL CARD OF THE WEEK
Last week's Off Base column saluted the cartoons that used to run on the back of cards (and gave you some modern equivalents), but here's a great one of Lee Walls, aka Captain Midnight, courtesy Bill Boehm (1958 Topps, No. 66). Boehm, who writes the card blog Thorzul Will Rule, says he likes the old cartoons because "they evoke feelings of this era of baseball as a more innocent time, a sport not yet dominated by huge salaries, super-agents, endorsements, and the like. These are cards clearly geared towards a youth market, a phenomenon which the hobby, as a whole, has not seen for more than thirty years. Baseball is a game, maybe the sport that's the most fun of all to play, and these cards are the visual embodiment of that sentiment."
CSI: BOX SCORE ANSWER
The only clue you needed to solve this one was the name Gaedel in the St. Louis lineup. That, of course, was Eddie Gaedel, the 3-foot-7 dwarf St. Louis Browns owner Bill Veeck sent up as a pinch hitter in a promotional stunt in the bottom of the first on Aug. 19, 1951. Detroit pitcher Bob Cain walked Gaedel on four pitches, and Gaedel was removed for pinch runner Jim Delsing. Baseball banned Gaedel two days later -- How was that legal? -- and he never played again. His 6-4 grandnephew, Kyle, however, was picked by the Padres in the sixth round of last week's draft.
As Veeck wrote in "Veeck As in Wreck," "If I returned to baseball tomorrow, won 10 straight pennants and left all the old attendance records moldering in the dust, I would still be remembered, in the end, as the man who sent a midget up to bat."
Jim Caple is a senior writer for ESPN.com. You can follow him on Twitter at jimcaple.