By Jim Caple
Page 2
Editor's note: Jim Caple is spending two weeks on Page 2's dime, traveling through Europe for a firsthand look at, to name a few, Wimbledon, the running of the bulls in Pamplona, Spain, and how far he can carry his wife.
AMBOISE, France -- Leonardo da Vinci lived his final three years in this lovely town on the Loire River, and there is a marvelous museum dedicated to him near the town square.
It is chock full of wonderful information about the genius. As it turns out, he was not the author of "The Da Vinci Code," although the museum credits him with virtually every invention other than TiVo and the iPod. It also has full-scale mockups of his designs, including a wood bicycle that pre-dates the bike's actual invention by nearly three centuries.
The contraption certainly looks workable, though very uncomfortable.
Thus, this town is a fitting site for the Tour de France to roll through during its fourth stage. The night before the race from Tours to Blois, I came upon a small bicycle club holding a ceremony for its top teen riders. Wanting to know their impressions of the Tour, I tried to communicate -- a challenging endeavor, given that I do not speak French and only one man in the group spoke English, and just barely at that.
When I asked what the group thinks of Lance Armstrong, one man grabbed my notebook and scribbled a map of the area, showing the location of his house as well as a hotel 20 kilometers away where he claimed Armstrong was staying. He then drew a car and made several energetic gestures.
"He says he can drive you to Armstrong's hotel," Jacky Aubert said.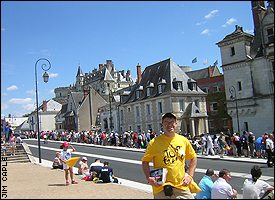 Here's Jim in Amboise at the Tour de France.
And some people say the French are unfriendly.
I thanked him, but shook my head. I wasn't looking for a ride; I just wanted to know what they think of Armstrong.
"He is a great, great champion, of course," Aubert said. "Every year, you wonder how it is possible he can win."
Knowing the suspicions that some French fans have about Armstrong, I mimicked shooting a needle into my arm. "Do you mean you think he takes drugs?"
Aubert shook his head decisively. "No, no, no. Not at all. We just don't see how it is possible."
How it is possible? He meant this, I believe, in the same way that I wonder how it's possible for a TV to work, or the Internet, or for Ben Affleck to keep getting movie roles.
Armstrong has dominated the Tour de France so much that his opponents might as well be riding Schwinn Sting-Rays with banana seats and baseball cards clothespinned to the spokes. Or perhaps he should be handicapped by having to ride da Vinci's wooden bicycle. Except I think Lance might actually enjoy that -- as much as he seems to thrive on pain.
As he writes in his autobiography, "It's Not About the Bike," Armstrong learned early on that he was always willing to endure whatever it took to win. "It didn't seem to matter what the sport was … if it was a suffer-fest, I was good at it."
And this: "Pain is temporary. It may last a minute, or an hour, or a day, or a year but eventually it will subside and something else will take its place. If I quit, however, it lasts forever. That surrender, even the smallest act of giving up, stays with me. So when I feel like quitting, I ask myself, which would I rather live with?"
Another time, he told a reporter, "I would really be upset if I didn't have the opportunity to suffer."
He's the sort of person who probably enjoys going to the dentist.
That ability to endure the considerable pain that comes with racing a bike up to 180 kilometers per day for three weeks, up and down mountain ranges that would challenge a car, is one key to Armstrong's success. Another is his famous battle with cancer that nearly killed him. It began in his testicles, then spread to his lungs and then to his brain for the perfect triple crown of agony.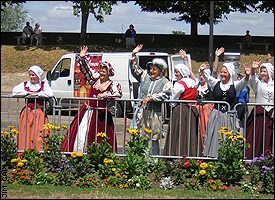 Those French fans sure know how to dress, don't they?
It was a tremendous opportunity to suffer. And grow.
As agonizing as the cancer was, it had a beneficial effect on Armstrong's career. He lost so much weight fighting the cancer that after he survived, he was a leaner, lighter cyclist. This allowed him to evolve from a mere sprinter to a cyclist who is almost unbeatable in the mountains.
There were no mountains in Stage 4, a team time trial that followed the mostly flat roads past chateaus along the Loire River from Tours, through Amboise, and into Blois. Chad Carter, a 33-year-old racing fan from Green Bay, Wis., was in Tours to see Armstrong off. Carter fondly recalls three-day family rides across Wisconsin, dipping his back wheel into the Mississippi River at the start and his front wheel into Lake Michigan at the end. Wearing a yellow LiveStrong band on his wrist, Carter cheered as Lance pedaled away from the starting line in Tours, then raced with his wife, Kristy, to the railway station and took a train to the finish in Blois.
They didn't make it in time. "The bikers were faster than the train," he said, very impressed.
Armstrong and his Discovery Channel teammates rode the 42 miles in just over one hour and 10 minutes, averaging an obscene 36 miles per hour. The Tour leader, American Dave Zabriskie, inexplicably fell during the final mile, giving Armstrong the stage win and the yellow jersey as the new overall leader.
The race was over, but the Carters and I rushed to join a throng of Armstrong fans crowding around a fenced-off area where he was giving an interview. The group included Matti Neustadt and her friend Keith Storie, of Portland, Ore. Neustadt seemed almost overcome with excitement at seeing her hero through a crowd and behind a fence. Then again, Neustadt got excited just seeing the support staff in the hotel the previous night.
"I asked one guy," she said, "if I could get a picture with him and he said, 'I'm just the guy who sends back the Teletype updates from the course.' I told him that didn't matter, it was good enough for me. I think that's why Keith didn't let me spend the whole month following the Tour."
Cycling is not exactly a prime spectator sport. You either crowd around the starting line and watch them take off, or you stand along the course for several hours so that you can see them whiz by for a couple seconds, or you wait for hours at the end with thousands of others to watch them sprint across the finish line. Some of the most exciting moments come when the caravan of sponsors drives by and tosses out candy, prompting grown men and women to scramble and scrape madly for a small bag of Gummi Bears.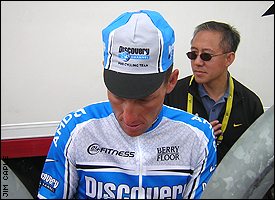 Lance took the time to sign some autographs for the fans.
And yet, it was a great day. We were able to say we saw Armstrong, perhaps the greatest cyclist in history, race in his final Tour de France and take the yellow jersey. It's like being able to say you saw Babe Ruth hit a grand slam.
"I don't know if most Americans appreciate the extent of the Tour -- of 22 days of riding," Neustadt said. "The average American only plays softball and basketball. They don't go for 100-mile bike rides."
Ride 100 miles? Heck, Americans don't ride 100 miles unless they're sitting in an air-conditioned SUV with leather seats, a DVD player showing "The Incredibles" and a holder for their 32-ounce Big Gulp.
Friedrich Nietzsche wrote that what does not kill us makes us stronger. In Lance's case, it made him a champion. He won a record sixth Tour last year and he might be en route to a seventh this summer.
"I'm not chasing history. I'm not chasing the legend. I'm not chasing the record," Armstrong told reporters at a news conference before the Tour started. "I'm just here to have a nice time and try to win again. … This year felt like the right time to stop; and based on what I can tell, I'm ready to go out at or near the top."
Armstrong has worn the yellow jersey so many times that by now it must feel as comforting and personal as his first pair of flannel pajamas, the kind with the feet in them.
Although he probably would prefer the jersey to be a haircloth shirt that caused his chest to break out in a rash.
Jim Caple is a senior writer at ESPN.com. His first book, "The Devil Wears Pinstripes," is on sale now at bookstores nationwide. It also can be ordered through his Web site, Jimcaple.com.