Single page view
By Jim Caple
Page 2
Once upon a time, starting pitchers worked as hard as West Virginia coal miners. Rather than punching the clock early and letting the bullpen take over in the sixth inning, starters labored on the mound in the heat of summer until their flannel uniforms were heavy with sweat, the game was over and their job was complete.
Those guys shouldn't have worn caps, they should have been outfitted in hardhats with lanterns.
We're not talking ancient history, either. We don't have to go back to the deadball era. Clay Kirby pitched 15 innings in one game in 1971. Luis Tiant pitched 14 1/3 innings in 1974. Gaylord Perry pitched 15 innings one game in 1974 and when he finally left for the showers (no doubt with the knuckles on his right arm scraping the clubhouse linoleum), the reliever served up a walkoff home run to the very first batter he faced.
See what happens when a starter lets the bullpen get involved?
That's why Mark Mulder's performance last Saturday was so impressive. To begin with, his opponent was Roger Clemens, the 42-year-old marvel fresh off his seventh Cy Young award. The Rocket is so famed for his work ethic that I'm surprised he doesn't do one-armed pushups on the mound while his infielders are throwing the ball around the horn. Clemens pitched seven scoreless innings and stretched his scoreless streak to 23 innings Saturday but it wasn't good enough.
That's because Mulder pitched 10 shutout innings to win the game 1-0. That's right. A 10-inning shutout.
How amazing is that? Well, only one other pitcher – Roy Halladay in 2003 – has thrown a 10-inning shutout since Jack Morris famously did so in Game 7 of the 1991 World Serie. (Five other pitchers – Kevin Appier, Bobby Jones, Bret Saberhagen, Darryl Kile and Kevin Millwood – pitched 10 scoreless innings without earning a decision when their games went longer).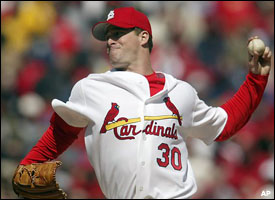 AP Photo
Pitchers rarely go nine innings these days, let alone 10 like Mark Mulder.
Not only that, according to the database available at the incredible Retrosheet.org, Mulder and Halladay are the only pitchers since 2000 to throw more than nine innings in a game. Only five pitchers – Mulder, Halladay, Millwood, Kile and Brad Radke – have done so in the past 10 seasons. For comparison's sake, 107 pitchers went more than nine innings in a game the decade previous to that. And even more than that did it in the decade previous to that one.
Of course, there is an obvious reason Mulder was allowed to go out to the mound for the 10th inning without the express written consent of the commissioner of baseball, his agent, his orthopedic surgeon and the Department of Homeland Security. His pitch count was remarkably low. Mulder needed only 101 pitches to complete the shutout.
If he had been around 110 pitches after nine innings, he would have been removed immediately, packed in ice and then sealed in carbonite.
"There are two reasons you don't see (pitchers go past the ninth) anymore. Bullpen specialization has gotten a little more refined and people are pitch-count crazy," said Astros broadcaster Jim Deshaies, who called Saturday's game. "When those guys are through nine innings and at 115 pitches, the manager will figure they'll be at 130 pitches if he sends him out there for another inning.
"And he knows that if the pitcher ends up on the disabled list a month later, he'll get screamed at. Probably with some justification."
Indeed. Incredibly, Billy Martin had four pitchers in Oakland's infamous 1980 rotation – Matt Keough, Mike Norris, Rick Langford and Steve McCatty – throw 14 innings in games that season. It's amazing enough that each of them started a game that lasted 14 innings. But for each of them to pitch those 14 innings? Amazing. Martin abused those pitchers so much I'm surprised he just didn't pitch Norris every day out of spite.
Tired already, you big wuss? Go cry to someone who cares. Now get back out there. You haven't even used your left arm yet.
As everyone recalls, the Oakland five (Brian Kingman was the fifth starter) all struggled soon after 1980 and no one is willing to risk a repeat. With starting pitchers earning $15 million a season, no one is going to risk blowing out an arm by sticking with a starter one pitch longer than dictated by conventional wisdom.