Single page view
By Jim Caple
Page 2
When Ichiro banged a single off the wall Tuesday night for his 1,000 hit in the major leagues, you could almost hear the cries of relief all the way to Kobe.
Although Ichiro claims that the 1,000 mark is no big deal, it wouldn't be beyond the realm of possibility that pressure has been at least a contributing factor in a month-long slump that has dropped his average 60 points and left him below the .300 level for the first time this late in the season since he came to the United States. After all, this is a guy so obsessed with reaching 200 hits each season that he actually cried after his 200th hit of the 2003 season.
"I reached 1,000 hits in Japan in 1999," Ichiro said Tuesday through a translator. "Six years later, I have done it here now. I can say that baseball is not getting easier."
Ichiro reached 1,000 hits in 696 games, faster than all but two players in major league history – Chuck Klein (683 games) and Lloyd Waner (686 games). That's an interesting stat – Ichiro seemed less impressed with having achieved it than with the fact there are people who actually keep track of such things – but of more long-term significance are these numbers:
Of the 25 members in the 3,000 hit club, the only one who reached 1,000 hits past the age of 28 was Cap Anson, who did so at age 29. The average age they reached 1,000 hits was just under 27 years old. Ichiro is 31.
There is an obvious reason Ichiro is so much older than those other guys. They didn't spend the first nine years of their careers playing the Nippon Ham Fighters, the Kintetsu Buffaloes and the Chiba Lotte Marines. Throw in Ichiro's Japanese career and he's approaching 2,300 hits, a total Pete Rose didn't reach until he was 33, when his hair had already started turning orange.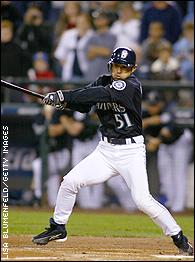 Ichiro has won two batting titles in his four seasons with the Mariners.
Of course, we can't count Ichiro's Japanese hits any more than we count the hits Rose piled up in the prison softball league. Or, at least, we don't. But should we? More to the point, will we at least consider them?
A decade has passed since Hideo Nomo came to the United States. That's long enough for the pitcher to go from being an official Mania to being just a journeyman with the Tampa Bay Devil Rays. It isn't long enough, however, for a Japanese player to merit consideration for the Hall of Fame.
That won't always be the case, though. As the years progress and Japanese players continue to produce at All-Star levels, it will become harder and harder to simply ignore their totals from Japan.
If Ichiro winds up with 10 .300 seasons, another batting title or two and 2,500 hits in this country, should we factor in his 1,278 hits and seven batting titles in Japan at least a little?
If Hideki Matsui continues to extend his playing and 100-RBI streaks, will there come a time when we have to weigh his playing streak, 332 home runs and 889 RBI in Japan?
It's one thing to keep Japanese and major league totals completely separate. After all, we don't count Fernando Valenzuela's seasons in Mexico in his major league resume and we don't count any leagues in any other countries, either. Not Cuba. Not Puerto Rico. Not anywhere. It's another thing, however, to completely ignore those marks once Japanese players have played here long enough to edge a little closer to the outskirts of Cooperstown. After all, we take Negro League performances into consideration for the Hall of Fame. And quite rightly so.