By Jim Caple
Page 2
Remaking "The Bad News Bears" is like replaying the 1991 World Series. What's the point of trying to repeat perfection? Nonetheless, a remake starring Billy Bob Thornton in the Walter Matthau role opens this weekend for a new generation of Little Leaguers. Which begs the question: What became of the original Bad News Bears?
Thanks to Web searches, classmate reunion services, government documents, school records, private investigators and bounty hunters, Off-Base tracked down the old Bears, as well as two of their Yankees rivals …
Center-fielder Kelly Leak: Current whereabouts unknown. Last seen standing in the line for valet parking at the Bellagio casino on June 21, 1999. Claim to fame: Runner-up, 1995 World Series of Poker. Never married. Four or six or possibly seven children.
Shortstop Tanner Boyle: Chief strategist, Republican National Committee. Resides in Arlington, Va. Claim to fame: Currently under investigation for outing CIA agent Valerie Plame. Divorced, with three sons and a restraining order from his ex-wife.
Pitcher Amanda Whurlitzer: Soccer mom in Carlsbad, Calif. Happily married (John) with four children (Ryan, Tatum, Farrah and Joshua). Claim to fame: After too many margaritas in the lobby bar during a convention, became one of Wilt Chamberlain's 20,000.
Right-fielder Timmy Lupus: Senior vice president, chief technical officer at Microsoft in Redmond, Wash. Claim to fame: Developed technology for the pop-up ad. Married (Cindy) with three children (Jimmy, Tommy, Susie). Net worth: $16.7 billion.
Catcher Mike Englebert: Unemployed actor, Los Angeles. Recently lost job as spokesperson for Subway sandwich chain when he regained 176 pounds. Single. No children. Claim to fame: Waited in line 129 days for Star Wars Episode II.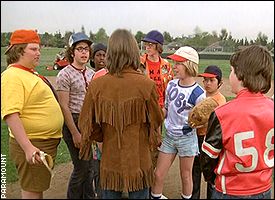 The Bears would have brought Williamsport to its knees.
Manager Morris Buttermaker: Recently retired after 36-year career cleaning pools. Lives alone in Encino, Calif. Season-ticket holder to Angels. Claim to fame: Had Little League field named in his honor, "Buttermaker Memorial Field," while still alive.
Outfielder Ahmad Abdul Rahim: Executive aide to Sen. Barack Obama. Resides, Chicago and Washington, D.C. Married (Charlotte), two children (Raghib and Qadry). Claim to fame: Elbowed Steve Bartman and shouted, "You've got it!"
Bench warmer Leslie Ogilvie: Special assistant to Athletics general manager Billy Beane for sabermetric analysis. Resides, Alameda, Calif. Married (Darcy) with two children (Bill and James). Claim to fame: Created OPS statistic.
Relief pitcher Rudy Stein: Runs a flower shop in San Francisco's Castro District. Married (Terry), no children. Claim to fame: Once dated the "other" Billy Bean.
Benchwarmers Jose and Miguel Agilar: Co-owners of an "In-N-Out" hamburger franchise in Fullerton, Calif. Married (Maria and Lizz) with nine children (Jose Jr., Roberto, Maria Jr. and Rose, and Miguel Jr., Angelina, Sandy, Stan and Joaquin). Claims to fame: Met with Pope John Paul II during papal tour, asked him to lift church ban on protective cups.
Infielder Toby Whitewood: CEO, Chico's Bail Bonds, a national check-cashing store with branches in 92 cities. Resides, Long Beach, Calif. Divorced twice. One child (Tabitha). Claim to fame: Removed from O.J. Simpson jury after attempting to hit on Marcia Clark.
Yankees pitcher Joey Turner: Resident, St. Elizabeth's Hospital for the Criminally Insane. Claim to fame: Fired 17 shots with an M-16 (and hit no one) from atop the University of Michigan's carillon. Found not guilty by reason of insanity, a condition brought on by an overbearing, abusive father. Single (and likely to stay that way).
Yankees manager Roy Turner: Deceased (suffered fatal heart attack while watching Game 6 of 2003 NLCS). Claim to fame: Arrested for running onto the field and attacking Cubs closer Randy Myers in 1995. Sentenced to six months of community service (never fulfilled).
BOXSCORE LINE OF THE WEEK
Twenty-one players have hit a home run on the first major league pitch thrown to them. But how many have done what Cubs rookie Adam Greenberg did last week? He got hit in the head and went on the disabled list, providing this award-winning debut in the boxscore:
0 AB, 0 R, 0 H, 0 RBI
The good news is that the hit-by-pitch counts as a plate appearance but not an at-bat, giving Adam a chance to still become the 90th batter to homer in his first big league at-bat.
FROM LEFT FIELD
Does your team stand a chance of coming back in the second half? Can it hold onto its lead? Time will tell, but here's something to consider. Since the wild card was added in 1995, 25 teams have overcome a deficit of some kind -- either in the division title race or the wild card race -- at the All-Star break to reach the playoffs. The largest deficits teams have overcome (note: deficits are based on how many games behind they were for the eventual playoff slot they earned).
| | | |
| --- | --- | --- |
| GAMES BACK | TEAM | THE SKINNY |
| 7½ | 1995 Yankees | Passed seven teams to take the wild card |
| 7½ | 2003 Twins | Rallied from third place to win the AL Central |
| 7 | 2001 Athletics | Rallied to take the wild card |
| 5½ | 2001 Cardinals | Rallied to take the wild card |
| 5 | 1995 Dodgers | Rallied to win the NL West |
| 5 | 1995 Mariners | Rallied from last place to win the AL West |
| 5 | 2001 Indians | Rallied to win the AL Central |
| 4½ | 2003 Marlins | Passed five teams to take the wild card |
| 4½ | 2004 Astros | Passed eight teams to take the wild card |
| 4 | 2003 Athletics | Rallied to win the AL West |
INFIELD CHATTER
"According to a new poll, Americans said they waste two hours a day at work. Or as the Dodgers call that … a game."
-- Jay Leno
Jim Caple is a senior writer at ESPN.com. His first book, "The Devil Wears Pinstripes," is on sale now at bookstores nationwide. It can also be ordered through his Web site, Jimcaple.com.