I admit it. When the Yankees opened camp with their traditional first fundamental drill -- Alex Rodriguez inserting his foot in his mouth -- I was ready to ridicule A-Rod just like everyone else. After reading his comments about his declining friendship with Derek Jeter, my initial thought was to describe my own evolving relationship with A-Rod:

The reality is our friendship has cooled since Alex left Seattle. We aren't blood brothers anymore and we don't have sleepovers four or five nights a week anymore. Not that we ever were or did, but still, it's different between us now. In fact, the last time we spoke, he turned to a teammate and said, "Do you smell something?" and then walked away without giving me a hug. I don't know why our relationship has changed, though sources close to both of us suspect that it has to do with a 2001 article in which I wrote that A-Rod "never had to be the leader" with the Mariners and that he was "greedy and insincere" and "a traitor" and "a loser" and that he cheated on his income taxes and sold heroin to the clubhouse kids and that he was so cruel to animals that "he literally showed me the many ways there are to skin a cat." So we don't go out for dinner three or four times a week anymore (which we never did, even though I would have been more than happy to do so as long as he was willing to pick up the tab). …
Then I thought about detailing the troubled history of the Jeter/A-Rod friendship …
June 16: After three years, eight months, 17 days and three hours, Derek still hasn't returned my copy of "The Poisonwood Bible." I wonder whether he's even read it.
July 12: Derek went to see "Pirates of the Caribbean 2" without me!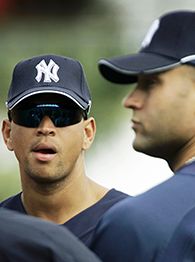 AP Photo/Robert F. Bukaty
A-Rod takes most of the heat, but Jeter has had bad postseason series, too.
July 23: Derek removed me from his friends list on MySpace. What does this mean?!!?!?!?!
The column went on in that vein but by the time I finished writing, I thought, "Why? What's the point? Do we really need another column mocking A-Rod?"
I mean, what has he ever done that is so bad? Despite his best efforts at living a clean, responsible life, he has a worse reputation than Terrell Owens. I know I've mocked him as much as anyone, but now I mostly feel sorry for him. He's one of the best players in the game, and people act as if he's Bubba Crosby. Enough is enough. Forget the soap operas that stem from his silly insecurities -- any day now I expect him to shave his head -- I'm going to root for A-Rod this season. No more cheap shots, no more easy punch lines … from now on, I'm his No. 1 fan. Not quite like Kathy Bates in "Misery," but I'm pulling for him all the way.
And here's why you should root for him as well.
Root for A-Rod because years from now, you'll be bragging to your children and grandchildren that you saw one of the greatest players who ever took the field. You'll be able to say, "I saw Rodriguez hit .358 with 36 home runs and 123 RBIs in his first full season. I saw him hit 409 home runs by the time he was 30. I saw him win an MVP at shortstop for a last-place team one year and then win an MVP at third base for a first-place team two years later. I saw him hit .315 with four home runs in three American League Championship Series. I saw him play in 10 All-Star games his first 11 seasons."
It may not sound as sweet as telling your kids, "I saw A-Rod hit a World Series-winning home run in the bottom of the 10th inning," but it certainly sounds much better than telling them, "I threw fake dollar bills and garbage at A-Rod because he signed a contract that I would have killed to get."
Root for A-Rod because if you don't like Barry Bonds challenging Hank Aaron's home run record, just wait -- Rodriguez might wind up passing Bonds in a decade. A-Rod hasn't testified before a grand jury that he "unknowingly" took steroids, but he has hit 464 home runs, which is a total Aaron didn't reach until he was two years older than Rodriguez is now and a total Bonds didn't reach until he was almost four years older. Trust me, if A-Rod does set the home run record, you'll not only be rooting for him then, the commissioner will show up to see it.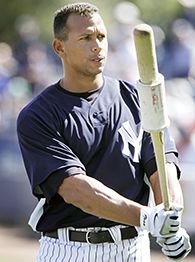 AP Photo/Robert F. Bukaty
Get off A-Rod's case. He has already hit 464 home runs at age 31.
Root for A-Rod because despite all you hear about him choking in the playoffs (and yes, he has stunk the past two Octobers) he still has nearly as high a career postseason OPS as Jeter (.847 to .863). A-Rod also hit for a higher average and produced more runs in the 2004 postseason than Jeter did. In fact, Jeter has played in 24 postseason series and hit .233 or less in nearly one-third of them. That's not to knock Jeter, but only to point out that if you play enough postseason series, you're going to shine in some and stink in others. Give A-Rod another chance this fall, and he will rise to the occasion. Especially if he feels as if fans would rather see him succeed than bitch about his failures.
Root for A-Rod because, other than saying stupid things, he never does anything to embarrass his team or the game. He never gives less than his best. He never approaches the game with anything less than complete professionalism. So what if he can't help himself from making ridiculous statements in an attempt to please everyone at all times? There are far worse crimes for an athlete -- and we complain about them all the time.
But mostly, root for A-Rod because if he has another MVP season and shines in October, all those obnoxious Yankees fans will have to shut up and quit blaming him for everything that ever goes wrong with a team that has needed better pitching ever since it let Roger Clemens and Andy Pettitte go.
Tell your statistics to shut up

After another winter in upstate New York, my friend Scooter is so desperate for spring training (he bought tickets to all the Giants games in Scottsdale even though he doesn't root for San Francisco) that he recently has taken to connecting players from different eras a la "Six Degrees of Kevin Bacon" on the baseballreference.com tool, The Baseball Oracle. His most recent connections: Luke Easter and Steve Christmas, Cookie Lavagetto and Candy Maldonado, Birdie Tebbetts to Mike Parrott, Three-Finger Brown to Antonio Alfonseca (who has six fingers on each hand) and Larry Sherry to Bill Terry to Ken Berry. Yes, this is a man who needs to get to Arizona. …
I may be alone on this, but the incredible outrage over the DirecTV deal seems all out of proportion to what is actually happening. I appreciate a lot of fans are upset about losing their baseball package -- I know the problems with satellite dishes -- but remember that we're talking about something that wasn't available to everyone in the first place. Hard as it is to believe, some people still don't have cable, and of those who do, only a small percentage actually subscribed to Extra Innings. Further, with ESPN and local team coverage, there is hardly a shortage of baseball on TV these days. If you're desperate, you can get XM Radio and listen to any game you want (don't columnists always tell us radio is the preferred medium for baseball anyway?). Or you can pay to watch the games on MLB.com. Also, the shift to DirecTV isn't just about a short-term increase in revenue; it's also being made in part to help baseball eventually get a TV channel that unlike the NFL package, won't be a premium service. Again, I understand why people are upset about this and I think a fair compromise would be for baseball to thank fans who paid for the old package by giving them a free year of coverage on MLB.com. …
If you feel as if the Cubs sold out by finally placing advertising on their outfield walls, don't. Outfield advertising goes back to baseball's good old days, when the game was supposedly pure (well, other than that color line thing) and Fenway's Green Monster was a giant Lifebuoy advertisement. So there is another ugly billboard in baseball. Get used to it. …
And finally … More proof that ballplayers live in a different world: Ken Griffey Jr. says he broke his wrist in a fall wrestling with his son on the family yacht. …
From left field
Ron Santo is up for another Hall of Fame vote this weekend, and if there is any justice in the world, the veterans committee will finally welcome him. Santo won five Gold Gloves, played in nine All-Star games, led the league in on-base percentage twice, hit 342 home runs and drove in 1,331 runs, and yet he still doesn't have a plaque in Cooperstown. What does a guy have to do to get in?
Well, it would help if he wasn't a third baseman, the toughest position at which to reach the Hall of Fame. After more than a century of major league baseball, only 13 third basemen have been judged worthy of Cooperstown, and three of those played in the Negro Leagues. That means less than one third baseman per decade gets into the Hall. No other position has so few players in the Hall.
The third basemen, as defined by the Hall of Fame, in Cooperstown:
| | |
| --- | --- |
| Player | Skinny |
| Frank Baker | Home Run Baker led AL in homers four years; never hit over 12 |
| George Brett | Two batting titles, MVP and most of his 1,595 RBIs at third base |
| Wade Boggs | Five batting titles and .328 career average |
| Jimmy Collins | Only 1,998 hits, most before AL existed |
| Ray Dandridge | Solid hitter and one of best fielders in Negro Leagues |
| Judy Johnson | Team captain of Pittsburgh Crawfords |
| George Kell | 10-time All-Star and .306 career hitter |
| Freddie Lindstrom | .311 lifetime average |
| Eddie Mathews | First third baseman with 500 home runs |
| Brooks Robinson | 15-time All-Star, MVP and still the fielding standard for 3B |
| Mike Schmidt | Unprecedented combo of power and fielding |
| Pie Traynor | .320 career hitter |
| Jud Wilson | Excellent hitter, still was playing in Negro Leagues at age 51 |
Infield chatter

"A great day for America, not such a great day for NASCAR. A bunch of drivers have been fined for putting jet fuel in their cars. That's the equivalent of steroids in NASCAR. It's very easy to tell which cars are on these steroids. They're the ones with the shrunken ball bearings."
-- Colin Ferguson
Jim Caple is a senior writer for ESPN.com. He can be reached here. His Web site is back up at a slightly different address, jimcaple.net, with more installments of 24 College Avenue. In addition to "The Devil Wears Pinstripes," his new book with Steve Buckley, "The Best Boston Sports Arguments: The 100 Most Controversial, Debatable Questions for Die-Hard Boston Fans" is on sale now.