By Jim Caple
Page 2
KANSAS CITY, Mo. -- There are so many marvelous items in the Negro Leagues Baseball Museum -- Look! There's Satchel Paige's original headstone with only a question mark for a birthdate! -- that it's easy to miss a few.
An old newspaper clipping commands my attention, though.
The 1925 story in the Wichita newspaper previews a game between a local black team and a local Ku Klux Klan team.
"Strangleholds, razors, horsewhips and other violent complements will be barred at the baseball game at Loland Park this afternoon when the baseball club of Wichita Klan No. 6 goes up against the Wichita Monrovians, Wichita's crack colored team.''
CAPLE'S LEWIS & CLARK TALLY
Miles: 50 from Lexington to Kansas City (551 total, including side trips).

Total states: 2.

Weather: Warm and humid.

Diet sodas: 2 units.

"Undaunted Courage" audiotape: Lewis and Clark reach the Teton Sioux, where there very nearly is a battle that would have surely ended the expedition before the first winter.

Lewis and Clark Trail Markers passed: 4 (30 total)

Traffic citations: Zero.

Price of gas: $1.79 per gallon.
What I find most striking is not that a Klan team and a black team would play each other 22 years before Jackie Robinson broke the big league color barrier. Nor that the game apparently was played without violent incident. Nor even that it was perfectly acceptable for a Klan team to field a baseball team, which presumably played without the hoods that would otherwise hide the players' identities.
No, what I find most revealing is that the baseball team was referred to as Wichita Klan No. 6. In other words, the Klan not only was a very open and very public organization; there were at least six of them in the Wichita area.
That's the strength of this place, though. Cooperstown's Hall of Fame might make you want to grab a glove and play catch with your father, but the Negro Leagues Baseball Museum makes you think. And it occasionally knocks the very breath out of you.
Or, as another visitor, Greg Williams, says on his way out, "It makes you humble.''
One of the most famous members of the Lewis and Clark Expedition was York, who had been Clark's slave since childhood. "These Indians were much astonished at my servant,'' Clark wrote in his Oct. 10, 1804, journal entry. "They never saw a black man before. All flocked around him and examined him from top to toe.''
The Native Americans thought that the men on the expedition could transfer powerful magic through physical contact, and women frequently offered their bodies to them. Because of his color, York was considered particularly attractive. Dayton Duncan writes in his book, "Out West,'' that one man even offered York his wife, then stood guard outside his lodge while York honored the request.
As a slave, York received no pay for his 28 months of bravery and service on the expedition. As Duncan writes in "Out West,'' York's very important role with Lewis and Clark has been terribly shortchanged by history as well.
" ... no statues are erected along the trail to him, as they are for Lewis, Clark, the Indian woman Sacajawea, even Lewis's Newfoundland dog,'' Dayton writes. "I will find no streets, bridges, filling stations or high schools named for him.''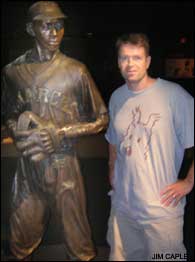 Satchel Paige is one of the league's biggest "what ifs."
I can't help but think of York as I visit the Negro Leagues Baseball Museum, the latest stop on my sports driving tour of the Lewis and Clark Trail. Founded in 1990 in Kansas City's historic 18th and Vine district, the museum does not serve as a Hall of Fame -- Cooperstown handles that role very well -- but as a site where the complete story of the Negro Leagues can be told.
Here, you can read about such players as Double-Duty Crawford of the Pittsburgh Crawfords, who occasionally played four games in a day.
"Just about every Fourth of July, I'd pitch two and catch two,'' a quote of his reads.
(By the way, Double Duty is a way of life in his case -- he's still alive at 102, the oldest veteran of the Negro Leagues.)
Here, you can stand among the superb bronze statues of a Negro League legends team that are so lifelike you expect Satchel Paige to lean over and whisper into your ear his six secrets for a long life. (My personal favorite: "Avoid running at all times.")
Here, you can learn that the annual East-West Game occasionally outdrew the major league All-Star Game. That Negro teams frequently played in major league stadiums -- their rental payments were one reason major league owners weren't interested in ending the color barrier -- but weren't always allowed to dress in their clubhouses. That the Negro Leagues declined after 1947 and were nothing but a memory by 1960.
And most importantly, here, you can read and learn about the discrimination these wonderful players faced every day of their lives.
LEWIS & CLARK MENU
Just blocks away from the Negro Leagues Baseball Museum are two of the nation's most famous barbecue restaurants, Gates Barbecue and Arthur Bryant's Barbecue. As I wait in a long line for a pork sandwich at Arthur Bryant's, I reflect on the Corps of Discovery's diet.

Hauling a heavy keelboat upriver, canoeing through rapids and pushing on over snowy mountains day after day, the men devoured seven-to-nine pounds of food a day -- quantities not matched until Takeru Kobayashi set the world hot dog-eating record at Coney Island.

What did they eat? A diet of so much meat that even Dr. Atkins would have suggested they mix in some rice and pasta.

In addition to supplies of flour, corn and dried meat, they ate whatever they could hunt and forage along the way -- buffalo, deer, bear, elk, beaver (the tail was considered a delicacy), salmon, geese, pheasant, berries and, when game was extremely scarce and the Corps desperate for food, dog and the occasional horse. The meat was occasionally ridden with bacteria. They drank from the Missouri River, which Clark wrote usually contained half a wine glass of ooze to every pint.

Still, it beats today's fast-food filet o' fish sandwich.

Oddly, the Corps was so used to their meat diet that they grew violently sick when they ate what we consider a delicacy: the salmon of the Columbia River system. Lewis even preferred eating dog to eating salmon.

And even accounting for the buffalo hunt, the skinning process, the return to camp and the cooking of the meat, it still took less time than it did for me to get to the front of the Arthur Bryant's line to order my sandwich.
"I'll never forget the first time we played in West Virginia,'' a quote from Bill Yancey of the New York Black Yankees reads. "There was no hotel at all where we could stay. It took us maybe a couple of hours to find lodging for eight or nine fellas -- one stayed here, two stayed here, like that.''
"We live in the best hotels, eat in the best restaurants and can go any place we care to,'' reads a quote from Willie Wells on playing baseball in Latin America. "We don't enjoy such privileges in the United States.''
Here, you can stop and wonder.
"Maybe visitors will look at it all and think, 'Maybe Ty Cobb and Babe Ruth weren't the best players'," says Johnnie Lee, who has been with the museum since 1991. "And then the 'What ifs' will start. What if, what if, what if. What if Josh Gibson had been allowed to play in the majors? What if Satchel Paige had pitched in the majors in his prime?''
The great Buck O'Neil is the public face of the Negro Leagues Museum -- one of the streets outside is named for him -- and the museum will host its annual wood bat tournament in his honor this weekend. Lee respects and admires O'Neil greatly. He says O'Neil has been crucial to the museum's success and to overall awareness of the Negro Leagues. O'Neil also is such a warm, decent and forgiving man that even though the color barrier was broken too late for him to reach the majors, his biography is titled, "I Was Right on Time.''
Yet, Lee wishes O'Neil would occasionally talk more about the negatives from the past.
"If you just talk about the good things, people will think, 'Oh, it wasn't that bad.' And it was,'' Lee says. "You go back to the 1930s and '40s, and you had so many lynchings it was phenomenal.''
Lee is 56, and he can remember when Kansas City's restaurants and schools were segregated. It wasn't that long ago. And should you need a reminder, it's right here in a fabulous museum on Buck O'Neil Way.
---
It is generally known that Clark freed York after they returned from the expedition. What is not generally known is that, despite York's frequent pleas for freedom, Clark waited 11 years before giving it to him.
TOMORROW: We proceed on to Omaha and the College World Series.
Jim Caple is a senior writer for ESPN.com