By Jim Caple
Page 2
CHARLESTON, S.C. -- It's a dripping hot summer evening and behind the dugout of the Charleston RiverDogs, Night Train Veeck is stepping into his father's shoes.
Well, not literally his father's shoes. These are so big and puffy and awkward to wear, they're more like Shrek's bedroom slippers. But in spirit, they are the shoes worn by his father, Mike Veeck, as well as by his grandfather, Bill Veeck, the legendary baseball promoters behind Wrigley's ivy walls, Eddie Gaedel, Disco Demolition Night, Mime-o-Vision and everything that is fun in the game.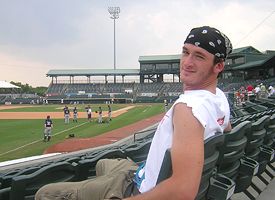 Jim Caple/ESPN.com
Night Train Veeck does anything and everything to keep the family tradition going.
Night Train wriggles his feet into these ridiculous loafers, adjusts his uniform and charges up the dugout stairs, ready for his moment in public. The son of the famous RiverDogs president and the grandson of perhaps the most beloved owner in baseball history takes the field in the resplendent fashion worthy of his lineage. Dressed as a giant pizza slice. And as the crowd roars its approval, Night Train races around the infield against two club employees and a visiting reporter dressed as an ostrich, a duck and a turkey. (Guess who was the turkey?)
Somewhere, Grandpa Bill is smiling. Another Veeck is in the family business.
The Veecks have been in baseball almost as long as organ music. William Veeck Sr. was president of the Cubs. His son, Bill, famously planted the ivy at Wrigley Field, owned the Cleveland Indians when they last won the World Series, signed Larry Doby and Satchel Paige, and installed the exploding scoreboard at Comiskey Park when he owned the White Sox. Mike has built a minor league dynasty, setting attendance records everywhere from St. Paul to Charleston, as co-owner of several teams with Bill Murray and Marv Goldklang. Baseball America recently named him one the 25 most powerful figures in the sport.
The Bushes do politics. The Barrymores do movies. The Corleones do crime. The Veecks do fun.
After all, what other father names his son after former Lions defensive back Dick "Night Train" Lane? (Officially, Night Train's birth certificate says William.) Certainly not George Steinbrenner.
"Ford invented the assembly line, so what's [a Ford family member] going to do, go work in a factory?" Night Train says of the family legacy. "I get to run around in a pizza suit. We're a unique family. We've got to be one of the must fun families there is."
Plan Your Baseball Trip
ESPN's SportsTravel section recently put together 10 sample Baseball Road Trips across the country which visit some of the best ballparks in both the majors and the minors.


Jim Caple is currently on a modified version of the South Atlantic Circuit trip.


Check out the ESPN Travel section for more travel guides and information.
Of course, it isn't all fun. There must always be sadness in the life of every good clown; those twinkling eyes must also hide tears. Eight years ago, Night Train's half-sister, Rebecca, was diagnosed with retinitis pigmentosa, a degenerative eye disease that eventually leads to blindness. When Mike learned of his daughter's diagnosis, he and his wife, Libby, went to the edge of their deck and wept. They then began taking Rebecca to as many states as possible, determined to show her everything they could -- the California coast, the lights of Broadway -- before the shades permanently went down on her vision.
Rebecca is 14 now, and her eye condition has stabilized. She is not completely blind and can make out shapes and walk without a cane. Like Night Train, she works for the RiverDogs, helping out in guest services. Like Night Train, she too plans to carry on the family business. Perhaps she'll give another career a try first -- Dancing? Broadway? Writing? -- but eventually she will return to the game her family loves.
What to do in Charleston
Charleston is one of the prettiest cities in America, with so much to do that you may not have time to go see the RiverDogs (but definitely try to squeeze them in).

Although it's a great walking city, Charleston is even better for biking, allowing you to see even more. Rent a bicycle at The Bicycle Shoppe on Meeting Street and pedal your way through the greatest concentration of historic homes in the country, then cycle over the new bridge crossing the Cooper River. Take one of the many walking tours offered by several companies, especially one of the numerous ghost tours. Visit Fort Sumter, where the Civil War began. Cool off at Folly Beach or at one of the ubiquitous Italian ice stands (try the mango). Eat lunch at Jestine's Kitchen and dinner at 82 Queen (the she-crab soup is delicious). Finish the night off with drinks at The Library's rooftop bar.

Oh, and be sure to have a hot dog at the ballpark. They're very good.
"I know I can't get away from baseball,'' she says. "And I'm definitely doing the minor league thing. Not the majors -- they don't have enough fun. Not like the fun my dad has."
Rebecca is a smart, funny and extraordinary girl. And despite the retinitis pigmentosa, in some ways her vision would put a young Ted Williams to shame.
"Seeing is wonderful. You get to see colors, see kids, you get to see your husband or your wife, right? But besides that, sight is more of a judgment thing," she says. "You look at people and you judge them from the outside, and it's really worth nothing. You could judge someone and be totally wrong."
It's the others who don't see clearly. The ones who poured water in front of Rebecca to make her slip, the ones who trip her, the ones who hit her and called her Blindie and Big Eyes. The ones who aren't worth wasting her precious time on because she has so much else to do.
"I love people and anything I can do with people," Rebecca says. "Guest services, acting, singing, dancing, being a goofball. And doing these things keeps me from thinking too much about my eyesight. And that's how I live."
Night Train, 20, is studying business management at the College of Charleston to learn the spreadsheet and amortization side of running a baseball team. He works at the RiverDogs to learn the more important side, handling everything from Hillbilly Horseshoes (fans wearing overalls and straw hats pitch toilet seats onto upright plungers) to rolling the tarp on and off the field.
"I pretty much started at the bottom," he says. "I've pretty much seen every position.
"I have a day job working as a server at Gilligan's -- it's a seafood restaurant. I work in the day there and then come over here to work at night and I never once dread coming here. Every night something funny happens here. We're always doing something funny. They say that 75 percent of people hate their jobs. How can you enjoy your life if you hate what you're doing five days a week?"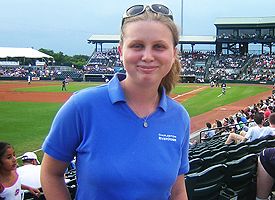 Jim Caple/ESPN.com
Rebecca also feels the pull of minor league fun.
That's been the secret of the family's success since Grandpa Bill was sending a dwarf up to the plate with a bat. "Fun is Good" is more than the title of Mike's business management book or a slogan printed on RiverDogs T-shirts. It's a way of life in the Veeck family. Let the major leagues take everything seriously; the Veecks are interested in having fun (his office is like a branch of FAO Schwarz). Have a funny idea for a promotion? Do it.
Not every idea works -- the RiverDogs were forced to drop a planned Vasectomy Night giveaway (everyone who wanted one would get a free vasectomy) when the local Catholic Church complained -- but most do. "Dad used to say that every idea you come up with isn't going to work. There will be times when you fail," Night Train says. "You need to be able to take the failure and learn from what went wrong.
"You can be as serious as you want in the major leagues, be all about winning. But you can have fun here. You can have Bible Belt Buckle Night or pizza races. I love baseball but it's even better when you have something to watch in between innings."
Night Train has some ideas for promotions, but he's keeping them to himself for now. He'll break them out later when he runs his own team. "I know I have a lot to live up to."
The bird race over, Night Train slips off the pizza costume and hustles off to another responsibility. Perhaps he's getting ready for human bowling, or maybe sumo wrestling. It doesn't matter. He arrived at the park at 7 in the morning to help take the tarp off the field and it's now approaching 10 p.m. -- a very long day, indeed -- but he's doing the job he loves, the job Veecks are born to do.
"Do you want to know a secret?" Rebecca asks. "When I look at the field I can see that there are players there. I can see that there are fences there. I can't make them out real well but I can see them."
And she sees more. When the grass is gleaming brilliantly under the lights, as it is tonight, she looks out and sees someone else besides the players on the field. And even though he died six years before she was born, she recognizes him as if she had known him all her life. It's Grandpa Bill, back to watch the game and see how the family business is going.
He needn't worry. It's thriving.
Jim Caple is a senior writer for ESPN.com. You can reach Jim at jimcaple.com. Sound off to Page 2 here.